Why a CODA Loved This Film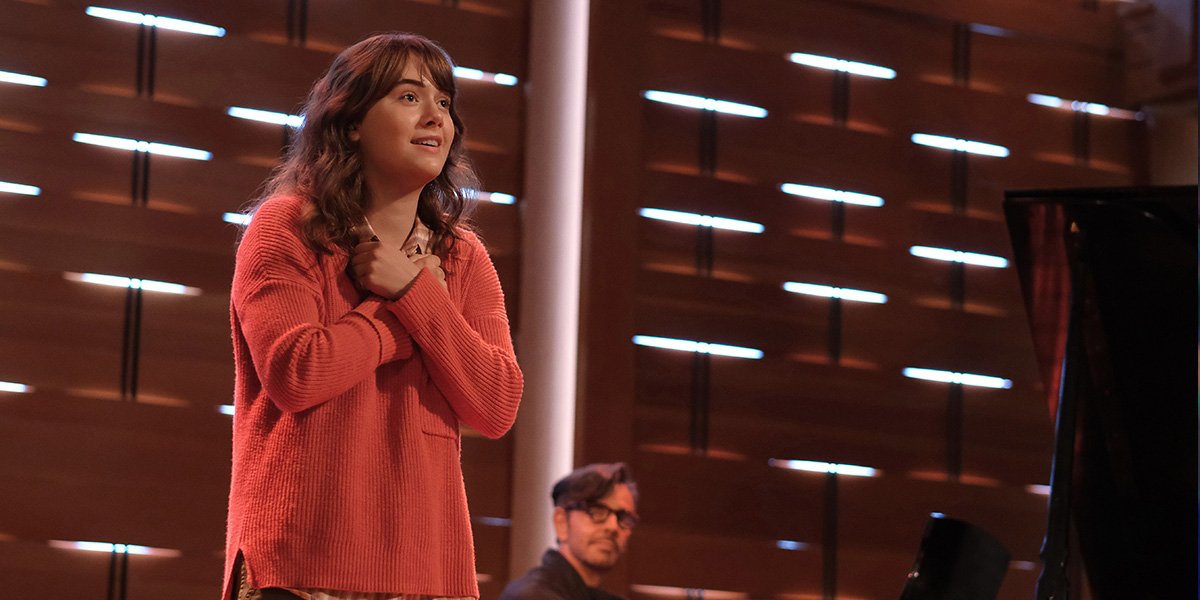 Emilia Jones and Eugenio Derbez in "CODA," now streaming on Apple TV+. (Apple TV+)
The film CODA made people talk for its approach to the deaf community and its relationship with music. But what does a CODA actually think about it?
---
Click here to read this article in Italian!
---
I'm going to start by telling you that the words you're going to read are those of a "CODA" (which stands for Child of Deaf Adults) who watched the film with that tiny bit of prejudice typical of someone who knows the subject well and who's ready to take notes on what to criticize. First of all, this is the remake (of Eric Lartigau's The Bélier Family) of a remake (Caroline Link's Beyond Silence), so it's the third attempt to tell this story within only fifteen years. The film revolves around Ruby (Emilia Jones), a seventeen-year-old girl who's the sole hearing member of a deaf family, and who works on her parents' fishing boat as her father Frank (Troy Kotsur) and brother Leo's (Daniel Durant) intepreter, as well as attending high school. And it's precisely at school, when Ruby joins Choir Club to be close to her crush, Miles (Ferdia Walsh-Peelo), that the girl discovers she has a gift for singing. Supported and encouraged by her teacher, Mr. V (Eugenio Derbez), Ruby starts dreaming about applying to the prestigious Berklee College of Music, but this would necessarily imply distancing herself from her family.
All these themes (the need for one's family and the desire to follow one's own path, a talent that parents cannot comprehend due to their deafness, teenage years spent not as a carefree time but as a source of pressing duties and obligations) had already been explored in The Bélier Family, so how could this remake have added anything of interest, keeping in mind that the latter follows the former's plot down to every detail? Furthermore, both literature and film have rarely dared to use such an analytical approach to disabilities of this kind, opting instead for eliciting "gut" emotions from the audience, either by winning them over with little effort or by using such gimmicks to bypass a narrative obstacle. I'm thinking, for instance, of the recently released Eternals, by Chloé Zhao, where heroine Makkari (Lauren Ridloff) manages to escape the sonic booms caused by cosmic speed thanks to her being deaf, a deficit that isn't further explored over the course of the film but simply used as a device to enable Makkari to travel between worlds.
But CODA is more than just a remake. The lightness that defined its French predecessor gradually fades as the narrative continues, and Ruby isn't just the girl who struggles to make her parents aware of her talent, bullied by schoolmates who tease her with their "deaf voices." Here, she transforms into a young woman with a complex past, who's torn apart by the uncompromising choice to either follow her artistic dream or keep helping her family. The task a CODA child or teenager are asked to take on isn't just that of being their parents' interpreter, but of acting as a mediator between an elementary and a more complex spectrum of emotions. Inevitably, a deaf person's world of sensations isn't as varied as that of those who can hear, because the lack of sounds ipso facto establishes a communicative barrier that results in countless difficulties and misunderstandings within the family, which go beyond a generational gap. When Ruby first confesses to her mother that she loves to sing, Jackie (Marlee Matlin) asks her, "If I was blind, would it make you want to paint?," and, though her irony is meant as a form of acceptance, she still involuntarily falls prey to egoism and ends up feeding the girl's emotional crisis, just like Ruby's father and brother do many times throughout the film. Well, the truth of the matter is, without a CODA child, life would have been even harder for the Rossis.
The deaf community deemed both CODA and Sound of Metal to be trivial and insensitive when it came to the relationship between music and deafness. In an article published on "Hyperallergic," it's stated that it's not credible that Frank would feel overwhelmed when touching his daughter's throat while she sings, but this couldn't be more wrong: vibrations are a very important means of communication for those who can't hear, as they aren't perceived by one's eardrum but through touch. A deaf person can dance and even predict the arrival of a big truck thanks to the vibrations absorbed by the floor, just like they can establish with absolute certainty that the sound coming from a speaker is too high if they touch it with their hand. The film was also criticized because of how it depicts Ruby singing and signing at the same time, claiming that something so difficult can't possibly be improvised the way Ruby does. This remark also has no grounds, as human beings are perfectly able to handle making those two actions at the same time: I urge you to watch this video, where a little girl does just that. It's no easy feat, but it's just as difficult as simultaneous translation, so it can be done.
Another negative comment is about how the film depicts deaf people as stubborn and reluctant towards inclusion. Well, sounds are a powerful tool for communication, and finding yourself without it isolates you. I don't think it's by chance that many deaf people decide to be in a relationship with someone who shares their same deficit. And yes, they are often stubborn too. My parents and many friends of theirs are. There's no need to be shocked by this: accepting someone doesn't mean making them exactly like us in every aspect but valuing and appreciating their differences. I understand that identifying with a CODA is extremely difficult, and that's why I appreciated director Sian Heder's work: not only did she choose to work with a cast of talented actors who are actually deaf, but she effectively entered the mind and heart of Ruby, who has "never been a girl," because, ever since she was very little, she's always been burdened with responsibilities that were too big for her and in constant conflict between the two worlds she inhabits without truly belonging to any of them.
I saw a lot of myself and my own family in the Rossis, in spite of the geographical (I was born and raised in Italy) and temporal (it's been about thirty years since I was Ruby's age) distance. Perhaps CODA really is a fairytale with a happy ending, like someone defined it, but a fairytale would be more than welcome if it helped leave a glimmer of hope. And if it does it by making us smile and even lough out loud, even better, because, believe it or not, disability is not only made of tears.
---
CODA is now available to watch on AppleTV+. Click here to read our review of the film.
---
JOIN US!
Don't miss our monthly updates with film news, movie-inspired recipes and exclusive content! You'll only hear from us once a month. #nospam