Everything Went Fine: Film Review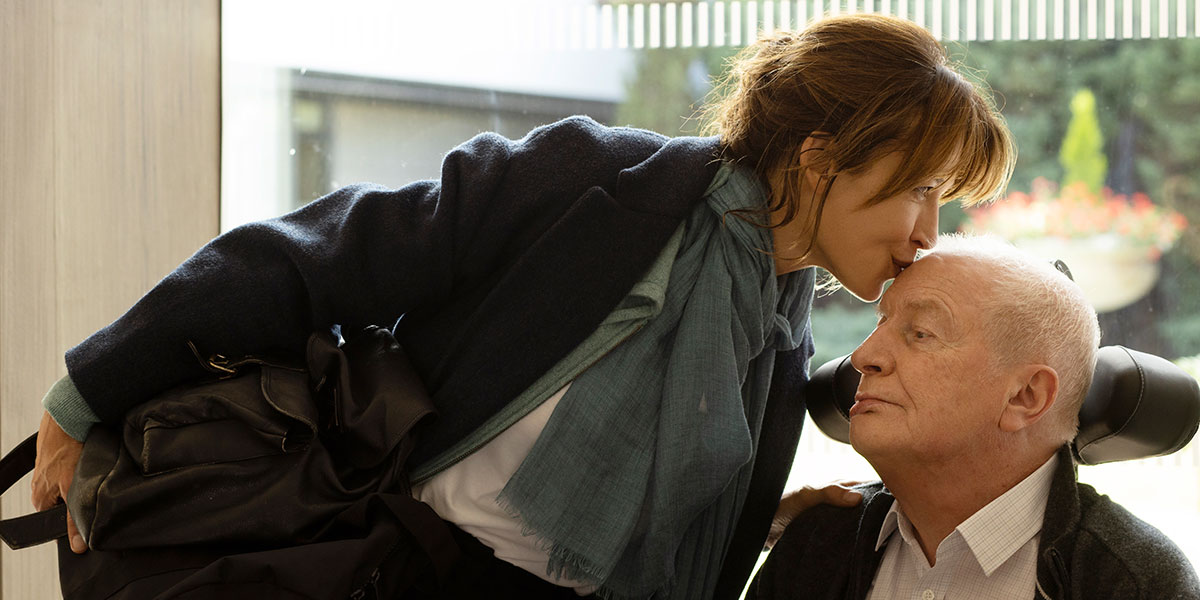 Sophie Marceau and André Dussollier in Everything Went Fine (Cohen Media Group)
Everything Went Fine in François Ozon's thought-provoking drama about an elderly man who wants to end his life.
---

François Ozon's (Peter von Kant) euthanasia drama Everything Went Fine is compassionate yet frank, a smart film that deftly deals with the increasingly-common issue of assisted suicide. Sophie Marceau (The World is Not Enough) stars as Emmanuèlle (affectionately referred to as Manue), who, along with her sister Pascale (Géraldine Pailhas, Young & Beautiful), is faced with making arrangements for her father, André's (André Dussollier, Amélie), assisted suicide, when he has repeatedly made apparent his desire to 'end it' following a stroke. Their own children are too young to understand what is going on, and their mother, Claude (Charlotte Rampling, Benedetta), herself is weak and suffers from Parkinson's, so cannot help them. It's a pretty bleak proposition, but it's an increasingly common situation as life expectancies increase while strokes and cancers cannot be outrun.
There is probably nothing more demoralising, as we get older, than losing one's physical faculties. Ask anybody in their 50s or 60s and they will tell you that they can't jump as high as they used to, or can't quite run as fast. This is a natural part of ageing, but as we enter our final years, lots of us can't stand up without assistance, or may have to use aids or worse, aides in order to use the toilet – this must be, at least at first, utterly humiliating. Ozon's film features a lot of striking imagery – when Manue looks in the mirror and emulates her father's drooped lip, it's genuinely chilling – to illustrate the gravity of the situation, but Marceau imbues her character with such steadfast resolve that it's difficult to imagine her not doing the right thing.
Based on Emmanuèlle Bernheim's memoir of the same name, the film runs just under two hours, but could still have been a bit more comprehensive in exploring its subject matter. Ozon's style is restrained, and he never goes for melodrama or histrionics, though the compassion of the characters around André set the film apart from Gaspar Noé's Vortex, which premiered at the same Cannes, as a film more about bureaucracy and logistics than merely just a pity party about the inevitabilities of old age. However, I wish Everything Went Fine would go a bit deeper into daughter Pascale and wife Claude, as neither really get enough lines to make an impact. On the whole though, the film is excellent.
One of Everything Went Fine's greatest successes is the authenticity in the way it shows people coping with grave matters. To take her mind away from her father's situation, Manue watches a horrifically gory horror film and is comforted by what she sees – it's an odd psychological phenomenon, but perhaps she is drawn to the creative ways in which it explores the inevitability of destruction. It gives Manue a refreshing honesty – nobody is truly 'above' trashy entertainment, and there is certainly a place for it sometimes in our lives. Everything Went Fine is anything but trashy, and Ozon is a very capable director with a diverse catalogue under his belt – by now, you may have seen Peter von Kant, which is very kitsch and much more overtly humorous than this film, despite also dealing with serious subject matter.
When deciding on the day that André should be sent off to the clinic, Pascale mentions that her son's school concert falls after the initial agreed date. Her father interjects and demands the date be postponed. Having something to look forward to can be very important in perpetuating willpower – sometimes it may be all one has. Ozon is aware of the importance of hope, and mitigates the absolute tragedy of André's situation by portraying him as not totally bereft of pleasure. Not only does this give his character more complexity, but it also gives him some authenticity – while Manue does tell medical staff that her father has had depression for many years, it would simply be unrealistic to not show him enjoying some moments, especially with his grandchildren.
Everything Went Fine is not an easy watch, but it is certainly worth your time. Marceau and Dussollier are both excellent, and the script is reverent and intelligent throughout, with occasional sprinklings of levity to reflect the reality of life; for we are never too far away from humour, regardless of our circumstances. Ozon's direction is assured yet reserved where it needs to be, and he is confident in using bold imagery and taciturn dialogue exchanges to generate power and avoid heavy-handed conversations. This is a film that gives its subject matter the respect it deserves and allows its central father-daughter pair's actors to shine.
---
Everything Went Fine opens in New York on Friday, April 14 (Quad Cinema) and Los Angeles on Friday, April 21 (Laemmle's Royal and Town Center) followed by a national US expansion. The film is now available to watch on digital and on demand in the UK.