Vortex (Film Review): The Suffocating Mortality of Humans

Vortex (Picturehouse Entertainment)
Gaspar Noé's Vortex is a haunting rumination on old age and death, but lacks the narrative and emotional consistency needed to make it fully engaging.
---

The notion of mortality clearly lies heavy within Gaspar Noé's mind; after the experimental writer-director suffered a near fatal brain haemorrhage in 2020, his next film, Vortex, perhaps unsurprisingly turns to these grim, existentialist reflections on the heavy blanket of death that hangs over all of humanity. Vortex follows an elderly couple – one of whom is living with dementia, the other who has heart complications – and is told in split-screen format, with blinking-style editing and a constricted screen ratio. It's a haunting, slow-paced piece of work, and whilst it's Noé's finest since 2015's Climax, Vortex still feels lacking in overall impact and, perhaps more importantly, adds little new to the death- and dementia-based subgenre.
Whilst the controversial themes of Irreversible (2002) or the psychedelia of Enter the Void (2009) are nowhere to be seen in Vortex, it is still very much a Noé film. The psychological and nihilistic attitudes seen in his previous films are apparent again here, as are his fluid, tracking-shot tendencies, albeit at a far slower pace. Vortex's opening follows the Father and Mother – aptly named only as such as their identities seem to fade more and more with their age – in their city apartment; it's a explicitly mundane first section, but one where the mundanity carries a perverse interest with it, for a time at least. It quickly becomes clear that the Mother is living with dementia, and is at a rapidly deteriorating moment in the illness. The character is brought to life with breathtaking realism by Françoise Lebrun (The Mother and the Whore), who portrays the majority of her emotions – intense confusion, fear, depression – through only facial expressions, as her character slowly loses the ability to form words. In his first leading role, Dario Argento – best known for directing giallo films such as Suspiria (1977) and Phenomena (1985) – impresses too as an old man with serious physical health issues witnessing the demise of his wife. His frequent frustration is borne out of love for his partner and his despair at the situation.
As the couple's son, Alex Lutz's (Guy) Stéphane, becomes involved in trying to help his parents, whilst also dealing with his own personal problems, Vortex slowly progresses to its inevitably gut-wrenching finale. But the shock value of its protracted ending is rightfully not glorified, as has been the case in some of Noé's previous works, rather it is entrenched in realism. Getting to this ending, however, is a long journey. Noé seems to borrow from slow cinema masters such as Béla Tarr in terms of pacing, but whilst Tarr's work is packed with political and social symbolism or intense imagery, Noé's version does little to engage the senses.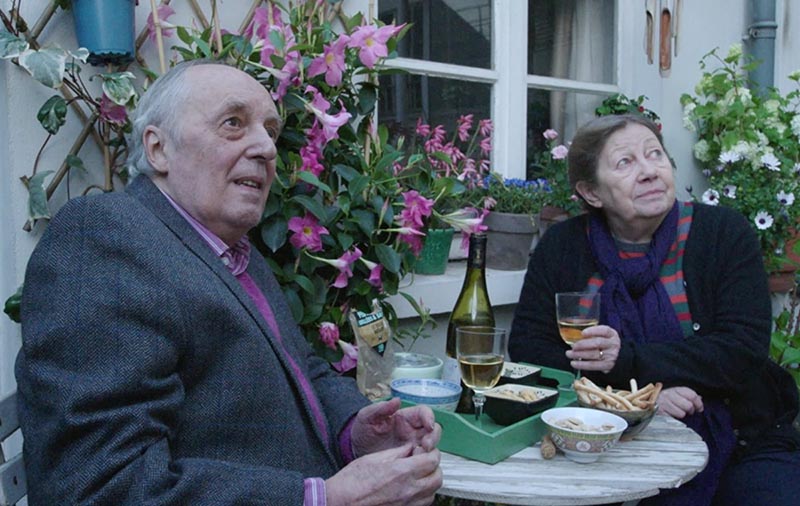 There are certainly special moments contained within Vortex: the split-screen mirroring a child against the Mother, or effectively splitting the Mother in two at a certain point as her mind fractures; a chilling scene of drug use plays out against Ennio Morricone's "Man with a Harmonica" theme from Once Upon a Time in the West (1968); instances of a slow fade to pure white live long in the memory. Yet these moments are buried within an elongated, overly long film, one that is sparse and could easily have been shortened down from its 142-minute runtime. As impactful as its ending is, Noé seems unsure how to round it off, further drawing out an already prolonged affair.
See Also
When considered alongside other recent dramas that portray the mental effects of old age such as The Father (2020) or Amour (2012), Vortex's effect is weakened further. It might have a haunting, horror-based quality to it that those works don't have, but its lack of emotional impact leaves a lot to be desired. Vortex will no doubt scare anyone who watches it – no one wants to imagine that this will one day be their life – and its dedication at the start to "all those whose brains will decompose before their hearts" is touching. Furthermore, Noé's effort to bring this concept of 'mind before body' to the screen is admirable, but in its full, protracted form in Vortex, the messages and themes are diluted amidst the mundanity and narrative sparseness.
---
Vortex will be released in cinemas in the U.K. on May 13, 2022. In the US, the film was screened at the IFC Center on 29 April and released nationwide on May 6.