The Eclectic and the Sublime: In Celebration of Ennio Morricone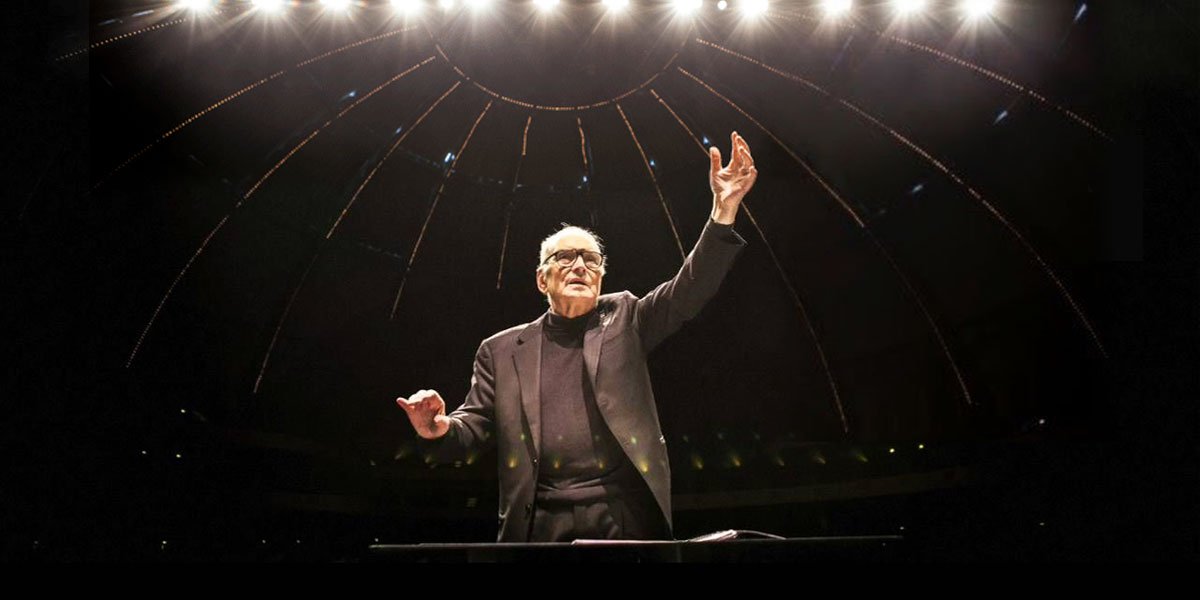 Ennio Morricone
Celebrate the legendary career of composer Ennio Morricone with these ten dazzling film scores, from melodic romanticism to criminal swagger to Spaghetti Western bravado.
---
A month ago, the film and music world lost one of its greatest artists, the Italian composer Ennio Morricone, also known as the "Maestro." In a career spanning almost 60 years, Morricone scored over 400 films, covering every genre from westerns to crime to romantic dramas to historical epics to horror films. While most famously known for legendary collaborations on Spaghetti Westerns with Sergio Leone, Morricone also worked on films from a variety of Italian directors like Giuseppe Tornatore, Bernardo Bertolucci, Pier Paolo Pasolini, Dario Argento, Mario Bava, and Elio Petri. Outside of Italy, Morricone enjoyed plenty of success in Hollywood, scoring films from major American directors like Brian De Palma, Terrence Malick, John Carpenter, Barry Levinson, and Quentin Tarantino, whose film The Hateful Eight won Morricone a well-deserved and long overdue Oscar Award in 2015.
A true musical visionary, Morricone frequently experimented with new and radical sounds, techniques, and instruments in his scores. For instance, his Spaghetti Westerns, characterized by twangy guitars, trumpet flourishes, chanting, and odd sound effects like gunshots and coyote howls, redefined the musical sound of Westerns, moving away from the traditional sweeping orchestral melodies and embracing a rough, rowdy character that we now so closely associate with the genre. While many of his musical ideas may sound absurd in theory, their execution was nothing short of brilliant, his creativity evident all throughout his impressive career and his ability to score nearly every type of film. Morricone's music displays clear talent and vision, no matter the film or genre, and whether in his eclectic Spaghetti Western sounds, delicate strings, oboe solos, or the angelic vocals of Edda Dell'Orso, his scores espouse a true, timeless beauty.
As we live through unprecedented and uncertain times in quarantine amidst a pandemic, social unrest, and daily catastrophe, we could all use a little more beauty in our lives, and the music of Ennio Morricone is the perfect place to rouse and inspire our spirits. Whether you are a dedicated fan of the maestro or a new listener just discovering these musical riches, here are ten recommended scores that present some of the Maestro's greatest accomplishments and represent the scope of his legendary career.
---

THE GOOD, THE BAD AND THE UGLY
1966
Easily the greatest work in the Maestro's canon and one of the most legendary film scores ever, this is an absolute essential listen. Instantly recognizable is the eclectic opening title, featuring a myriad of instruments and sounds like flutes, muted trumpet, twangy guitar, whistles, chants, and even gunshots. On paper, it sounds like a mess of sounds, but to the ears, it's a brilliant, rousing theme that perfectly captures the rough and tumble world of the American West in all its grit, violence, and bravado. Even more iconic is the Maestro's greatest creation, "The Ecstasy of Gold," a stunning piece for piano, woodwinds, and Edda Del'Orso's soaring vocals that reaches sublime highs. Finally, the album closes with the equally brilliant "The Trio," where guitar, piano, and a vigorous trumpet solo score one of the most thrilling moments in cinema.
---

THE MISSION
1986
Another of Ennio Morricone 's most beloved scores, The Mission represents the Maestro at his most sublime. Best known for "Gabriel's Oboe," an iconic melodic piece for oboe and orchestra, Morricone's score oscillates between moments of beauty and terror. Particularly inspiring is the opening track, "On Earth As It Is In Heaven," which dazzles with its glorious choral statements against woodwinds and drums. Meanwhile, darker musical elements appear throughout the score in aggressive strings, tense percussion, and sharp, stabbing pan flutes. It's an emotionally forceful listen, plunging into depths of despair and violence, yet ultimately spiritually rewarding in its gorgeous melodies.
---

THE UNTOUCHABLES
1987
The first of three collaborations with Brian De Palma, The Untouchables is one of Ennio Morricone 's most riveting crime and action scores. The opening titles, "The Strength Of The Righteous" introduces a nervous piano motif over an electronic percussion beat joined by an accordion, a musical explosion of violence and danger that perfectly foreshadows the story to come. Also memorable is the jazzy villain theme for Al Capone, whose twinkling piano and swaggering wah-wah trumpets capture the glitzy intrigue and criminal danger of 1930s big city America. Musical suspense unnerves tense set pieces, like the uneasy sounds of a music box against desperate strings that score a tense slow motion gunfight at a train station, while a rousing brass theme, a driving melody over the end titles captures heroic Americana in an unabashed sense of victory and glory, immortalizing its heroes.
---

DAYS OF HEAVEN
1978
Over a sparse yet notable career, Terrence Malick has collaborated with some of Hollywood's best composers—James Horner, Hans Zimmer, Alexandre Desplat, and James Newton Howard—but the most memorable score of his films was for Days of Heaven. Ennio Morricone 's main theme, heard in "The Harvest" is one of his greatest musical creations, a longing yet sweeping piece that perfectly evokes the film's setting of rural Americana with a melody similar to Camille Saint-Saëns "Aquarium" (which also appears over the film's opening credits). It's one of those few pieces of music that never fails to stir such strong emotions, whether heard inside or outside the film. Also brilliant is "The Fire," a tense, building cue with furious brass reminiscent of John Barry, scoring a stunningly-lit sequence as wheat fields burn during a locust swarm. Rapturous in its organic beauty, Morricone's score adds a deep emotional and artistic dimension to the film, crafting many stunning moments of pure cinema.
---

LE CLAN DES SICILIENS
(THE SICILIAN CLAN)
1969
Another brilliant and stylish crime score, The Sicilian Clan is easily one of my most favorite works of his. The main theme exudes a pure sense of cool, with a driving guitar melody that perfectly captures the carefree, suave lifestyle of a Sicilian Mafia family. Italian-sounding strings, a Jew's harp, and whistling join in among the score, an eclectic soundscape that never once loses its criminal panache. There's a sense of perilous intrigue to the score as well, a palpable romantic thrill and danger in its action melodies and brisk rhythms, a wonderfully gripping musical accompaniment to the chase and heist sequences of the film.
---

EXORCIST II: THE HERETIC
1977
Oftentimes, horror film scores act more as sound design to craft tension and fear with atonal noise, shrieks, and stingers, but some maintain a sense of melody and even beauty amidst musical terror. Exorcist II: The Heretic is no exception, as Ennio Morricone injects his signature style into a setting of demonic terror that thrills and chills with its crafty melodies and sound palette. Tender female vocals join a simple instrumental melody in "Regan's Theme," establishing an emotional dimension to the music before the terror arrives. Otherworldly evil manifests with violent vocal chanting and drums in the occult-ish "Pazuzu," while the frantic "Magic and Ecstasy" explodes with delirious energy that recalls the prog rock scores of Goblin for Dario Argento's giallo films.
---

IL MIO NOME È NESSUNO
(MY NAME IS NOBODY)
1973
One of Morricone's most amusing scores is his music to the Spaghetti Western comedy, Il Mio Nome è Nessuno. A catchy opening theme features guitar, vocals, and flute, joined by whimsical flourishes of presumably an electronic instrument, certainly goofy but nonetheless infectious. A more serious theme follows in classic sentimental Morricone fashion with a wistful orchestral melody and gentle vocals. Meanwhile, another recognizable Morricone sound appears in a later track with a ticking clock sound and chorus alongside a motif that sounds suspiciously similar to Once Upon a Time in the West's iconic "Man with a Harmonica." Most stunning, however, is the track "The Wilde Horde," which features more guitars, vocals, and whistling that leads to the "Ride of the Valkyries" played on what can only be described as car horns, an idea so absurd that only Morricone could have imagined, and executed with smooth musical style and confidence.
---

METTI UNA SERA A CENA
(LOVE CIRCLE)
1969
Set to a 60s erotic drama, Ennio Morricone 's score to Metti Una Sera A Cena is a lesser known score among his filmography, but a hidden gem worthy of discovery. A catchy opening theme charms with its relaxed, easygoing melody and affectionate vocals. Later tracks continue with similar light jazzy instrumentation, vocals, and a laid-back romantic sensibility. The groovy vibe and carefree attitude recall the easy tempo lounge style of Morricone contemporaries Piero Piccioni and Stelvio Cipriani, the kind of music to relax to on a warm summer day, perfect alongside the Italian seaside with a refreshing glass of wine. Sure, it's a frivolous score among his more serious and thematically complex works, but very captivating in its relaxed sense of rhythm and sensual, easy mood that sweeps you up in its romantic brio.
---

MISSION TO MARS
2000
For Brian De Palma's Mission to Mars, Morricone brings his unique spin to the science fiction genre. Otherworldly tension arrives in synthesized beeps, vocal elements, and an electronic heartbeat murmur, while woodwinds and strings ground the score in its emotional, human core. Familiar Morricone instruments like an electric guitar, horn, and oboe appear, and a more experimental element comes in the inclusion of an organ, a sound that although not traditionally associated with space films, adds a rapturous, almost religious element, curiously foreshadowing Hans Zimmer's score to Interstellar almost a decade and a half later. Like many of Morricone's scores, the stylistic elements may seem idiosyncratic, but when listened to, it captures a stunning musical vision, an ethereal, otherworldly portrait of the beauty, danger, and journey into the unknown of space exploration.
---

THE HATEFUL EIGHT
2015
While visiting familiar territory in the Western genre, Morricone eschews the twangy bravado of his classic Spaghetti Western sound, instead infusing The Hateful Eight with chilling suspense. In the brilliant 7 minute opening "L'Ultima Diligenza di Red Rock," sinister orchestral rumblings of woodwinds, snare drum, and pounding timpani build alongside stabbing chants, culminating in a frenzy of brass. Similar to his vigorous theme from The Untouchables, it sets the stage for a story of violence to come. Meanwhile, the rest of the score continues the orchestral sound palette, offering more subdued musical tension in an almost Gothic fashion, establishing the snowy setting through slow swirling melodies, while a noble trumpet solo towards the end of the album provides satisfying closure. While a far cry from the sound we know and love so much, The Hateful Eight is a thrilling score that reminds us of the Maestro's compositional genius and knack for musical storytelling.
---
Read our review of Giuseppe Tornatore's documentary Ennio (2022).