Director Celine Song on Past Lives: Interview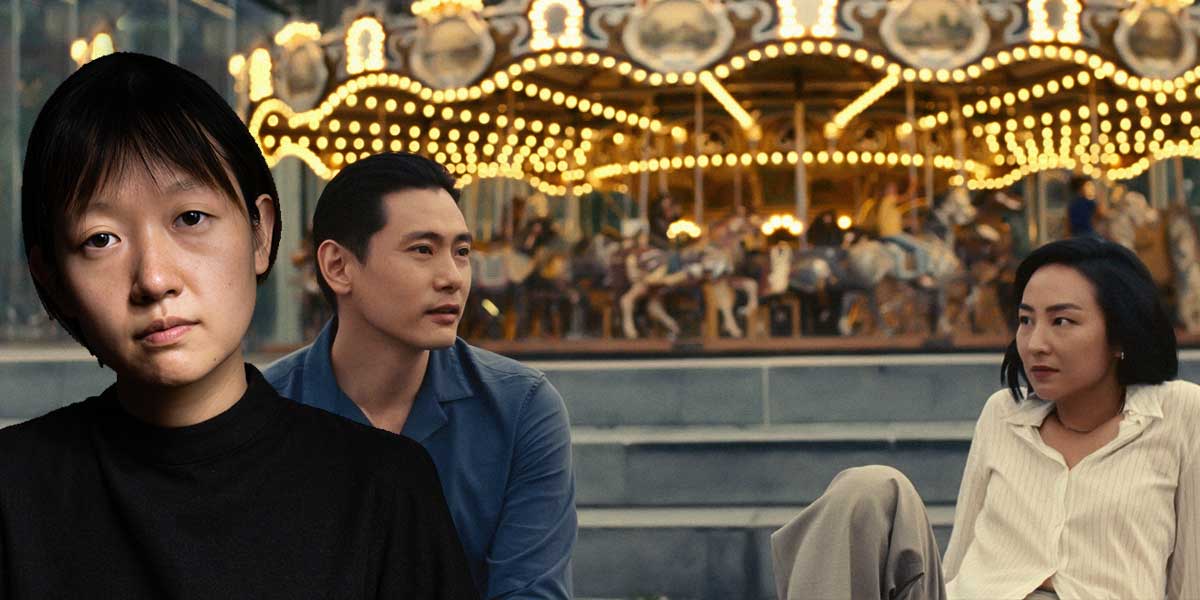 Celine Song / Past Lives (Sundance Institute, A24)
We sit down with Celine Song, writer and director of Past Lives, for an interview as part of this year's Sundance London Film Festival.
---
During this year's festival season, Past Lives has taken the world by storm. With her honest and human story, writer and director Celine Song was able to create a film that many people in the audience can relate to. In her directorial debut, Celine Song tells the story of two childhood friends, Hae Sung (Teo Yoo) and Nora (Greta Lee). The two reunite in New York City 24 years since they last saw each other, although they had previously kept in contact over Skype. Both Hae Sung and Nora reflect on their relationship, as they have created their own lives for themselves: Nora is now married to Arthur (John Magaro).
The film initially premiered at the Sundance Film Festival earlier this year and later competed for the Golden Bear at the Berlin International Film Festival. Most recently, Past Lives was also part of the 2023 Sundance London Film Festival.
At the Q&A that followed the UK Premiere of the film at Sundance London, Celine Song explained that idea of the film started from her very own experience of sitting in a bar with her husband and her childhood sweetheart. Past Lives is inspired by an autobiographical experience as the director herself, like the protagonist Nora, moved from South Korea to Canada when she was 12.
As such, the film touches on complex and meaningful themes, such as that of the immigrant experience and human connection. As we see both Nora and Hae Sung as kids in some of the early scenes in Past Lives, the audience witnesses their relationship being born and evolve through time as they live miles away from each other. Many years after they said goodbye to each other as kids, Nora and Hae Sung try – and fail – to rekindle their bond through Skype in their 20s, 12 years before finally meeting in person in New York to say one final goodbye.
We sat with Celine Song for an interview her personal experience in making Past Lives, the characters in the movie, and the chemistry between them. Read our full interview!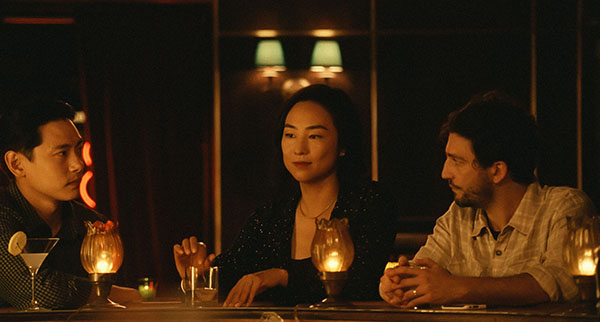 ---
How Past Lives Connects to Celine Song's Personal Experience
You mentioned in previous interviews that Past Lives is based on a very personal experience: did your friends and family see it? What did they think and were they able to see themselves on screen?
Celine Song: Past Lives is inspired by the subjective experience that I went through. It is so connected to a personal moment in my life. But, of course, in turning it into a script, there is a process of objectification that happens where it becomes a script. And then, from there, there's another process of objectification, which is the script becoming a movie. You might be able to sense the inspiration in it if you know me, but the result is really a movie I made. So, it is separated from my real-life experience through two phases: the scriptwriting, and the filmmaking.
The scenes with Nora and Hae Sung as kids reminded me a little bit of when you were younger, and you had a crush on someone else. Was that similar for you? Did you ever feel like you were going back to a past time in your life when shooting the film?
C.S.: Making a movie is such a big responsibility: there's so much going on, and you're just trying to really nail something. So really there wasn't any room for me to be like, "Oh, this brings me back to my own childhood." This actually reminds me of a moment on set. After we shot the scene where the children say goodbye to each other [when 12-year-old Nora sees Hae Sung for the last time before moving to Canada], we were just getting used to the way the sun sets in Korea, since we had started shooting the movie in New York and then came to Korea.
There, the lighting was different, the sun was different, everything about it was different, so we had to adjust. And we had a frustrating day, because we couldn't get the sun to move the way we expected. My DP [Shabier Kirchner] and I had a heart-to-heart about how it was a really difficult day, and we didn't get what we wanted.
And I was so overwhelmed by everything: I was sitting there, just crying because I was so upset about the shot I didn't get, or how it didn't look the way we wanted. And I could hear the crew walking by and saying, "Wow, Celine must be crying because she's so moved by one of these shots". And I was like, "No! I am just upset about the sun!" [laughs]
Did you learn anything about yourself, or rediscover something about your past while writing and shooting Past Lives?
C.S.: I learned so much. There are the basic things about filmmaking, like how to read a call sheet, and how lenses work: I was learning basic filmmaking while shooting the film. But the thing that I already knew, walking in, were the story, the characters, and how to put together a scene. Those are things that I knew because of my experience in theatre. I feel like the things that I learned ended up being the basics about filmmaking, and that was helpful because those things you can learn easily, while story and character… those are things that take time.
---
Celine Song on Chemistry and Relationships in Past Lives
There are so many layers to Greta Lee and Teo Yoo in their performances together: there's a distance and a closeness. How did you work on that, and how much time were you able to spend on it?
Celine Song: Greta and Teo met over Zoom, which was helpful because Teo Yoo was living in Korea at the time, Greta was living in LA, and I was living in New York. So we were having three-way Zoom sessions, where we were doing some of our earliest work together. When they met in New York, so much of it was about the two of them needing to have chemistry. But also, I wasn't trying to make sure that their chemistry was really deep and intimate, the way that I needed the chemistry between Greta and John [Magaro, who plays Nora's husband Arthur] to be like, for example, because they're married.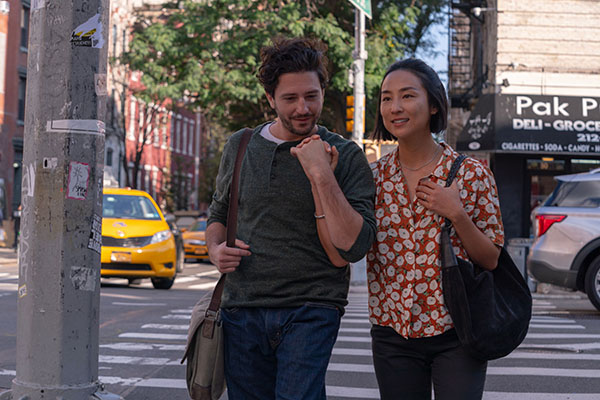 Nora and Arthur needed married chemistry, while for Hae Sung and Nora, and therefore Greta and Teo, who play these characters, their chemistry is meant to be a little uncomfortable. It is that feeling when you are reconnecting with an old friend, where it's a little bit like, "Was this ever going to be a thing?". So it is meant to be very uncomfortable. I didn't need them to be so close. In fact, it was better that they knew each other as acquaintance-friends. And some of it is about blocking: it's really about the distance between them, like when they're sitting apart and it just has to be this the right distance. So sometimes it would get worked out on set.
Is that also how the whole process regarding the actors went overseas? And how did you find these great actors?
C.S.: Well, finding chemistry for me is a bit of a feeling. For example, with John and Greta, you also have to think about how they are meant to be married. With them, I was looking for what could be very easily seen as deep chemistry that can happen immediately. When it comes to Teo Yoo and Greta, I feel like the chemistry I was looking for was also connected to how they are foreign to each other. Because Greta is a Korean American, and Teo Yoo is someone who's been working in Korea for a long time. So there's a way in which they're not quite the same as each other. When I was looking at Greta and John, I was thinking, they're kind of the same person, in a very lovely way which feels like the right chemistry for that.
The chemistry read that I did do was with the kids [Moon Seung-ah as Young Nora and Leem Seung-min as Young Hae Sung]. I found a little girl first, and then I was looking for a little boy. And so, I met three different voices and we did chemistry reads. The kids don't have a lot of lines in the movie, but their chemistry is so important to build the story. I asked the boys to do an ad-lib of a scene where little Hae Sung asks little Nora to stay in Korea and keep being friends, and Leem Seung-min, who I ended up casting, did a piece of an ad-lib performance that was so stunning that he made the little girl cry. The little girl was like, "Do I have to? Does Nora have to leave Korea?" It was amazing.
---
Skype and Past Lives: how Celine Song tackles Questions of Technology, its Limitations and its Uses
I felt like the Skype scene, when Nora and Hae Sung rebuild their relationship through Skype videocalls, was really organic and I think a lot of us can relate to it, especially after the pandemic, and especially those of us who are miles apart from our family.

Did you feel the need to explore the way that technology can connect us?
Celine Song: Of course. I wanted to explore the way technology can create an intimate relationship online, but also ultimately damage it. And at the time when Skype first showed up, it was a sci-fi miracle. You're just so excited to be able to see each other across the ocean: that's what that first moment for Hae Sung and Nora is like. They can just see the mirage of the other person on the other side of the globe – a person they thought they would never see again. And the excitement then starts to dissolve, and the desire for intimacy starts growing from there. Over time, your desire to touch the other person and to really get close to them starts to grow.
But technology remains the same, so you start to get annoyed and resentful towards it, to the extent that eventually, you think you are actually annoyed with talking to this person across the globe. That's really the thing that I wanted to create. It was really important for technology to be first of all tangible: I didn't want to superimpose any images or writing on the screen to suggest that they were having a videocall. I always want it to feel the way that it looks like. I wanted it to be frustrating: it had to start to feel like it couldn't meet the needs that were only growing. That's how you know that they're going to break up: I was setting that up.
I really enjoyed that. I always get annoyed when my parents can't hear me, but why am I getting annoyed at them when it is not their fault?
C.S.: Yeah, exactly. It's not their fault. But that's the painful thing about technology: it may start as a miracle but over time, you start to realise that it's an obstacle too.
See Also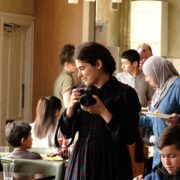 ---
Filming Past Lives in South Korea During the Pandemic
You actually went to South Korea for the childhood scenes to film Past Lives, right? Did you go with the whole cast? What was the experience like?
Celine Song: I only went back with Teo Yoo, because he was the only one who has scenes there. For the Skype section, I built two sets so that we actually stayed in New York, but the outdoors were Korean outdoors. Some of the settings in Korea, like the scene with Hae Sung's friends [when Hae Sung hangs out with his friends in a restaurant before flying to New York], are all shot in Korea. So I shot in New York for five weeks, and then we shot for a month in New York City. And then I went to Korea, and then I prepped for a month. And then we shot for 10 days in Korea.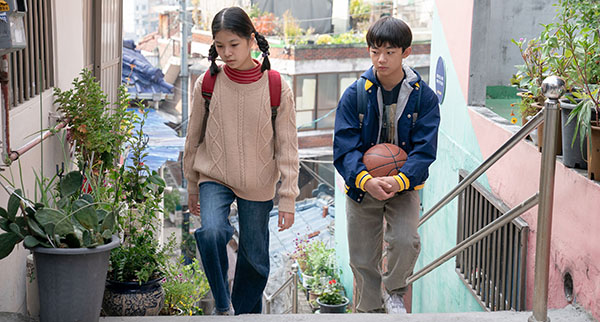 Was that the first time you'd been able to go for a while because of the pandemic?
C.S.: We were the only kind of people who could really go to Korea. We had to get a special visa and do this very specific testing programme, which is why I couldn't actually prep Korea before the whole shoot began. So, we had to prep New York, shoot New York, prep Korea, shoot Korea, because we couldn't go back and forth. And I think we would have gone back and forth otherwise.
---
WARNING: THE SECTION BELOW CONTAINS SPOILERS FOR THE ENDING OF PAST LIVES.
---
Nora, Hae Sung, and Arthur's Future
Do Nora and Arthur ever go to South Korea? Movies like this don't usually get a sequel, but do have an idea of the future of these characters in your head, or is it just the beginning and the ending of the story?
Celine Song: I believe that these are three little pieces of these three people's lives. And I think that anything beyond that would be going back to how they were living their lives before we see them in the film. And at the end of the film, something has changed, but it is one of those imperceptible changes. It is a mark that Teo Yoo leaves on Nora and, by extension, Arthur, but this mark is not visible. This mark is not tangible in a traditional way, it is the one that's left on the soul. If you were to see what they're doing afterwards, they're probably just doing things that are ordinary parts of their lives, like getting food, or something like that.
Past Lives could have ended in many different ways. How did you decide this was the right one?
C.S.: I actually felt like this was the only way: I usually can't even start to write something until I know how it's going to end. So that's my process: this is the movie, and the ending is what the movie is about. Past Lives is about three goodbyes: there are two bad goodbyes and one good one. The first one is: you're too young as a kid, so you don't get a good goodbye because you are kids. The second time they say goodbye to each other, they hurt each other because it's over Skype and they thought that there was a possibility there: it is a very bad goodbye. The final goodbye is the one that I call the "good" goodbye, because it's the one that works.
And when we flashback to the end of their childhood, the thing that is being implied is that this is what those kids are waiting for. They've been waiting for 24 years to get the goodbye that they were owed. And once they're able to get that goodbye, and those kids are able to leave that behind, so are Nora and Hae Sung. Hae Sung is able to walk home, and Nora did not think she needed to grieve until Hae Sung came looking for her. She didn't think that that girl needed to be saying goodbye to. Nora gets to walk home too, and she's mourning that little girl that she left behind.
This interview has been edited for length and clarity.
---
Past Lives is now available to watch in cinemas in the UK & Ireland and on digital and on demand in the US. Read our review of Past Lives and our article on Past Lives and the meet-cute legacy of Before Sunrise!