Christmas 2021: 10+ Films to Watch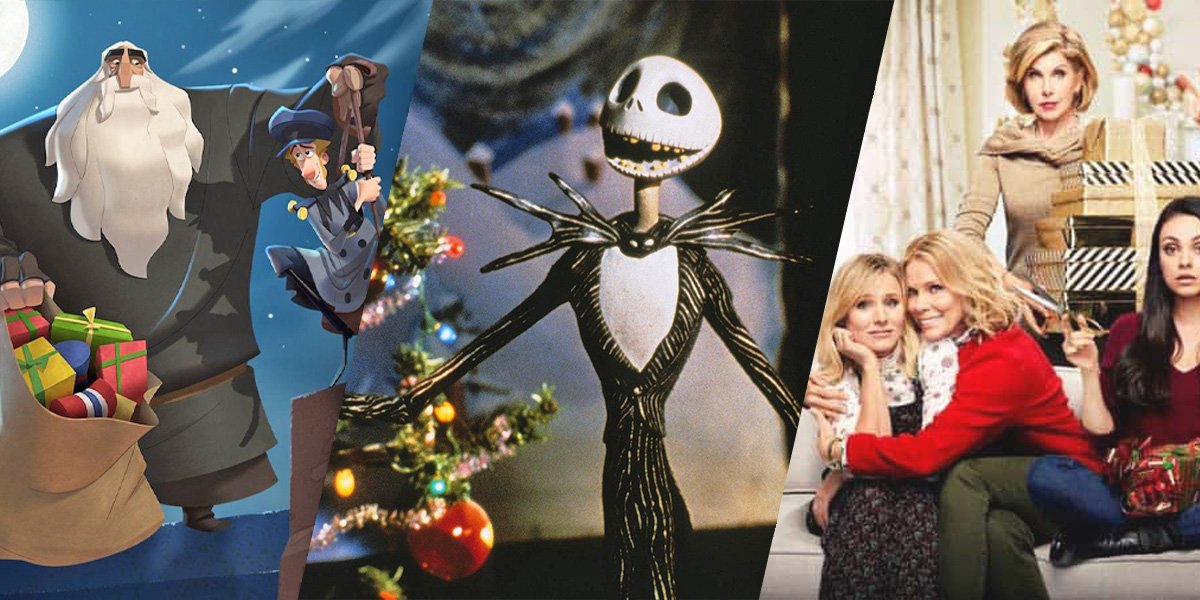 Klaus, The Nightmare Before Christmas, A Bad Moms Christmas (Netflix, Touchstone Pictures, STX Entertainment)
Christmas 2021 is around the corner, and it's time to choose which films to watch this year. Our writers recommended 10+, from timeless classics to hidden gems.

Christmas 2021 is approaching, and you know what that means: it's time to decide which films to watch this year. We are here to help: our have recommended 10+ movies that are guaranteed to put you in a festive mood. From holiday classics to hidden gems, here are our picks for this year's festivities!
---
A BAD MOMS CHRISTMAS
Writers & Directors: Jon Lucas & Scott Moore
Year: 2017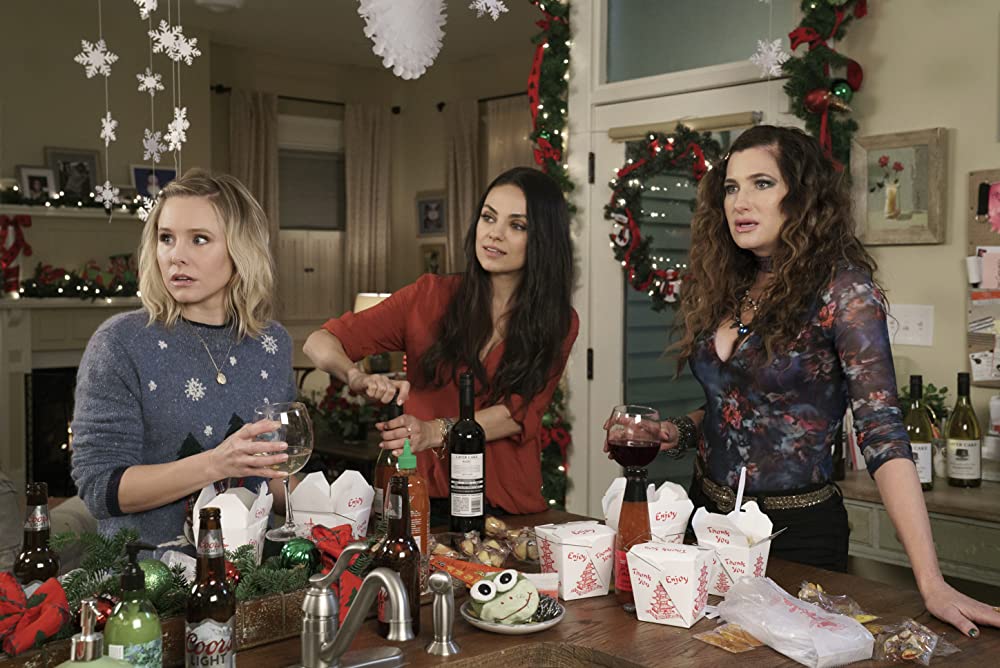 When it comes to choosing Christmas films to watch, you really want something that will lift your spirits high and make you laugh. A Bad Moms Christmas is the perfect comedy to watch whilst you sit back and relax and enjoy the festivities going on around you. Mila Kunis stars as Amy, Kristen Bell as Kiki and Kathryn Hahn as Carla, as they all figure out motherhood during the holiday season. As A Bad Moms Christmas is the sequel to the 2016 feature Bad Moms, we already have been introduced to all of the main characters so know what all of their personalities are like. However, when Amy, Kiki and Carla's own moms arrive into the picture, their integrity is tested, and they are pushed well beyond their limits as they try to navigate Christmas with their moms around.
There's plenty of witty jokes (especially from Hahn) lots of dancing on Santa, stealing a Christmas tree from Lady Foot Locker, and an incredible comical performance from Christine Baranski as Amy's mom. Having family around at Christmas is important, but when they're sometimes slightly intolerable for long periods of time, the last thing you want is your mom buying the house next door (yes, this happens to Kiki). The temperature continues to rise as the moms get more clingy, and starts demanding more from their daughters. Everyone is at their breaking points. Will they make it out alive in time for Christmas to be at peace? Or will it become too much for Amy, Kiki and Carla? A Bad Moms Christmas is an unmissable feature this December.
---
BLACK CHRISTMAS
Director: Bob Clark
Writer: Roy Moore
Year: 1974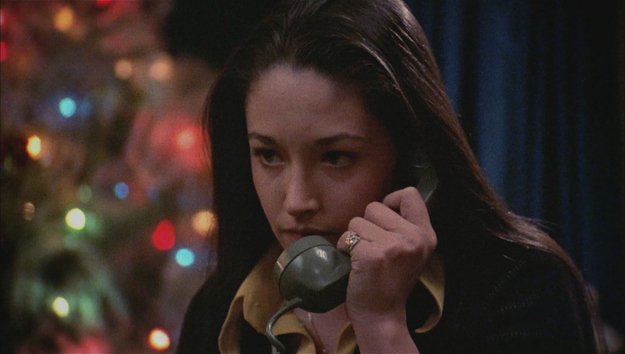 Long regarded as "the first slasher film," Bob Clark's Black Christmas may not initially seem like the most obvious holiday viewing – given its propensity to exchange festivity for fear – but for families who have exhausted all the conventional Christmas movie choices and find themselves for searching for a more sinister Yuletide tale, look no further. Inspired by the urban legend "The babysitter and the man upstairs," Black Christmas follows a group of sorority sisters who receive threatening phone calls and are eventually stalked and murdered by a psychopathic serial killer during the Christmas season. What could've been a basic bargain bin horror flick becomes one of the most petrifying pictures in the genre due to Clark's painstakingly precise direction and masterful grasp on mood, to say nothing of the genuinely compelling crop of main characters given powerful personalities by the commendable cast, led by Olivia Hussey and Margot Kidder. "Holiday horror" as its known today would not exist were it not for Black Christmas, and same goes for the slasher subgenre. So, after you press play on The Polar Express for the two-hundredth time, be sure to later pay your respects to the brutal and beautiful brilliance of Black Christmas this year.
---
GO
Director: Doug Liman
Writer: John August
Year: 1999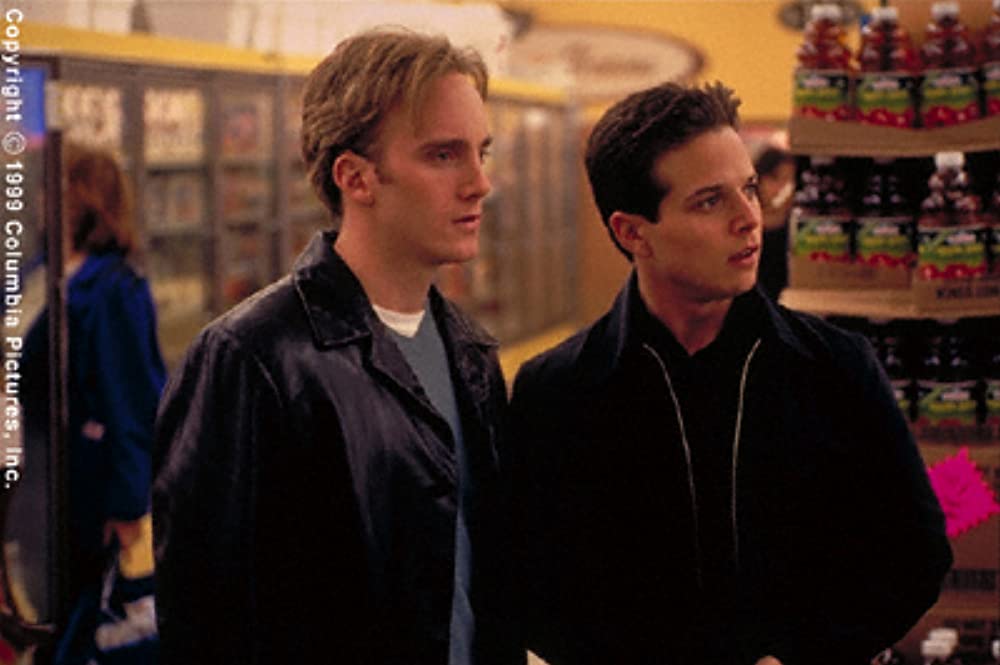 If we are going to call Die Hard a Christmas film, then surely Go merits that title too. Shelf-stacker/cashier Ronna (Sarah Polley) is behind on rent, and has to work extra hours over the already-jam-packed Christmas period to avoid eviction. At the checkout, she is approached by a friendly, attractive gay couple who want to buy ecstasy from her colleague, who is not working that day. Spotting an opportunity to make money, Ronna eagerly offers to cover them. She quickly finds herself immersed in a stressful bind as she deals with dealers, potential law enforcement and drug-taking friends.
Go splits its runtime across three segments, each told from a different character's perspective, with us gradually learning more about the bigger picture. It's fast-paced, soundtracked by aggressive club/rave music, and bears a script full of hilarious one-liners ("They wouldn't evict you at Christmas – then you'd be ho-ho-homeless"). The cast is also excellent – Polley, Katie Holmes, Timothy Olyphant, William Fichtner, Taye Diggs, Breckin Meyer and Jane Krakowski are all perfectly chosen for their respective roles. Drug-dealing, multi-level marketing and flagrant disregard for human life – everything seems to be the antithesis of the Christmas spirit. A few Father Christmas hats and tinsel decorations serve as pandering commercial lip-service as Ronna's peers pine for a better life and waste away their free time in hedonistic pursuits, while she tries to make ends meet. Watch the film, and appreciate what you do have.
---
HOME ALONE
Director: Chris Columbus
Writer: John Hughes
Year: 1990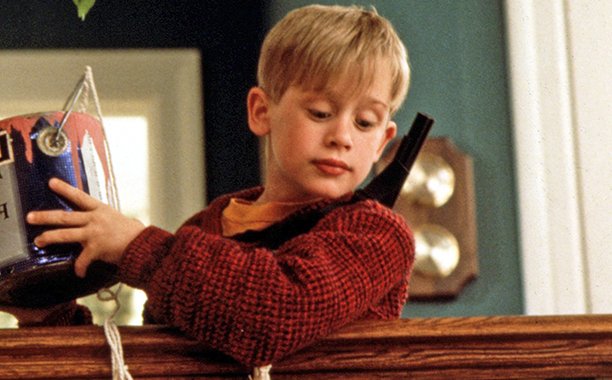 When the topic of Christmas films comes up, it's never long before somebody mentions Home Alone – and for good reason. Chris Columbus' festive celebration of childhood and family is a wonderfully charming experience, and one that capitalises on every ounce of fun and humour that comes from its unique premise. There's a reason that the film has become as iconic and emblematic of the festive season as it has – every joke lands, all the performances are wildly amusing, and all the emotional beats land with the perfect weight. The story follows Kevin (Macaulay Culkin), a young boy who is left at home by himself when his extensive family forget to bring him along on their Christmas vacation. When the family's house becomes the target of a pair of local burglars, it's down to Kevin to protect the house and keep the thieves at bay.
Home Alone explores the childhood pursuit of freedom and independence, which makes it a surprisingly relatable film in spite of its uniquely unrelatable plot. Whilst most children will never find themselves in Kevin's position, most will still feel a connection to the character's excitement at the prospect of having the entire family home to themselves for the weekend. It's a film for all the family – Kevin's unbelievable exploits make for an entertaining form of wish fulfilment for children, whilst the parents' frenzied concern to find their child is something that adults will find equally amusing. With characters this entertaining and comedy this relatable, it's no surprise that Home Alone has consolidated itself as a certified Christmas classic – a position it should hold for a long, long time.
---
HOW THE GRINCH STOLE CHRISTMAS
Director: Ron Howard
Writers: Dr. Seuss (book), Jeffrey Price & Peter S. Seaman
Year: 2000
Read also: All Dr. Seuss Adaptations Ranked (From Worst to Best)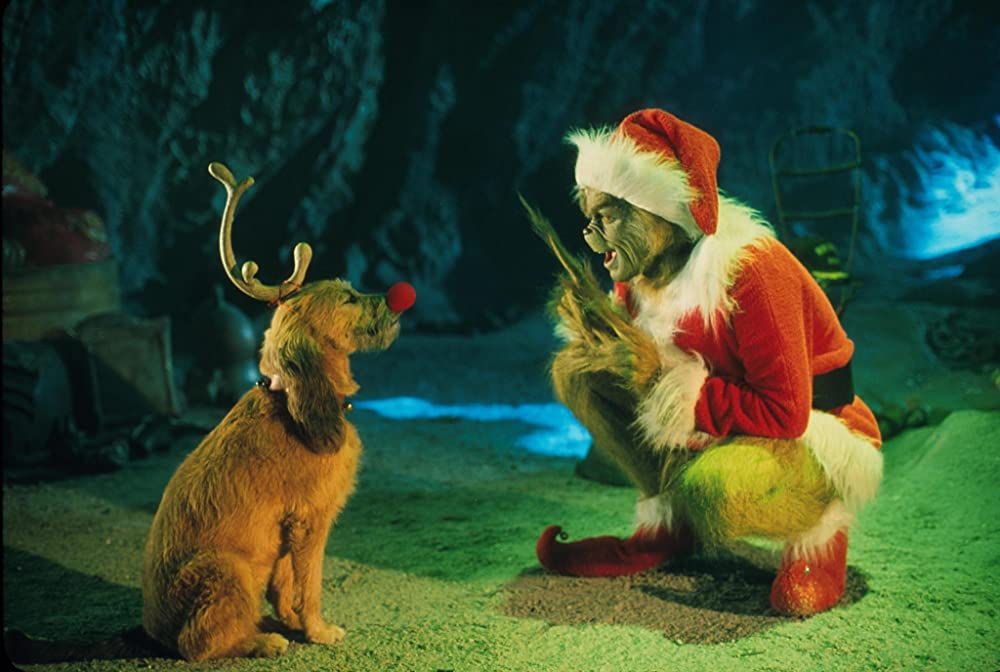 In the town of Whoville, Christmas Day is a day like no other. All of the Whos enjoy celebrating the holiday, buying copious amounts of gifts and food and stringing every available lightbulb along the front of their house. But high up in a cave on Mount Crumpit lives someone a little different: a mean, green creature known as The Grinch (Jim Carrey), who despises Christmas. After being humiliated when little Cindy Lou Who (Taylor Momsen) nominates him as the town's 'Christmas Cheermeister', he vows to ruin Christmas for everyone by stealing every present, feast and decoration.
It's become ubiquitous with being not quite being in the Christmas spirit, telling someone to 'stop being such a Grinch!' But, ironically, How the Grinch Stole Christmas is a tale about the true meaning of Christmas. It's not about the presents. It's not about the excessive food. It's not about who has the best light display or the biggest tree. It's about spending time with those you love, with friends and with family.
Ron Howard's film is over twenty years old (!!) now, but there's still something quite charming about it. The practical effects, that won Rick Baker and Gail Rowell-Ryan an Oscar for Best Makeup, still hold up and Carrey (buried under the prosthetics) is wonderfully acerbic, snarky and hamming it up to his heart's content. Yes it's a bit odd, a bit dark and quite sentimental at its core, but it's still fun. There's some genuinely funny moments, and depending on your disposition, some quite relatable ones too. ("Am I just eating because I'm bored?" and "Hate. Double hate. LOATHE entirely" deserve honourable mentions.) It's quirky, it's off-kilter, but its heart is in the right place. Even if it is three sizes too small.
---
IT'S A WONDERFUL LIFE
Director: Frank Capra
Writers: Frances Goodrich, Albert Hackett & Frank Capra
Year: 1946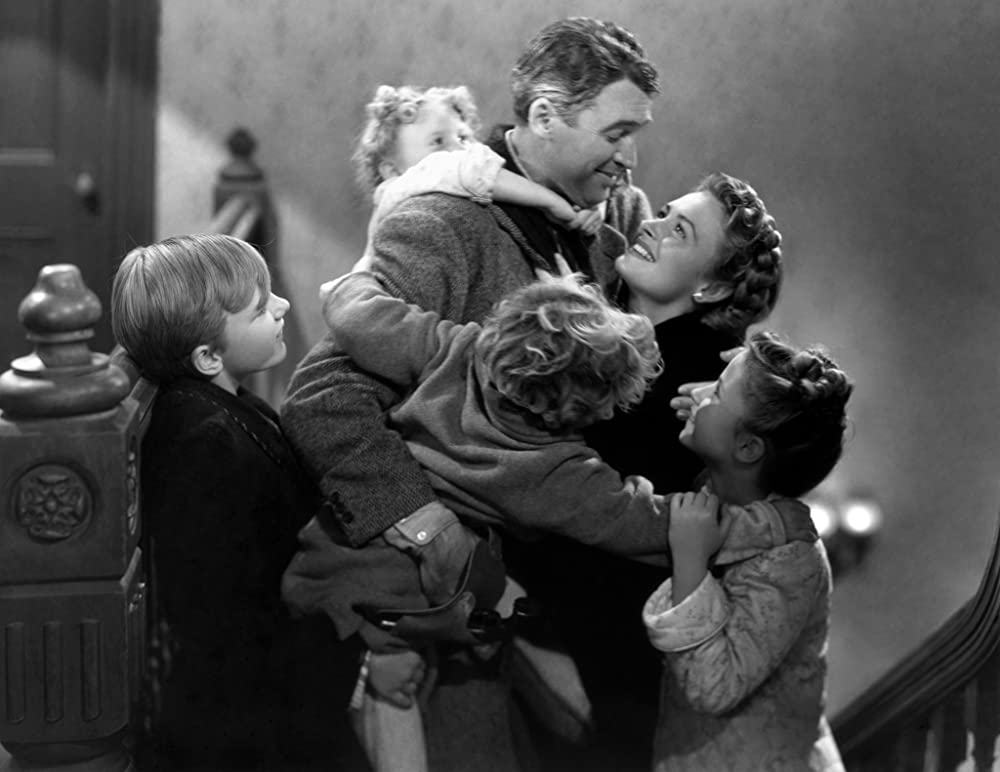 Come in from the cold, shake the snow off your boots, make yourself comfortable, and prepare to have your heart and soul completely and utterly warmed by this magical Christmas tale, It's a Wonderful Life. Directed by Frank Capra and starring James Stewart at arguably his most charming and likable, this classic unsurprisingly gathers some of its inspiration from Charles Dickens' novella, "A Christmas Carol", with the two stories focussing on the need to, above all else, think of and help others.
It's a Wonderful Life follows Stewart's George Bailey – a family man who loves helping his community – suddenly faced with a crisis as he questions his worth and how much good he has actually done in his life. Cue the fantasy element of the film coming to life as George's guardian angel – given a kind and warm air by Henry Travers – enters and proceeds to show George how, actually, he has touched the lives of his family and his community. And yet it never comes across as simplistic; instead, It's a Wonderful Life is grounded in the everyday, and is a reminder that, Christmastime or not, people everywhere deserve decency and positive actions will always have positive consequences.
---
JINGLE ALL THE WAY
Director: Brian Levant
Writer: Randy Kornfield
Year: 1996
Whether it was that iconic Barbie Dream House or that Tamagotchi that always died because we consistently forgot to feed it, there is always that one Christmas toy that all kids beg Santa Clause (or their parents) for every holiday season. For children, this new popular toy is more than just a toy, it is a sign of power and respect among their kindergarten friends. Hence, for the kid, it is of the upmost importance for Santa and the parents to not fail their child during this critical time in their childhood. In Jingle All the Way, Jamie Langston (Jake Lloyd, of Star Wars: Episode I – The Phantom Menace) begs his father, Howard (Arnold Schwarzenegger, of Terminator) to purchase the hottest new toy of the season – the action figure called Turbo Man. When Jamie's dad forgets to buy the action figure weeks ahead of time as instructed by his wife, he finds himself in a complicated situation as the Turbo Man doll is sold out in every store in the city. With hours left before Christmas Day, Howard isn't the only parent racing against the clock to buy the trendiest new toy. From choking a little girl in a ball pit to blowing up a radio studios' floor, this father desperately tries to prove that he will do anything to fix his mistakes and get that Turbo Man doll for his son in time for Christmas.
For children, it can be very simple for them to write a letter to Santa asking him for all these presents. Nothing makes them more excited than seeing those gifts pile up high under the Christmas tree, but for the parents, it can be a completely different experience. Just like Howard, there are thousands of parents scrambling to do their last-minute shopping in this stressful time of year for them. Whether this is due to carelessness or financial reasons, they all have one goal in mind: to make their child happy. This year, let us take into consideration what our loved ones have given us throughout the year, before we start asking for more. Full of comedy and adventure, Jingle All the Way is a great heartwarming film that suppresses the commercial significance of Christmas while appreciating its true values.
---
JOYEAUX NOEL
Writer & Director: Christian Carion
Year: 2005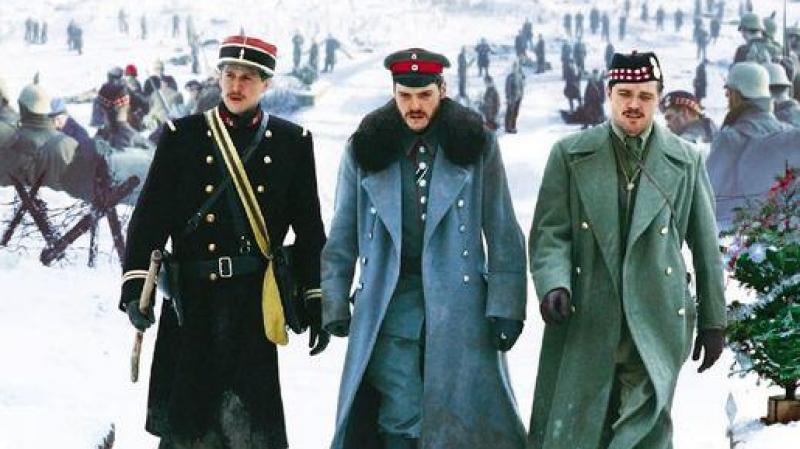 Though far less upbeat than many of the classic Christmas films and specials we all watch, the multilingual 2005 war drama Joyeux Noel captures the spirit of the holiday through the most unlikely of means. The film portrays the unbelievable true story of French, Scottish, and German soldiers in World War I that all agree to a ceasefire for Christmas Eve in 1914. They gather together in No Man's Land to celebrate the holiday, bonding together, exchanging gifts, and even holding a mass. It's incredible to watch and a beautiful portrayal of the true events. When the first signs of peace occur as all sides sing in harmony from within their trenches, you feel the unfiltered joy of having something positive in this terrible war, and of the opportunity for these men to regain their humanity even for one day. That then permeates throughout the entire night and into the whole of Christmas Day, and it's powerful enough to overcome all politics, language barriers, and history between these three sides.
But as you'd imagine, things don't simply go back to normal once Christmas has passed, with the aftermath of confusion and emotional consequences taking center stage in the film's third act. These soldiers must revert to treating each other as black-and-white enemies despite it now being painfully apparent how much they have in common, and the failure of higher authorities to recognize that makes everything even more complicated. It all shows how lines have become blurred, perceptions have changed, and yet how the war must bleakly go on. Everything leads to a resolution that's not quite happy, but still leaves you inspired that something like this even happened in the first place, and that it hasn't been forgotten by those who lived through it.
Joyeux Noel is a criminally overlooked gem. It captures the harshness of war that a war film should, the miraculous beauty of love and good will that a holiday film should, and complex themes and emotions as any great film in general should. It's definitely very different from your usual Christmas fare, but it ranks among the most powerful stories surrounding the holiday ever told, showing how the merriest of seasons can impact even the darkest of settings.
---
KLAUS
Directors: Sergio Pablos & Carlos Martínez López
Writers: Sergio Pablos, Jim Mahoney & Zach Lewis
Year: 2019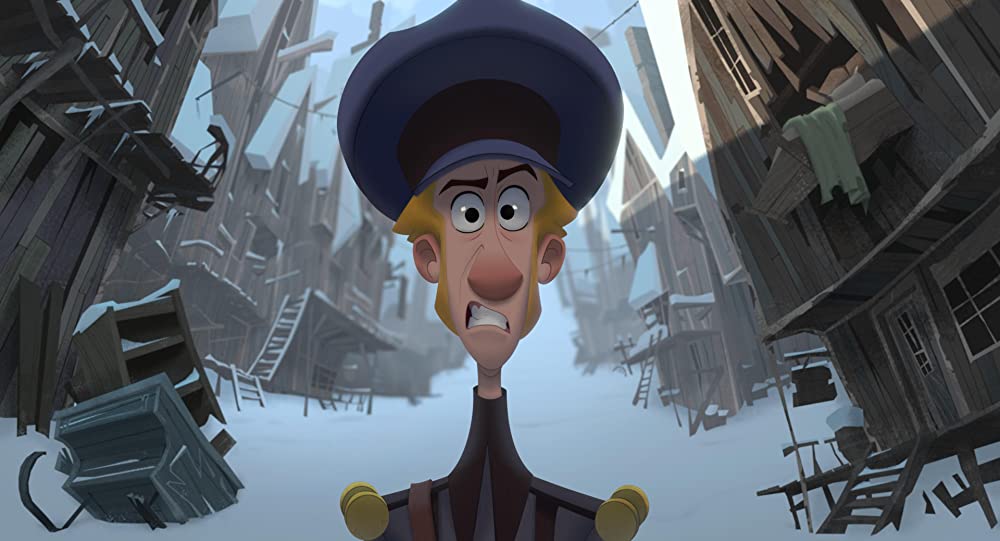 There's something to be said about the joys of a simple story, and while Klaus (2019) may have a familiar fish-out-of-water plot, everything about it executed exceptionally well! Klaus is the story of a privileged postman assigned to a remote island community in the far north filled with belligerent feuding families, and the unlikely friendship he forms with a reclusive woodsman with a talent for hand-making toys. Everything about Klaus is great: its cast (which includes names like Jason Schwartzman, JK Simmons, Rashida Jones, and the late Norm MacDonald) all deliver spirited and enthusiastic performances in their respective roles. The animation style is unique and vibrant, and makes for expressive character and scenic designs. And the writing is sharp throughout, perfectly balancing humor, heart, and just the right amount of emotion into compelling and fun character dynamics and growth (not to mention that the humor itself is varied and interesting combining visual gags and banter). I saw it for the first time only last year and I've already decided to make watching it a yearly tradition. Even if it doesn't have the most subversive plot ever conceived, Klaus is still a great movie with a lot of heart, perfect for children and adults, and I cannot recommend it enough.
---
LOVE ACTUALLY
Writer & Director: Richard Curtis
Year: 2003
See Also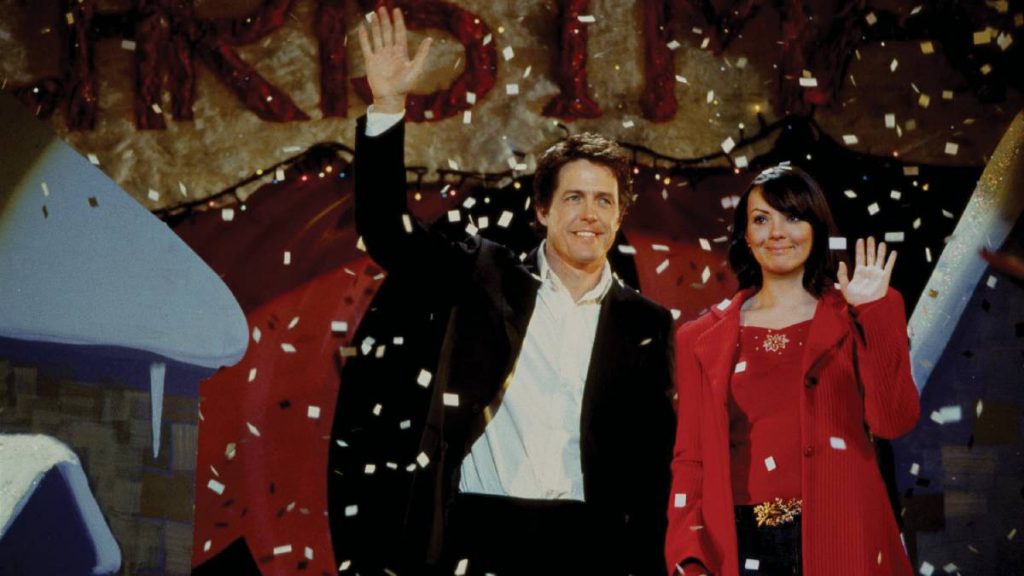 Love Actually may seem like the painfully obvious choice but, with an all-star cast and special place in the Nation's hearts, it deserves its fair share of Christmas-classic glory. This film simply has it all: tear jerkers, excellent one liners, the dance I will forever consider Hugh Grant's most memorable moment in cinema (and is perhaps, after the revelations of the recent months, a more accurate depiction of life in No. 10 than we'd previously imagined). Though I will frankly never forgive Alan Rickman for what he did to Emma Thompson, Love Actually will always be one of my favourites. After two years of lockdowns and uncertainties, we've learned to not take moments with loved ones for granted. This year especially, Love Actually's famous opening credits of the arrivals gate at Heathrow airport seem particularly pertinent. We've all lost so much these past few years and, 'because it's Christmas, and at Christmas you tell the truth', I think we all deserve a mince pie or five, a box of celebrations and a night in front of this family favourite to remind us that 'Love actually is all around'.
---
LITTLE WOMEN
Writer & Director: Greta Gerwig
Year: 2019
Full Review: Ronan and Chalamet shine in Gerwig's Little Women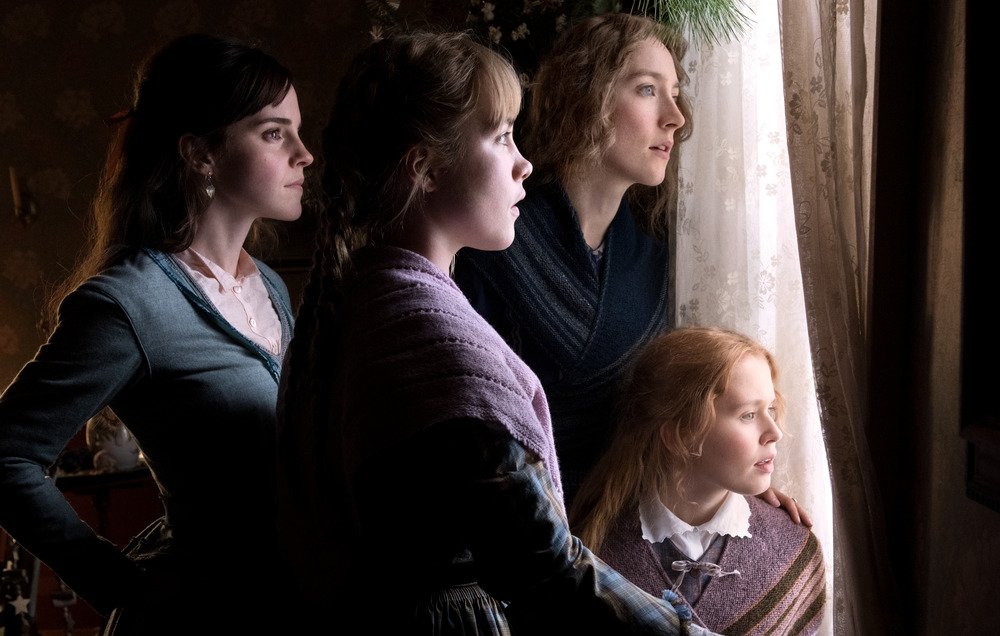 Greta Gerwig's Little Women is the 6th film adaptation of Louisa May Alcott's beloved novel of the same name. Little Women follows the March sisters, Jo (Saoirse Ronan), Meg (Emma Watson), Beth (Eliza Scanlen) and Amy (Florence Pugh), as they grow up in Massachusetts with their Marmee (Laura Dern) and neighbour Laurie (Timothée Chalamet). Although not being exclusively categorised as a Christmas film, many would consider it so. As the girls come-of-age and blossom into young women, their lives move together and apart, although their individual stories are always punctuated by their reunion at Christmas and the stability this provides. With Gerwig's signature touch of authentic, overlapping dialogue amongst a vibrant cast, audiences are reminded of the chaos that unfolds during Christmas celebrations with their own relatives. The sisters may bicker, tease and torment but the overarching themes of Little Women are surely the power of familial love, the importance of giving and the pursuit of passion.
Little Women makes for the perfect film to watch over the Christmas period, as it so wonderfully emulates the comfort and warmth the festive season brings. You will see yourself in at least one of the little women, whose vast expanse of interests and dreams are bound to represent your own somehow. Not only will Little Women get you in the Christmas spirit but pull on your heart strings with a powerful story and bring you closer to the ones you love.
---
THE NIGHTMARE BEFORE CHRISTMAS
Director: Henry Selick
Writer: Tim Burton
Year: 1993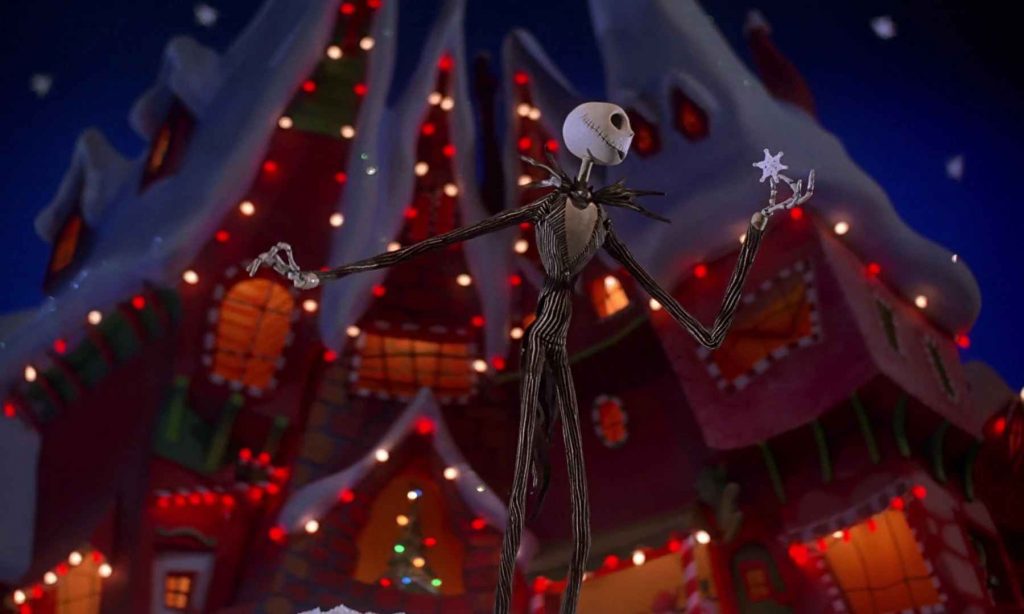 Is it a Christmas movie? Is it a Halloween movie? That's the never ending debate surrounding Tim Burton's The Nightmare Before Christmas. It's not just a stylish decision to force these devilish creatures to interact with the Christmas season, but characters are taken on a self-discovering journey through this setting. Jack Skellington (Chris Sarandon & Danny Elfman, Fright Night & Corpse Bride), also known as the pumpkin king of Halloween-Town, has grown tired of the same old traditions as he is idolized by his fans and wants to explore new ideas. He comes across Christmas-Town and almost immediately becomes obsessed with the holiday and tries to adapt it into his hometown. The problem is, Jack and the residents of Halloween-Town don't understand what makes Christmas special. Chaos ensues after kidnapping Santa Claus (Edward Ivory, Nine Months) and thus our colorful characters need to deal with the consequences.
There's not a lot of complexity to the film, it follows the Christmas formula where our protagonist has to learn a lesson or two about himself during the holiday season. Yet, Tim Burton's short story, which the film is based on, has a level of originality that makes it stand out amongst other Christmas themed movies. Everyone can relate to that sensation of unfulfillment and feeling alone, even if we have people who love us, which can sometimes lead us to make desperate decisions that we think will fill that hole in ourselves. Just like Jack Skellington, though, maybe you will find your own Sally (Catherine O'Hara, Schitt's Creek) this Christmas season and spend the holidays with that special someone. Ready your eggnog, take those cozy blankets to your living room and have a jolly time with the family watching this unconventional, spooky holiday movie.
---
THE POLAR EXPRESS
Director: Robert Zemeckis
Writers: Robert Zemeckis & William Broyles Jr.
Year: 2004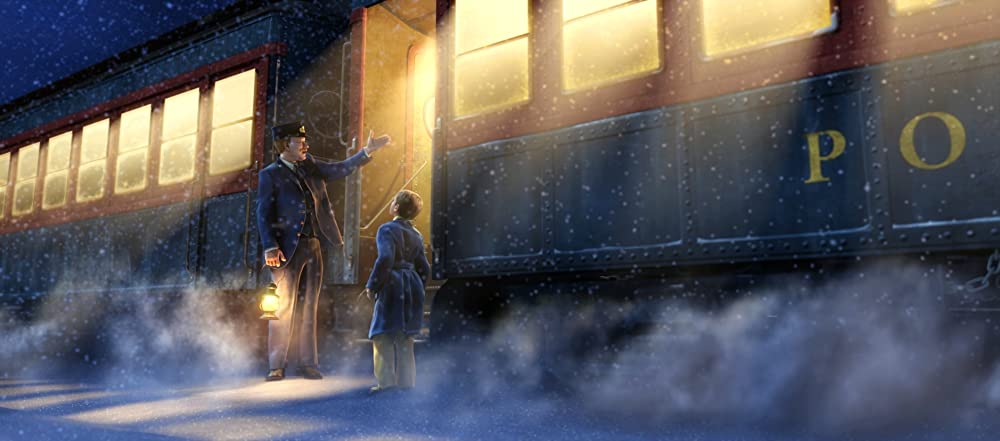 If you're looking to watch something strange yet fascinating this holiday season, look no further than the surreal maximalist spectacle of The Polar Express. Starring Tom Hanks in six different voice acting roles and shot using groundbreaking motion capture technology, Robert Zemeckis' 2004 feature follows a group of children who don't believe in Santa Claus as they journey to the North Pole on Christmas Eve. Nearly every image and narrative twist and turn in The Polar Express exists to show off the new frontiers of CGI filmmaking and is pushed to the absolute limit to be as thrilling and exhilarating as possible. In one scene, a train speeds across a frozen lake as the ice shatters just before reaching the tracks at the last second, while another flaunts digital liquid physics as perfectly timed splashes of steaming cocoa fly through the air in an elaborately choreographed hot chocolate song and dance number.
Meanwhile, the uncanny valley character design oscillates between absurd, terrifying, and memorably annoying, with obnoxious comic relief characters. Despite being marketed as a family film, The Polar Express descends into occasional nightmarish depths with images of ghosts and one particularly frightening scene inside a train car full of decaying dolls. Also haunting is a scene demonstrating the North Pole's extensive surveillance operation as the elves watch children sleep while a video loop of a boy claiming his innocence for being naughty repeats—made all the more chilling considering the film's surrounding real-world context of the Patriot Act and Bush regime security state. Regardless of whether this is just a harmless piece of poorly aged CGI overload or an eerie allegory about jingoism (especially with its themes of doubt and belief), there's no denying that The Polar Express is a curiously weird Christmas film that deserves continued interest.
---
TRADING PLACES
Director: John Landis
Writers: Timothy Harris & Herschel Weingrod
Year: 1983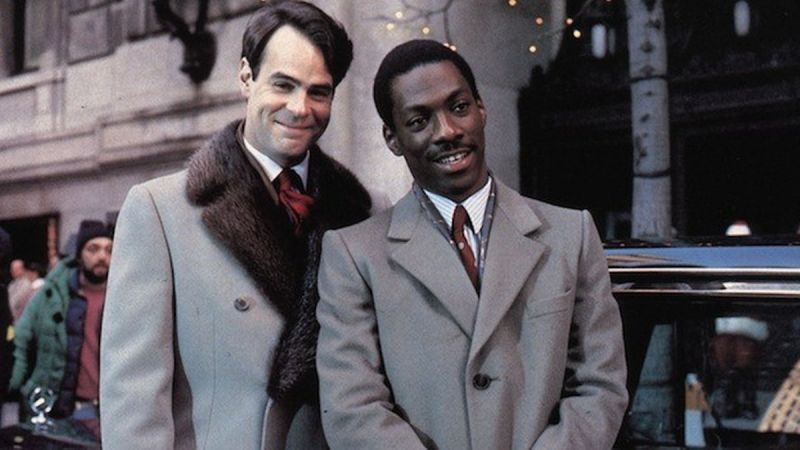 There are certain things in life that will always remain a mystery, such as how the Big Bang really happened, whether or not intelligent alien life exists anywhere in the universe, and… the reason why Italians watch Trading Places every single Christmas. This unusual holiday tradition was brought up during Halloween Kills' press conference at the Venice Film Festival earlier this year, when a journalist let Jamie Lee Curtis in on the secret, and it's actually less of a mystery than you might imagine. The reason why Italians watch John Landis' 1983 classic comedy every year is that Trading Places – or, as the Italians would say, Una Poltrona Per Due – has been screened on Italian televisions on Christmas Eve nearly every single year since the nineties, so much so that it has now become a ritual to rewatch it every year. But what is it about the film that makes it not only an appropriate Christmas watch but also a favourite among audiences?
Reminiscent of both "The Prince and The Pauper" and "A Christmas Carol,"Trading Places is the story of two wealthy, entitled old men (the Duke brothers, impeccably played by Ralph Bellamy and Don Ameche) who decide to make a wager out of boredom: to test if people can change when given different opportunities, they meddle with two men's lives – stuck-up investor Louis Winthorpe III (Dan Aykroyd) and cunning street con artist Billy Ray Valentine (Eddie Murphy) – and make arrangements so that their situations are suddenly reversed. Of course, chaos ensues, and there's room for hilarious moments of comedy but also for clever commentary on human nature.
Trading Places was made thirty years ago, and it hasn't aged exceptionally well: back in 1983, the film used comedy to successfully tackle the (still very much relevant) themes of institutional racism and white supremacy; looking at the film today, there are everal moments that are problematic at best, from the use of offensive language to stereotypical depictions of women and Black people. But if you keep this in mind and think of the film as a product of its times, you'll find that, behind its very straightforward narrative, there's also a social satire with a lot of heart, telling the surprisingly relatable story of two victims of a ruthless system that manage to "stick it to the man" and come out on top, against all odds. Trading Places is ultimately a heartwarming, rewarding watch that will keep you entertained and have you rooting for its larger-than-life protagonists.