Becky (Review): A Breezy but Bloody Brawl with a Brutal Bag of Tricks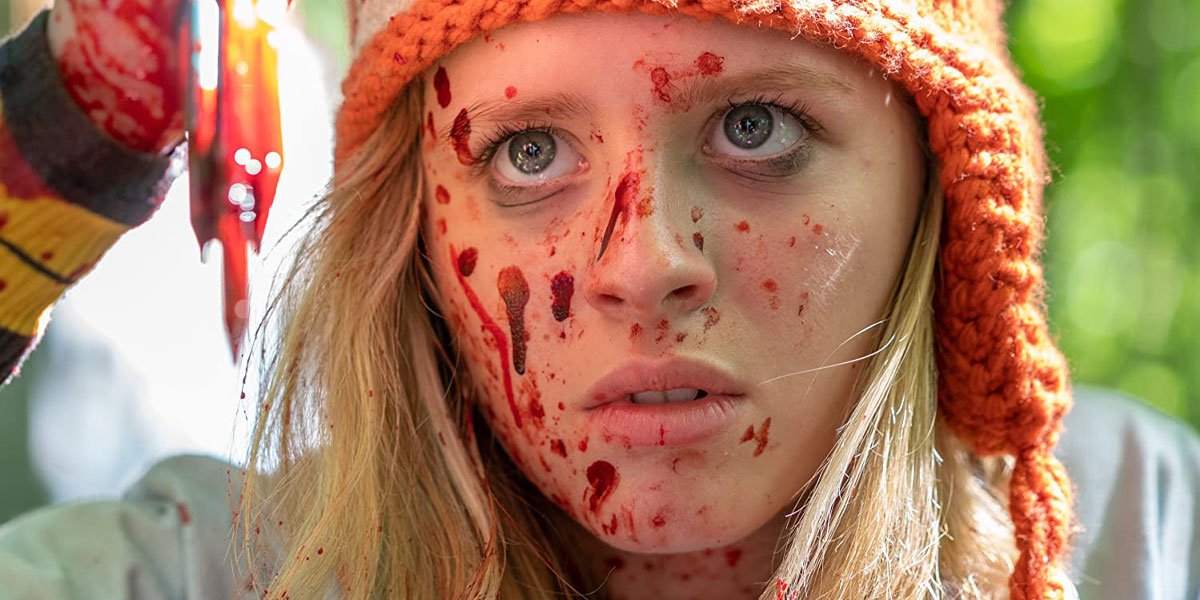 Lulu Wilson in Becky (Quiver Distribution)
Becky gives audiences a gnarly genre gem to savor this summer, with terrific turns from Lulu Wilson and Kevin James.
---

What do you get when you take the simple structure of Home Alone but add in some gruesome gore and a number of nefarious Nazis? That would be Quiver Distribution's barbarous Becky (an adjective that applies to both the ferocious film itself and its headstrong heroine).
This savage story begins as the titular teen (Lulu Wilson, of Annabelle: Creation and Ouija: Origin of Evil) is hauled away by her fatigued father, Jeff (Joel McHale, of Community), to their "cozy" cabin in the woods for a weekend getaway – which honestly should've been the first red flag. Soon, Becky is swiftly shocked by the additional arrival of her father's new girlfriend, Kayla (Amanda Brugel, of The Handmaid's Tale and Orphan Black), and her young son, Ty. Due to her much-beloved mother's recent death, Becky is already angered by her father's willingness to work on getting his "life back on track," but that animosity is amplified as he abruptly announces his and Kayla's engagement, exacerbating the estrangement between himself and Becky.
As this frazzled family attempts to find any common ground, these earnest efforts are thwarted by a group of escaped neo-Nazi convicts in search of a mysterious key, hidden somewhere in the land surrounding the cabin (though it's true purpose is never revealed, it is assumed to be a tool that aids these horrific heathens in reshaping the world in their white supremacist vision). However, while Jeff, Kayla, and Ty are handily taken hostage, Becky proves to be a sharp thorn in these mens' sides, staging an audacious attempt to both free her family and keep the key from these malevolent miscreants.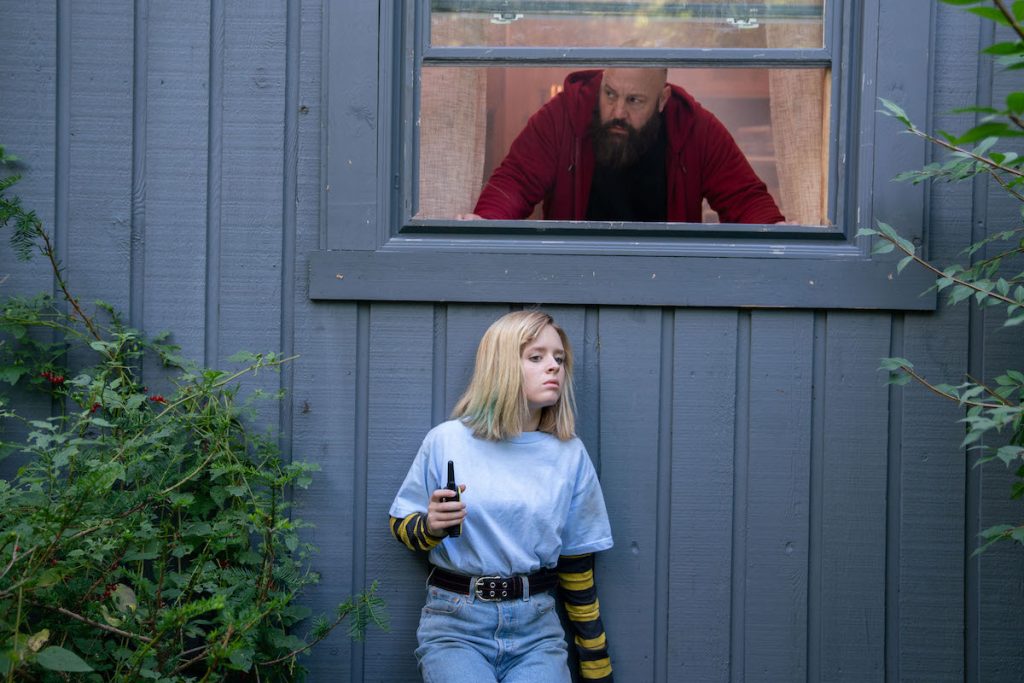 With so many scattered story threads ranging from affecting (the fractured family relations) to alarming (the no-good neo-Nazis) to absurd (the "fabled" key), screenwriters Nick Morris, Lane Skye, and Ruckus Skye certainly had a considerable amount content to cover in Becky's brisk 93-minute runtime. Nonetheless, even if every plot element doesn't receive perfect payoff (the true purpose of the key the neo-Nazis are pursuing is never revealed, for example), Becky splendidly delivers on surface-level sensory stimulation, capitalizing on the chaos inherent in its "cat-and-mouse" concept. The character work is sparse, and the dialogue leaves a bit to be desired, but in terms of staging supremely suspenseful sequences in speedy succession, Becky can't be beat. The film certainly isn't attempting to be a thematically challenging classic, and quite frankly, it didn't have to. Becky concentrates on the core on its captivating conflict between "good" and "evil," and that contentious competition alone is engaging enough.
Luckily for Becky, the story's stars are also able to obscure any of the screenplay's shortcomings, as Lulu Wilson and Kevin James show considerable commitment to the movie's ever-increasing mania at all times. Wilson has proven her power as a protagonist in other frightening flicks (with a lovely lead performance in the aforementioned Annabelle: Creation), but as Becky, she is able to shed all of the sweet-natured "schoolgirl" naiveté associated with her prior parts and adopt an anarchic and animalistic attitude while deliriously dispatching neo-Nazis with delight. In many ways, Becky is Kevin McAllister by way of Rambo, and Wilson combines childlike chasteness with crazed cruelty to create a character who conveys both compassion (towards those she wishes to protect) and coldness (towards those who intend to harm her) concurrently. Though Becky could've certainly caved into camp (and it's not entirely devoid of eccentricities), Wilson's devoted duty in the lead role serves as the film's firm foundation.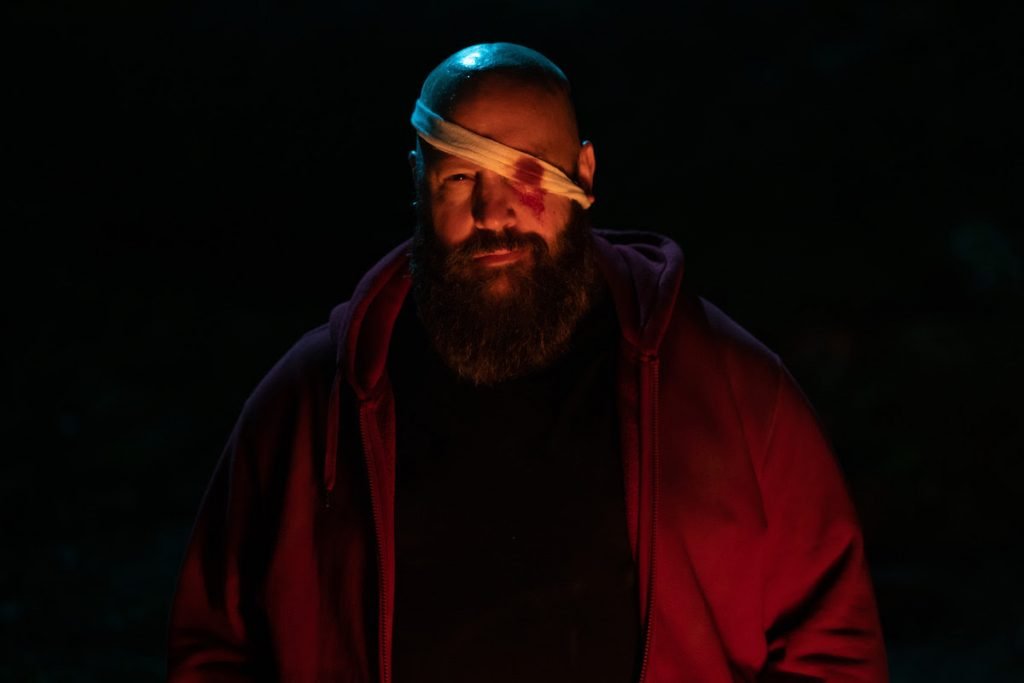 Much news has been made about Kevin James's detestable dramatic turn as a nutty neo-Nazi named Dominick, and that description alone may inspire innumerable ideas as to how the celebrated comedian would portray such a philistine. Yet, to James' credit, he never acts as erratic or as exaggerated as one may expect. Dominick is indeed prone to occasional fits of frenzy, but, for the most part, he is chilly and cool, and James conveys this creepily calm composure competently. Wilson's Becky may have the more striking/showier role, but the film wouldn't work if it wasn't for James' ability to keep his character under control, and he should be rewarded for that restraint. It remains to be seen if he can be the next great "comedian-turned-serious actor" (think Melissa McCarthy in Can You Ever Forgive Me? or James' comedic companion Adam Sandler in last year's Uncut Gems), but if Becky is any indication, James is off to a strong start.
Directors Jonathan Milott and Cary Murnion (Bushwick, Cooties) film all of this frenetic fury with raucous rigor, and it's due to their unbridled energy and inventiveness that Becky's bountiful bloodbaths feel riveting instead of redundant. Each of Becky's killings are kinetic knockouts, and while they may be identical in intensity, the set-ups are supremely singular. Viewers will come to expect the same outcome from every one of Becky's executions, but the painful paths to these endpoints are constantly changing, and Milott and Murnion know just how to continually illicit interest from the audience with their commoving camerawork (and they are further aided by Alan Canant's expeditious editing).
Becky most certainly isn't aiming to be high art, but what it lacks in complex characters it makes up for with aggressive action and cheer-worthy carnage. Even though the film attempts to conclude on an analysis of the impact of all of this insanity on the fragile mental state of its main character (leaving the door open for an even more sinister sequel), the story here most often takes a backseat to bloody battles. Still, when the brawls are this brutishly bewitching, these minor flaws can be forgiven.
---
Becky is available to watch on Prime Video.
---
STREAM BECKY:
---
JOIN US!
Don't miss our monthly updates with film news, movie-inspired recipes and exclusive content! You'll only hear from us once a month. #nospam