A Film a Day: Your Week in Movies

Edward Scissorhands, Knives Out, Kiki's Delivery Service (Fox/Lionsgate/Studio Ghibli)
From Netflix hidden gems to exciting new releases, here's your upcoming week in movies, with one film a day for you to stream.
---
With self-isolation keeping many of us inside our homes, it's becoming harder and harder to find new ways to spend our time. Yet, thogether with all the endless Instagram Live sessions, the improvised YouTube performances and the occasional video call with a friend, movies still remain one of the most effective ways for us to keep ourselves entertained and forget about what's going on outside. So, if you've already binge-watched all your favourite shows, gone through your letterboxd watchlist and exhausted the catalogues of multiple streaming services… We've got you covered. Here's your upcoming week in movies, with a film a day for you to watch.
---
KIKI'S DELIVERY SERVICE
MONDAY
Director: Hayao Miyazaki
Year: 1989
Country: Japan
Where to watch: Netflix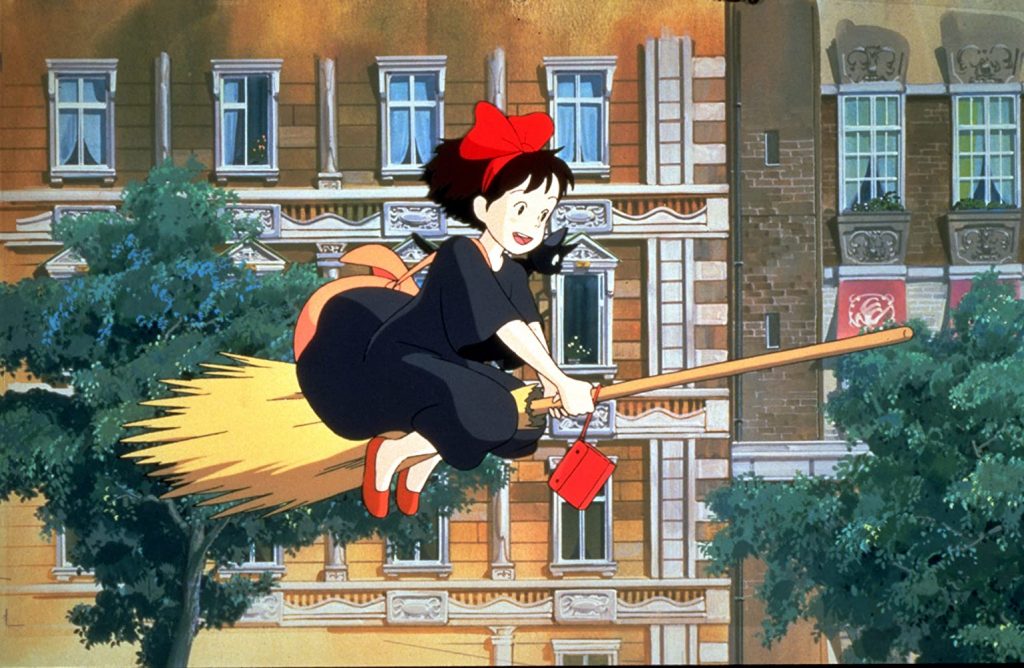 Hayao Miyazaki's endearing coming-of-age story about a young witch's journey to independence is not the most well-known Studio Ghibli movie, but it's the perfect film to help you start your week with a smile. Adapted from Eiko Kadono's 1985 novel by the same name, Kiki's Delivery Service is the story of a resourceful trainee witch (Minami Takayama) who leaves home and settles in a new town, as is customary for young witches. When the time comes for her to choose a way to use her powers, she decides to open a "Delivery Service" in which she arranges deliveries of goods to the town – by broomstick, of course. Helped by her loyal companion, Jiji the black cat (Rei Sakuma), Kiki sets off on a journey of self-discovery, whose life lessons are delivered in the most surprising way. As in the best Studio Ghibli tradition, Kiki's Delivery Service is about so much more than what it seems. Watch it to enter yet another incredible world in Miyazaki's imagination, and to be reminded of all the values that make us human.
---
MEMENTO
TUESDAY
Director: Christopher Nolan
Starring: Guy Pearce, Carrie-Anne Moss, Joe Pantoliano
Year: 2000
Where to watch: Tubi (USA) / Prime Video (UK)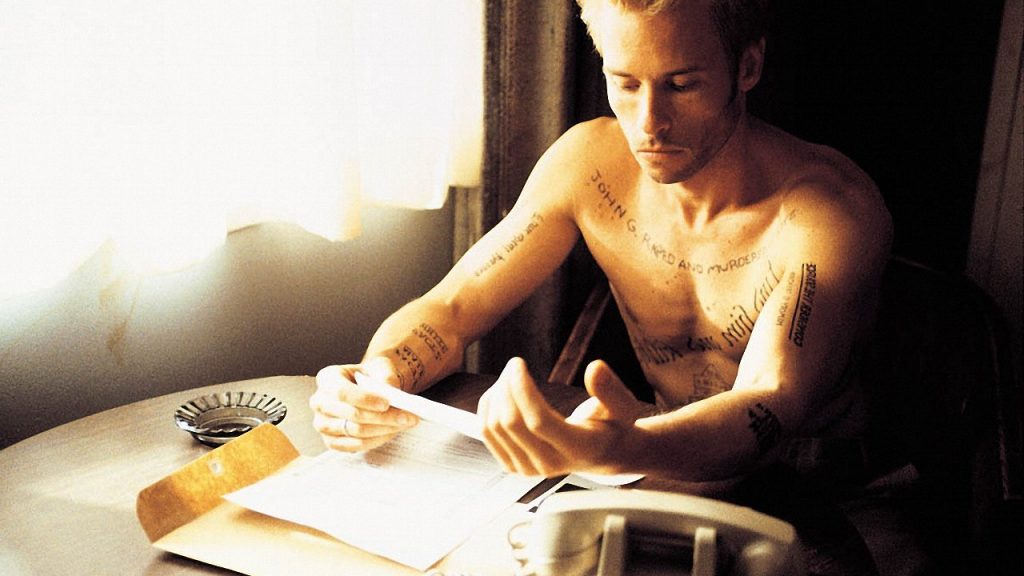 If we picked a feel-good animated movie to help you start the week in a good mood, Tuesday's film is one for your brains. Christopher Nolan's award-winning psychological thriller is the story of Leonard (a superb Guy Pearce), a man who suffers from short-term memory loss and who is on a mission to track down the man who brutally murdered his wife. As his memories come and go within the space of minutes, Memento's protagonist goes through his life by following instructions that come in the form of tattoos, and that have been left for him by a previous version of himself. This compelling investigation on identity is a clever puzzle of a movie in which storylines move backwards and forwards in time. You'll marvel at its groundbreaking cinematic techniques, and you'll be left wondering about what it is that makes us who we are.
---

THE STAR WARS SAGA
WEDNESDAY
Director: George Lucas
Year: 1977-2019
Where to watch: Disney+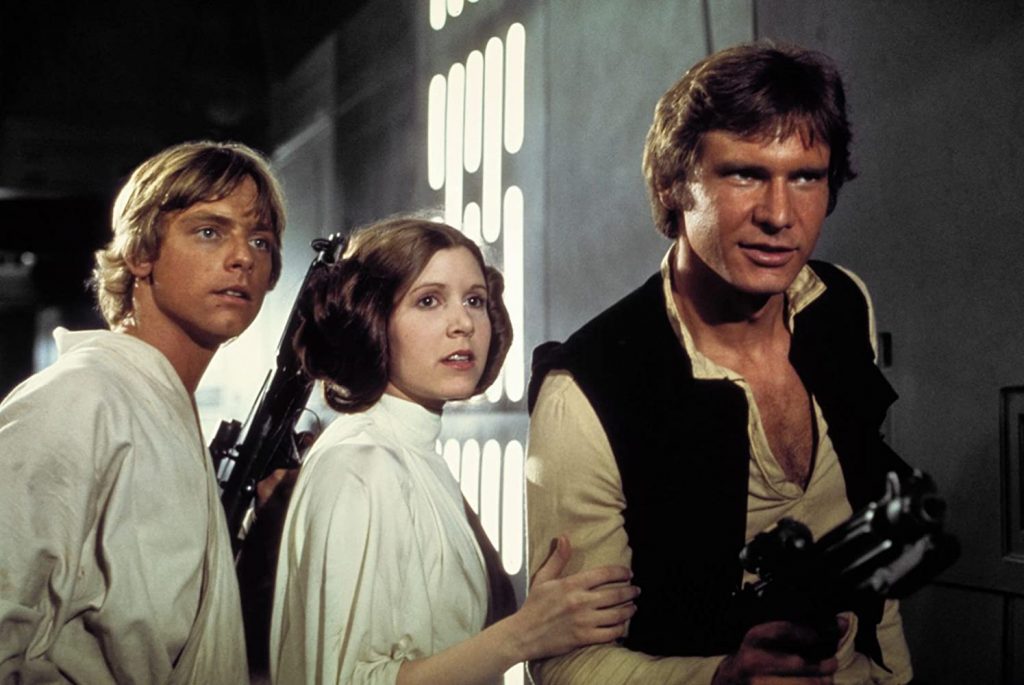 Too ambitious? Alright then, let's settle for your favourite Star Wars movie instead. Wednesday is the perfect day to get nostalgic with epic lightsaber battles, history-defining scenes, charismatic characters and quotable lines that will give you the energy Force you need to get you through the week. As you get ready to celebrate the upcoming Star Wars Day with a much-needed rewatch, the Force will be with you to make you remember all the best (and worst?) moments of the beloved saga.
---
THE WORLD'S END
THURSDAY
Director: Edgar Wright
Starring: Simon Pegg, Nick Frost, Martin Freeman, Pierce Brosnan, David Bradley, Rosamund Pike
Year: 2013
Where to watch: Netflix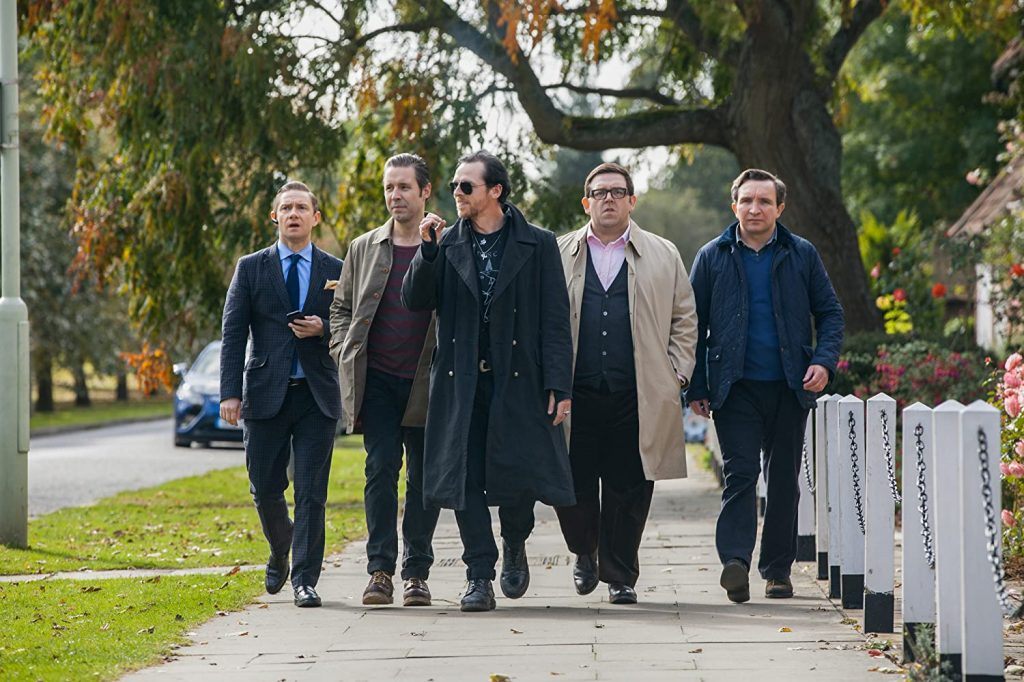 Bring out the zombies! As the real world gets weirder and scarier by the day, it's time to beat the Thursday blues and embark on an imaginary pub crawl into an even more bizarre fictional town that goes by the name of Newton Haven. Follow Gary King (Simon Pegg) and his high school friends as they try to complete the legendary "Golden Mile" pub crowl while attempting to decipher the secrets of a familiar town that somehow appears to be different from what they remembered it to be. The final chapter of Edgar Wright's Cornetto Trilogy is as ironic, clever and technically flawless as the first two, with plenty of unlikely scenarios and hilarious exchanges to keep you entertained. Get ready for a wonderfully absurd, unpredictable ride to the end of the world, and be prepared to add "Double-U Tee Eff" and "Let's Bubu" to your pub crawl vocabulary.
---

MOULIN ROUGE!
FRIDAY
Director: Baz Luhrmann
Starring: Nicole Kidman, Ewan McGregor, John Leguizamo
Year: 2001
Where to watch: Prime Video (UK/USA)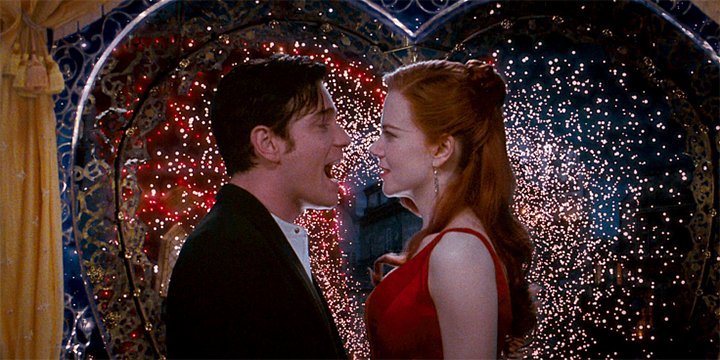 Andrew Lloyd Webber's weekly YouTube musical sessions have gotten us used to thinking of Friday as the "musicals" day, so why not honour the tradition started by the Phantom of the Opera composer by choosing even more high-quality musicals to watch? Our choice for the week is Baz Luhrmann's Moulin Rouge!, the Oscar-winning romance that made us all dream with Christian (Ewan McGregor) and Satine (Nicole Kidman). Luhrmann's spectacular drama features compelling performances, eye-pleasing costumes and catchy melodies, with plenty of songs that have been rearranged by musical legends such as David Bowie and Beck.
---
KNIVES OUT
SATURDAY
Director: Rian Johnson
Starring: Daniel Craig, Chris Evans, Toni Collette, Ana de Armas, Jamie Lee Curtis, Michael Shannon, Christopher Plummer
Year: 2019
Where to watch: Amazon (UK/USA), YouTube (UK), iTunes (USA)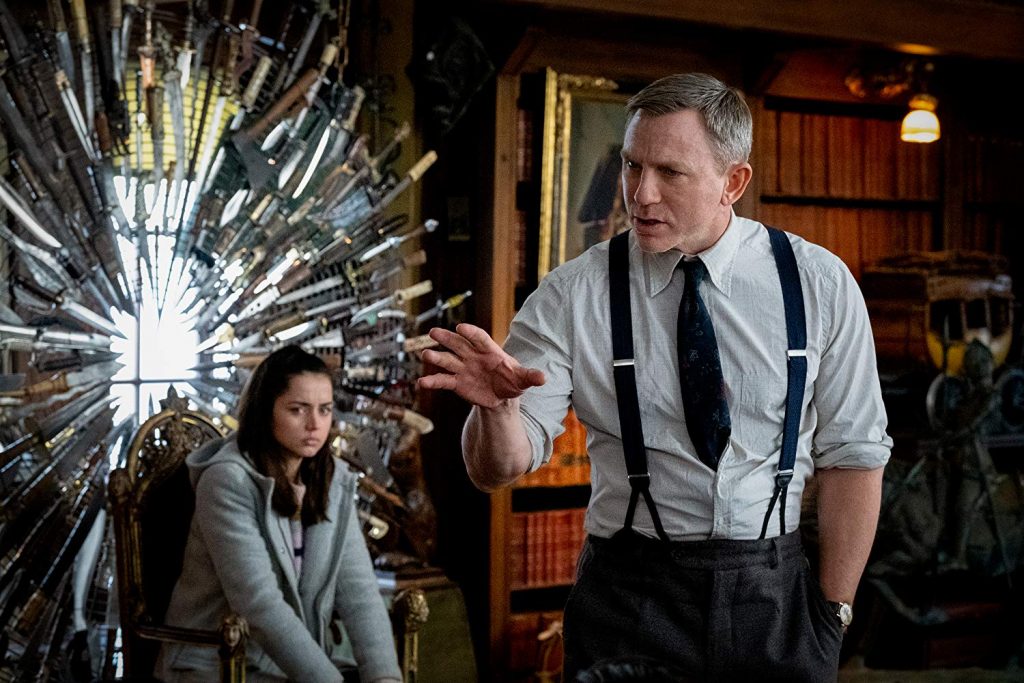 Let's start the weekend with a new release: Rian Johnson's Knives Out has just been made available to rent and buy, and you don't want to miss it. This clever whodunnit is one of those films that only comes out once in awhile, with a complex narrative structure and excellent acting that help deliver a truly compelling, unpredictable story. Knives Out is the story of a wonderfully dysfunctional family who receives a visit by an eccentric detective (Daniel Craig), after acclaimed crime novelist Harlan Thrombey (Christopher Plummer) is found dead at their manor. This modern take on the murder mystery genre is as witty as it is entertaining, and you'll want to watch it over and over again.

Full review: Johnson's whodunnit captivates, entertains and subverts expectations
---

EDWARD SCISSORHANDS
SUNDAY
Director: Tim Burton
Starring: Johnny Depp, Winona Ryder, Dianne Wiest, Kathy Baker
Year: 1990
Where to watch: DirectTV (USA) / Disney+ (UK)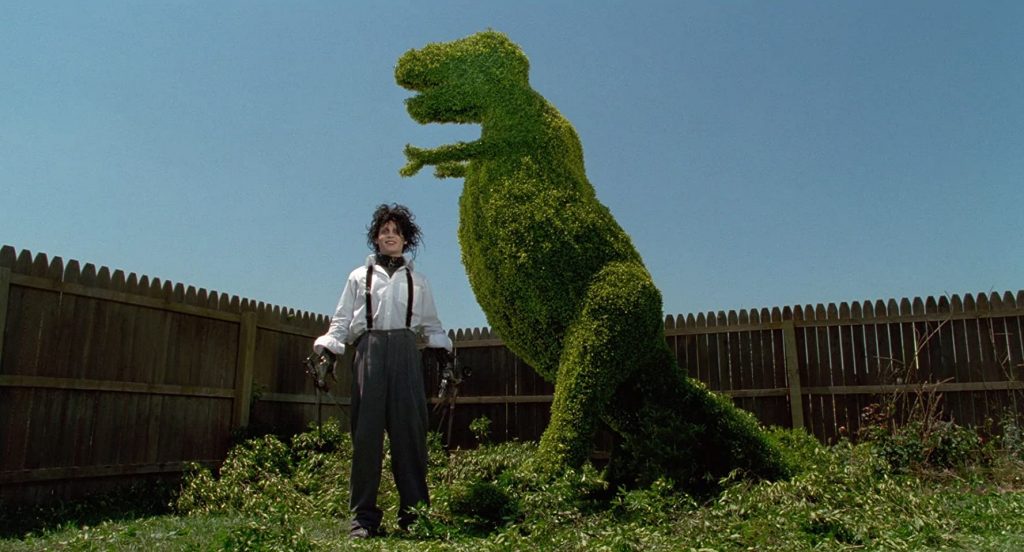 It's hard to tell days apart during self-isolation, when every day has the same routine, so let's make this Sunday special by watching a magical tale. Starring a young Johnny Depp in a career-defining role, Edward Scissorhands is the story of an inventor who dies before he can complete his most important creation – a person. That almost complete person is Edward, a lovable outcast who would look exactly like a real person if only he hadn't been left with metal scissors for hands. When Edward is welcomed into the house of a kind stranger (Dianne Wiest) and her daughter (Winona Ryder), his discovery of the world begins, in an charming, moving, surprisingly hilarious story that balances scissor gags with endearing moments between its protagonists. Made even more magical by Danny Elfman's iconic score, Tim Burton's fantasy drama will transport you to another dimension while delivering an important lesson on love.