A Christmas Carol: A Radical Retelling of the Timeless Tale (Review)

Michael Nunn as Ebenezer Scrooge (voiced by Simon Russell Beale) in A Christmas Carol (Courtesy of Strike Media)
A Christmas Carol is one of the most innovative interpretations of this oft-told odyssey yet, combining cinema and stage work with artistic audaciousness.
---

By now, one wouldn't be blamed for questioning what value there is in bringing Charles Dickens' classic holiday chronicle, A Christmas Carol, to the big screen yet again. Over the years, we've seen traditional adaptations (1984's A Christmas Carol, with Patton's George C. Scott in the title role), musical interpretations (1970's Scrooge, starring Erin Brockovich's Albert Finney), comedic recontextualizations (1988's Scrooged, anchored by Ghostbusters' Bill Murray), visually astounding animated adventures (2009's A Christmas Carol, led by Eternal Sunshine of the Spotless Mind's Jim Carrey), and even movies with Muppets starring in the supporting cast (1992's The Muppet Christmas Carol). While each take on this timeless tale has been engaging and entertaining in its own right, after a century's worth of modernizations of Dickens' material, one might think that all daring ideas would have been depleted at this point. And yet, here comes brother-sister director duo Jacqui and David Morris (McCullin, Attacking the Devil: Harold Evans the Last Nazi War Crime) with their own outrageously original objectives, combining cinema and stage work in a film that forges ahead with an audaciously artistic approach that we've somehow never seen before.
Though the Morris siblings mostly stick to Dickens' story as is, they do alter how it's told. Their A Christmas Carol opens in a Victorian playroom, centering around three children discussing the saga of Ebenezer Scrooge, until their grandmother (Siân Phillips, of 1981's Clash of the Titans and The Age of Innocence) arrives and offers to tell this tale in its totality. From there, we enter the imagination of the youngest child in this family, who focuses in on her toy theatre, imagining this epic taking place before her very eyes. As we watch, the miserly Mr. Scrooge in this child's mind routinely treats others with cruelty and contempt, until he is confronted by the chilling spirit of his former business partner, Jacob Marley, on Christmas Eve. With scathing severity, Marley informs Scrooge how he now lives an afterlife of anguish due to how hoggish and harsh he was as a human, and he warns that Scrooge himself will be doomed to a similar fate unless he alters his ways after being visited by three ghosts later that evening who will take him through the pitfalls of his past and his present before analyzing what awaits him in death.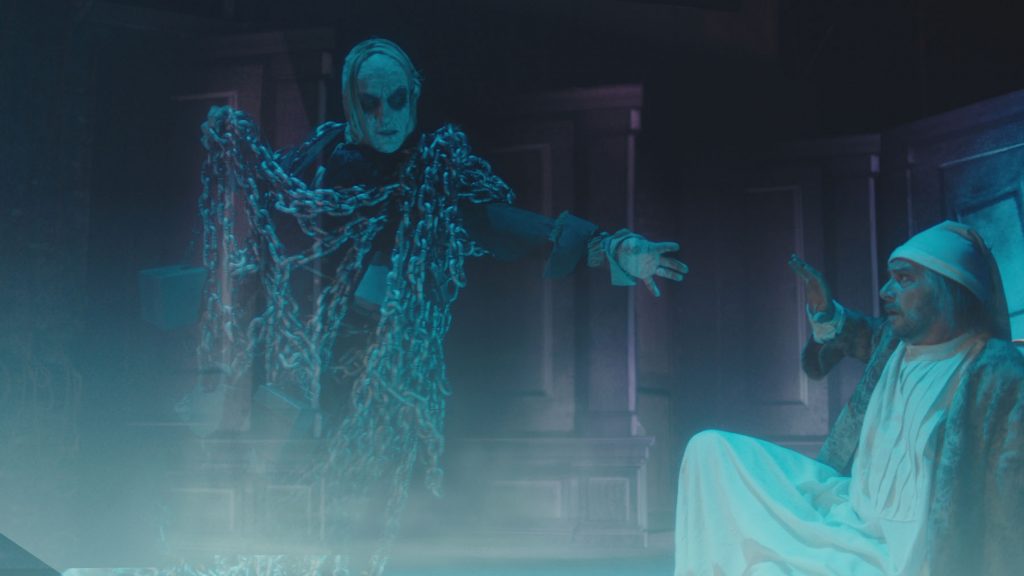 From there, A Christmas Carol mostly unfolds as expected, save for one radical revision – the characters we see onscreen are actually portrayed by voiceless dancers, while big-name stars offer dialogue from afar alongside Phillips' grandmother, who provides additional exposition on the events taking place. At first, the Morris' avant-garde aims may not appeal to all audiences, but if one is willing to stick with their subversive storytelling sensibilities, they will be rewarded by one of the most innovative interpretations of this oft-told odyssey yet.
Visually, the choreography is commendably captivating, capturing the absurdist aesthetic of Scrooge's existential experiences in a way that perhaps hasn't ever been better explored. Usually, these scenes with the Ghosts of Christmas Past, Present, and Future are shot in a straightforward sense, with sparse stylistic staging – it's typically just Scrooge surveying his memories with little theatricality or triviality to be found. Here however, the Morris siblings capitalize on the fundamental fantasticism of these ethereal excursions by blending reality with reverie and the worldly with the whimsical. This A Christmas Carol comes closest to fully plunging us into Scrooge's fractured psyche throughout these peculiar pursuits with its engrossing ensemble, and it must be seen to be properly perceived.
Even though we may not be able to view most of the movie's vivacious voice cast, each and every actor turns in such wondrous work that their powerful presence is felt regardless, as they imbue their characters with admirable animation and authenticity. Theatre icon Simon Russell Beale (Into the Woods, The Death of Stalin) is our star as the stingy Scrooge, deftly displaying both his past penurious personality and his eventual empathetic evolution with poise and precision, while the dexterous dancers Michael Nunn (as the older Scrooge) and Jakub Franasowicz (in his younger iteration) corporally express his exasperation and emotional enkindling. Andy Serkis (of both The Lord of the Rings trilogy and the recent Planet of the Apes reboots) is mightily menacing and fortuitously foreboding as the jaded ghost of Jacob Marley, setting the stage for this story with the appropriate ardor. Meanwhile, Carey Mulligan (of 2013's The Great Gatsby and the upcoming Promising Young Woman) instills Belle – Scrooge's lover from his youth – with a spirited sprightliness and a later impassioned indignation when her dearly beloved brutally disappoints her, and Daniel Kaluuya (of Get Out and Black Panther) manifests much liveliness and levity as the playful Ghost of Christmas Present.
As a production, it also must be noted that A Christmas Carol is magnificently mounted, simply bursting at the seams with sumptuous splendor and ostentatious opulence. The set design, courtesy of Darko Petrovic (Keeper of the Past, Sister Moon) and David Kharaishvili (Nureyev: Lifting the Curtain), is efficiently extravagant and aptly alluring, terrifically transporting us to this specific Dickensian time and place at the start of the story and additionally drawing us into Scrooge's dreamscape later on in the feature. Likewise, Aneta Kharaishvili (The Inheritance) and Stevie Stewart's (Nureyev: Lifting the Curtain) tenaciously tailored costume design is a character of its own, providing each lead with personality and prestige all while complementing the environment that Petrovic and the former Kharaishvili establish oh so well.
In a year full of such unrest and uncertainty, it may be nice to end 2020 with some pleasant predictability by curling up on the couch with a warm cup of hot chocolate and experiencing a classic chronicle like A Christmas Carol with your family – only this time, with some thrilling new twists. This radical retelling doesn't "reinvent" Dickens' widely adored work by any means, and the allure of its audacious approach to filmmaking may vary from audience to audience, but instead of trotting out another tired take on the tale that we've already seen a thousand times before, Jacqui and David Morris have dared to do something different with material that had seemingly been mined for all its worth, and they stumbled upon some magic.
---
A Christmas Carol will be showing in UK cinemas and theatres from 4th December. Visit this website for listings.
---
JOIN US!
Don't miss our monthly updates with film news, movie-inspired recipes and exclusive content! You'll only hear from us once a month. #nospam