5 Netflix Shows About Student Life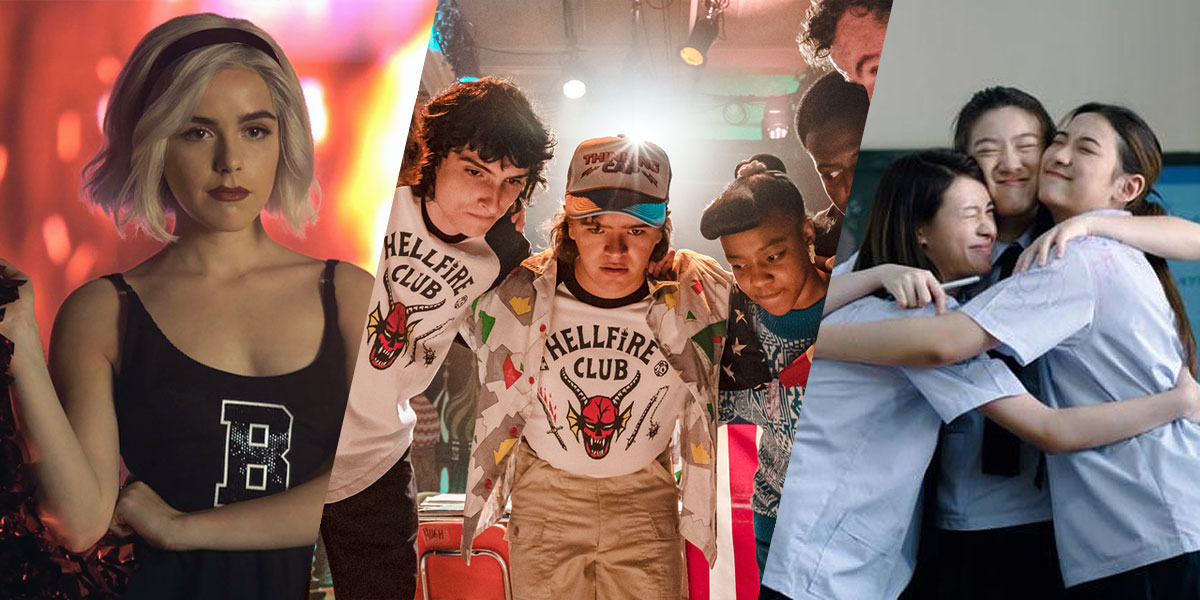 Chilling Adventures of Sabrina, Stranger Things, Girl from Nowhere (Netflix)
---
Ever since it was launched in 2007, Netflix has been popular among viewers for the many shows and films that come with its subscription. And, if in past years it was all about the number of movies and series available – from Christmas and thanksgiving films to various guilty pleasures – the streaming service has recently started to produce high quality entertainment, from 2021 Oscar contender The Power of the Dog to recent releases like Hustle and Do Revenge. But if there's something that Netflix excels at is giving us memorable, entertaining shows about student life. Here are 5 cool student-related series you can watch in one sitting.
---
1. Sex Education (2019,-)
What can be worse than having a sex therapist mother when you're about to face adolescence? Netflix's ongoing show Sex Education begins from exactly that premise, revolving around a likeable teenager named Otis (Asa Butterfield) who has to navigate high school while also dealing with her mother, Jean (Gillian Anderson), who made sure her son was extremely well-educated about sex since an early age. But the same cannot be said about Otis' schoolmates, who have certainly had more experience than our protagonist but don't know as much theory.
And so, when Otis realizes that the students of Moordale High desperately need of help with their sexual and romantic issues, he decides to join forces with fellow outcast Maeve (Emma Mackey) and set up a sex therapy clinic at the school. Needless to say, things soon become more complicated than Otis could ever imagine, not only because of the school's (and his mother's) disapproval of his business venture, but also for the feelings our protagonist seems to have developed for Maeve.
Over the course of its three seasons, Sex Education has tackled a huge number of subjects that will be familiar to any teenager, as well as many adults, from relationship issues to finding one's identity, addressing stigma and challenging stereotypes. But it's also an incredibly entertaining show that you'll want to binge in one sitting, so put your studying, SWOT analysis and homework aside and start watching! Its many likeable characters and the personality that each episode is imbued with make Sex Education a show that will appeal to all sorts of viewers, and one you shouldn't miss.
---
2. 13 Reasons Why (2017-2020)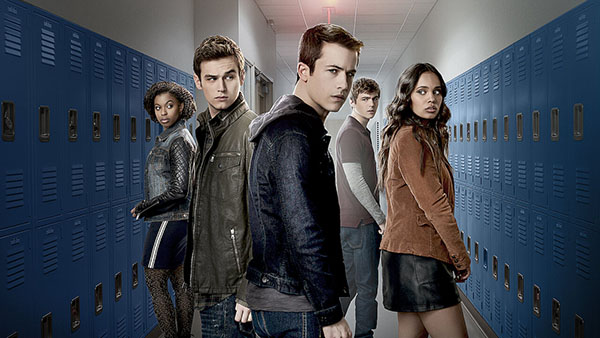 Based on the bestselling 2007 novel of the same name, 13 Reasons Why covers very serious topics, as it takes place in the aftermath of a tragedy. At the beginning of the series, a high school student named Hannah Baker (Katherine Langford) has just committed suicide, and over the course of season 1 we learn why she decided to end her life by means of a series of cassette tapes she left behind, which fellow student Clay (Dylan Minnette) listens to. And so, just like Clay, we learn that Hannah believed a series of people to be responsible for her death. And it is through these thirteen tapes that 13 Reasons Why addresses a series of importan subjects, not only suicide prevention but also trauma, bullying, social dynamics, and how sometimes even the dimmest ray of light in the pitch black can change a situation.
The series is not without its issues and, just like the book, was made with a specific target audience in mind. But if you are part of that target audience and looking for something a little different that also tackles mental health, 13 Reasons Why is for you.
---
3. Chilling Adventures of Sabrina (2018-2020)
Fans of long-running sitcom Sabrina the Teenage Witch should not expect this to be a fresh remake of their favorite childhood series. Only the name is left of the good old Sabrina, but that doesn't mean the series is not worth watching.
This Netflix show is both a supernatural horror story and a coming-of-age tale, revolving around a half-witch half-mortal girl named Sabrina (Kiernan Shipka) who's about to turn 16, which means she'll soon have to choose a world to inhabit – her family's witch world or her friends' human world. After all, Sabrina's life isn't too different from that of a normal teenager: when we meet her, she still goes to school, hangs out with her friends, and spends time with her boyfriend. And if, at first, our protagonist seemed determined to devote herself to the study of magic, she soon begins to doubt this venture. And so, a long struggle begins, in which Sabrina tries to defend her freedom and the right to a normal life, all while fighting a series of evil, supernatural forces.
If you're tired of cozy, family comedy shows to watch after school, try this fascinating fantasy series instead! Its dark atmosphere and mythical creatures are bound to give you something new.
---
4. Girl From Nowhere (2018,-)
Girl From Nowhere (Dek Mai) A Thai mystery thriller anthology series that invites viewers to immerse themselves in school life or, rather, to see the underside of it. Schools are often called a child's second home, but many students have to deal with daily bullying, injustice, humiliation, and cruelty there. We watch it all happen through the eyes of the mysterious Nanno (Chicha Amatayakul), who is constantly transferred from one private school to another, remaining the new student everywhere. But Nanno is actually an immortal entity with powers, and her purpose is to fight against injustices and make bad people pay for their deeds and way of life by turning their lives into hell. If you're a fan of Do Revenge and Promising Young Woman, you're definitely going to like Girl From Nowhere.
---
5. Stranger Things (2016,-)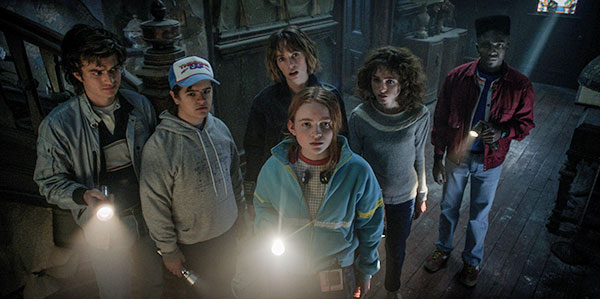 If you haven't seen or heard of Stranger Things, you've probably been living under a rock. The Duffer Brothers' 2016 show is a hit on Netflix, and it's also the rare series that manages to renew itself with each season. Season 1 is a sci-fi epic with elements of E.T. and The Goonies, telling the story of a boy named Will (Noah Schnapp) who suddenly finds himself hiding from monsters in a dimension called The Upside Down, and of a girl named Eleven (Millie Bobby Brown) who meets Will's friends by chance and uses her psychokinetic abilities to save him.
Season 2 swaps some of the show's sci-fi element for a coming-of-age story, all while introducing new characters and new threats for our Hawking gang, and Season 3 will give you 80s vibe with a story that also involves Russian spies and international espionage. But it's in Season 4 that things get really interesting, as the series assumes much darker, horror undertones while preserving the humanity that characterized its previous seasons. It's also one of the best Netflix shows about student life, as that's most of its protagonists are students, from science geniuses Will, Dustin (Gaten Matarazzo), Lucas (Caleb Mclaughlin) and Finn (Mike Wolfhard) to top-of-the-class Nancy Wheeler (Natalia Dyer), metalhead and Hellfire club president Eddie Munson (Joseph Quinn), cheerleader Chrissy (Grace Van Dien) and many more.
If you think you know what Stranger Things is all about, think again. This highly enjoyable show has something from everyone, from a huge number of pop culture references – think Stephen King, Lovecraft, Spielberg, but also Star Wars, Carrie, Kate Bush and Metallica – to truly hilarious dialogues and twists, as well as so many characters to love and an unpredictable narrative that will keep you hooked.
---
These 5 Netflix shows about student life have something for everyone, and they won't disappoint you. Happy watching!