2023 High School Series: Best Shows to Start With

Sex Education, Stranger Things, Euphoria (Netflix, HBO)
Which 2023 high school series are the best shows to start with? Discover 10 binge worthy dramas, from Euphoria to Riverdale and more!
---
It's 2023, and the number of college series released is greater than ever before. It can be daunting to select which one to start watching, as there are so many high school series available to stream! No one wants to waste time on a show that doesn't meet their expectations, and we are here to help! Below is     a list of the best shows to start with, from heartwarming thrilling mysteries to tales of adolescent growth. Whether you seek laughter, tears, or suspense, prepare to immerse yourself in some of the best high school dramas available.
---
1. Euphoria
(2019,-)
Creator: Sam Levinson
Full Review:  Euphoria: A Deep Dive into the Darkness of American Adolescence (Review)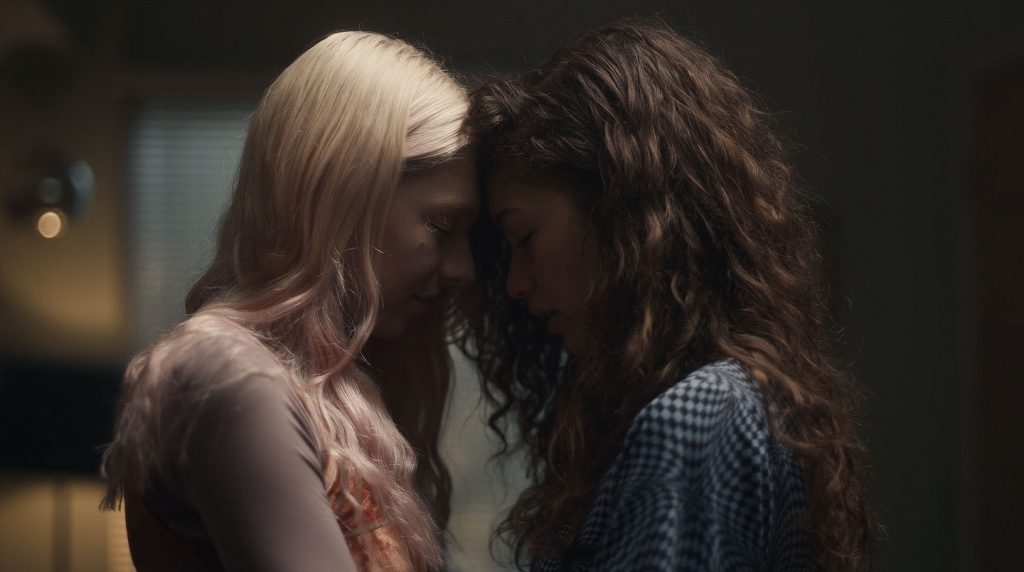 Adapted from the 2012 Israeli series of the same name,This HBO show follows Rue Bennett (Zendaya), a 17-year-old drug addict who returns home from rehab. Over the course of its two seasons, Euphoria takes us through her struggles, from navigating her relationship with her mother and her former drug dealer to her ongoing addiction. Alongside her are her classmates Jules (Hunter Schafer), Nate (Jacob Elordi), Cassie (Sydney Sweeney), Chris (Algee Smith) and Kat (Barbie Ferreira), who all have their issues.
The stunning visuals and powerful storytelling make Euphoria a must-watch for everyone, but the reason for its success lies in its empathetic look at issues that affect today's teenage generations, as well as its refusal to shy away from sensitive matters. It's a show that tackles the usual topics of identity, belonging, and lack of confidence, but also drug abuse, mental health, violence, and addition. Not only that, but it also explores timely topics like gender identity, toxic masculinity, sexuality, and trauma, all conveyed convincingly thanks to a sensitive screenplay and authentic performance from its all-star cast.
If you're a fan of creator Sam Levinson's 2018 hit Assassination Nation, you're going to love Euphoria. If you're not familiar with his past work but are looking for a binge worthy series that will also make you think, you're in for a treat. And if you're stuck with your homework but you'd like to spend more time watching TV shows, hire someone to help with your research paper.
---
2. Stranger Things
(2016,-)
Creators: The Duffer Brothers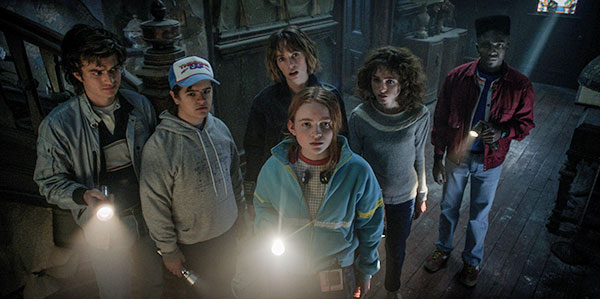 If you're not familiar with the Duffer Brothers' Stranger Things, be warned: for the next few months, you won't want to watch anything else. Set in the 1980s, this Netflix series took the world by storm back in 2016, and has then given us three more seasons that were as good as the first, if not even better. Taking inspiration from classic sci-fi films like E.T. and The Goonies, Season 1 revolves around the disappearance of a boy named Will (Noah Schnapp) who is kidnapped by a monster and taken to a dimension called The Upside Down. Coming to the rescue are his friends Dustin (Gaten Matarazzo), Lucas (Caleb Mclaughlin) and Finn (Mike Wolfhard), his mum Joyce (Winona Ryder) and a girl named Eleven (Millie Bobby Brown) who literally has superpowers.
But it doesn't end there. In Season 2, we get a coming-of-age story that gives us insight into Eleven's past; in Season 3, we are given wonderful 80s undertones and a gripping, thriller-like side plot involving Russian spies hiding in malls. And then came Season 4, with horror elements reminiscent of anything from Carrie to The Ring, as well as episodes that are twice as long, storylines that take place in different settings all at the same time, epic scenes, hilarious twists, and your new favorite characters: D&D club president Eddie Munson (Joseph Quinn) and pineapple pizza aficionado Argyle (Eduardo Franco).
This addictive show truly has something from everyone, and the talented young cast and nostalgic atmosphere make it a standout among the crowd.
---
3. Riverdale
(2017,-)
Creator: Roberto Aguirre-Sacasa
This CW series is a modern take on the classic Archie comics. It follows the lives of a bunch of teenagers in a small town as they unravel a web of mysteries and scandals. At the center of it all are high schoolers Archie Andrews (K.J. Apa) and Jughead Jones (Cole Sprouse), whose friendship is strained when they begin the school year. The arrival of Veronica Lodge (Camila Mendes) into their lives complicates things, even more so since her sights are set on Archie, but so are Archie's best friend Betty's (Lili Reinhart). And then, there are the grownups: our favorite teens' parents have a history of their own, and are also hiding many secrets. Some of them might even know something about the death of star football player Jason Blossom (Trevor Stines), whose twin sister, the popular Cheryl (Madelaine Petsch), also knows a lot more than she's letting on.  
But this doesn't even begin to describe Riverdale, which has just as much teenage plotting and drama as it has dark secrets about our protagonists'      own families and the town itself. What's more, there are currently 7 seasons available, and with each come new developments and puzzles to solve. With its blend of romance, drama, and suspense, Riverdale is a guilty pleasure that will keep you hooked.
---
4. Sex Education
(2019,-)
Creator: Laurie Nunn
This British comedy-drama series explores high school students' awkward and often hilarious experiences as they navigate the world of sex and relationships. Otis (Asa Butterfield), the teenage son of a sex therapist, has been well-versed on the subject of sex for his entire life, as his mother is extremely open about it. But when it comes to practice, he has zero experience. But our protagonist soon finds out that so do his classmates. When he realizes that he can help them with some of their issues, Otis teams up with his classmate Maeve (Emma Mackey) to start an underground sex therapy clinic at their high school     .
With its refreshing and inclusive approach to sexuality and its witty writing, Sex Education is a show that everyone can relate to. Over the course of its many seasons, the show gives us many characters to root for no matter your age, as the adults in the series have just as many issues as the teenagers. It also refreshingly approaches topics that aren't usually seen in TV shows of this kind, such as body positivity, internalized homophobia, the power of vulnerability, sexual violence, gender identity, and various taboos. You'll find yourself drawn to its universe and you won't be able to stop coming back to it.
---
5. Outer Banks
(2020,-)
Creators: Shannon Burke, Jonas Pate & Josh Pate
If you're a fan of "Romeo and Juliet" and "Noughts and Crosses", this Netflix series is for you. There are no Montagues and Capulets in Outer Banks, but there are Kooks and Pogues instead, two nicknames that define the very different social classes of North Carolina's Outer Banks residents: the wealthy seasonal visitors (Kooks), and the working-class locals (Pogues). The series begins with a Pogue boy named John B (Chase Stokes) asking his friends for help looking for a hidden treasure. But John B is no ordinary boy: his father disappeared, and the treasure might be connected with this. As the series progresses, our teenagers uncover hidden secrets, leading to unexpected twists in the plot, all while being chased by both the authorities and a wealthy group of Kooks. The series has received acclaim for its stunning visuals, compelling characters, and engaging storyline.
With its talented and youthful cast, Outer Banks has many captivating episodes that promise an adventurous ride filled with thrills and suspense. It is a perfect watch for those who enjoy action-packed shows with a touch of mystery, and it's still ongoing, so more episodes will be released soon too. As for the romance… suffices it to say that the show won an MTV Movie + TV Award for Best Kiss, back in 2021.
---
6. Elite
(2018,-)
Creators: Darío Madrona & Carlos Montero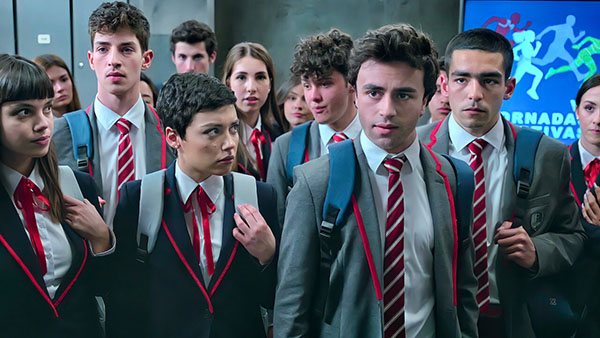 This Spanish thriller series follows a group of teen students that navigate a web of secrets, lies, and murder. It explores themes such as classism, sexuality, and corruption with nuance and sensitivity. The show begins when ​​working-class friends Samuel (Itzan Escamilla), Nadia (Mina El Hammani) and Christian (Miguel Herrán) get scholarships that enable them to enroll at Las Encinas, one of Spain's most exclusive private schools. As expected, the other students look down at them, but all of this changes when a murder takes place.
And so, the most intriguing part of the series begins, when the police show up and we begin to witness everything as if we were detectives, with flash-forwards of their interrogations that clue us in one piece of the puzzle at a time, until we eventually figure it all out at the end of the series. As that happens, our sympathies change as we find out more about what the many characters of the show have been up to. There are six seasons available and they're all equally gripping and binge-worthy. Elite features intricate and well-crafted characters and a plot full of surprises and suspense, which is bound to captivate you.
---
7. Freeridge
(2023,-)
Creators: Lauren Iungerich, Jamie Uyeshiro & Jamie Dooner
This series has just hit Netflix, and it's already a hit. It follows a group of friends in a working-class neighborhood – Gloria (Keyla Monterroso Mejia), Ines (Bryana Salaz), Demi (Ciara Riley Wilson), and Cameron (Tenzing Norgay Trainor) – as they navigate the ups and downs of high school life, all while, ahem, possibly unleashing a deadly curse. It's best to leave it at that, as it's best if you go into the show knowing absolutely nothing about it, but what we can tell you is that its relatable and authentic portrayal of teenage energy has already made it a fan favorite.
The diverse cast and witty writing imbue the characters with authenticity. The show explores themes such as friendship, family, and identity and is just as entertaining as it is thought-provoking. With its heartfelt storytelling and humor, Freeridge is a worthy addition to any high school series watch list.
---
8. Never Have I Ever
(2020-2023)
Creators: Mindy Kaling & Lang FIsher
What happens when comedy masterminds Mindy Kaling (Late Night) and Lang Fisher (The Mindy Project) join forces to create a Netflix show? A comedy coming-of-age series that you'll simply find irresistible. Never Have I Ever follows a first generation Indian-American teenager named Devi (Maitreyi Ramakrishnan) as she navigates high school life while dealing with the loss of her father, which also caused her to lose all sensations in her legs due to her past trauma. But Devi has an inexplicable miraculous recovery that causes two things: she suddenly starts walking again, and she makes the decision to change her social status and become the popular high school girl she's always wanted to be. Needless to say, something happens that gets in the way of her plans, but it might not be entirely a bad thing.
Never Have I Ever's sharp writing and relatable characters have made it a critical and commercial success.Its exploration of themes such as grief, identity, and cultural differences is both hilarious and touching. With its heartwarming moments and fresh perspective on the college genre, Never Have I Ever is worth a watch.
---
9. Heartbreak High
(2022,-)
Creators: Hannah Carroll Chapman, Ben Gannon & Michael Jenkins
This Australian series has just been released, yet it has already won many awards. It's the 2022 reboot of a 90s show inspired by 1987 stage play "The Heartbreak Kid." It follows a group of students at a multicultural college as they are forced to attend a sex education course called the Sexual Literacy Tutorial (SLT: we'll let you guess how students decided to mispronounce it!) after a graffiti is found on the school's wall detailing their sexual exploits. One of the creators of the graffiti is the show's protagonist, Amerie Wadia (Ayesha Madon), who takes the blame for it to cover the involvement of co-author Harper McLean (Asher Yasbincek), her longtime best friend.
This is the premise of a series with many characters, and that deals with issues such as gender identity, racism, sexuality, and classism, as well as your usual coming-of-age undertones. Its groundbreaking portrayal of diversity and social issues has made it a cult classic among viewers, and its blend of gritty realism, humor, and romance makes it a must-watch for anyone who loves college dramas with a twist.
---
10. Young Royals
(2021,-)
Creators: Lisa Ambjörn, Lars Beckung & Camilla Holter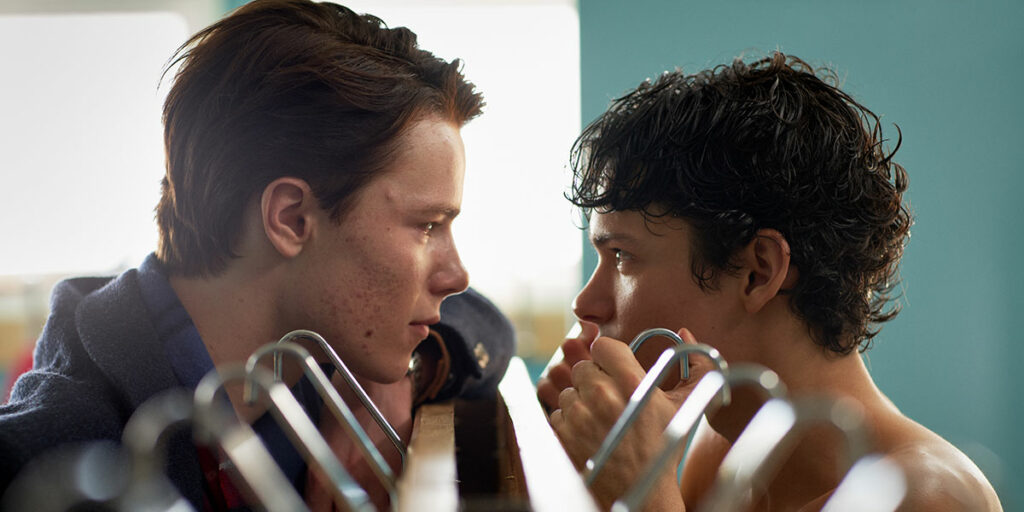 No list of high school series would be complete without Young Royals, a queer gem that took the world by storm back in 2021. This Swedish show      begins with protagonist Prince Wilhelm of Sweden (Edvin Ryding) having to read a public apology for a fight in which he was involved during a party, and learning as he reads that his parents decided to enroll him at the prestigious Hillerska Boarding School, which his second cousin August (Malte Gårdinger) also attends.      
F amily drama and romantic relationships are at the center of season 1, whose lush visuals and emotional storytelling have made it a hit with viewers. But season 2 is just as good, exploring themes such as duty, privilege, identity, and sexuality, but also mental health, in a way that is both thrilling and nuanced. With its compelling characters and rich storytelling, Young Royals is worth watching for fans of royal movies, queer stories, and coming-of-age shows .
---
The world of high school series is ever-evolving, with new and exciting shows released yearly, and, while some of them offer the same dynamics and type characters, there are others that do something new with the genre and bring us something that's truly gripping and memorable. This list of best shows to start with in 2023 provides a diverse selection of teenage hits that cater to various tastes and interests.Whether you're looking for suspenseful thrills or heartwarming moments, these shows are all worth a watch.