Yes Day: Feel-Good Family Comedy Charms (Review)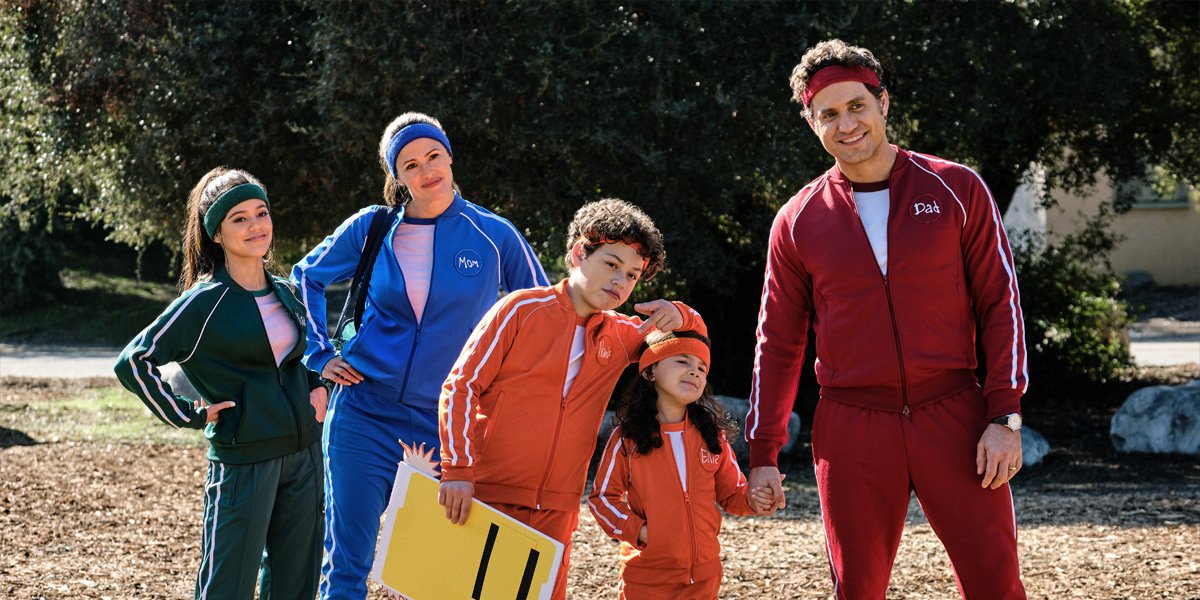 Jennifer Garner, Edgar Ramirez, Jenna Ortega, Julian Lerner, and Everly Carganilla in YES DAY (Matt Kennedy / Netflix © 2021)
Yes Day may feel familiar to fans of family-friendly entertainment, but it's a wholly amusing adventure nonetheless thanks to its enjoyable ensemble cast.
---

After living through a year's worth of "no's" caused by the coronavirus outbreak – no more blockbuster movies, no sporting events, no concerts, no graduations, etc etc etc – there's an inherent appeal in watching a film in which almost every request made by a lead character is met with a resounding "yes." Such is the case in Miguel Artera's (Alexander and the Terrible, Horrible, No Good, Very Bad Day, Like a Boss) Yes Day, a bit of family-friendly cinematic wish-fulfillment that takes its inspiration from Amy Krouse Rosenthal and Tom Lichtenheld's 2009 book of the same name. The premise, which has roots in a real-life phenomenon, is as simple as it seems – for 24 hours, parents have no choice but to say "yes" to their kids' wildest requests (with a few ground rules, of course). Ice cream for breakfast? Sure! Make an indoor obstacle course? Why not! Camp outside in the backyard? YES!
Artera's picture in particular follows the Torres family, headed up by the autocratic Allison (Jennifer Garner, of 13 Going on 30 and Juno) and the far more carefree and collected Carlos (Edgar Ramirez, of The Assassination of Gianni Versace: American Crime Story and The Undoing). Years ago, when Allison and Carlos first met, the two were quite the daring duo, taking wild risks on a whim and never saying no to any adventure. Unfortunately, when they settled down to start raising their children Katie (Jenna Ortega of The Babysitter: Killer Queen and the upcoming Scream sequel), Nando (Julian Lerner, of Pottersville), and Ellie (Everly Carganilla, of The Haunted Man), they began to reel in this risk-taking in an effort to protect these three from troubles of the outside world – with Allison going a little overboard.
When Allison and Carlos are called in to a joint parent-teacher conference at school and see alarming assignments that Katie and Nando have turned in centered around their mother's ruthless rule in the household, the two feel as if they're losing touch with their children and ruining their relationships as a result. Thankfully, after a chance encounter with a guidance counselor named Mr. Deacon (Nat Faxon, of Zookeeper and Tammy), the Allison and Carlos learn of this legendary "Yes Day" – a day in which typically repressive parents like the Torreses let their kids make the rules, demonstrating that fun and freedom still have a place in their family.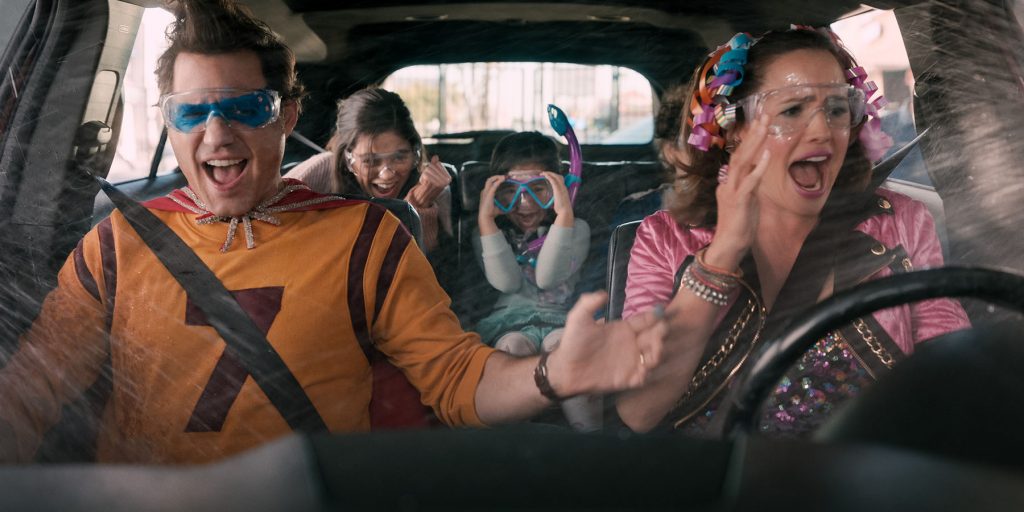 When presenting this plan to their children, Katie, Nando, and Ellie are (understandably) initially apprehensive of their mother's radically new outlook on "orderliness," but Allison holds her ground, even making a bet with Katie that, if she says "no" just once, Katie would be able to attend a long-awaited concert alone without parental supervision – something that's been a source of contention for the two for quite some time. And so, with the commitment of every member of the Torres clan, the fivesome sets off on a chaotic day filled with crazy costumes, delicious desserts, wild car washes, anarchic bird attacks, and a whole lot more mayhem.
Like Artera's Alexander and the Terrible, Horrible, No Good, Very Bad Day, Yes Day is absolutely made with its family audience in mind, so there's bound to be some humor that delights the younger demographic as opposed to older viewers, but, for the most part, screenwriter Justin Malen (Office Christmas Party, Father Figures) actually does an admirable job at shaping a story with wide-ranging appeal, weaving amusement for adults into this kid-centric comedy. Sure, the script may offer little surprises – right from the set-up, you'll probably be able to predict the ups and downs of the Torres' adventures to a tee – but what Yes Day lacks in creativity it makes up for with its overabundance of convivial charm, effectively emphasizing the excitement of the family's escapades and perfectly placing us alongside the cast on these capers, as if we too get to take part in this play.
While the movie's messages are rather simple and straightforward – and, again, perhaps nothing "new" – Yes Day is still a mightily satisfying reminder to not allow your propensity for "protection" to cloud your enjoyment of everyday life, and this sentimentality succeeds alongside all of the film's other silly setpieces. It's also impressive how Malen is able to balance both Allison's orderly outlook on life and Katie's more impulsive ideologies, with the film coming to the conclusion that neither has to alter their attitudes entirely – instead, there are pluses and problems with each character's point of view, and both can improve their insight on life by meeting in the middle. Allison and Katie's relationship – and the resolution of this conflict – serves as the soul of the film, and it should surely resonate with families far and wide.
The cast is absolutely game across-the-board, with the always-reliable Garner leading the pack with a pleasant pluckiness and deftly handling both the humor and the drama, just as she's done in past family fare such as the aforementioned Alexander and the sweet-natured Love, Simon. Even in those moments in which Allison falls short as a mother, you always know that she has the best of intentions, and that's a testament to Garner's reliable relatability and credible commitment to the part. While Ramirez is less familiar with the farcical fun present in Yes Day, he's still a superb scene partner for Garner through it all, and he's always equally as engaged in the Torreses' exploits.
Ortega, Lerner, and Carganilla also deliver dependably dedicated performances, with Ortega receiving the most substantial storyline and once again proving herself as a thrilling new talent on the rise with her always affable presence. Yes Day similarly fills out its supporting cast with a number of brilliant bit players, including Faxon as the delightfully doofy Mr. Deacon, Fortune Feimster (Office Christmas Party, Soul) as a puckish hospital paramedic, and Arturo Castro (Comedy Central's Broad City, The Broken Hearts Gallery) as a simple-minded but softhearted police officer who becomes a standout of the film's third act.
Yes Day doesn't reinvent the wheel when it comes to family-friendly entertainment, but for audiences looking for a funny and fast-paced Friday night Netflix viewing with their own loved ones, this amusing adventure certainly fits the bill. Thanks to its charming ensemble cast and a script that is equal parts humorous and heartfelt, Yes Day is a breezy and buoyant watch with delights for everyone to enjoy.
---
---
WATCH YES DAY:
---
---
JOIN US!
Don't miss our monthly updates with film news, movie-inspired recipes and exclusive content! You'll only hear from us once a month. #nospam