What If…? (Episode 9 Review): A New Team of Heroes Rises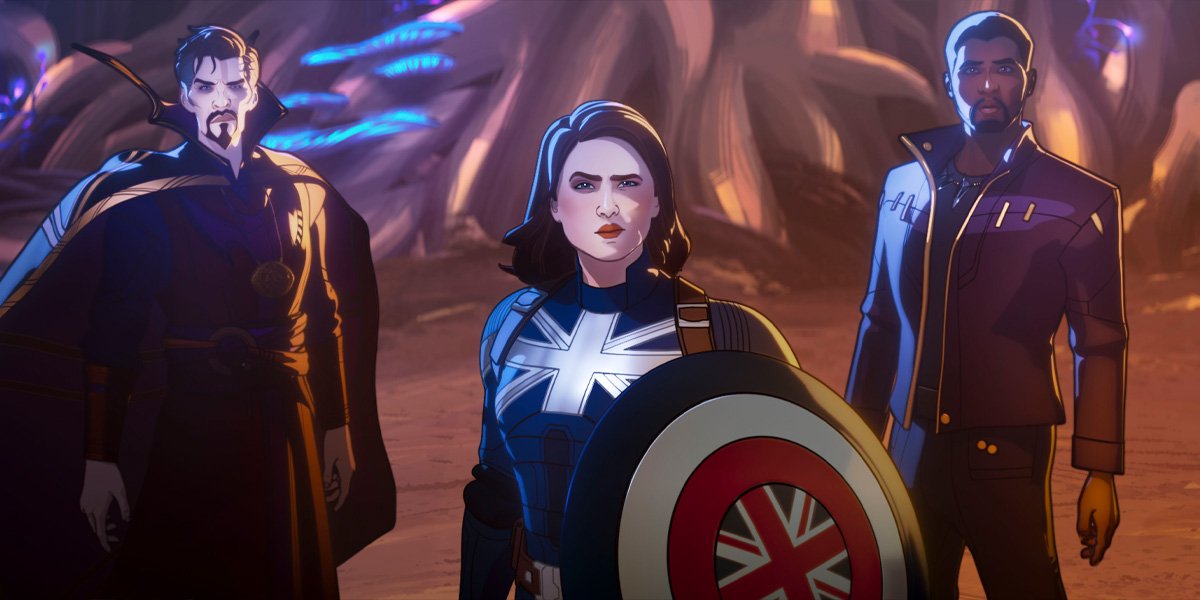 Doctor Strange Supreme, Captain Carter, and T'Challa in Episode 9 of Marvel Studios' WHAT IF…? exclusively on Disney+. (© Marvel Studios 2021.)
Thanks to a great story, characters, and tons of action, Episode 9 of Marvel's What If…? is a satisfying conclusion to the season, despite its subpar villain.
---
Well, we did it, everyone. The final episode of the first season of What If…? is here at last. Thus, my final review of the season is upon us as well. Honestly, even though I missed a week because of my Walt Disney World vacation, it doesn't even feel like it has been that long. When I first stepped up to review this series, I wasn't sure how it would go, because I hadn't reviewed a television series with Loud and Clear before. Now, I can tell you that watching and reviewing these episodes each week has been one of my favorite things I've done thus far. I hope you've enjoyed reading my thoughts along the way, and without any further ado, let's journey back into the world of What If…? to see how everything ends.
After several weeks of building up to this moment, Episode 9 of What If…? sees Uatu, also known as The Watcher (Jeffrey Wright), finally break his oath and interfere in order to save the entire multiverse. The Watcher assembles a group that he dubs "The Guardians of the Multiverse" to save every known universe from destruction. The Guardians consist of several characters that we've seen throughout What If…?, including Doctor Strange Supreme (Benedict Cumberbatch) and T'Challa Star Lord (Chadwick Boseman). These heroes must team up to defeat Ultron (Ross Marquand), who has collected all the infinity stones, and is bent on bring his meaning of "peace" to every universe.
Despite the series rushing to reach this point, Episode 9 works pretty well. One of the only real negative aspects was the introduction of a new version of Gamora (originally portrayed by Zoe Saldana, and voiced by Cynthia McWilliams in Episode 9 of What If…?). Her inclusion is something Marvel revealed prior to the What If…? finale debuting on Disney+. It's also quite perplexing, considering we've never seen her up to this point and are told very little about her backstory. Personally, it seems like including the Nebula from T'Challa Star Lord's universe would've made more sense, because audiences have already connected with her. Ultimately, Gamora's inclusion makes the character feel like she could've been replaced and likely should've been.
The late Chadwick Boseman returns as T'Challa Star Lord for the last of four episodes of What If…? that he was able to record prior to his death in August 2020. Honestly, there aren't enough words to describe just how emotional hearing Boseman voice T'Challa for the last time prior to his passing made me. His spirit and enthusiasm shine through each line of dialogue. While Episode 2 feels more like a proper sendoff for Boseman, complete with a tribute to him at the end of the episode, Episode 9 to me is a reminder that he had so much more to give to the world. It also reminds me that despite Boseman no longer being with us, he will live on through his work, and how he lived his life, forever.
Episode 9 proves that What If…? was saving its best action sequences for last. There is plenty of action that is worthy of being in any of the Avengers films. These are movie quality fights that have been animated and brought to the small screen. The animation is out of this world, the coloring, and detail in each hit is amazing. Even the backgrounds of the fight scenes have a beautiful look to them.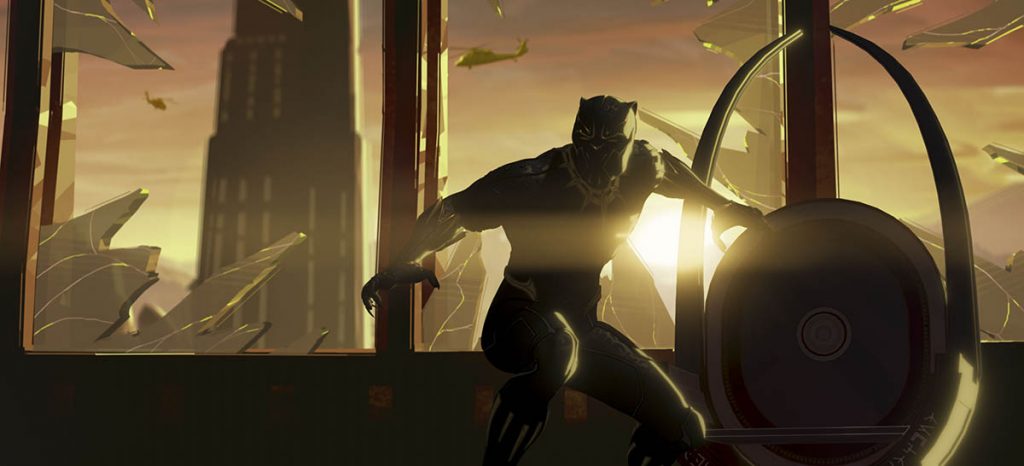 The story is solid, but that isn't because of the villain. Ross Marquand's Ultron isn't very intimidating, due to his lack of character development and build up. His presence as the ultimate big bad doesn't pack any sort of punch: yes, he's fighting our heroes, but he's an obstacle without much depth. That, along with Gamora's inclusion, are the only true negatives of Episode 9. What makes this story work, besides the action sequences, is the heroes. These different versions of the characters are a lot less dysfunctional than The Avengers initially were in The Avengers (2012). Perhaps that's due to the shorter run time, but I liked that they had chemistry with each other and didn't really bicker. It also helps that the newly dubbed Guardians of The Multiverse are voiced by their MCU actors (with the exception of Gamora and Natasha Romanoff/Black Widow) for that added sense of authenticity. Plus, the majority of the Guardians are all of the characters that I thought were the best leads of the series. Each hero gets their own moment to shine, and the story feels like a logical conclusion for the season, given the events of Episode 8. The Watcher reaches the point that What If…? had been building towards for the entire series, and it feels very natural thanks to his development throughout each episode. While I still consider Episode 8 to be Wright's best performance of the season, he does a great job in Episode 9 as well. Without spoiling too much, the finale of What If…? certainly satisfied my expectations in terms of what happens with The Watcher, which was what I was looking forward to the most after last week.
Despite the lackluster villain, the season finale of What If…? delivers thanks to a great story filled with wonderful characters and awesome action. As a whole, this season of What If…? was pretty satisfying, though I wouldn't call it Marvel's best series or anything like that. For this to be their first animated series, I'd say it's pretty good and that I'm looking forward to more whenever the time comes.
See Also

---
What If…?'s Episode 9 is now available to watch on Disney Plus.
---
WATCH WHAT IF…?: EPISODE 9:
---
JOIN US!
Don't miss our monthly updates with film news, movie-inspired recipes and exclusive content! You'll only hear from us once a month. #nospam