Wayfinder (Review): A Mystical Journey Through England

Wayfinder (Verve Pictures)
In his first feature film Wayfinder, British-Ghanaian artist Larry Achiampong hypnotises with his epic, beautiful and challenging account of England.
---

Watching Wayfinder is often a similar experience to watching an Apichatpong Weerasethakul (Tropical Malady, Memoria) film; like the Thai auteur, Larry Achiampong finds beauty, mystery and history within nature, albeit in England as opposed to Thailand. The amplified sound design and long shots of the rural environment enhance the viewer's experience into something otherworldly but still grounded in reality. A renowned artist whose work includes moving images, sculptures, collages and more, Achiampong further cements his status as an inventive, singular voice through Wayfinder. A slightly disconnected structure and some overly long and complex prose aside, Wayfinder remains a true cinematic experience, one with both splendour and anger harboured inside it.
Wayfinder follows a young woman – played by an engaging Perside Rodrigues and simply named The Wanderer – on her journey through England, as she travels from North to South. Split into six chapters such as 'The North' or 'The Kingdom of the East', Wayfinder might not have a surging narrative, but themes of racism, class, history, colonialism, ancestry and identity provide the backbone to Achiampong's film. The Wanderer acts as a witness of sorts to peoples' experiences. Whilst not always fully engaging due to its narrative looseness, Wayfinder breathes fresh life into these important topics; the final two parts of the film in particular burn with a passionate anger and sorrow, searing the words and images from the screen onto your mind as the screen cuts to black amidst the closing voiceover.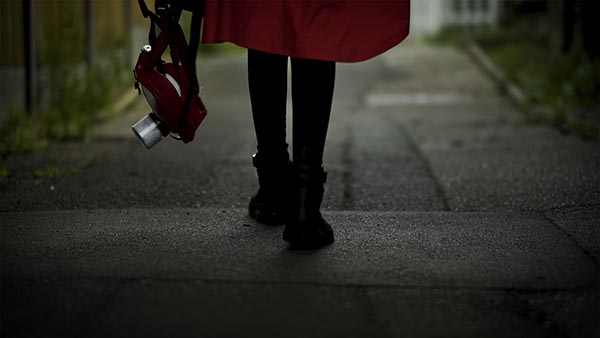 A further driving force behind Wayfinder is the Coronavirus pandemic, which is referred to in certain dialogues and seems to inspire, partly at least, Achiampong to linger on certain moments in nature, appreciating them for their stillness and beauty. A further conversation between actors Maa Afua and Russell Tovey, which plays out over a half-eaten breakfast in a café, highlights the divide within society on how to move forward out of the pandemic. Shots of empty landscapes and towns with the isolated Wanderer at the centre of the frame are haunting in their realism, evoking memories from not so long ago of lockdowns and social distancing. Lensed in stunning detail by Achiampong and his crew and accompanied by Achiampong's own score, Wayfinder entrances with its imaginative depictions of England; there might not always be symbolism to what is on screen, but the beauty of the environments and the stellar camerawork is indisputable.
The Wanderer is nameless, but her presence as a person is still felt through her personal monologues. As she recounts her childhood memories in Bethnal Green alongside her experiences of returning as an adult, an important theme of gentrification comes to the fore, with the emergence of letting agents and bougie cafés symbolising the displacement of people from their own neighbourhoods. Achiampong skilfully puts these vital topics into his film through poetic prose, which are sometimes difficult to comprehend but more often than not morph into flowing, passionate monologues.
See Also

Wayfinder is a singular piece of work, one which ebbs and flows with an intimate undercurrent, and yet it still has an epic angle which is able to encompass and touch all parts of society. Part of his major solo exhibition, which first shows at The Turner Contemporary Gallery in Margate, Wayfinder further marks Achiampong out as a creative force, one who makes commentaries and asks questions without fear. Come for the angelic musical score and breathtaking vistas of England, stay for these thoughts on our world and history that strive for societal change.
---
Wayfinder had its UK premiere at the BFI Southbank on June 21, 2022. The film will be released in cinemas nationwide on July 1 and on DVD and digital platforms on 22 August.