Virtual Reality in Competition at 75th Venice Film Festival: full Line-up and guide
The Virtual Reality Section of the 75th Venice Film Festival will be open to the public for the first time. Discover the Line-Up.
Last month the full Line-Up for the 75° Venice International Film Festival was announced, and we told you all you needed to know on the 21 films that will be part of the competition (full article with trailers and plots here) and we posted the list of restored films (at this link) that will be shown at the Lido from August 29 to September 8.
We also gave you exciting news on this year's opening film – Damien Chazelle's moon-landing drama First Man, starring Ryan Gosling and Claire Foy (full article here!) – and confirmed Lady Gaga's presence at the festival on August 31 for the world premiere of Bradley Cooper's much anticipated directorial debut A Star Is Born (full article here!).
It's time to have a look at the Virtual Reality section of the competition, whose program looks even more spectacular and groundbreaking than last year's, with its 39 projects divided into three different sections. Have a look at the titles and trailers below to find out about the Virtual Reality project that will be in the competition, and don't forget to check out our article (here!) on last year's Virtual Reality screenings at the Venice FIlm Festival.
---
VENICE VIRTUAL REALITY:
In Competition – Interactive
(Awards: Best VR Story, Best VR Experience for Interactive Content)
---

MAKE NOISE
Director: MAY ABDALLA
with Nikki Amuka-Bird / UK / 8' / installation
Official Plot:
Make Noise combines VR and voice technology to let viewers use the power of their voice to smash through the barriers faced by the suffragettes during the fight to win the vote for women. […] Zillah Watson, head of BBC VR Hub, says: 'Make Noise uses voice technology in an innovative way to put you in the shoes of the suffragettes, encouraging you to follow their example and use your voice to change your world. It's empowering, profound and yet playful, and a great example of why we should follow Emmeline Pankhurst's advice and 'make more noise'
(source: BBC Media Centre – click here for the full article)
Why we are looking forward to it:
The trailer looks just as exciting and empowering as Mr Watson described, and the subject couldn't be more relevant. We can't wait to find out how BBC combined auditorial (the use of the suffragettes' voices) and visual elements to give us an immersive experience that will enable us to "use our voice to change our world".
---

ECLIPSE
Director: JONATHAN ASTRUC, AYMERIC FAVRE
France / 35' / installation
Official Plot:
Eclipse is the first collaborative 4D hyper reality game in France, co-produced and created by Virtual Adventure and BackLight.
On 323 ft² (which will sometimes appear 10 times bigger thanks to VR's immersion) and for 40 minutes, four players embody the crew of Eclipse II; a relief mission in space to rescue a previous space crew which you have lost communication with.
[…] An adventure rhythmed by enigmas and choices, with several possible endings where
th
e player could experience the game again by simply changing team.(source: Official Website for Eclipse – click
here
for the full plot and more details)
Why we are looking forward to it:
We already know from experience how immersive and realistic Virtual Reality can be, and we can't wait to find out what 4D hyper reality looks like. Eclipse has also been described by BackLight as a "four-player sci-fi experience, enhanced by physical effects, full body awareness and total freedom of movement", so our expectations are high.
---

THE UNKNOWN PATIENT
Director: MICHAEL BEETS
with Lily Sullivan / Australia / 9' / stand up
Official Plot:
Step into the fragmented mind of a WW1 soldier trapped in a 1920s mental asylum. Found without an identity, and suffering from an extreme case of PTSD, the audience must piece together the story of the 'Unknown Patient' through exploration and discovery in VR. Through distorted memories, sudden flashbacks and real-life events, the narrative will explore the profound impact that war had on the psyche of soldiers who made it home.
(source: the director's official website – click here for more revelations and pictures)
Why we are looking forward to it:
Michael Beets chose to approach a complex theme, as The Unknown Patient deals not only with the consequences of war – as it focuses on a WW1 soldier – but also with mental health – as the soldier is in a mental asylum with PTSD. Virtual Reality can be used as a means to raise awareness on issues that are often overlooked or misunderstood, and we can't think of a more relevant subject than this.
---

BUDDY VR
Director: CHUCK CHAE
with Yena Jang / South Korea / 16' / stand up
Official Plot:
N/A
Why we are looking forward to it:
Although no official plot has been released on RedRover's website for the spinoff of the popular Korean animated film The Nut Job, there are several reasons why we simply can't wait to see Buddy, the only Korean Virtual Reality film in this year's competition. The first is Buddy the rat himself, as we can't help but love him after having seen him in action in the trailer above. And how can we not be drawn into his world after having seen its magical atmosphere and colorful props and listened to its captivating music? We simply can't wait to get to know Buddy better and help him in his adventures.
---

UMAMI
Director: LANDIA EGAL, THOMAS PONS
with Amaury La Burthe, Eimi Kawahara / France / 15' / installation
Official Plot:
Umami is a realtime VR experience and installation immersing the user into the story of a man rediscovering his memories through a series of Japanese dishes, beverages and tastes: the sweet, the sour, the bitter, the salty and the umami: the 'delicious taste'.
(source: DV Studios – click here for full plot and pictures)
Why we are looking forward to it:
DV is the very same Studio that gave us Alice: The Virtual Reality Play, a Virtual Reality installation that was also an interactive play with live actors and props. This truly unique and unforgettable project was something else entirely: it brought our "inner child" back to the surface and it made us dream and wonder at last year's Venice Film Festival.
This year DV Studio is coming back to the festival with three new projects,and Umami is one that seems to combine food with memories. The trailer looks intriguing and already has us wondering about Umami's aftertaste.
---

THE HORRIFICALLY REAL VIRTUALITY
Director: MARIE JOURDREN
with Josh Jefferies, Robin Berry / France / 40' / installation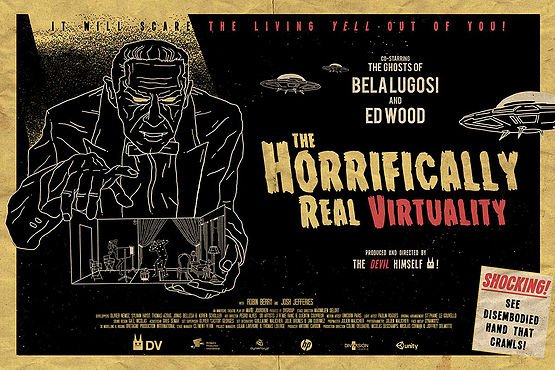 Official Plot:
The Horrifically Real Virtuality paints an introspective portrait of the emerging VR, and aims to evoke, with tenderness and self-mockery, its relationship with cinema.
Bela Lugosi, long confined in roles of famous vampires, is entrusted by his friend Ed Wood, a young Hollywood Z movies director, the headliner of his latest film. Bela embodies a character with the ability to access a parallel dimension, the Real Virtuality, in which he encounters humanoids from another time: the spectators.
(source: DV Studios – click here for full plot and pictures)
Why we are looking forward to it:
DV has a talent for developing spectacular stories that leave you thinking about important issues, and The Horrifically Real Virtuality seems to have a powerful message to tell. Its story centers on that very special "dimension halfway between real and virtual" (DV) that the world of entertainment and technology are all about. And what better way to explore "the different layers of reality" (DV) than with the "worst director of all time"?
---

THE ROAMING – WETLANDS
Director: MATHIEU PRADAT
with Stephen Harrison, Nicolas Pradat, Beatrice Mujdei, Barbara Weber Boustani, Avant Strangel / France, UK, Belgium / 10' / installation
Official Plot:
Two children are running for their lives. Will you be bold enough to step in the Wetlands to help them out? Led by a mysterious light into an endless bayou, you first have to find your way through the darkness. The spirit of The Voodoo Man inhabits the tallgrass. Getting him to trust you will help you find your way to the children…
(source: DV Studios – click here for full plot and pictures)
Why we are looking forward to it:
With the tagline "we can be heroes just for one day" (taken from David Bowie's hit Heroes) accompanying the black and white haunting pictures on the The Roaming's official website, DV already has our interest. The studio also describes a story that is "about bringing our heroic side forward, relying on our intelligence and empathy, doing what needs to be done to save the most fragile around us" (DV), with the aim of "questioning our individual ability to bring assistance to one another and defeat monsters that seem invulnerable at first." (DV) Once again, the Studio brings us a story with a strong message that is extremely relevant to our society, and we can't wait to live this experience.
---

SPHERES, the series
Director: ELIZA MCNITT
Producer: DARREN ARNOFSKY
USA, Francia / installation
Chapter 1 – CHORUS OF THE COSMOS, 15', with Millie Bobby Brown
Chapter 2 – SONGS OF SPACETIME, with Jessica Chastain / 13'
Chapter 3 – PALE BLUE DOT, with Patti Smith / 15'
Official Plot:
One billion years ago, two black holes violently crashed into one another, creating gravitational waves … and music that only recently has been discovered. For the first time, instead of looking at the universe, we are beckoned to listen to it.
SPHERES: Songs of Spacetime is a celestial experience that transports you inside a black hole collision to embark on a musical journey that visualizes gravitational waves and provokes a rich contemplation of the human connection to the cosmos.
(source: Eliza McNitt – click here for the director's website and here for the official website for Spheres)
Why we are looking forward to it:
The story has been described as "stunning" (The Guardian), "Beautiful and Surprising" (The New York Times) and "breathtaking" (Wired). The New Yorker critic Sarah Larson reported having a "feeling of floating above earth" that brought tears to her eyes (full review here). The reviews have been extremely positive, and we couldn't expect less from a Virtual Reality project in three chapters produced by Darren Arnofsky (Black Swan) and is set in space. Not only that, but the narrators chosen by director Eliza McNitt are Millie Bobby Brown (Stranger Things), Jessica Chastain (The Help) and Patti Smith.
---

A DISCOVERY OF WITCHES – HIDING IN PLAIN SIGHT
Director: KIM-LEIGH PONTIN
with Teresa Palmer, Matthew Goode, Adetomiwa Edun / UK / 15' / stand up
Official Plot:
Starring Matthew Goode and Teresa Palmer, the series is based on the best-selling book series by Deborah Harkness, and takes place in a world where witches, vampires and daemons live and work unseen amongst humans. (SKY VR)
Diana Bishop, historian and witch, accesses Ashmole 782 and knows she must solve its mysteries. She is offered help by the enigmatic Matthew Clairmont, but he's a vampire and witches should never trust vampires. (IMDB)
Why we are looking forward to it:
The upcoming TV series is a love story between a witch and a vampire: as if that wasn't exciting enough, the Virtual Reality experience will also allow participants to play as either Diana (see image below) or Matthew. We can't wait to live both experiences and compare the two narratives!
---

KOBOLD
Director: MAX SACKER, IOULIA ISSERLIS
with David Bredin, Nick Holaschke, Garry Lane / Germany / 20' / stand up
Official Plot:
Step into the shoes of an urban explorer investigating the mysterious case of a missing boy. Pick up your flashlight and discover the secrets of an abandoned villa in the middle of a dark forest in Germany. Immerse yourself in true, cinematic realism, explore an interactive universe, pick up clues and dare to venture deeper into a mystical world where your actions can have grave consequences. (source: official website for Kobold, here)
Why we are looking forward to it:
This one is for the horror genre fans. Kobold sounds both absolutely terrifying and extremely exciting, and the technology that was used to produce it is truly impressive. It is definitely an experience you will remember, and if you get too scared… You can always picture Kodak (below), Another World VR's super adorable "Head of Human Resources"!
---

AWAVENA
Director: LYNETTE WALLWORTH
with Hushahu Yawanawa, Tata Yawanawa / USA, Brasil, Australia / 30' / installation
Official Plot:
From legendary artist/director Lynette Wallworth and the Amazonian Yawanawa people, "Awavena" is a stunning tale of metamorphosis, and the second in a series of mixed-reality works by Lynette Wallworth and producer Nicole Newnham, following their Emmy-winning VR film "Collisions."
For the Amazonian Yawanawa, 'medicine' has the power to travel you in a vision to a place you have never been. Hushuhu, the first woman shaman of the Yawanawa uses VR like medicine to open a portal to another way of knowing. AWAVENA is a collaboration between a community and an artist, melding technology and transcendent experience so that a vision can be shared, and a story told of a people ascending from the edge of extinction. (source: official website for Awavena, here)
Why we are looking forward to it:
The director described it as "a true story with all the power of myth". Awavena allows you to learn about historical figures and events that we don't know much about, but in an immersive way. So much work has been put into this project in terms of graphics and technology (see video above), and we are expecting to embark on a truly magical journey.
---

VENICE VIRTUAL REALITY:
In Competition – Linear
(Awards: Best VR Immersive Story, Best VR Experience for Linear Content)
---

EVEN IN THE RAIN
Director: LINDSAY BRANHAM
USA, Central African Republic / 16' / VR theatre
---

ANGELŲ TAKAIS (TRAIL OF ANGELS)
Director: KRISTINA BUOZYTE
Lithuania, Belarus / 20' / stand up
---

X-RAY FASHION
Director: FRANCESCO CARROZZINI
USA, Danimarca, India / 20' / installation
---

HALF LIFE VR – SHORT VERSION
Director: ROBERT CONNOR
with Amanda Åkesson, Sarah-Jane Brodbeck, Frida Hambreus / Sweden / 12' / VR theatre
---

CROW: THE LEGEND
Director: ERIC DARNELL
with John Legend, Constance Wu, Liza Koshy, Tye Sheridan, Sarah Eagle Heart, Randy Edmonds, Diego Luna, Oprah Winfrey / USA / 22' / stand up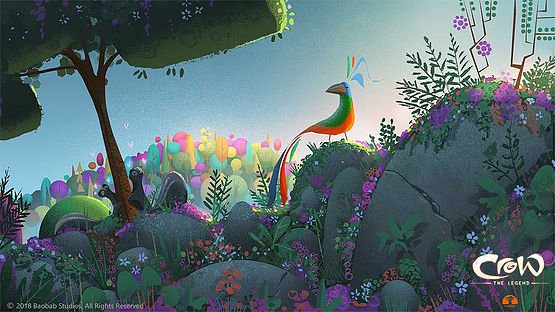 ---

AGE OF SAIL
Director: JOHN KAHRS
with Ian McShane, Cathy Ang / USA / 12' / stand up
---

MINDPALACE
Director: CARL KRAUSE, DOMINIK STOCKHAUSEN
with Anthony Paul, Maximilian Allgeier / Germany / 10' / stand up
---

BALLAVITA
Director: GERDA LEOPOLD
with Bianca Kraml, Thomas Kraml, Haymon Buttinger / Austria, Germany / 34' / VR theatre
---

BORDERLINE
Director: ASSAF MACHNES
with Indal Kabada, Alan Godying, Tom Kroszynski / Israel, UK / 9' / VR theatre
---

SHENNONG: TASTE OF ILLUSION
Director: MI LI, WANG ZHENG
China / 9' / stand up
---

THE GREAT C
Director: STEVE MILLER
with Niamh Wilson, Jonathan Koensgen, Camilla Scott / Canada / 30' / installation
---

L'ÎLE DES MORTS
Director: BENJAMIN NUEL
with Richard Doust / France / 8' / stand up
---

HOME AFTER WAR
Director: GAYATRI PARAMESWARAN, FELIX GAEDTKE
Iraq, Germany, USA / 20' / installation
---

MADE THIS WAY: REDEFINING MASCULINITY
Director: ELLI RAYNAI, IREM HARNAK
with Elijah Miley, Devyn Farries / Canada / 18' / stand up
---

LUCID
Director: PETE SHORT
with Jaleh Alp, Nicky Goldie, Peter Landi / UK, Australia / 16' / stand up
---

WU ZHU ZHI CHENG VR (THE LAST ONE STANDING VR)
Director: WANG JIWEN, LIU YANG
China / 10' / stand up
---

FRESH OUT
Director: WEY SAM, TAO FANGCHAO
China, USA / 7' / stand up
---

1943: BERLIN BLITZ
Director: DAVID WHELAN
Ireland, UK / 14' / stand up
---

ROOMS
Director: CHRISTIAN ZIPFEL
Germany / 23' / VR theatre