The Little Mermaid (2023): Film Review

Scuttle (Awkwafina), Flounder (Jacob Tremblay) and Halle Bailey (Ariel) in The Little Mermaid (2023) (© 2023 Disney Enterprises, Inc.)
Endearing but tonally spotty, The Little Mermaid (2023) lacks the whimsy of the original but finds a star-making performance in Halle Bailey.
---

I was relatively intrigued by Rob Marshall's take on the fabled mermaid. As a child, I would swim with my feet pinned together, whipping myself forward in the shallow end of the local pool. The Little Mermaid was a staple VHS in my collection and, while Marshall's 2023 remake is a mostly uneven retelling of the original, it delivers a lead performance worthy of tuning in.
The Little Mermaid follows Ariel (Halle Bailey), a young and vivacious mermaid longing for adventure beyond the water. After rescuing and falling in love with Prince Eric (Jonah Hauer-King), she seeks resolution in evil sea witch Ursula (Melissa McCarthy) who trades her voice for legs, allowing Ariel to experience life on land on the condition she return Ursula's captive if not for true love's kiss by the third sunset.
Bailey pours so much emotion into Ariel. Even when tight-lipped her beguiling gaze possesses an innocence that may come with this being Bailey's first major acting role. She and Hauer-King's chemistry is infectious, but it's Bailey's vocal weight that makes this adaption worth our attention. In a splendid performance of "Part of Your World," Bailey maintains a melodious catch in her voice that ripples with warmth.
Ariel's sea friends add a lick of humour to a mostly sapless screenplay, but they ultimately suffer from The Lion King syndrome, as their photorealistic design rids the performances of much expression. Daveed Diggs manages to persevere with his impressive voice work as Sebastian the worrisome crab. Jacob Tremblay's breathy falsetto is sweet as the blue-striped fish Flounder, but Awkwafina's recognisable rasp is more distracting than charming when voicing quippy seagull Scuttle.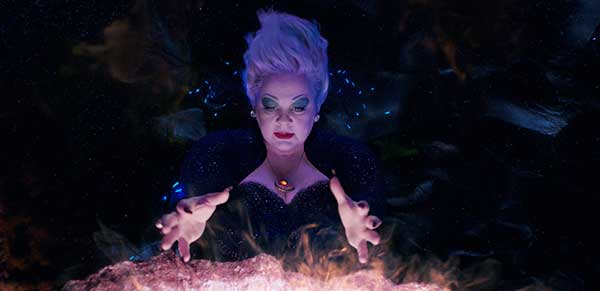 McCarthy's prowess as the villainous Ursula was a surprise standout. McCarthy took inspiration from drag performers, combating their fierceness and humour. Ursula and her electric blue-eyelids are just as slinky as they are in the original, with McCarthy's provocateur reminding me of a 1960s bar singer, slumped over a chaise lounge with a cigarette in one hand and a Manhattan in the other.
The Little Mermaid doesn't commit to a style. It both wants to satisfy fans of the animation with its aquatic vivacity, while consciously devoted to realism by mirroring the dusty low-light of Pirates of the Caribbean. It limits its fantasy elements for no reason and felt like two different films in a way that didn't aid the narrative as strongly as the original did. The remake works best when it leans into its whimsy. "Under the Sea" in particular felt as splashy and productive as a stage musical.
See Also

It's difficult not to draw comparisons to the recent success of Avatar: The Way of Water when examining the underwater stunts. Cameron's film pioneered the possibilities of visual and practical effects, and while The Little Mermaid fairs much better on the big screen than in the trailers, it became apparent I was watching actors on rigs in front of a blue screen.
The Little Mermaid is exactly as expected. It doesn't bring anything new to the original narrative, but doesn't stray far enough to disappoint. It's another harmless remake among the many others Disney have churned out. Its selling points are its star Bailey and an excellent turn from McCarthy.
---
The Little Mermaid will be released globally in theaters on May 26, 2023.