Under the Open Sky: A Clouded and Bleak Japanese Drama (AFI Fest Review)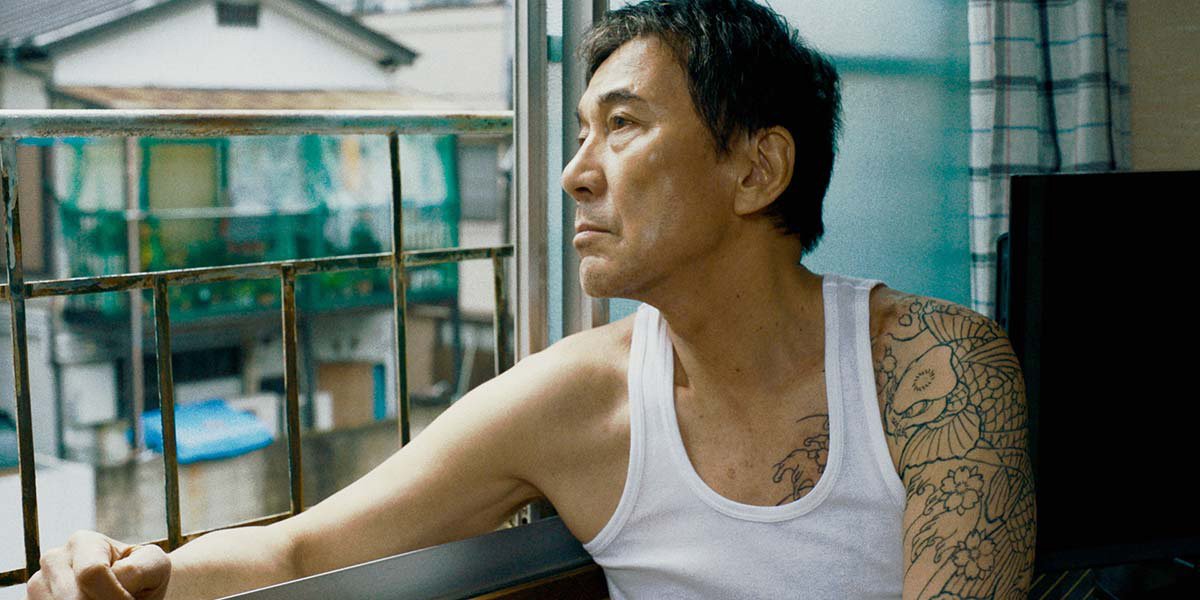 Under the Open Sky (Courtesy of AFI Fest)
Koji Yakusho's role as an ex-convict is the pinnacle of Under the Open Sky, a tale of redemption that never reaches the level of emotion it aims for.
---

"A man like him mends his ways and makes a tearful reunion with his mother," is how the film describes our protagonist, just released from jail and longing to find his mother. Miwa Nishikawa, a protégé of the acclaimed director Hirokazu Koreeda, tells the story of an ex-convict adjusting to life after prison, with veteran actor Koji Yakusho starring in the lead. It is a premise that is familiar, but always with much potential, especially with the flaws in our systems that fail to assist those who want to change for good. And Nishikawa seems to realize that, but does not convey it very properly, with results not as grand as the ambitions behind it. Under the Open Sky has all the ingredients for a sympathetic film, but it remains static in its narrative due to incoherent storytelling. It never expands on its lofty ideas, leaving Yakusho's performance as the only worthy component in this undistinguished Japanese drama.
The film follows Masao Mikami (Koji Yakusho), a former Yakuza who has just finished a thirteen year sentence for murder – though he claims it was self-defense. And despite having a whopping ten convictions and six incarcerations to his name, the ex-convict is given aid by his sponsor/lawyer, providing him a temporary home. Among his struggle with insufficient welfare and finding employment, Masao is also on a quest locate his Geisha mother, who abandoned him as a four year old boy. Masao recruits television producer Tsuonda (Taiga Nakano) to document his struggle for national attention, hoping to find his mother through that medium. But Tsuonda's only agenda is to record his ill temper outbursts, camera lusted on Masao at moments when he gets into brutal fistfights to make for a great episode for his series. Masao's true struggle is his inability to change his old ways, but he is set on becoming a new person, or at least tries to, even if his society seems to be uninterested in helping ex-convicts like him reshape their lives.
Statistically speaking, the majority of former criminals find difficulty living a clean post-incarceration life, finding themselves returning to crime within two years. With Under the Open Sky, we see a determination to discuss that lack of rehabilitation and opportunity for them, but director Miwa Nishikawa barely scratches that surface. Mikami's story is convoluted, comprised of unresolved (and perhaps unnecessary) subplots. His past as a family man, for example, has vague information that is revealed in only about a couple of scenes, and never revisited again. The storyline with the reality television show becomes trivial, despite its focus early in the film, as the narrative begins to shift spotlight on Mikami trying to renew his driver's license, which takes up a hefty amount of runtime. Even the search for his mother appears to arrive at a conclusion halfway through the film. None of these help the character study, giving out mixed thoughts on how we should feel towards Mikami. He has no concrete development until near the film's end, way past point of interest, thus failing to be the moving drama it should have been.
This is where the Under the Open Sky appears to be more centralized in Koji Yakusho's grand performance, filling the role of a middle aged gangster convincingly enough. The moments of speaking to people in military tone and breaking down at a family dinner are delivered sensationally by Yakusho and are the little things that make Mikami's attempt at reintegration watchable. He is engaging, showing off his range and acting capabilities with no problems. The writing should have been more elevated, given its thematics, to match his performance. With a lack of sentimentality, and a confusing story, Nishikawa has only Yakusho to rescue Under the Open Sky. There was massive potential in this tale of redemption, but at least Koji Yakusho gives it some much needed spark.
---
Under the Open Sky was screened at the AFI Fest last week, after its premiere at TIFF. It will be released in Japan on February 11, 2021, and its worldwide distribution will be handled by GAGA International.
---
JOIN US!
Don't miss our monthly updates with film news, movie-inspired recipes and exclusive content! You'll only hear from us once a month. #nospam