Treason Review (Netflix Series): Secrets, Lies and Death

Charlie Cox as Adam Lawrence in Treason. (Netflix © 2022.)
Netflix 's new series Treason follows a man who must become acting chief of MI6 after there's a heinous attack by a Russian spy on the current commander.
---

Charlie Cox is the gift that keeps on giving. After an electric performance as the lead tragic-hero Matt Murdock in Marvel's Daredevil, it's no surprise that Cox is our protagonist in Netflix 's newest series Treason. Fans all over the world have judiciously fallen in love with Cox's charm, good looks and incredible acting capability. It's inevitable that anyone who loves Cox as Murdock will love him in his latest role, as Adam Lawrence. Netflix have been unstoppable in 2022 for shows under pretty much every genre going: in the last 12 months, they have released Wednesday, Pieces of Her (a personal favourite), Heartstopper, Inventing Anna and All of Us Are Dead, just to name a few. Treason is a triumphant take on the espionage subgenre and adds to the ever-growing list of series that you need to add to your watchlist tout de suite.
Adam (Cox) is an MI6 agent living happily with his wife Maddy (Oona Chaplin) and two children Ella (Beau Gadsdon) and Callum (Samuel Leakey). Secrecy is something Maddy is accustomed to with Adam's line of work and holds a lot of trust in him in their day to day life. Whilst giving a talk at his son's school, Adam receives news that will change his life. The MI6 chief Sir Martin Angelis (Ciaran Hinds) has been the target of an unfortunate poisoning by a Russian spy, Kara Yerzov (Olga Kurylenko), and his fate is uncertain. Adam must step up and become the acting chief of MI6 effective immediately. In the days that follow, Adam gets caught in a whirlwind of deception and paranoia, leaving his family in risk of danger. Adam's past unveils before his eyes and people he once thought he could trust are no longer on his side. With lies being thrown round left, front and centre, Adam must confront those in front of him before it's too late.
Treason is clichéd, but extremely likeable. The familiarity it brings draws you into the story. As you get to know the characters, you're hooked until the very end. Adam's backstory unravelling episode by episode is so crucial to pay attention to, as there are so many twists and turns right up to the last minute. Who will betray Adam? Who is really the bad guy? Who's been telling lies this whole time? You also get to enjoy a scenic trip around London whilst all your questions get answered. Guns, death, hidden files, secret identities and more are there too to keep the runtime filled through all five episodes. It's kind of like a Designated Survivor meets Homeland, except very British.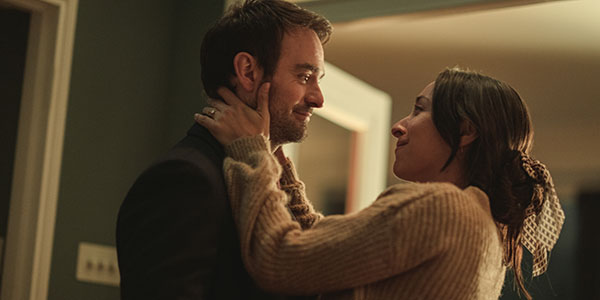 Kurylenko and Chaplin are assuredly the stars of the show, besides Cox. They both bring so much energy to their roles. Kurylenko is particularly endearing, knowing her past acting credits in Quantum of Solace and Oblivion. Absolutely any script could be thrown at her and she'd do an incredible job at it. Beau Gadsdon is most definitely going places also and I can't wait to see what she stars in next. After appearing in the lead role of The Railway Children Return earlier this year, Gadsdon will unquestionably be returning to our screens soon. Casting such a talented ensemble must have been a tricky thing to do, but each and every person in Treason is great and they all gel so well together.
Creator and writer Matt Charman is no stranger to spy thrillers. This is especially so after being nominated for the Academy Award for Best Original Screenplay for Bridge of Spies, which he co-wrote alongside Joel and Ethan Coen. In a Q&A with Charman after a screening of Treason, it became clear how much he was involved in the series and how much he genuinely admired each and every character he had written. He wanted every character to have "a little flaw" or a "little problem" to keep the audience guessing who's side we should really be on. Without a doubt, Treason is one of the most unpredictable spy thrillers to date. There's so much information to put together, which Charman described as a "puzzle box".
If you're looking for a limited series you can binge watch over a weekend, Treason is the perfect route to go down. What's not to love about an espionage drama jam packed with great performances and an unnerving storyline?
---
Treason launches globally on Netflix on December 26, 2022.