Things Heard & Seen: A Ghost Story with Intelligence (Review)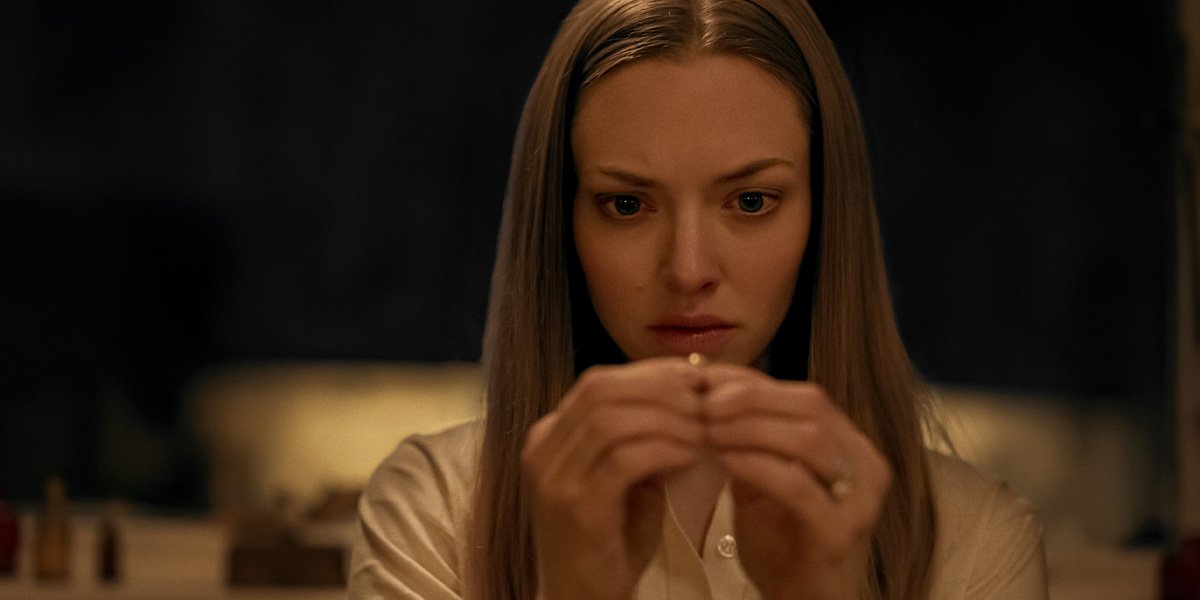 Amanda Seyfried in Things Heard and Seen (Anna Kooris/NETFLIX © 2020)
Despite a lack of clear direction, Things Heard & Seen remains a complex and engaging relationship drama with impressive lead performances from Amanda Seyfried and James Norton.
---

At one point in Things Heard and Seen, a character desperately asks where the justice is for the woman of 'that house', said house being the haunted building well-known to the small town's residents. It is a poignant statement, if a little tacked on and cloying, and it is a line that captures the film's strongest points. Things Heard and Seen is at its best when it concentrates on the mistreatment of women by men in relationships, as well as when it strikes an impressive balance between painful events from the past mirroring with the present day. However, it never fully embraces these themes as confidently as it should, and the horror elements added in not only come across as clichéd and, well, not very scary, but also as quite jarring. There is a great film buried somewhere within here, and within the original novel upon which it is based, All Things Cease to Appear by Elizabeth Brundage, but instead we are left with a fairly decent spiritual trip that will most likely frustrate you as much as it will engage you.
Fresh off an Oscar nomination for her supporting role in Mank, Amanda Seyfried (Mean Girls, Les Misérables) plays Catherine Clare, an art restorer who reluctantly moves from Manhattan to a remote home in a small town after her husband, George (James Norton, of Happy Valley and McMafia), lands a teaching job at a college there. Their new home brings forth ghostly hauntings as well as feelings of miscontent in their relationship. Both leads give fine performances in Things Heard and Seen, despite the screenplay wrongly lending more time and depth to Norton's character. Seyfried does well with what she is given, building in strength as the film progresses despite being invalidated by George at every possible point. Her character, Catherine, too, is the most interesting of them all, a likeable woman who finds solace in a ghostly spirit within the house. Norton, meanwhile, plays a wholly different character, George being a man brimming with self-entitlement, violence and deceit. Norton gives away these horrible traits subtly throughout the film, before descending into full-blown madness towards the end, but, even in those moments, his performance is never melodramatic or unrealistic.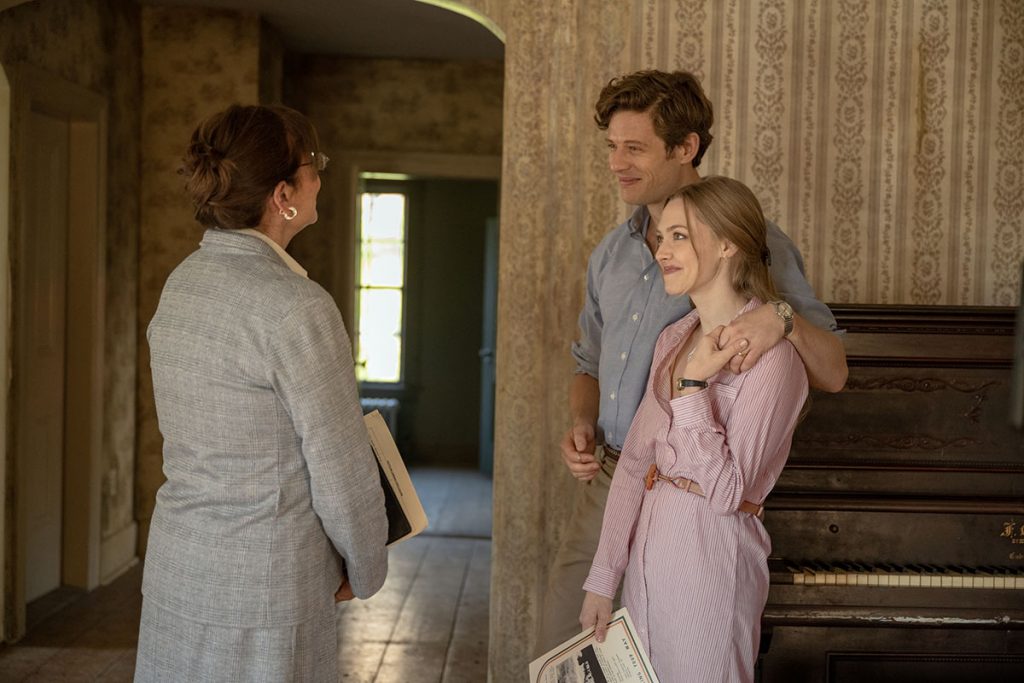 The two work in tandem effectively to create a relationship that is, quite frankly, devoid of love and turning quite sour, perhaps only being held together by their daughter, Franny (Ana Sophia Heger). Quiet moments of distrust between the couple are given gravity by Seyfried and Norton, and are as effective as the louder blow-ups they have with one another. Here is where Things Heard and Seen falters, though, because it never leans into these strengths enough. It seems to want to be a supernatural horror film on a number of occasions, without ever having original scares or tangible atmosphere and, through this, never fully forms into the bold and cutting relationship drama that it threatens to be.
Brundage's original novel was a sprawling, complex piece of work focussing on three generations of women and analysing the cruel failings of marriage. Things Heard and Seen grasps these complexities from time to time (despite its main focus being only on the middle generation of said women) but frustratingly never fully realises them. For all its poignancy, Things Heard and Seen too often seems to get scared of these complexities and reverts to comforting but generic tropes of the genre, like jump scares and spooky voiceovers. The spiritual, afterlife angle that is touched upon by Catherine and college dean, F. Murray Abraham's (Amadeus, The Grand Budapest Hotel) Floyd, is also one of the most intriguing elements but again is never satisfactorily explored.
Married couple Shari Springer Berman and Robert Pulcini (American Splendor, The Extra Man) co-direct this adaptation without ever really stamping their mark on it. Aside from some interesting camera movements used to amplify horror, the direction in Things Heard and Seen is relatively safe (aside from a terrible hand-held camera moment capturing Seyfried face-on). The film feels very much like standard Netflix fare, which is no bad thing but is also not a hugely impressive thing either. The screenplay, however, again co-written by the pair, has greater depth and intelligence to it, particularly in the exchanges between Catherine and George, even if it does become slightly far-fetched towards the end. The ghost haunting of the house is also given a more emotional arc than a lot of horror films. It might be nothing new to give a ghost a personality or backstory but Things Heard and Seen does it well, adding emotion to the woman haunting the house and drawing intelligent parallels with Catherine's own present-day struggles.
See Also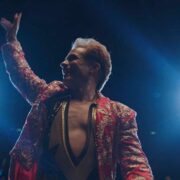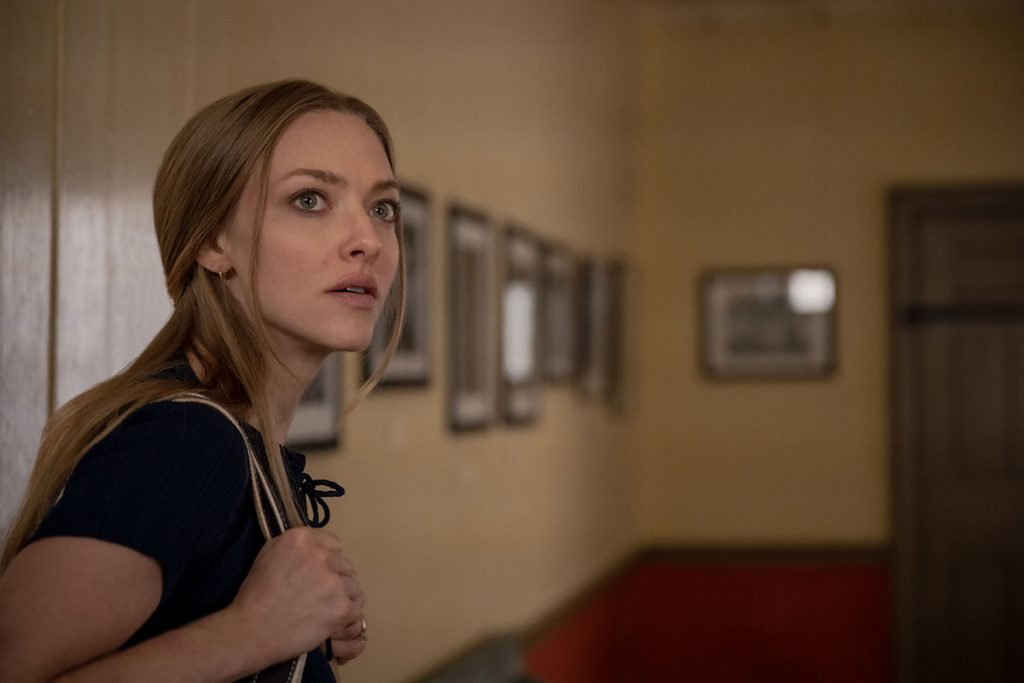 There are strong sections in Things Heard and Seen, which makes its tendency to backtrack away from them that much more frustrating. As a relationship drama, it is a film with believability, and the most horrific parts actually come in its most 'normal' domestic situations. The spirituality arc, though underdeveloped, adds an interesting slant yet in turn leads to some horror that is lacking and unnecessary. As a complete body of work, Things Heard & Seen is ultimately engaging but just missing that special spark that could have set it apart from other films in the genre, and in time it will neither be heard nor seen that frequently in the ever-expanding Netflix library.
---
Things Heard and Seen is now available to watch on Netflix.
---
WATCH THINGS HEARD AND SEEN:
---
JOIN US!
Don't miss our monthly updates with film news, movie-inspired recipes and exclusive content! You'll only hear from us once a month. #nospam