The Righteous Gemstones: Seasons 1 & 2 Recap

(Ryan Green/HBO)
Danny McBride's absurdist megachurch comedy The Righteous Gemstones returns mid-June, so here's a quick recap of Seasons 1 and 2.
---
You either love Danny McBride or you hate him in all his creative endeavors, and I happen to love him and think he's hilarious, despite his crude, child-like antics and the kind of scathing comedic lambasting we see in his latest hit series The Righteous Gemstones. Back in Summer 2019, McBride threw righteousness in our faces when he introduced us to the extravagant yet immature, warped, and hypocritical world(s) of uber-rich Memphis televangelist family the Gemstones … and believe me, righteous they are indeed. With Season 3 raining down from above on June 18, we thought you could use a quick recap of Seasons 1 and 2.
Starring Danny McBride (Eastbound and Down), Adam Devine (Workaholics), and Edi Patterson (Violent Night) as siblings Jesse, Kelvin, and Judy Gemstone, along with the inimitable John Goodman (The Conners) as the family pastor and patriarch, The Righteous Gemstones is a dark comedy full of bickering and backstabbing, swears and insults, near-death experiences and secrets, and more money than God knows how to spend.
Aside from its genius cast of characters effortlessly playing off one another like actual family members all vying to be the favorite and claim the family spoils, the show boasts some mega-church storylines full of greed, lies, and blackmail with perhaps one of the best actors of this century playing a key role in all his big ole white-teeth glory, Walton Goggins of Sons of Anarchy and Justified fame. A lot happened in Seasons 1 and 2, and with Season 3 airing soon on HBO and Max, here's a quick recap to set you up for Sunday's service.
---
The Righteous Gemstones: Season 1 Recap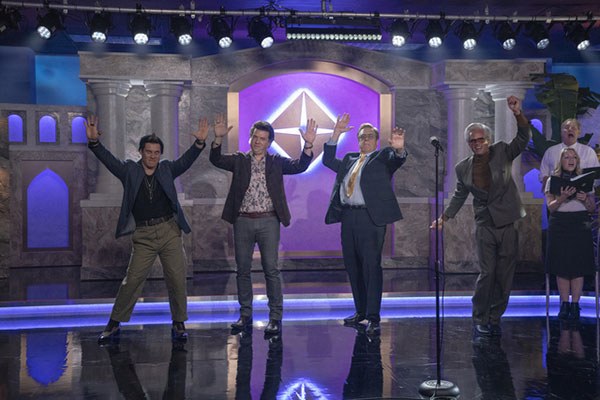 The opening scene of Season 1 is probably the funniest baptism scene I've ever had the pleasure of witnessing. Jesse (McBride), Kelvin (Devine), and Eli Gemstone (Goodman) are in hour 17 of a 24-hour mass baptism marathon in China, which takes place in a wave pool at a water park in order to accommodate all the people. Kelvin and Jesse bicker back and forth between baptisms as they criticize each other's baptism style, and just as Eli barks at them to stop acting like children then tries to stop someone from taking pictures, the wave pool kicks on, along with party lights and dance music, and all you see are Asian people scrambling to get out of the water, wondering what is happening. Meanwhile, Jesse and Kelvin continue casting blame on each other as Eli storms off after the photographer, upset that his serious religious efforts have turned into what appears to be one giant wave—I mean rave.
All hilarity aside, though, there's more: Upon returning home, a blackmail video emerges of God-fearing Jesse snorting cocaine and partying with strippers. The blackmailer, who turns out to be Jesse' oldest son, demands one million dollars in exchange for not releasing the tape to the church and ruining the Gemstone reputation. However, Jesse does not know at the time that his son is behind all this, so he does what any self-respecting adult would do and enlists the help of his siblings to "save the family" by any means necessary. That's when everything goes from bad to worse and the righteous Gemstone shenanigans escalate.
An insider tries to rob the megachurch and almost gets away with it but, well, let's just say the Lord has other plans. Meanwhile, Jesse believes if he shows his wife Amber (Cassidy Freeman of The Vampire Diaries) the blackmail video in front of all her friends, it will soften the blow (no pun intended). Sadly, his effort backfires when Amber loses her proverbial you know what and ends up shooting Jesse in the butt. With a gun, yes. Elsewhere, hot-mess express Gemstone sister Judy (Patterson) gets into a fight with her square of a fiancé BJ (Tim Baltz of Shrink) and winds up trying to vandalize his car, but she misses and vandalizes his co-worker's car instead—an act which leads to her arrest. And over at Kelvin's (Devine) house full of weirdness, he gets into a fight with his "head of security" and the closest thing he has to a platonic lover Keefe (Tony Cavalero of The Binge), who is a recovering Satanist, now a born-again Christian. You will absolutely fall in love with Keefe: He's a series favorite!
All of the efforts to save the family from the effects of this embarrassing "pastor's son snorts blow off of strippers" video only leads to the Gemstone kids making complete jackasses of themselves throughout all of Season 1, with the finale presenting Jesse, Judy, and Kelvin confessing all their sins to Eli in most righteous Gemstone sibling fashion. As a result, Eli kicks them out of his church then tracks down the thief who took his money, who turns out to be none other than Uncle Baby Billy (Walton Goggins). I'll spare you the deets of what happens to him, but it's worth watching because it's quite the "you can run but you can't hide" kind of moment.
---
The Righteous Gemstones: Season 2 Recap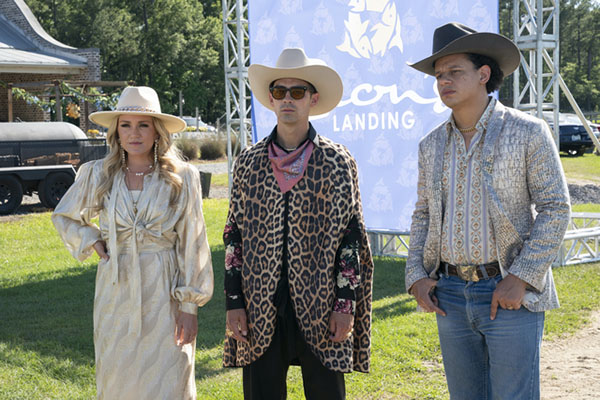 So, where Season 1 focuses more on what the righteous Gemstones just did, Season 2 focuses more on what the Gemstones have done over the years that brought them to their enormous fortune. Eli spent the entirety of Season 1 desperately trying to protect his legacy from imploding after the calamities set in motion by his ungovernable children; now, the stakes are higher as he works to get (and keep) his church back in order.
To recap, life seems to be running more smoothly for the Gemstones in Season 2. Jesse and Amber are on the mend, as is their little family of spoiled rotten children, and Judy and BJ are now married and back at Eli's church. Kelvin is in complete ridiculousness mode as he proclaims himself a messiah leading a pack of obscenely muscular dudes called the God Squad. And while Jesse and Eli remain at odds over the fate of the Gemstone church, Jesse and Amber take the initiative to get in good and partner (behind Eli's back) with new Texas mega-church pastor Lyle Lissons (Eric Andre of The Eric Andre Show) and his wife, who want the Gemstones to co-invest in a churchy tropical resort known as Zion's Landing. The Lissons pretty much want what the Gemstones have and will do anything to take them down.
See Also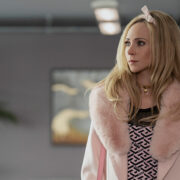 There are two big plot twists in Season 2. The first happens when Eli's past comes calling in the form of Junior Marsh (Eric Roberts of Suits), a shady lowlife radiating charm and danger who re-emerges to haunt Eli because of something Junior believes Eli owes him. I'll give you three guesses what that is. When Eli urges him to go away, words and fists start a-flying between the two, letting us know that Eli does, in fact, have a dark past—one involving criminal enforcement through violence and a very different Eli than we've come to know.
The second twist shows up with the arrival of Jason Schwartzman, who plays a very quirky, nosey, snooping investigative reporter threatening to expose the corruption running rampant throughout the Gemstone church. Just like with Season 1, the Gemstones' inner turmoil falls prey to outside forces, once again leaving Eli's legacy on the brink of collapse and exposed to real danger. By the end of Season 2, we find out it was actually Lyle Lissons (André) who is behind all the chaos surrounding the Gemstones. He was feeding info about Eli and his church to journalist Thaniel Block (Schwartzman), and he was the one who sent a squad of Cycle Ninjas to kill Eli but failed. The ninjas then ended up with Kelvin and Keefe as part of the God Squad.
Some hilarity then ensues between Lyle and Thaniel in the form of—what else?—an argument, as Lyle works to prevent Thaniel from exposing him next via a series of hand grenades and gunfire. In an unexpected moment of levity, Lyle never has the chance to stop Thaniel because Thaniel is ultimately killed by his own bullet ricocheting off a kitchen skillet. It's a priceless scene that requires a rewind and a rewatch; it's just that funny. We learn a lot more than we want to about Lyle Lissons and his sad, greedy, over-the-top life, and both he and his wife face a perilous end. So, what's next for The Righteous Gemstones?
---
What to Expect from Season 3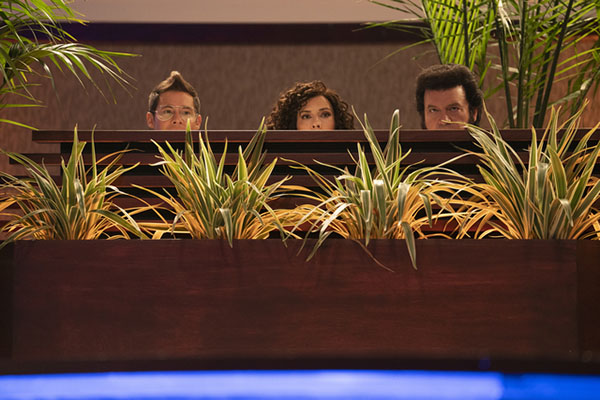 Season 3 sets up the future fate of the Gemstones. We'll see the mega-church family get into more immoral high jinks as they battle for the power of the Gemstone church and face off against some violent pushback and new opposers. They'll continue to deal with Uncle Baby Billy, get involved in the NASCAR circuit, and cope with an increasingly powerful and vocal religious movement populated by boisterous, far right-wing gun-owning enthusiasts. Joining the cast for the new season will be Steve Zahn (The White Lotus), Lukas Haas (Babylon), Robert Oberst (a retired former American professional strongman competitor), comedienne Iliza Shlesinger, Stephen Dorff (Deputy), Shea Whigham (Gaslit), Casey Wilson (The Shrink Next Door), and musician Sturgill Simpson.
---
Seasons 1 & 2 of The Righteous Gemstones are now available to watch on Max. The series returns for Season 3 on HBO and Max with a two-episode season premiere Sunday, June 18, at 10 p.m. EST.