The Proud Family: Louder and Prouder (Episode 5 Review): "Baby how you feelin'?"

The Proud Family: Louder and Prouder (Disney)
The Proud Family: Louder and Prouder sees Oscar build his theme park and Penny continue to deal with puberty in the hilarious and cameo filled Episode 5.
---
For the third episode in a row, the two main plots of The Proud Family: Louder and Prouder centered on protagonist Penny Proud (Kyla Pratt) and her father, Oscar (Tommy Davidson). Even more interestingly, Episode 5 also follows up on a couple of plot threads from previous episodes: one being last week's cliffhanger ending of Oscar buying his theme park, and the subject of Penny's puberty which was the focus of Episode 1. Following up on those threads certainly softens the blow of having the plot revolve around Penny and her father yet again. While I adore them both and consider the last two episodes to be the best of the series to date, you definitely don't want that winning combination to become stale.
Having this episode follow up on previous episodes manages to keep this episode feeling fresh despite the focus on Penny and Oscar. Not only that, but Episode 5 of The Proud Family: Louder and Prouder features an element from the original Proud Family series that I was anticipating: effective celebrity cameos that add to the narrative/world. While Cee-Lo Green's cameo as a panda in Episode 1 felt quite random, Episode 5's main cameos (which are probably a bit more than a cameo) are more in line with the appearances of Mariah Carey and Al Roker as fictionalized versions of themselves. Carey and Roker actually played central roles in the plots of their respective episodes, this created interesting narratives and helped make this animated world even cooler. Though a number of cameos have already been announced, "Snackland" features the first couple of the big name Louder and Prouder guest stars in a fantastic way (more on them later).
Episode 5 of The Proud Family: Louder and Prouder picks up in the aftermath of Episode 4, which ended with Oscar purchasing a plot of land that is definitely a toxic waste dump, to build a theme park. Somehow, that park "Snackland" is completed by the start of the episode and as one might expect, it is incredibly dangerous. To the surprise of everyone, including Oscar, this park proves to be successful. Meanwhile, Penny is asked by her father to reform her singing group "LPDZ" with her friends and perform at Snackland. This performance causes the effects of puberty to rear their head and Penny must face these changes she's going through.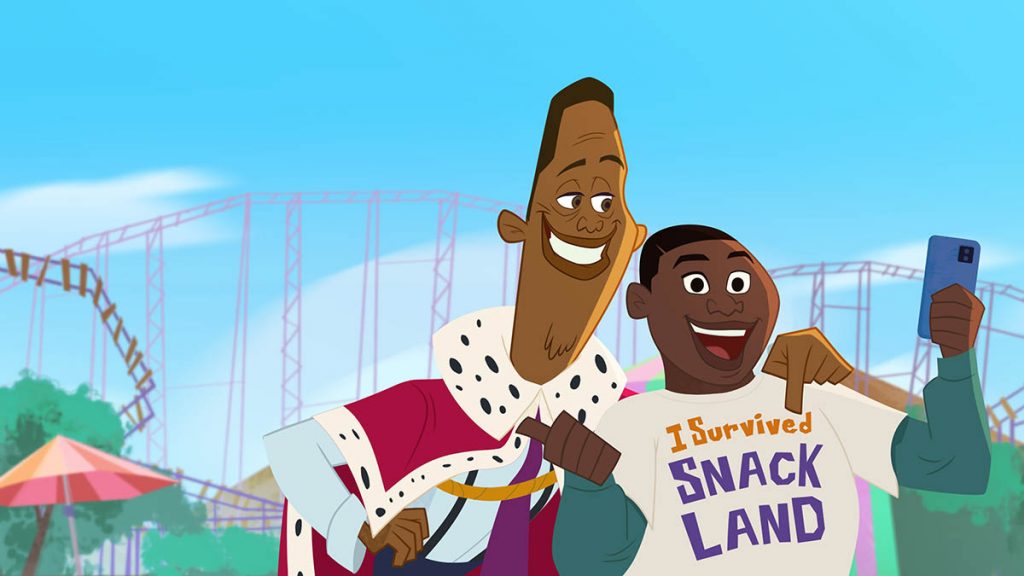 The writing is absolutely on point in Episode 5, both plots are again tied together well early on, and they both ultimately help to enforce the message of the episode in an effective manner. This episode again focuses on the message of being yourself, but adds the wrinkle of loving and accepting yourself for all of your so called "flaws". You may or may not be going through puberty like Penny is, but being and loving yourself is a message that everyone can get behind. It's pretty creative of L.J. Lawrence to bring back the subject of Penny's puberty from Episode 1 and tie it with Episode 4's theme park cliffhanger. These are things that on paper shouldn't work together, and thanks to an element of the original Proud Family that I wasn't even thinking of: Penny and her friend's musical group "LPDZ" with the sidesplittingly funny Bobby Proud, Penny's uncle (Cedric the Entertainer) as their manager, they do. That's not all that makes this story work, of course, there are great gags revolving around Snackland, and effective celebrity cameos that help reinforce the message of being/loving yourself.
Speaking of those cameos, the first is one that wasn't announced to the public and one that I won't spoil here. All I can really say is that this person's appearance made me die laughing, was surprisingly fitting, and added to the narrative in a unique way. The other big cameo, who, like the mystery guest, has a bigger role in the story than your typical cameo, if you haven't figured it out, is none other than Lizzo voicing a fictionalized version of herself. Having Lizzo in an episode centered around Penny learning to both be and love herself despite any flaws is truly perfect. When you consider how open Lizzo is about body positivity and how she owns every part of herself that the general public may criticize, there really isn't anyone that could help Penny learn the message of this episode any better. Even though her appearance sort of comes out of thin air, Lizzo fits right into this world in the same way that Mariah Carey and Al Roker did. She honestly may surprise you with her voice acting chops as well, she's got that fun loving energy she's known for and doesn't sound robotic at all. The creative minds behind Episode 5 of The Proud Family: Louder and Prouder deserve kudos for bringing Lizzo in and allowing her to be herself while also using her to help get the message of the episode across in a way that doesn't feel forced.
With its great jokes, effective cameos, and fantastic writing, Episode 5 of The Proud Family: Louder and Prouder takes what could have been one too many episodes in a row centered on Penny and Oscar and makes something quite unique. While this wasn't a bad episode by any means, in fact, it continues the streak of good to great episodes of Louder and Prouder, here's hoping that next week's episode focuses on Penny and some of the other characters.
---
The Proud Family: Louder and Prouder 's Episode 5 is now available to watch on Disney Plus.
---
WATCH THE PROUD FAMILY: LOUDER AND PROUDER: EPISODE 5:
---
JOIN US!
Don't miss our monthly updates with film news, movie-inspired recipes and exclusive content! You'll only hear from us once a month. #nospam