The Passenger Review: A Delirious Road Trip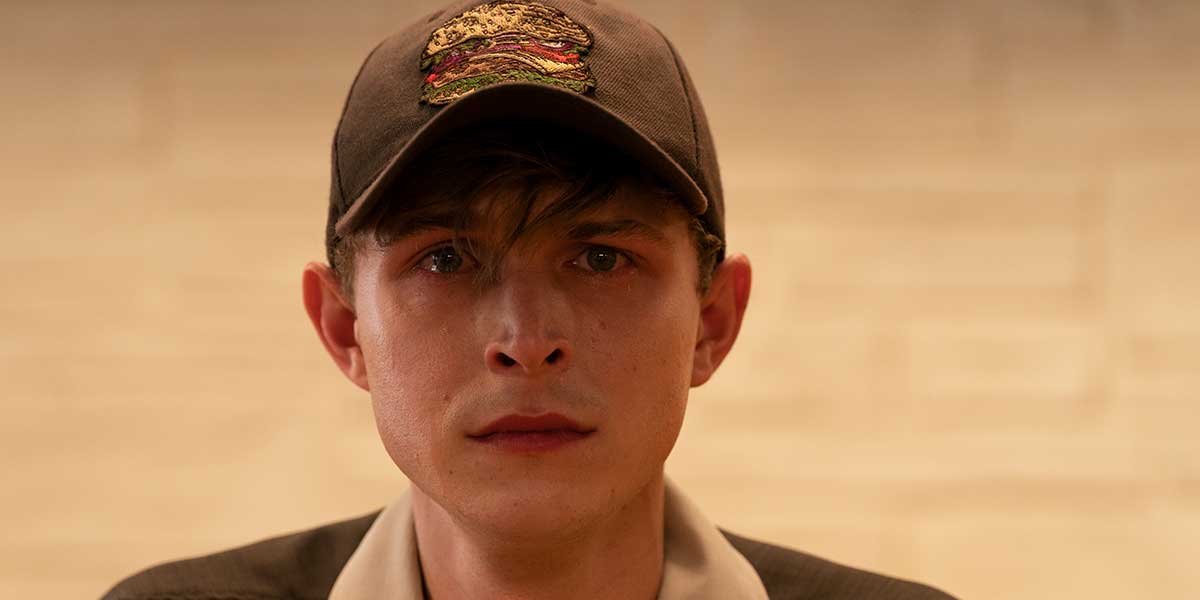 Johnny Berchtold in The Passenger, a Paramount Home Entertainment and MGM+ release. (Blumhouse Television)
Carter Smith dives into the world of horror yet again with The Passenger, an intense road trip thriller starring Kyle Gallner and Johnny Berchtold.
---

The journey to self-discovery sometimes comes at a time when you least expect it. Some people wake up in the morning and decide to get their life on track, putting their past behind them right at that very moment. For Randy (Johnny Berchtold), his isolating job in a secluded diner is just part of his everyday routine; there's no need for change. Randy doesn't have to be friends with his coworkers as he gets by perfectly fine keeping to himself, keeping quiet and staying out of trouble. What Randy is yet to realise is that this seemingly normal day at work is not like any other. Today is the day he must confront his biggest fears, past mistakes and decipher how to live a life now that he's an accessory to a bloodbath murder spree in the small town that he's managed to avoid disorder in for 20 years. The Passenger is a road trip thriller filled with delirium, gore and introspection.
Fueled by sinister high energy, the first 20 minutes of The Passenger set the film up to be an intense thrill ride. Randy is tormented by one of his coworkers and forced to eat a day-old burger before his shift at the diner has even started. Benson (Kyle Gallner), another coworker, watches over in disbelief at how Randy cannot stand up for himself and just walk away from the inimical situation. Without hesitation, Benson walks out of the diner and opens the boot of his car. He picks up a shotgun and heads right back in to be face-to-face with Randy and the two other servers on shift. Angry and powered by abhorrence, Benson begins to open fire. Randy is left quaking with fear, tears filling up his eyes as Benson makes his way towards him.
Gallner plays an intensely eerie diner worker whose mind just seems to snap one day. Somehow, despite his character being disconcerting at all times, there's still an allure about Benson that makes you want to know more about him. On the other hand, Randy is extremely reticent. He's the kind of guy who wouldn't even hurt a fly. It seems Randy and Benson have been acquainted with each other for a while at the diner but never made any conversation, not even a friendly little chat. It isn't until Benson takes Randy hostage in the passenger seat of his car that they finally begin to talk. Berchtold is phenomenal as Randy as he begins to come out of his shell, unravelling his past to Benson. The pair are the perfect match to play opposites of each other.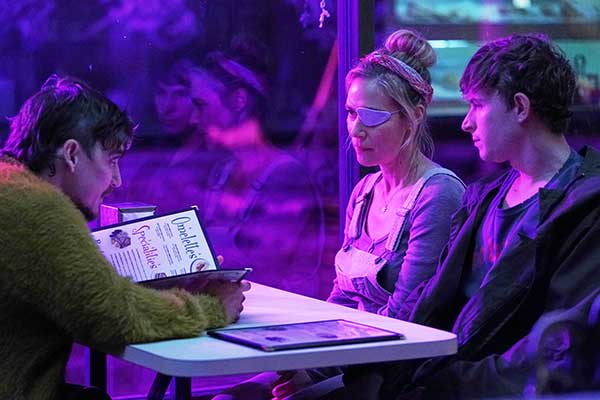 At long last, Gallner takes centre stage in this unmissable end of summer horror extraordinaire. With Smile, Scream (2022), A Nightmare on Elm Street (2010) and the esteemed Jennifer's Body under his belt already, Gallner is high up in the horror world when it comes to supporting roles. He's an absolute master at depicting a perplexing, mysterious character. All you need to do is take to Reddit to find threads of people debating whether he's a 'Scream King' or not (which he most certainly is) for the amount of horror films/TV shows he's starred in. Another deserved big break for him comes as a double whammy, starring as the lead role in The Passenger and Mother May I?, with the release dates of the films just two weeks apart.
Director Carter Smith, too, deserves the title of 'Scream King'. After already releasing one of the most entertaining queer horror movies of the decade a few months ago, Swallowed, it's an absolute delight to be able to report that Smith is back with another banger! When I spoke to Smith after the release of Swallowed, I had great anticipation for The Passenger. Smith had worked with Blumhouse Television previously for Midnight Kiss and he proudly stated how great it is to be continuing the collaboration with Blumhouse again. It's obvious how passionate he is about his directorial work.
Whilst The Passenger is essentially one man going on a murder spree and taking his coworker along with him for the ride, it's innately about self-exploration. Randy needed something to go wrong in his life (maybe not this extreme!) in order for him to break his routine. It was vital for him to address his past and ask people, and himself, why they did what they did. Previous girlfriends, teachers, family, all lived subconsciously in his mind but he was never able to accept why he couldn't let go. Starting The Passenger with one of the most blatantly vigorous one man battles was maybe too extreme for the underlying themes of the film. Alas, we were able to see how much fragility Randy held inside of him and how much it called for a disturbance in his daily pattern.
Shocking, violent but somewhat gratifying, The Passenger is a must-see. Gallner working with Smith is a pairing made in heaven. Whilst I went into The Passenger thinking it would be a lot more brutal, the kills are still callous. I can't think of a better way to put a close to the summer of Barbenheimer.
---
The Passenger will be released on Digital and On Demand in the US on August 4, 2023 and is coming to MGM+ later in 2023.