Director Carter Smith on Swallowed: Interview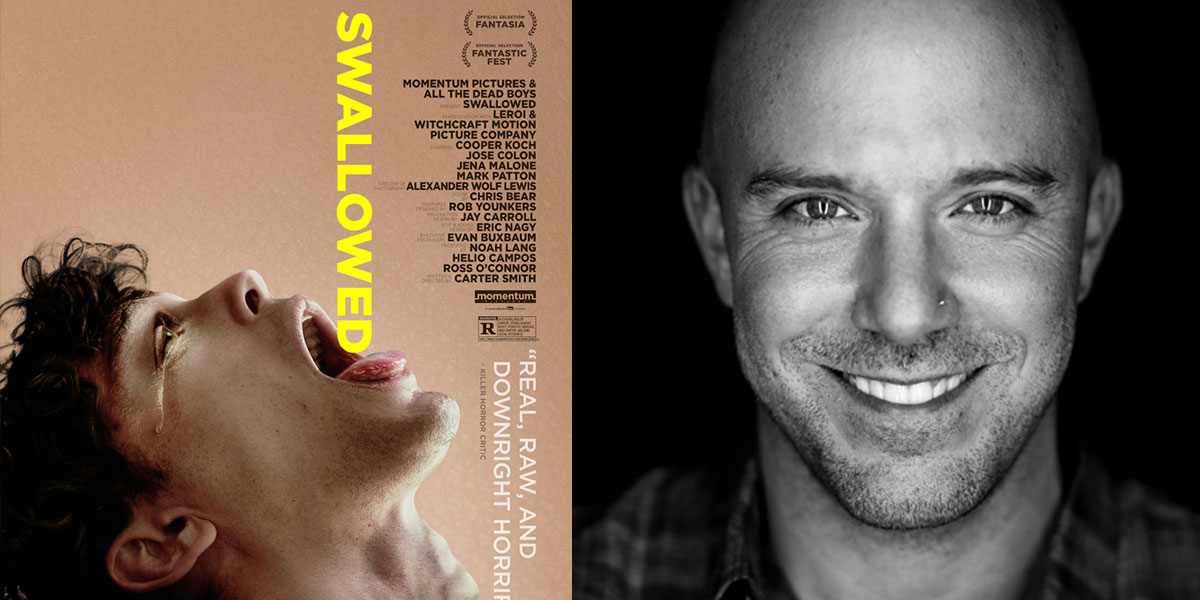 Director Carter Smith, Swallowed (Blue Finch Film Releasing)
Swallowed director Carter Smith sat down with us for an interview and talked all things queer and eerie in the leadup to the release of his latest nail-biting horror.
---
Director and writer Carter Smith's latest horror film Swallowed follows two childhood best friends, Benjamin (Cooper Koch) and Dom (Jose Colon), as they try to smuggle drugs across the Canadian border. Nothing is as simple as it seems when the drugs they swallow turn out to be living bugs, a new kind of high.
Swallowed mixes horror with crime, and focuses on the intimate relationship the two leads have with each other. It's as much about body-horror as it is about the friendship between Benjamin and Dom. Benjamin is about to move away to LA to pursue his dreams of becoming a porn star. Dom has been in love with Benjamin for as long as he can remember and wants to give him a joyous send off. However, happy endings are few and far between for any of the characters in Swallowed.
Before the UK release of Swallowed, Smith sat down with me over zoom for an interview. We gossiped about The Doom Generation and our shared love for Jena Malone.
(Minor spoilers ahead for Swallowed, so we recommend checking out the film first!)
---
CARTER SMITH ON HIS INFLUENCES AND QUEER FAVOURITES
Hi! Thank you so much for speaking with me today! I loved Swallowed. I'm such a big fan of horror, especially unpredictable horror like this. What were your influences for Swallowed? Were there any particular films or directors that you drew inspiration from?
Carter Smith: There was this whole group of filmmakers that made 'mumblegore' films. There was a movie called Sun Don't Shine, and another one called A Horrible Way To Die, and you could just tell it was 8 or 9 people going out together to make a movie with what they had, no matter what. And it wasn't so much the films that were inspiring, but the way the films were made.
I completely get that. I grew up a lot on the Horror Channel on TV in the UK and that just had the weird and wonderful of absolutely anything so I'm kind of accustomed now to anything weird I'm totally in. I have to do it.
C.S.: Oh yes! I love it.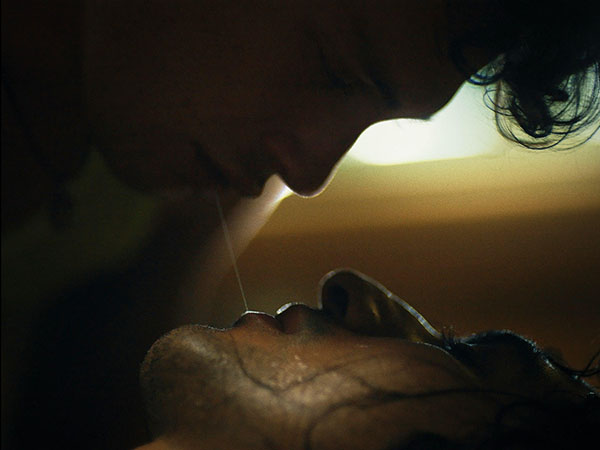 What would you say your personal favourite queer movies are from any genre?
C.S.: I just watched the re-release of The Doom Generation, so it would be that, along with Drugstore Cowboy. Drugstore Cowboy isn't really a queer movie, but you can feel the queerness in the film when watching it. When I first saw both films, they were real eye openers: movies could be queer but also challenging and interesting. And not standard coming of age, ill-fated love type queerness, which is what a lot of queer cinema is. I love that, but I like the fact those films opened me up to other stuff as well.
I saw The Doom Generation for the first time last year and I've watched it 4 or 5 times now. I love it so much. I haven't seen the re-release yet, but I need to.
C.S.: You need to see the re-release of it! It's worth checking out. The ending is different. If you're familiar with it, you'll definitely recognise the differences.
---
ACTOR CHEMISTRY, HAPPY ENDINGS AND SEX POSITIVE ICONS IN SWALLOWED
The chemistry between the two leads was great. Do you think you'd work with either of them again, or maybe write a script with them in mind?
Carter Smith: Absolutely! I wrote the script for Swallowed with Jose in mind: he plays Dom. I met him and photographed him before and wrote him into the script. I often thought that I would love to get a peek into the world of Benjamin once he moves to LA and joins the full-on porn scene.
Oh, that would be so good!
C.S.: Especially if the bugs found a way to go with him to LA and what that would do to the porn scene. That would be a pretty good story.
I can imagine how important seeing queer characters on screen is for you. I loved how sex positive and confident Benjamin was. What made you give him a happy ending? It was so refreshing to see that.
C.S.: I really wanted to do something where the queerness wasn't a source of torture and angst. Sure, there's an unrequited love aspect to it but it wasn't a defeating characteristic to it. Benjamin really is confident and comfortable, and secure in who he is and who he loves. I really like the idea that his confidence helps him survive. He's able to provide his own happy ending in a way that doesn't happen a lot in queer films.
I loved the end credits scene with Benjamin. I didn't expect it. It's just so refreshing and nice to see a happy ending for a queer character.
C.S.: Well, it's fun! What happened right before that was maybe not fun, but I don't want people ending up feeling like "Oh, that's a punch in the gut ending!". I wanted something that was more fun and playful.
---
ALL THINGS JENA MALONE
I was watching The Ruins again last night with Jena Malone and I absolutely love it. Did you write the part of Alice with Malone in mind?
Carter Smith: Yeah, I did! We had such a good time working together on The Ruins and we stayed friends. She's visited me in Maine before and we've always stayed in touch and talked about doing something else together.
The whole script from the beginning was written with resources, locations and casting that were available to me. I wrote it for her not knowing if she would respond to the character or not. But luckily, she did, and she was available. It was the best case scenario. She has the perfect mix of toughness and fragility. There's the sweet soft voice, but the kick-ass attitude… It's kinda scary. It's an interesting contradiction.
My favourite film of hers is Lovesong.
C.S.: My friend So [Yong Kim] directed that! It's amazing.
There's such a difference between her in Swallowed and Lovesong. Seeing the contrast and the range she can do is incredible.
C.S.: Lovesong was an inspiration, as So made it with her husband and 4 or 5 other people. I knew Jena was down to work on a film like that.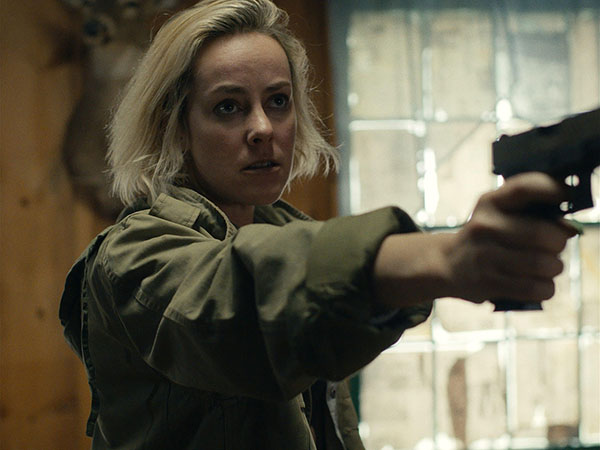 ---
CARTER SMITH TALKS LOCATIONS, THE FUTURE AND BUG FILLED MOVIE MARATHONS
I was reading about how you filmed on location in Maine in a cabin that your dad built. What were the challenges of filming on location with no service? Do you think that added to it or made it worse than filming on a set?
Carter Smith: It wasn't just no service. There was no internet, no cell service, no running water. We were about a 40-minute drive from a paved road, and then another 40-minute drive to the nearest town. We were extremely remote.
One thing that was interesting was that nobody was on their phones. When we showed up for work, we were working. We were working until we weren't working. There was something kind of amazing about the focus that everyone had. You were either working or looking at the trees and the birds. It was definitely not easy, but it was the way I chose to do it. We had to embrace the challenges. After a couple of days, everyone was fine.
Do you think you would ever film in your dads cabin again?
C.S.: Maybe not right there, but absolutely! First and foremost, it is a free and available option to me, which is why I wrote it into the script. It's always an option.
I'm so excited for your next film The Passenger. Anything Blumhouse is a must see for me. How did this collaboration with Blumhouse come about?
C.S.: A couple of years ago they did a series of films called Into the Dark for Hulu. I did a film called Midnight Kiss for that, which is a queer slasher set on New Year's Eve. We all had a really good time working together. This new movie, The Passenger, is another made for streaming for MGM+. We worked together and had been looking for something else to do together. It was the same kind of setup with a set of movies, and this is the last of the series. We were working with a different writer, but it was nice to come home. It's always nice to work with the same people if you work well with them. There's a level of trust and comfort in the collaboration.
One thing I love doing is having mini movie marathons. What two films would you pair with Swallowed for that perfect movie marathon?
C.S.: I would say my short film called Bugcrush. There are scenes of Swallowed in that. That would be a good starter. I screened them back to back before and it's a little rough, so I need a second fun movie. I was gonna say Midnight Kiss, but I don't wanna say all my movies! I think Friday the 13th Part 2 maybe? Or The Brood. I'd have it be heavy throughout, but I know not everyone has that same sensibility.
I can imagine a whole David Cronenberg marathon and then your films in the middle.
Thank you so much for talking to me today!
C.S.: Thank you so much for saying such nice things about the film, I really appreciate it.
This interview has been edited for length and clarity.
---
Swallowed will be released on digital download in the UK on 24 April 2023. The film is now available to watch on VOD in the US: click here to watch Swallowed and read our review of the film below!