The Hand of God: Maradona Maketh Man

Filippo Scotti, Toni Servillo and Teresa Saponangelo in The Hand of God (Gianni Fiorito / Courtesy of Netflix)
Paolo Sorrentino's new Netflix feature, The Hand of God, is an expectedly poetic coming-of-age drama set against a sun-kissed Neopolitan backdrop.
---

Few directors would be brave enough to use footage of Diego Maradona's infamous 'hand of God' goal with the knowledge that English audiences will widely see it; there will be anguished groans and wry sighs in many an English cinema or living room when The Hand of God releases worldwide. And yet with his unique, often sarcastic style, Paolo Sorrentino (The Great Beauty, Youth) is no stranger to doing things differently, unafraid of divisive reactions, and Maradona's goal as an important part of the film is not even close to being the most controversial element. In its purest form, The Hand of God is an honest if slightly messy coming-of-age story, which draws on Sorrentino's own childhood experiences as a teenager growing up in Naples. It grapples with an immense number of characters and life moments, lending a scattered, drifting feel to proceedings, but ultimately this is Sorrentino's ode to his childhood and loved ones, one that is as poetic as it is personal.
True to his nature, Sorrentino opens with a bizarre sequence – which plays out almost like a dream – showing Luisa Ranieri's (Eros, Raya and the Last Dragon) Patrizia being picked up off the street by a man in a limousine, taken to see the 'Little Monk' to solve her inability to bear a child and sexually assaulted by the man, before going home to her husband – Massimiliano Gallo's (Anna) Franco – who domestically abuses her. It is an odd yet captivating opening, made all the more uncomfortable by the fact that Patrizia is deemed the mentally unstable person out of these proceedings. Sorrentino then introduces us to the wonderful, colourful tapestry of the rest of the Schisa family and more specifically to the character Fabietto, who in effect is Sorrentino as a teenager. Fabietto is portrayed by Filippo Scotti – winner of the prestigious Marcello Mastroianni Award at Venice Film Festival for his role – who gives a wonderfully detailed performance of a boy in his late teens grappling with many things, from puberty to severe, life-changing events.
Sorrentino's introduction of the Shisa family in The Hand of God – which brings to life parents, uncles, aunts, siblings, grandmothers and more in rich detail – is a savagely witty one. Toni Servillo (Gomorrah, Il Divo, The Great Beauty), here playing Fabietto's father, Saverio, stands out the most with brutal wisecracks and a charming, twinkling smile that only Servillo can serve up. Sorrentino does fall back on lazy tropes in his humour, making jokes about one family members weight as well as her boyfriend's speech impediment. Thankfully, these jokes are left behind in the opening section, but they are still uncomfortable additions to an otherwise warm and humorous beginning.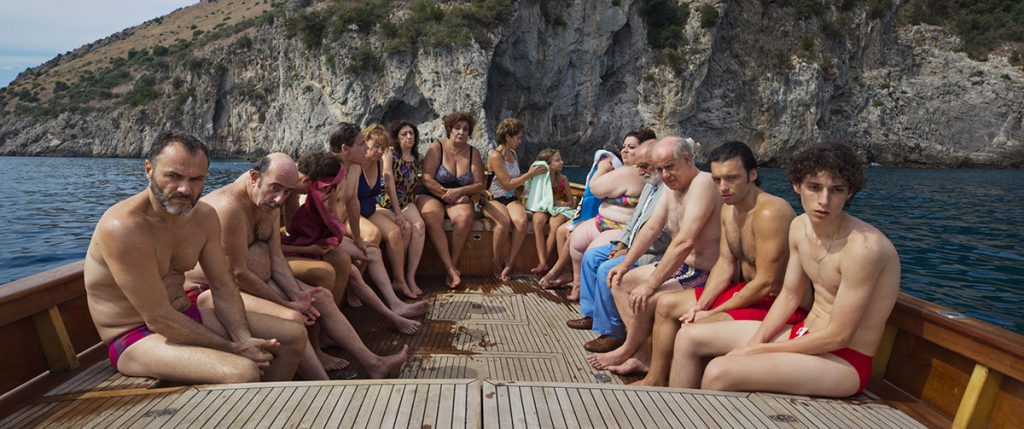 Such was the success of Sorrentino's 2013 masterpiece, The Great Beauty, inevitable comparisons will always be of slight detriment to The Hand of God. Both films focus on two journeys, albeit ones with characters at drastically different ages, yet where The Great Beauty skilfully handled the complexities and beauties of life, The Hand of God stutters. Above anything else, it's a surprisingly messy film, one which seems to languish in its latter stages – that is, after the huge, lifechanging moment for Fabietto. Sorrentino seems unsure how to end The Hand of God, as both the film and Fabietto flits from scene to scene in a manner which is consistently beautiful but not always engaging.
There are moments of great power, though: in particular, the hand of God goal told through the eyes of an Italian who idolises Maradona as, literally, the Messiah through his legendary associations with Naples' football team, Napoli, viewing it as a wonderful act of rebellion against the British. The Great Beauty had similar moments of great emotional, societal and philosophical weight, yet tied it all together with an overarching brushstroke of life and humanity, something which The Hand of God does not always manage.
The Hand of God is a vivid picture of Naples though, a gloriously detailed painting owed mostly to Daria D'Antonio's (Stolen Days, Tornare) ethereal cinematography. She captures the busier parts of the city as well as the quiet, jaw-dropping vistas of the coast, conjuring it up with expert framing that places characters directly into their surroundings and flowing camera movements that enhance the most emotional moments. Sorrentino's influence on symbolism in The Hand of God is clear too: for example, conjuring up powerful images of isolation with his choice to place Fabietto alone amidst the backdrop of a titanic vista of the Gulf of Naples. And for the most part, Sorrentino's screenplay is a wonderful array of sharp wit, very real human drama and broadminded questions on philosophy and life.
There is an appreciation to be had for Sorrentino's decision to bring his very personal, often tragic childhood journey to the big screen, and it's very likely that such an upbringing would have been as hectic, messy and colourful as The Hand of God itself. The film may well improve with a repeat viewing, as it's a complex tale that deals with a lot, and even if it drags in a directionless way in its latter stages, Sorrentino's cinematic poeticism is seldom unenjoyable. A notably controversial scene late in the film will divide opinion: some will find it inspired, others dangerous, and it's questionable and unclear how much of the film stays true to real life. Perhaps The Hand of God has too much in common with Maradona: like the recently deceased footballing legend, it's a film with clear strokes of genius but equally one with flaws that can undermine its star quality.
---
The Hand of God (È stata la mano di Dio) was screened at the London Film Festival on 8-17 October, 2021, after its World Premiere at the Venice Film Festival. The film will be released in select cinemas in December and on Netflix on December 15, 2021.