The End Of The F*ing World Season 2: Rebellious Teenagers Face Adult Problems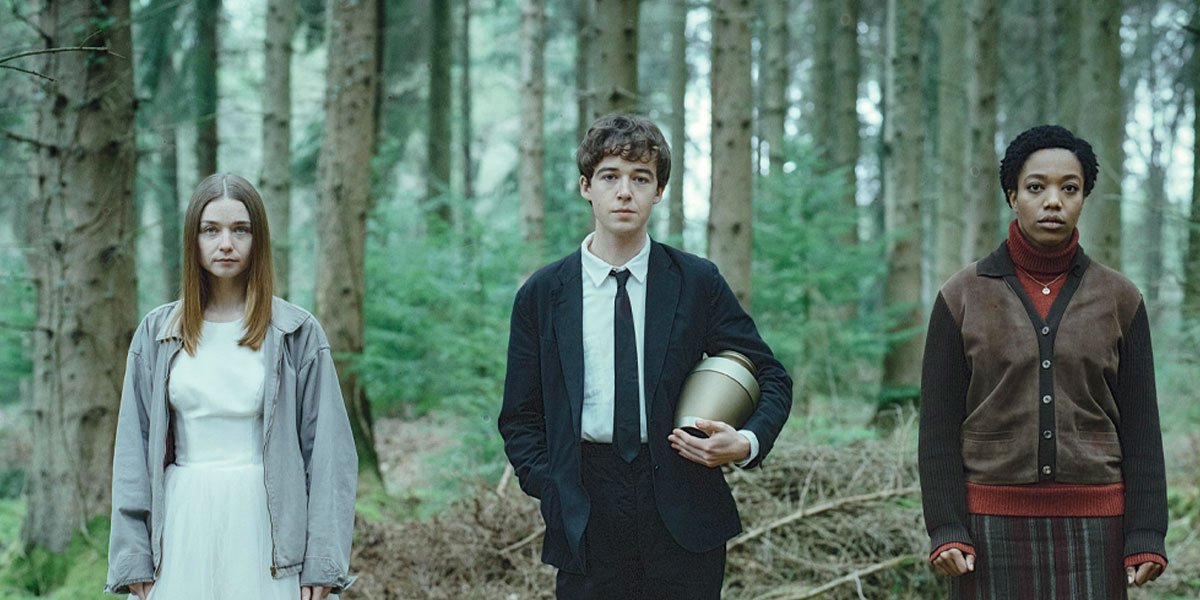 The End Of The F***ing World (Netflix)
Based on Charles Forsman's comics, The End Of The F***ing World has become a must-watch because of its odd dark humour, psychopathic characters, and Graham Coxon's mesmerizing score.
---

If you're about to start watching The End Of the F***ing World, be warned: it will leave you with a sudden desire to go on a road trip, listen to sad songs, and search for beauty in the smallest details.
The End Of The F***ing World 's Season 2 follows our two favourite troublesome teenagers, Alyssa (Jessica Barden) and James (Alex Lawther) in the second chapter of their story, taking it further by adding new characters that throw more complications to the plot but also shed light onto the mysteries of the first season. Despite all the rough bloody scenes and criminal events, The End Of The F***ing World keeps up quite a comical mood. Alyssa, the queen of sarcasm and dark humour, is one of those people who put on a brave face but cry on the inside. She uses odd dark humour and rude behaviour as a coping mechanism for her depression, and her dynamic and blunt nature is the complete opposite of James' character. Alex Lawter's exceptional performance as James brings us a character that is both sentimental and somewhat pathetic. Opposites attract and make up a perfect duet in the series.
Right at the beginning of the show, a new character, Bonnie (Naomi Ackie), is introduced to us. She becomes a key character right away, and she seems to have an unexpected connection to Alyssa and James, which we slowly find out more about later in the show. Bonnie is a young girl whose strict upbringing left her with the constant feeling of not being good enough, and her character reveals how obsessive parental behaviour can breed another type of reckless kid. Without Bonnie, James and Alyssa might have never seen each other again: even though she initially appears to be some kind of stranger who stalks Alyssa and James with the goal of killing them, Bonnie adds pressure and drama to the show, becoming a driving force for the development of James' and Alyssa' relationship, and making the plot more complex.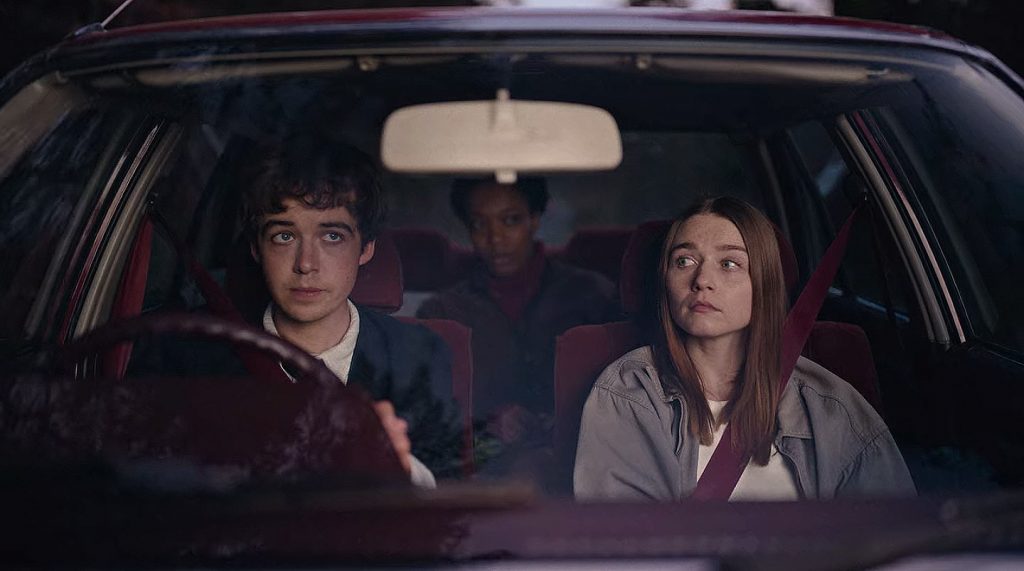 Each of the main characters has an inner conflict going on inside their head. Directors Lucy Forbes (In My Skin) and Destiny Ekaragha and screenwriters Charlie Covell (Misfits) and Charles S. Forsman (I Am Not Ok With This) create dramatic irony by giving us insight into the characters' minds. We, the viewers, get to hear James' and Alyssa's thoughts, while other characters do not. This device is very helpful, as we can follow the characters' thought processes. Not only does it make us see a bigger picture of the story, but we also get to know the deep fears and desires they try to hide from others in the story. Without dramatic irony, the plot would have been flat and less engaging, as the dialogues between the characters are typically concise and primitive.
The choice of music and style of clothing take you back to the good old times. The former doesn't come as a surprise, as Blur's guitarist Graham Coxon, who composed the score for both seasons, was inspired by the 50s and 60s. His folk-rock style and melancholic lyrics suite the eccentricity of the show very well. If you still need a solid reason to give this show a try, the soundtrack is the answer. Season 2 songs like "Threw It Away" and "Meaner Than the Sea" are so intimate and emotional – perfect for a small road trip or a day at the beach. Just like the music, the clothing style adds "flavour" to the show. James' old well-worn black suit, his loose long-sleeved shirt and Alyssa's beat-up wedding dress resonate with the characters' emotional state, as they are confused and constantly running away from their past mistakes.
Throughout the seasons, Alyssa and James become more mature and start realizing how hard it is to live when your past haunts you. Despite being so young, they have already committed a heavy crime, lost some of their dearest people, and got almost killed so many times. In Episode 7, Alyssa explains her mental health issue – her mind is trapped in the moment they killed the Professor. She is "stuck" at the Professor's house and sees instant flashbacks of him lying covered with blood. The flashbacks are one or two seconds long, but they are there to remind us that that is what the characters are going through mentally.
All three characters – Alyssa, James and Bonnie – experienced such horrible things, and they aren't in a healthy mental state. We can empathize with the sufferings of the characters and maybe even relate to them in our own way. They are imperfect and have many flaws, just like each of us does. By their own nature, people are inclined to be attracted to rebellious characters because they often want to be in their place and it is often not possible in the real world. By watching characters whose lives are full of thrilling action, people have a chance to dive into a story and pretend they are part of it for a short period of time. It would have not been as captivating to watch if the characters in the show had been plain and normal.
The End Of The F***ing World's Season 2 is easy to get through – the episodes are quite short, each of them is around 25 minutes long and the events unfold very fast. Character development is on point, but the events seem a bit overwhelming to the viewer. Season 2 is way darker than the first, and it includes more brutal scenes that make the plot more enthralling and breathtaking, but also less realistic. It is interesting to observe Alyssa and James' awkward teenage relationship, yet, at the same time, it feels like there is unrealistically too much action happening around them. That said, the end of the show has plenty of sweet and romantic moments, which is what we longed for. This is definitely not a typical story about some ordinary teenagers.
---
Watch The End of the F***ing World on Netflix.