The Dive (2023): Film Review
The Dive (2023) (Vertigo Releasing)
The Dive sees two sisters testing their relationship like never before as their girls trip takes a turn for the worst when one becomes trapped underwater.
---

As a self-proclaimed lover of films involving the ocean in any capacity, The Dive should have been right up my street. In fact, I take pride in the amount of times I've rewatched 47 Meters Down, a film which Maximilian Erlenwein's 91-minute thriller will inevitably be compared to when it hits cinemas. Whilst there are no great white sharks circling our two protagonists, there is an even bigger plight up ahead. Sisters Drew (Louisa Krause) and May (Sophie Lowe) are on their annual girls trip together, and as experienced divers, this year's location is a concealed cliff edge that leads into the depths of the ocean. What a great place for a holiday! Little do Drew and May know, the cliff is about to crumble right before their very eyes, leaving them both with a limited air supply, and one sister trapped 28 metres below sea level.
The Dive is a race against time. May's whole body is pinned down by a large boulder, her oxygen is running out. Drew must swim back and forth to the surface to try and get help and to retrieve more air tanks from the beach. Everything appears to continuously go wrong as the pressure is rising with every minute ticking on the clock. There is no one in sight to call for assistance. No boats, no sunbathers, no nothing. Will Drew make it back in time before May runs out of air?
When we're introduced to Drew and May, it's apparent that they don't keep in contact as frequently as they would like to. They've grown apart as they've gotten older, like many siblings do. It seems that there is some sort of tension in the air that should be ironed out before the end of the car journey to their end destination, but it's not until they're in an underwater cave that they begin to confide in each other. If I were them, I would not be waiting until I had a finite amount of oxygen strapped on my back to air out my dirty laundry. Despite the strain on their relationship, they care for each other a lot. As much as The Dive is an anxiety inducing thriller, the heart of the story lies in the bond that Drew and May have.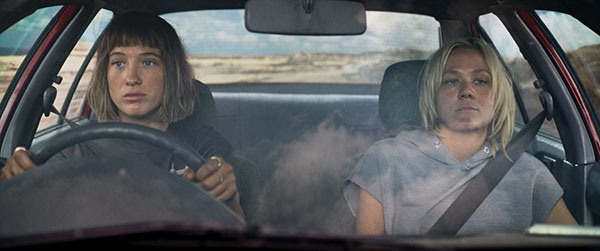 Krause and Lowe are believable enough as sisters. They're the only two actresses in the entire film so you have no choice but to like them, or at least be interested enough in them to continue the film. Lowe's character becomes extremely unsettled as the 91-minute runtime closes to an end (duh! She's trapped underwater). What's interesting is that, because they're in the depths of the ocean, all emotion has to be captured in the full-face dive mask. At least with this particular film they've thought it through – how to communicate underwater – as some just pretend there are built in speakers and microphones into snorkelling gear, which, newsflash: does not exist.
See Also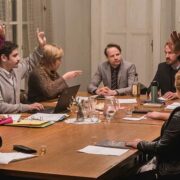 Whilst The Dive will make anyone who's scared of the ocean fear it even more, it's all too predictable. What will happen is inevitable. Once you know the synopsis, you know the whole film. Sure, despite its formulaic storyline it does still have the power to provoke emotions, which is what filmmaking is all about. If you're someone who wants to put on a film purely just to become stressed then why not watch The Dive (although, you may as well watch Mother!, Shiva Baby or All My Friends Hate Me if you want real unease). It quite literally is 47 Meters Down minus the sharks, but I will hand it to The Dive: it's a little more believable than Johannes Roberts' shark thriller.
---
The Dive (2023) will be released in UK & Irish cinemas and in US theaters on 25 August, 2023.