The Dig: A Handsomely Mounted History Lesson (Review)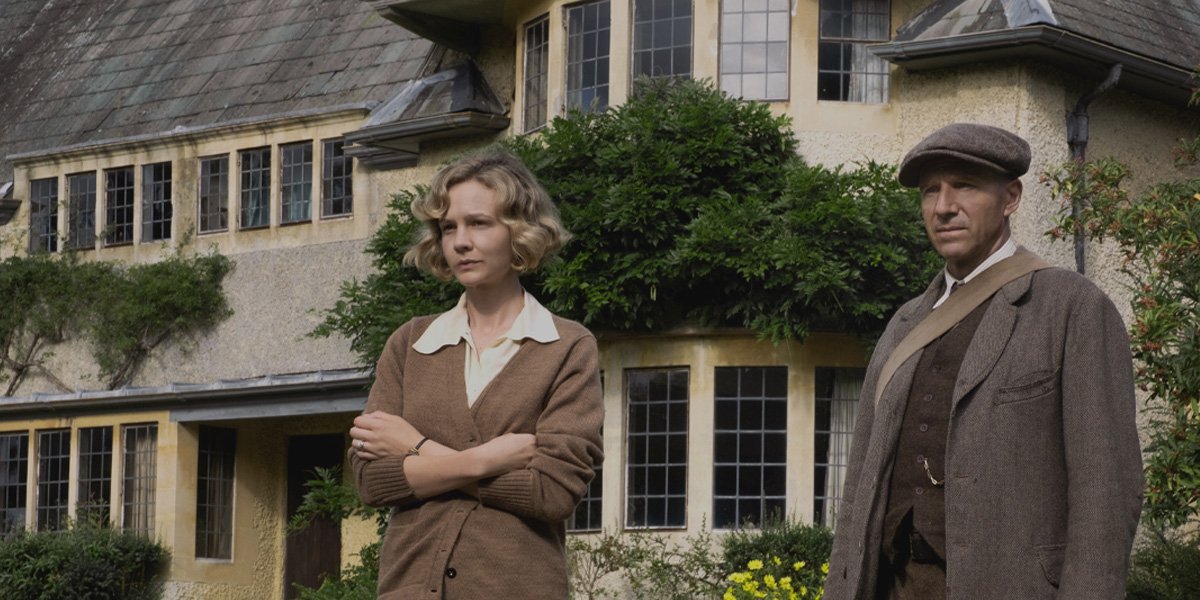 Carey Mulligan and Ralph Fiennes in The Dig (Larry Horricks/NETFLIX © 2021)
The Dig 's story may be a tad overstuffed, but its entrancing ensemble – which features stars such as Carey Mulligan and Lily James – invites investment.
---

"The past speaks to us," says Ralph Fiennes' (Harry Potter, The Grand Budapest Hotel) Basil Brown at one point in The Dig, after Brown, an amateur archaeologist, is tasked with excavating mounds of earth on the land of Edith Pretty (Carey Mulligan, of Promising Young Woman and The Great Gatsby), which are believed to be Viking burial grounds. In a way, aside from its significance to the story, this line can also be construed as a meta-observation on The Dig itself, as the film finally gives a voice to Brown, one of the essential excavators in this historical event who was written out of the narrative years prior, when the Sutton Hoo Treasure he helped discover on Pretty's estate was shown to the public in 1951 with no mention of his name. Only recently has he been acknowledged alongside Edith in the British Museum's permanent display of this discovery, and in The Dig, we are allowed to truly understand just how fundamental he was to its finding.
The Dig begins as Pretty hires Brown to get to the bottom of what's hidden beneath her grounds in 1939. With World War II looming and many museums apprehensive to take on new archaeological digs at this time, Brown is the only man who will work on the job for her. And yet, as he comes across artifacts that seem to signify the presence of an Anglo-Saxon ship, his former bosses at the Ipswich Museum – James Reid Moor (Paul Ready, of The Death of Stalin) and Guy Maynard (Peter McDonald, of The Damned United) – intervene and bring along the capricious Charles Phillips (Ken Stott, of The Hobbit), a snooty specialist who attempts to dismiss Brown due to his classist assumption of Brown's "lacking" abilities. Thankfully, Pretty demands that Brown remain a part of the dig, additionally calling on her cousin Rory (Johnny Flynn, of Emma.) to assist, while the Ipswich crew asks other associates to aid as well, including the stalwart Stuart Piggott (Ben Chaplin, of The Thin Red Line) and his wife Peggy (Lily James, of Cinderella) who catches the eye of the charismatic Rory.
As this collection of contrasting personalities assembles, they must put their differences aside to accomplish the work at hand, all while "digging up" undiscovered emotions in themselves at the same time. The widowed Pretty is diagnosed with a terminal disease, causing her to contemplate what will be left when she is gone and who will look after her young son Robert (Archie Barnes, of Patrick), while she finds kinship in the formerly closed-off Brown – the only individual to intellectually challenge her in quite a while. Simultaneously, as Peggy and Stuart struggle with marital squabbles (possibly related to Stuart's interest in a male companion he's grown close to at the dig), Peggy seeks solace in Rory, an unrestrained free spirit who urges her to break out of her shell and embrace the excitement of life once again. In the end, these stirring stories will intertwine in interesting ways, all against the backdrop of this archaeological breakthrough.
To begin, director Simon Stone (The Daughter) helms this entire affair with the grandeur and glory it deserves, filming a vibrant visual feast for audiences thanks to the camerawork of cinematographer Mike Eley (My Cousin Rachel, Woman Walks Ahead). For a narrative so fascinated with nature, this captivation is completely conveyed to the audience as well, as Stone and Eley work in tandem to transfer the allure of this archaeological dig to those at home, showcasing its sumptuousness and exhibiting the expansiveness of the environments they encounter. We are placed right alongside these archaeologists, and as a result, we become as beguiled by their findings as they are, fully immersed in the intrigue of this prodigious project. The Dig is at its most alive when highlighting the characters' work in the natural world, and so much of that is due to the capable hands behind the camera.
While Moira Buffini's (Jane Eyre, Byzantium) script, adapted from the 2007 novel by John Preston, can be a tad cluttered at times – especially as the tale evolves from a two-hander between Mulligan's Pretty and Fiennes' Brown into a full-blown ensemble piece as the other museum associates arrive and Rory and Peggy strike up a flirtation – each individual storyline is satisfying on its own, and each character is giving an appropriate conclusion for their arc that feels congruent with all that has come before. Buffini provides Pretty and Brown with a riveting repartee, and she deftly confronts the class distinctions in their relationship without ever being "on-the-nose" in her commentary or allowing it to overtake the movie as a whole. However, it is romance between Rory and Peggy that gives The Dig its beating heart, as, even though this subplot may initially feel separate from many of the other major developments, it develops alongside the dig in a delicate and delightful manner, begging us not to "bury" that which demands to be enjoyed and experienced in its entirety.
Across-the-board, the acting is quite admirable, with Mulligan pulling on her past in Pride & Prejudice and Far from the Madding Crowd to portray another part in a plush period piece and harnessing the full extent of her humanity to suffuse the dying Mrs. Pretty with soulfulness and sensitivity. Her relationship with her son Robert is particularly poignant – as she finds similarities with the ship and speculates on how she'll be remembered when she's buried in the Earth – while her friendship with the equally entrancing Fiennes offers much enjoyment. Fiennes chips away at Brown's emotional confinement over the course of the film and always appears at home whilst inhabiting this assiduous archaeologist, depicting his undying drive with distinguished form. When the story seems to hint at a possible passion between the two, thankfully, Buffini pulls back and maintains that this pairing is platonic, which Mulligan and Fiennes sufficiently sell as well.
Flynn and James are just as appealing as the aforementioned star-crossed couple, especially when their complexions contradict in such a compelling fashion at the start. The way Flynn's Rory calmly coaxes James' Peggy out of her controlled lifestyle is subtly sensual, and their chemistry simply crackles in each and every interaction. Just when they think they stand a chance at spending their lives together, some new setback always arises, and this cycle of desire and despair is bewitching to behold, always keeping the audience on their toes. Even if one is perplexed by the presence of this plotline when it originally occurs, in a matter of mere moments, viewers will be swept up by their lively liaisons, as they're responsible for much of The Dig's resonance overall.
The Dig never tries to be anything more than a simple story from our past, tastefully told, but nevertheless, it ends up as an entirely enchanting experience all the same. Though its story can seem a bit overstuffed at points, its ensemble is always excellent, and the delectable direction and consuming cinematography transport us to this time period and these lovely locales with stunning skillfulness. Most of all, The Dig can be appreciated for acknowledging the work of Basil Brown in excavating the empyreal Sutton Hoo Treasure – a commendation that has been a long time coming.
---
The Dig will be released globally on Netflix on January 29, 2021.
---
---
JOIN US!
Don't miss our monthly updates with film news, movie-inspired recipes and exclusive content! You'll only hear from us once a month. #nospam