The 5 Best George Clooney Movies, Ranked

O Brother, Where Art Thou?, Gravity, Ocean's Eleven (Universal, Warner Bros.)
---
Actor, director and producer George Clooney has starred in a total of 55 movies, ten of which he also directed, belonging to a variety of genres, from lighthearted rom-coms to ironic satires and serious dramas. Over the course of forty years, he worked with many acclaimed directors, from the Coen Brothers and Steven Soderbergh to Alfonso Cuarón, Robert Rodriguez, Stephen Frears, Steven Soderbergh, Terrence Malick, Wes Anderson, the Russo Brothers and many more.

But what if we asked you to name the best George Clooney film? Each of us is bound to have a different favorite, and the Ides of March director has directed and starred in so many movies that only picking 5 feels like an impossible task. But we tried to give you a selection of films that audiences love, and they are all worth watching for different reasons. Let's celebrate this legend and take a look back at the 5 best movies George Clooney has given us, ranked from worst to best.
---
5. Good Night, and Good Luck (2005)
George Clooney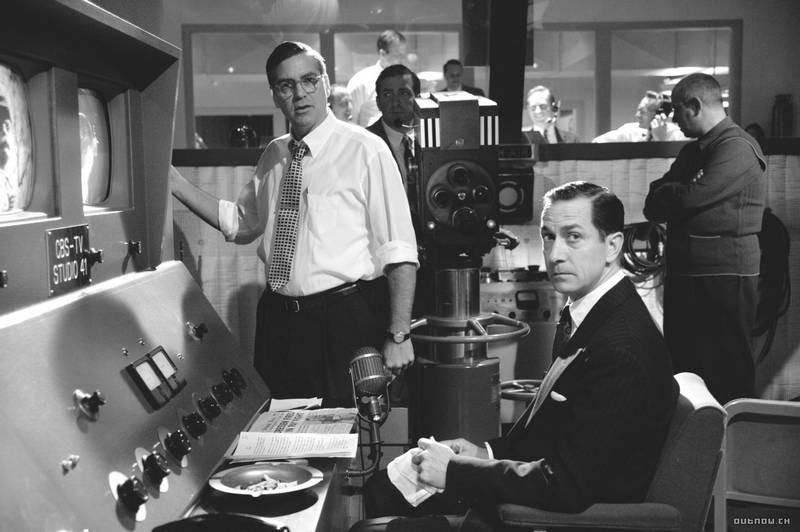 Even though his career in Hollywood began as an actor, George Clooney is also a talented director, so much so that even his least successful films as a filmmaker (Suburbicon, The Monuments Men, and recent Netflix drama The Midnight Sky) are still much better than a lot that you can find out there. Among his best received films are Good Night, and Good Luck (2005) and The Ides of March (2011), and what they have in common is that they tackle American history and politics. While both are great movies, the former deserves to be on this list for its compelling storytelling, stellar cast, and a history lesson that might not be one hundred percent accurate but that's still timely and meaningful to this day.
Based on a true story and set in 1953, Good Night, and Good Luck revolves around a CBS journalist named Edward R. Murrow (David Strathairn) who makes it his mission to bring down Senator Joseph McCarthy for the Senate's anti-communist campaign. Clooney plays producer Fred Friendly (George Clooney), who's a long-time friend of Edward's and becomes part of his news team. Though David Strathairn is the standout, Clooney's performance is also memorable, joined by an all-star cast including Jeff Daniels, Patricia Clarkson, Robert Downey Jr., Frank Langella and more. The film is a gripping watch from beginning to end and also serves as a showcase of George Clooney's storytelling and filmmaking craft.
---
4. Ocean's Eleven (2001)
Steven Soderbergh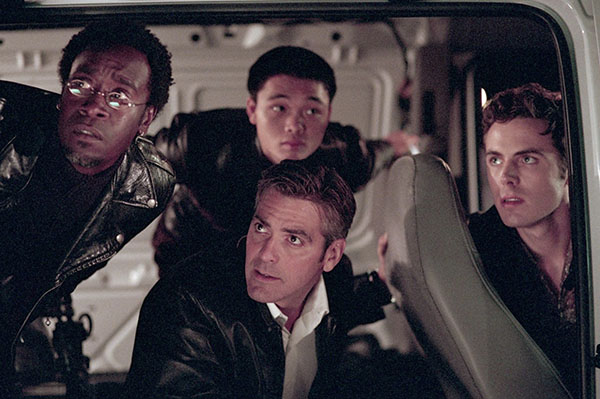 Out of the Ocean's movies, Ocean's Eleven is certainly the best one. But there's a reason if this apparently straightforward heist film became so successful. With the first film of the beloved saga, director Steven Soderbergh manages to nail the heist movie formula: what we love about the genre is how rewarding it is to watch the underdogs succeeds, and Ocean's Eleven enables us to do just that, with the story of a lovable thief named Danny Ocean (George Clooney) who will go to great lengths to bring down a casino owner who just-so-happens to also be dating his ex-girlfriend Tess (Julia Roberts).
Danny's plan is to steal $160 million from said casino owner – a wealthy businessman named Terry Benedict (Andy Garcia) who's about to host an event that will enable our protagonist to rob three casinos in a single night. It might seem like a hard task to accomplish, but Danny is now alone: his accomplices, played by a stacked list of A-list actors, have just the right skills to complete the mission in the most clever, entertaining, hilarious, gripping way possible. With George Clooney and Brad Pitt at the helm joined by Casey Affleck, Matt Damon, Don Cheadle and many more, Soderbergh delivers two hours of pure entertainment. While the landscape has changed, with casinos switching to virtual roulette games and online platforms, we can still enjoy this heist movie for what it is: a fast-paced action movie where the fun comes from spending time with our charismatic heroes, and finding out how they will achieve the impossible.
---
3. Michael Clayton (2007)
Tony Gilroy
No list of best George Clooney movies would be complete without Michael Clayton, starring a George Clooney like you've never seen him before. In this incredibly well-written legal thriller, Clooney plays the titular prosecutor, whose role is that of a "fixer": he intervenes when a law firm needs someone to do their dirty work. In the film, the New York firm in question calls him when their best lawyer (Tom Wilkinson's Arthur) has a breakdown during a multi-billion-dollar lawsuit, while representing a guilty client. But Michael is asked to do much more than fixing a problem: since Arthur is manic-depressive and off his meds, he also needs to understand what exactly is he entangled in: much more is going on beneath the surface, but getting to the truth will prove dangerous for our protagonist.
Writer-director Tony Gilroy (The Bourne Legacy) delivers a thriller whose strength lies in its screenplay, and that sees George Clooney in one of his darkest, most haunted roles to date. If you're looking for a gripping thriller with more than one surprise and strong performances, look no further than Michael Clayton.
---
2. O Brother, Where Art Thou? (2000)
Joel and Ethan Coen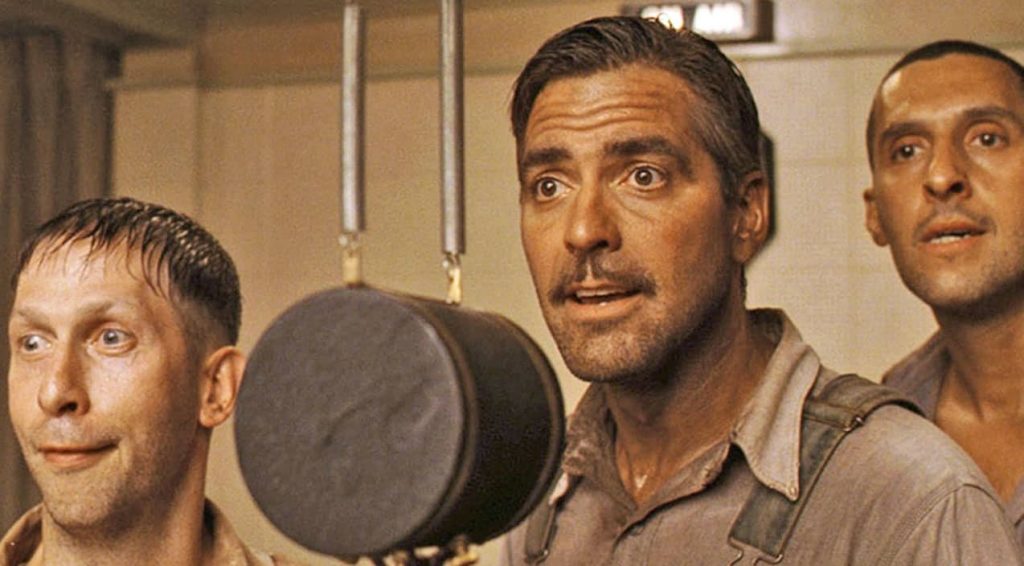 If you've never seen this 2000 gem from the Coen Brothers, you're in for a treat. Adapted from Homer's "The Odyssey", the film is set in the deep south during the 1930s and tells the story of escaped convicts Everett (Clooney), Pete (John Turturro) and Delmar (Tim Blake Nelson), following them as they search for a hidden treasure while running from the low and encountering many eccentric individuals along the way.
If you think you have an idea of what the film might be like based on this synopsis alone, think again. O Brother, Where Art Thou? is one of the most insane, bizarre, and hysterically funny movies you'll ever see. Packed with iconic quotes, hilarious twists, and extremely catchy tunes (if you don't believe us, take a look at the take a look at the Soggy Bottom Boys in action), as well as many references to its source material that will please fans of "The Odyssey", and a perfectly timed screenplay that makes every single one of its jokes land. Not only is it one of the Coen Brothers' best movies, but it also proves that Clooney is really great at doing comedy, and we guarantee you'll be keep coming back to it just for his performance.
---
1. Gravity (2013)
Alfonso Cuarón
You can't go wrong with director Alfonso Cuarón (Children of Men, Roma), and Gravity is no exception. This stunning, tense sci-fi thriller is entirely set in space. It's also one of those rare movies capable of being many things at once, telling the story of two people who are stranded in space while also exploring a myriad of themes, from kinship to spirituality to the meaning of life. Gravity's two protagonists are Matt Kowalsky (Clooney) and Dr. Ryan Stone (Sandra Bullock), the former an experienced astronaut on his last mission and the latter a medical engineer on her first trip to space. During a routine trip, an accident takes place and their shuttle is destroyed, leaving Matt and Ryan stranded in space, completely alone and unable to contact anyone to ask for help.
What happens next is best left for you to discover, but what matters is that we are right there with them at all times, holding our breath and sitting on the edge of our seats as we wait to find out if they'll make it out alive. Among the seven Oscars won by Gravity (which also include a Best Director Award for Cuarón) are Awards for cinematography, editing, sound editing and mixing, and visual effects, and they are all well-deserved. The film makes use of innovative technology to bring us the most immersive experience we've ever seen in a film set in space, with several breathtaking, incredibly tense scenes that will make you feel like you're spinning at the speed of light with Matt and Ryan. Try to watch it on the biggest screen possible, if you can: you won't be disappointed.
---
RUNNERS-UP:
The Descendants
From Dusk Till Dawn
Hail, Cesar!
The Ides of March
Out of Sight
Three Kings
Up In The Air