Ted Lasso Season 3 Finale Review

Jason Sudeikis in "Ted Lasso" Season 3 Finale, now streaming on Apple TV+. (Apple TV+)
Ted Lasso 's Season 3 Finale is just as rewarding and wonderfully corny as it needed to be, and the best farewell to the Apple TV+ series we could have hoped for.
---
This review contains minor spoilers for the Season 3 Finale of Ted Lasso.
If there's one thing that Tom's reviews of the past two episodes of Ted Lasso made me realise, it's that whether or not you enjoyed season 3 partly depends on what you expected it to be. And Tom is right: this last season of the Apple TV+ series hasn't been as good as the first two, and it's also been a lot easier to predict, and possibly a little too neat. But just like Ted (Jason Sudeikis) says in this week's season finale, "there's no place like home," and the truth is that I could watch AFC Richmond do absolutely nothing for hours and still feel happy and rewarded. Ted Lasso 's season 3 finale isn't perfect, and yet I found myself cheering and sobbing like a crazy person at the end, when the show came full circle by bringing us back to the very beginning.
So, will season 3 really be the end of Ted Lasso? It's hard to tell, as this week's finale absolutely feels like a farewell to the series — and a very good one at that — but, at the same time, it also leaves a couple of loose threads that made me wonder about the future of the Apple TV+ show. Regardless of what happens next, though, one thing is certain: if you're a fan of the series, episode 10 is bound to make you nostalgic and emotional in all the right ways.
In the best Ted Lasso tradition, the finale revolves around a match. And the last match of the season is even more important for the Greyhounds, as not only do they have a chance of actually winning the Premier League — provided Manchester City loses or draws — but, just like we predicted last week, as one of the top four clubs in the League, they also have a guaranteed spot in the Champions League next season. And if they want to win the League, they have to beat their opponent in this week's final match, who, of course, happens to be West Ham.
But changes are in order for Rupert Mannion's (Anthony Head) club, as he can't count on Nate's (Nick Mohammed) strategies anymore: as we know from last week, the former West Ham coach is now back with Richmond. And as the Greyhounds welcome back their new "assistant kitman" with an endearing, heartwarming ceremony, we learn that Rupert — who's just made the papers after his former assistant unveiled his inappropriate behavior to the public — has hired AFC Richmond's former coach George Cartrick (Bill Fellows), of all people, to replace the "Wonder Kid".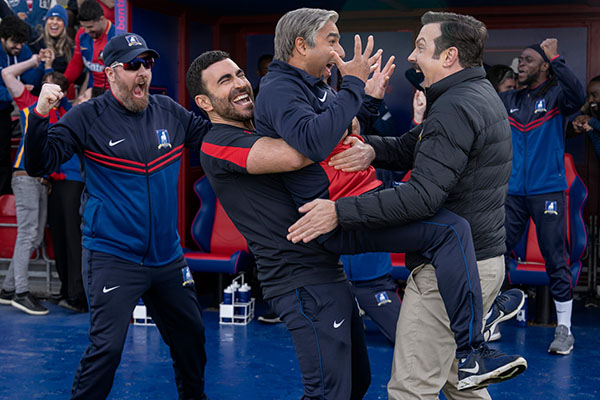 But the match isn't the only thing happening in this week's finale. Last week ended with a cliffhanger, as Ted was about to drop a "truth bomb" on Rebecca (Hannah Waddingham), which made TedBecca fans a little hopeful even though, deep down, we all knew that what he was about to say to her had nothing to do with romance. And we were right, as Ted's news has been a long time coming: the AFC Richmond coach is going back to his States to be with his son, which has us wondering about the future of the team.
What will Rebecca do without Ted? Is Nate going to replace Ted, since he just-so-happens to be available? Or are Beard (Brendan Hunt) and Roy (Brett Goldstein) going to take over instead? And speaking of Roy, what's going on with him and Keeley (Juno Temple)? The season 3 finale answers these questions and more, and, even though you will have seen most of it coming, it still does it well. A lot could have gone wrong in the final episode of the season — and possibly of Ted Lasso as a whole, but the team behind the Apple TV+ series give us a finale that still manages to catch us off guard.
Saying anything specific would be a spoiler, but, to me, that came with a scene at the end that takes us back to the very beginning of the show. Watching Ted and AFC Richmond be their wonderful selves took me back to the very first time I watched the show, and made me so emotional as I realised just how much they've grown, and us with them. And sure, you won't find any mind-blowing revelations in this week's episode, and some narrative threads could have been explored in more depth, but there's still so much to love here, from blasts from the past, overdue apologies and unexpected game strategies to diamond god wisdom, musical moments, and brave, identity-affirming decisions that happen in an instant but are still incredibly powerful and meaningful nonetheless.
We find out the name of Trent's (James Lance) book in this episode, and we also see Rupert reach his lowest point and act like the child Rebecca knew him to be. And speaking of the AFC Richmond manager, she might have more in common with Jamie (Phil Dunster) than she thinks, as both characters finally learn not to let others dictate their own choices, and are able to make better decisions as a result. But the real highlight of this week's episode is the game itself, which is surprisingly not as predictable as you thought it would be. Not only that, but it gives every single player (and coaches!) room to shine while placing us right on the field with them: there's even a moment when we'll understand the Greyhound's strategy before their opponent, which makes us feel like a little part of the club belongs to us, too.
It's all about believing, in the end, and, as we find out what the future might hold for Ted, Rebecca, AFC Richmond, and every single character we've come to love, we absolutely do. Ted Lasso 's season 3 finale isn't perfect, but we don't need it to be. What really matters is the way it'll make you feel, making it the best farewell to the series we could have hoped for.
---
Ted Lasso's Season 3 Finale is now streaming on Apple TV+.