Ted Lasso Season 3 Episode 11 Review

"Ted Lasso" Season 3 Episode 11, now streaming on Apple TV+. (Apple TV+)
Despite some powerful monologues, Season 3 Episode 11 of Ted Lasso is ultimately a frustrating watch, showcasing just how smug the show has become.
---
Before we go any further, I feel like it's worth stating that as much as I'm not keen on the penultimate episode of Ted Lasso's 3rd and final season, it does actually do more right than arguably any of the last half a dozen episodes. Without delving into spoiler territory, there's a handful of brilliantly-written, genuinely emotional monologues at the very end which reminded me exactly why I used to love this show and still hold it so dear. Jason Sudeikis is a phenomenal actor, and I wouldn't be surprised in the slightest if this was the episode he ended up submitting to the Emmys, once he gets his inevitable nomination. With that being said though, despite featuring some of the show's best work, season 3 episode 11 is also ripe with some of the show's worst, and is yet another reminder of how far it's fallen.
Five games on from "International Break" and AFC Richmond's winning streak has continued, much to the confusion of all of the journalists featured in the opening press conference. Somehow, this string of results has left Richmond in 2nd place with two games to go, 4 points shy of real-life champions Manchester City, who are also their next opponent. The upcoming match is obviously a vital one, as a loss would knock the Greyhounds out of the running, whilst a win would mean that they potentially pip City to the title. Now, before we dive any further into the plot, I feel like it's worth having a proper look at this situation, and why I feel like it sums up a lot of this season's issues.
In the Premier League's 31-year history, 7 clubs have won the coveted title. Of these, 5 are a part of a group of clubs known as the "Big Six", who typically dominate the league every season. The other two are Blackburn Rovers, who won in 1995, and Leicester City, who's 2016 victory is frequently regarded as the greatest underdog story of all time. The other 29 titles were all won by one of the "Big Six" clubs, which shows just how difficult it actually is to win the league. Even staying in contention for the title over the course of a 38 game season is a massive thing for a "smaller" club to achieve.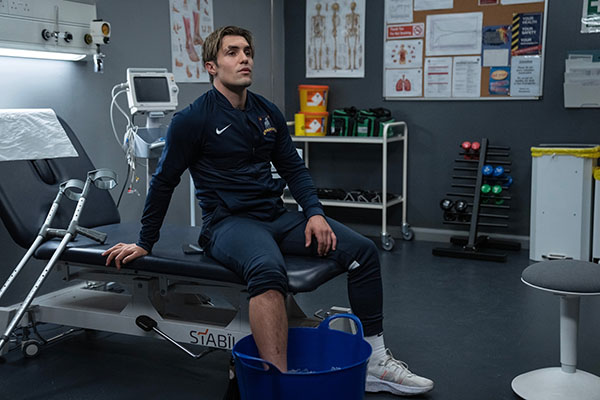 There's also this thing in European football known as the Champions League, a competition that pits the best clubs in Europe against each other every year. In order for an English club to qualify for it, they have to finish in the top 4 of the Premier League, a feat that only 2 non-"Big Six" teams have achieved since 2005. Going off the fact that Richmond are 4 points off of Manchester City at the beginning of this episode, I think it's fair to assume that they've either already qualified or are incredibly close to qualifying for this incredibly coveted competition.
So, my question to the show is a simple one. Why is nobody talking about this? Nobody in the episode even really talks about the fact that they're close to winning the Premier League, a feat that a newly promoted team has never achieved. Look, I get that over the course of its run, Ted Lasso has become less and less of a show about football, but this feels like a step too far, showing a complete ignorance towards the football culture that it's trying to both parody and imitate. Even ignoring the lack of realism, the simple fact that the actual characters of the show seem to not in the slightest care about the mind-boggling season they're having and what they're achieving just feels like a middle finger from the show's writers.
It's made even worse by the repeated acknowledgements of football culture whilst still going against it at every opportunity. Manchester City's real-life manager Pep Guardiola appears in this episode, and the lines he delivers are so actively not something he would say that it just feels strange. There was a controversial moment earlier in season 3 when during the Chelsea match, a real-life banner used to commemorate a deceased Chelsea legend, paid for by the club's supporters, was modified to instead support Roy Kent (Brett Goldstein). It's moments like this that highlight just how ignorant the writers have unfortunately become, and how it's turning what was supposed to be one of television's most wholesome shows into one of its most smug.
Right. Rant over. Now, the actual plot of the episode focuses around the incredibly important Manchester City match, whilst at the same time, both Ted (Jason Sudeikis) and Jamie (Phil Dunster) deal with issues that involve their respective mums. In Ted's case, his mother (Becky Ann Baker) has suddenly decided to visit him out of the blue. Initially it seems like an odd choice for a penultimate episode to introduce a brand new character, but it's one that pays off, helping Ted's emotional arc move towards a natural, if somewhat predictable, conclusion, just in time for the series finale next week.
As for Jamie, his storyline paints his mother (Leanne Best) in a far more positive light. Richmond's star player is dreading his return to his previous club, terrified at the prospect of reuniting with his former supporters as well as potentially seeing his abusive father (Kieran O'Brien) again. When it's focusing on Jamie and his relationship with his parents both on and off the pitch, it's potentially the best plot season 3 has done, helping round off the story of one of television's most lovable pricks. Unfortunately though, the show continues to try and shove both Roy and Keeley (Juno Temple) wherever it can fit them, which results in Jamie's story feeling far more bloated than it should have.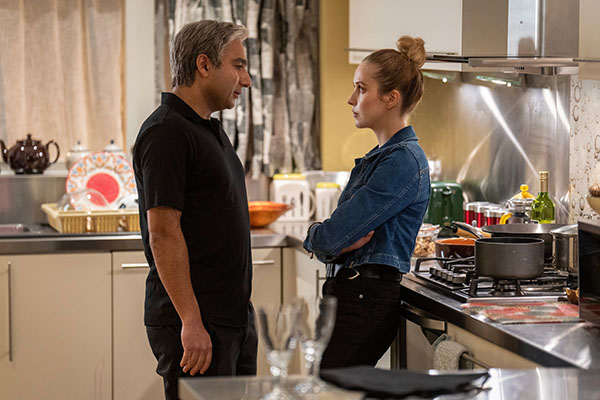 Nate (Nick Mohammed) is also given plenty to do in this episode, having left his managerial position at West Ham in order to become a waiter at his favourite restaurant. This conclusion to his arc continues to feel incredibly rushed given just how much time we've spent with him this season, and episode 11 in particular highlights how much Ted Lasso's commitment to nice-core has hurt the character. The writers have been so quick to redeem him in the eyes of the audience to set up his inevitable return to Richmond that we have basically seen none of the Nate who emerged in the season 2 finale. It's a shame, because the way his story was going in those first 2 seasons was incredibly interesting, but it feels like the writers were so scared to have a major player genuinely become unlikeable that they decided to scrap their original plans and revert back to the timid, eager-to-please Nate seen in season 1.
The episode's main event is that match against Manchester CIty, and it left me feeling somewhat conflicted. How they incorporate Jamie's storyline into the match starts off brilliantly, but it's that last beat that ruins it for me, being yet again another middle finger to English football culture. It also requires some serious suspension of disbelief, especially in regards to a certain player's performance, which is fine in short doses, but it's stretched out to the point where it feels like the writers aren't even trying. It's symbolic of Ted Lasso's third season as a whole: it has its moments, but it ultimately just feels like a parody of itself.
"Mom City" has plenty of moments that I like. Those ending monologues are genuinely powerful, and show that when it tries, Ted Lasso can still deliver. Too often though, it just feels like the show is smirking at me. I'm not asking for the show to be 100% realistic all of the time, but what I am asking for is a show that respects the sport it's portraying, and at the very least, pretends to know anything about it. Maybe the series finale will surprise me, but as it is, it feels like we all know exactly what's going to happen, and I'm not looking forward to watching that unfold.
---
Ted Lasso Season 3 Episode 11 is now streaming on Apple TV+.