Ted Lasso Season 2 Episode 1 Review

Brendan Hunt, Cristo Fernández and Jason Sudeikis in "Ted Lasso," premiering July 23, 2021 on Apple TV+. (Apple TV+)
In Season 2 Episode 1, Ted Lasso and the AFC Richmond team deal with an unexpected obstacle with a little help from a stranger.
---
Last year, series creators Brendan Hunt, Joe Kelly, Bill Lawrence and Jason Sudeikis took the world by storm with the story of a small-time college football coach from Kansas who's hired as the new coach of a professional football team in England, despite his little knowledge of the game. Since its August 2020 premiere on Apple TV+, Ted Lasso went on to become incredibly successful and won many awards, including Sudeikis' Golden Globe for Best Actor, and the reason for its success lies in the humanity of its characters, the familiarity of the situations they find themselves in, the ironic way in which it confronts cultural strerotypes and dynamics, and a well-crafted world you'll simply want to inhabit for as long as you can. In one year alone, not only have Ted Lasso's many fans become tremendously attached to Ted (Sudeikis), Coach Beard (Brendan Hunt), Nate-The-Great (Nick Mohammed), Rebecca (Hannah Waddingham), Keeley (Juno Temple) and the AFC Richmond team, but the series itself has raised the bar for TV shows as a whole.
With this in mind, it's easy to see that an arduous task awaited the team behind Ted Lasso when they set off to write Season 2: not only did the show's second season need to contain the same amount of humour and heart as the first, but it also needed to be compelling enough to draw us back into Ted's world after an epic Finale. In fact, Season 1's last episode moved us with emotional farewells to two of the series' most beloved characters (Brett Goldstein's Roy Kent and Phil Dunster's Jamie Tartt), saw many characters come full circle with meaningful conversations and an unexpected promotion, had us cheering for AFC Richmond in a wonderfully chaotic, epic final match against Manchester City, and gave us the perfect conclusion to a show that had been consistently remarkable throughout, both narratively and technically speaking.
So, what happens when AFC Richmond's best players have either retired or are playing elsewhere, the team has been relegated and needs to face yet another uncertain season, and everyone has become so accustomed to "the Lasso way" that even his enthusiasm doesn't seem so out of the ordinary anymore? Did Ted Lasso's creators and writers manage to give us a Season 2 that's as exciting, heartwarming and fun as the first even if it lacks the novelty of Lasso's larger-than-life personality and sees some of our favourite characters literally out of the game?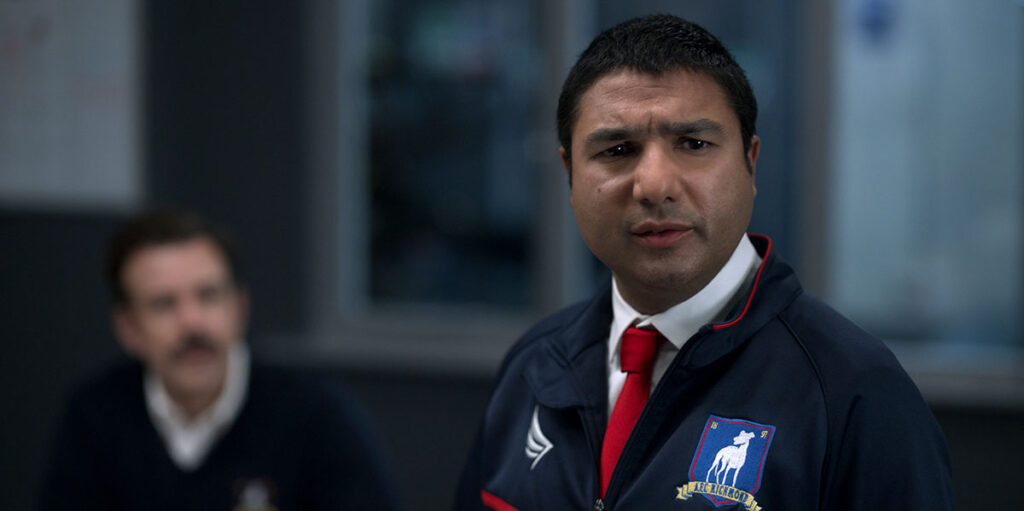 While it's too early to say if Season 2 will be as fun, hilarious and rewarding as the first, Episode 1 shows us that significant changes might be underway for our favourite football team, and those changes might be just what the show needs to bring us new dynamics and develop its characters even further.
In all truth, Season 2's Premiere doesn't flow exceptionally well, especially in the first half of the episode, which opens with a match against Nottingham Forest, where we learn that AFC Richmond has started the season with seven consecutive draws. We're introduced to Earl Greyhound, the team's adorable mascot, only to see the dog immediately involved in an absurd turn of events that would have affected us more had we been aware of the character from the previous season. This unexpected twist is clearly a device to set a chain of events in motion, and we do get to spend time with some familiar faces from Season 1, such as a nightmare-ridden Dani Rojas (Cristo Fernández) who no longer believes that "football is life", a Nate The Great whose new position has made him "a tad aggressive", and a Trent Crimm (James Lance) who still knows exactly which uncomfortable questions to ask. Meanwhile, Rebecca and Keeley have become closer than ever, the former trying to make up her mind about a new love interest and the latter giving her advice in the most Keeley-like way of all.
And then there's Ted, who still has plenty of optimistic advice to give and lengthy anectodes to share, and who still manages to get us teary within seconds, in the most unexpected moments, but who also doesn't have as much of an impact as he used to, not only on his team but also on ourselves. Season 2's Episode 1 has plenty of heartwarming tales that should get us emotional, funny situations that should keep our eyes glued to the screen, and witty dialogues that should make us smile, and yet not many of these scenes achieve the desired effect, because we've seen it all before, in a Season 1 Premiere that had much more rhythm and originality. But if "Goodbye, Earl" doesn't have as much of an impact as Season 1's Premiere (or any of Season 1's episodes, for that matter), it also features more than one scene where that familiar "Ted Lasso feeling" unexpectedly returns, and, just like that, we know exactly what show we're watching.
Needless to say, most of these moments involve Roy Kent, whose "new coaching gig" consists of teaching how to play football to a team of eight-year-old "little pricks," and whose adorable niece's metaphorical swear jar is getting fuller by the minute. Thanks to a screenplay that ensures his narrative arc and personality are consistent to what we've seen in Season 1 and to Brett Goldstein's incredible commitment to the character, Roy demands our attention whenever he's on the screen, always coming across as Episode 1's most authentic, human character, and earning our affections from the very first moment we see him.
See Also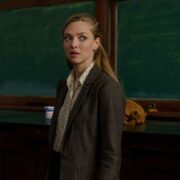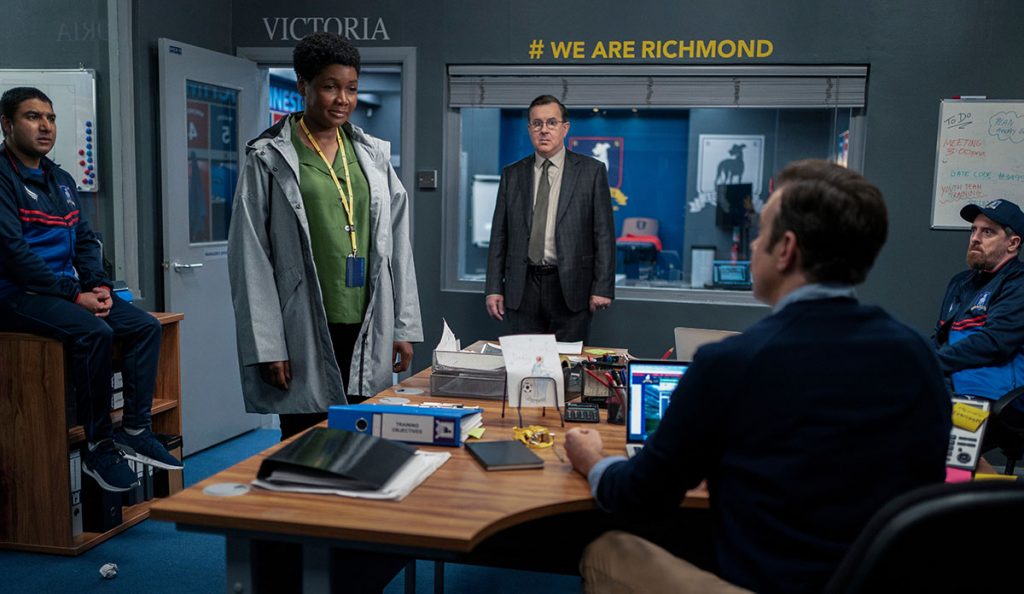 But some of Season 2 Episode 1's most enjoyable, thought-provoking moments come from the show's new characters, from AFC Richmond's new player, Jan Maas (David Elsendoorn), who's being "Dutch, not rude," to sports psychologist Doctor Sharon Fieldstone (Sarah Niles, of I May Destroy You), who doesn't like to be called "Doc." The latter is particularly interesting, and potentially game-changing for the series, because she brings out a completely different side of Ted Lasso, who's used to being the only "therapist of sorts" the team has ever needed, but whose methods are proving to be ineffective not only with Dani Rojas, but also with a team that desperately needs a boost in morale. As we know from Season 1, Ted is friendly and he means well, but he's also undeniably self-centered: he cares deeply about everyone else, and that usually gets him the results he hopes for, but he also has a habit of disregarding personal space and talking a little too much.
Doctor Fieldstone, instead, is a professional. She's knowledgeable and detached, she listens to others and she focuses on her patients rather than on her own self, and that makes her incredibly good at her job. AFC Richmond has never had a figure like Sharon to support them, and, from what we see in this episode, it's safe to assume that her involvement will alter many dynamics, affecting not only the team but also Ted himself, whose insecurities we've only started to familiarise with in Season 1. We know all too well that Ted has his own issues to deal with, starting with a painful divorce, and Doctor Fieldstone isn't just Ted's competition, but also, potentially, his saviour. Ted Lasso's writers' decision to have an actual therapist work with AFC Richmond might prove to be pure genius, as it opens up a million possibilities for our titular character, and ensures the show can give us a Season 2 that's completely different than what we've seen before.

Which brings me to something else we've never seen before, and that is Jamie Tartt in an environment that doesn't have anything to do with football, but where he's definitely given plenty of room to be his true obnoxious, hilarious self. Saying anything more would spoil your experience of finding out for yourself, but suffices it to say that a real twist awaits you at the very end of the episode, and that you'll find yourself rewinding that one short scene over and over again while marvelling at how accurately it portrays modern day Britain.
Ted Lasso's Season 2 Premiere doesn't always have the same spark that defined the show's first episodes: it sometimes lacks rhythm, pace and originality, its jokes don't always land, and Ted's charm has worn off a little over time. But Episode 1 is also a promising return to a compelling world and the characters we love, and it brings back enough familiarity to remind us of Season 1's best moments and enough surprises to anticipate new dynamics, and more character development, during the rest of the season. We can't wait to find out what happens next.
---
Ted Lasso's Season 2 Episode 1 premieres on Apple TV+ on July 23, 2021.