Succession Season 4 Episode 6 Review

Succession Season 4 Episode 6 (David Russell/HBO)
Season 4 Episode 6 of Succession is a clear return to form following the explosive storytelling of the past few weeks.
---
This review contains spoilers for Season 4 Episode 6 of Succession.
The most exciting thing about Succession has always been the fact that no matter how drastically somebody falls, however badly they get burned, there's always a chance for them to climb back to the top. The show comprises countless victories and losses for each character, but it's the way that they deal with these highs and lows that dictates their actual position within the neverending war of Waystar Royco's leadership. Season 4 Episode 6 is filled with tiny victories that advance the position of our central trio as they progress closer and closer to the show's conclusion, but there are also several moments that see the characters regress to their foundational flaws as they scramble for the top spot.
Last week's episode of Succession saw Kendall (Jeremy Strong), Shiv (Sarah Snook) and Roman (Kieran Culkin) travel to Europe for an impromptu meeting with Lukas Matsson (Alexander Skarsgård) about the acquisition of their family's company. Despite the boys' attempts to sabotage the detail and push Matsson away, it was Shiv's professional bond with Matsson that persuaded him to increase his offer and secure the purchase. While it's Roman and Kendall that officially hold the titles of CEO, Shiv was ultimately the one who came out on top of the deal.
And yet, as Episode 6 introduces Waystar Royco's new assisted living product 'Living+', the boys are given another chance to prove themselves and consolidate their positions as joint CEOs. Kendall thrives under the pressure of another high-stakes presentation, Roman starts to assert his dominance by firing long-time employees, and the pair really make their first noteworthy impressions on the company in Logan's shadow. They're finally taking control of their family legacy, and while they suffered a pretty hard blow in last week's episode, both Kendall and Roman are back on top and proving themselves as worthy successors.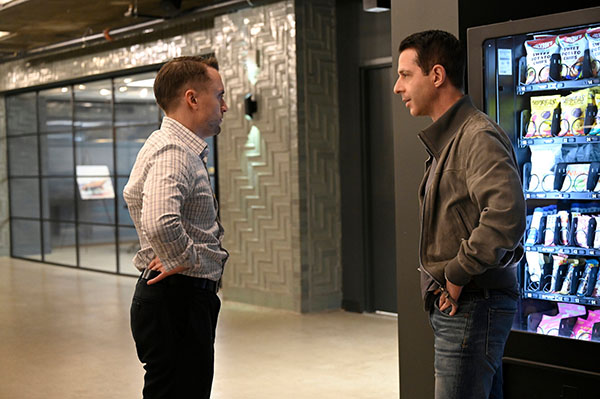 Episode 6 also focuses strongly on the relationship between Shiv and Tom (Matthew MacFadyen), which has begun to rekindle after the pair announced their divorce at the beginning of the season. Despite their toxic dynamic and abuse of power, they've never been able to keep away from each other, and Episode 6 really emphasises how strongly their relationship is fuelled by conflict and pain. It's not until Tom finally admits that he betrayed Shiv for money that she finally learns to respect him again, and it's his display of dominance in their twisted game of 'bitey' that reaffirms that attraction. The pair are made for each other in the most toxic way possible, and it's going to be really interesting to see where they end up by the show's finale.
As with any final season of a long-running show, the most fascinating part of Succession's conclusion is how effectively the writers are building towards the end of these character's journeys. The central trio has changed so drastically since their first appearances, and while they've all learned lessons along the way, the show ensures that their core beliefs and flaws are still crucial to their actions. Through his conflict with Logan, Kendall has learned the importance of trusting himself and not backing down – but last episode, it was this careless stubbornness that poisoned the deal with Matsson. Following his father's death and his ascension to power, Roman has learned how to assert himself and make difficult decisions – but that's led to him making unnecessary enemies that will undoubtedly come back to haunt him. Similarly, Shiv has learned the cold objectivity of business from her father, which has hardened her heart.
All of these characters have been changed by Logan Roy throughout the course of the show, and Episode 6 is really highlighting that while he's no longer alive, his presence is still a huge factor of their journeys. Each child has been broken in different ways, and it's the way by which they're processing their grief that's dictating how they deal with the fallout. There are still four episodes left in Succession's final season, and judging by the questionable decision-making and subtle betrayals that have already begun to plague the Roys' sibling relationship, it's safe to assume that the idyllic future they imagined for themselves at the beginning of the season is falling further and further out of reach.
---
Season 4 Episode of Succession is now available to watch on HBO Max.