Stop And Go (Review): COVID Road Trip Comedy is a Laugh Riot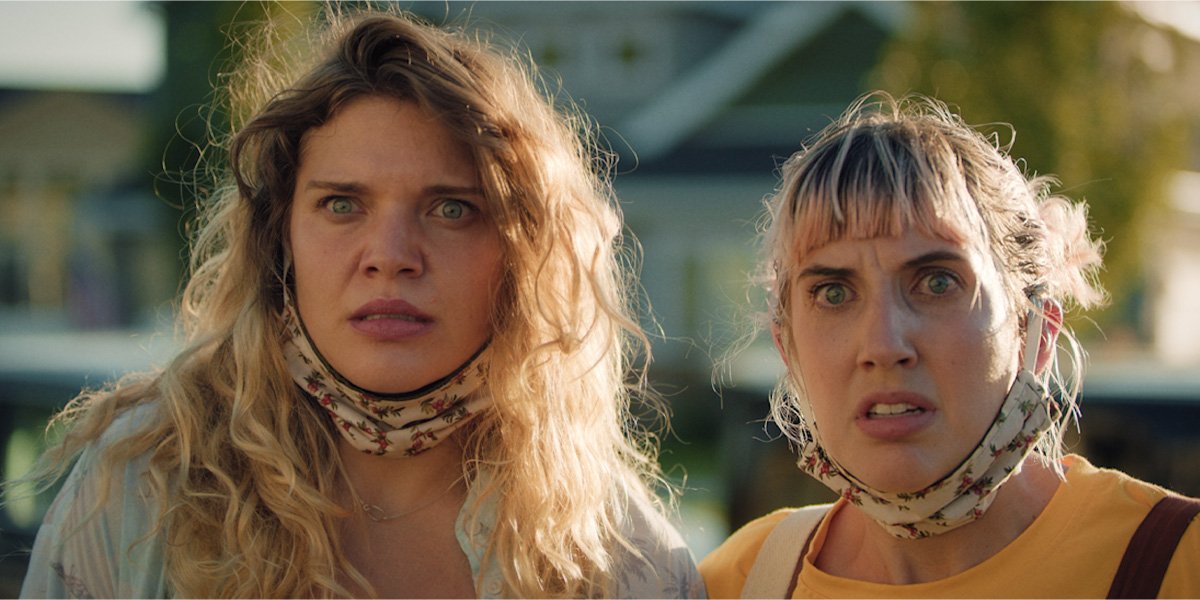 Whitney Call and Mallory Everton in Recovery (XYZ Films)
Stop And Go subverts every expectation you might have for a "COVID comedy," whisking audiences away on an absurd but immensely amusing cross-country adventure.
---

Let's face it – after enduring the pains of this pandemic for over a year now, the absolute last thing audiences want to see in a movie is any mention of coronavirus. Sure, some films have used these "unusual" circumstances to toy with the medium in unique ways and prove that creativity can prevail even in these perilous times (Shudder's successful COVID-horror flick Host comes to mind), but when other filmmakers try to incorporate this real-world strife into their storylines, their final product is banal at best (such as HBO Max's Locked Down) and woefully exploitative at worst (last December's hotly debated Songbird).
Simply put, above all else, most audiences seem to seek escapism in their entertainment at the moment, and watching a movie that regularly reminds us of the horrors waiting outside our home runs in direct opposition to that desire. Therefore, on first glance, it makes sense that the central concept of Stop And Go could initially rub some the wrong way – that is, until viewers soon realize how skillfully this cast and crew subvert every expectation you'd have for a "COVID comedy."
It's February 2020, and sisters Jamie and Blake Jerikovic (Whitney Call and Mallory Everton of Studio C) are living their best lives. Jamie, a fourth-grade teacher, has finally become a hit with her class after adopting two adorable pet mice, while Blake has gone on a decent date for the first time in forever, envisioning a bright future with her brawny potential-beau. And then, in the blink of an eye, the world comes to a standstill, as only days later, coronavirus crashes their party and puts all of their plans for the year on pause.
At first, the two are drearily despondent, drifting throughout their house with no ambitions of any kind. However, upon discovering a week-old letter letting them know of a COVID outbreak at their grandma's nursing home in Washington, the two are shaken out of this stupor and take it upon themselves to drive up from New Mexico to prevent her from falling prey to the pandemic. Unfortunately, this expedition proves to be easier said than done, as, at the same time, they have to arrive to Nana (Anne Sward Hansen) before their self-centered sister Erin (Julia Jolley) – who is returning from a "COVID death cruise" – can pick her up and possibly infect her.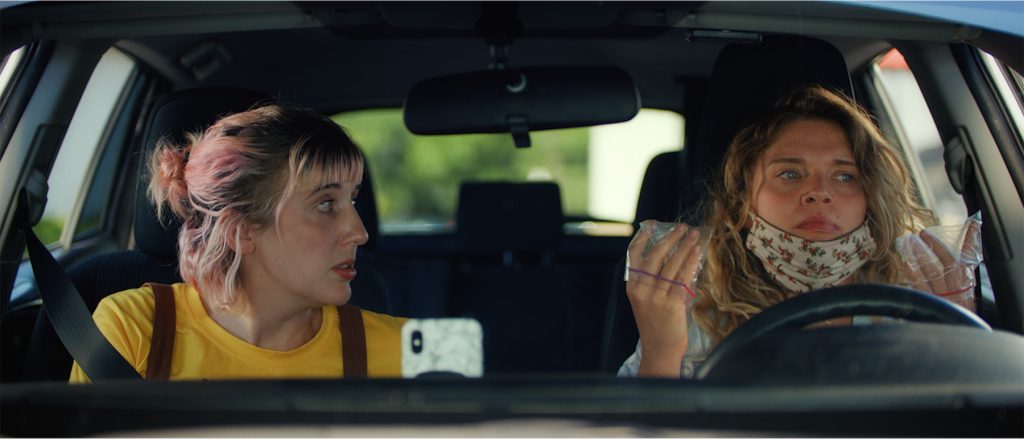 There are two things that immediately differentiate Stop And Go from pandemic films of the past year. First, we thankfully don't have to see the story unfold via Zoom screens (praise be!). Second, the film only uses COVID as a backdrop for its side-splitting cross-country saga about tight-knit family ties and the ever-uncertain future, instead of basing the entirety of its plot around the troubles of today. As such, Stop And Go can essentially have its cake and eat it too – it's a movie that speaks directly to our current societal strife while still remaining riotously entertaining, first and foremost.
So much of the film's success can be attributed to stars and screenwriters Call and Everton, who instantly infuse the film with an absorbing affability from the first scene they share and earnestly envelop us in their captivating chemistry. The two have been best friends since they were nine (charming video footage during the end credits attests to this forever friendship), and accordingly, their characters' connection is never not 100% credible as a result. You simply only need to see their rollicking repartee in action once to buy into the believability of their unshakable bond.
Additionally, both Call and Everton have a background in sketch comedy, and their impressive knack for improvisation is apparent right away in their initial interaction. There's a clear structure to the story of Stop And Go, but much of its offbeat humor also feels refreshingly "off the cuff," allowing each actress to satirize whatever silly situation they find themselves in authentically instead of feeling beholden to a set script. Oftentimes in films, such freewheeling can go south rather quickly, but Call and Everton have a commendable command on Stop And Go's comedy the whole way through, never letting gags or jokes wear out their welcome and always keeping the audience amused with no dead air to be found.
See Also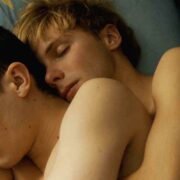 Though only featured sparsely, Stop And Go's supporting cast is just as stellar as its two leading ladies, with Hansen's "Nana" and Jolley's Erin as the most notable standouts. Even though our first encounters with these characters are over FaceTime, Hansen and Jolley have such strong screen presence that they leave an immense impact on you regardless, with Hansen's dry humor serving as quite the delight and Jolley's self-absorption adding much amusement to the movie too. As priceless a pair Jamie and Blake are, you're also constantly left wanting more of Nana and Erin, which is a testament to how wonderfully their woven into the tale in its totality.
Everton brings her all behind the camera as well, directing and editing alongside Stephen Meek (husband to Call), and their efforts provide Stop And Go with an effervescent energy that it sustains over the course of an expedient 80 minutes. Moreover, though their directorial and editorial influences are quite clear – as the film channels the charisma of recent high-spirited and hyper-stylized female buddy comedies like Olivia Wilde's Booksmart and Rachel Lee Goldenberg's Unpregnant – Stop And Go always appears to be "its own thing" at the end of the day, with Everton and Meek incorporating enough of their own technical idiosyncrasies to keep it feeling fresh instead of "familiar."
From pregnant mice to improvised tampons, Stop And Go is full of immediately iconic gags that are sure to stand the test of time, but to preserve the sensational surprises of Call and Everton's script, you won't hear any more spoilers from us. Rather, just take our word for it and seek out this simple, silly story for yourself to reap the rewards of a ferociously funny feature that truly acts as a terrific tonic for today's turmoil.
---
Stop And Go (previously named Recovery) had its World Premiere at SXSW on March 17, 2021. Click here to find out mod Read our interview with Stop and Go's director and cast.