Spider-Man: Across the Spider-Verse Review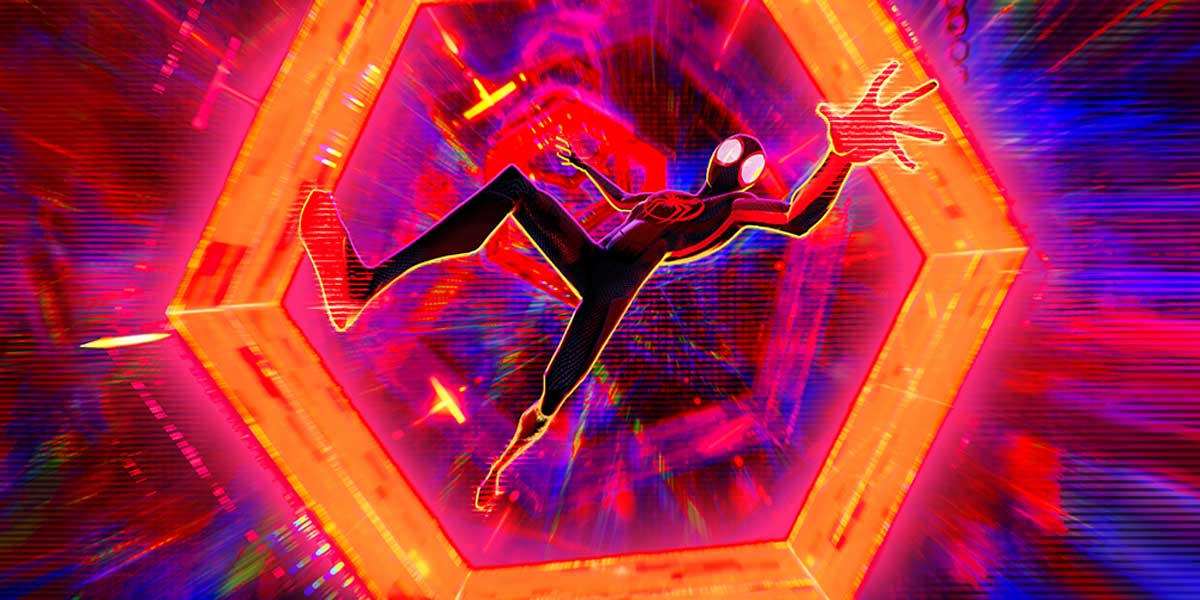 Spider-Man (Shameik Moore) in Columbia Pictures and Sony Pictures Animation's SPIDER-MAN: ACROSS THE SPIDER-VERSE. (©2023 CTMG, Inc)
Sony's Spider-Man: Across the Spider-Verse is one of the greatest animated films ever made, with its gripping story, unbelievable animation, and tremendous voice performances.
---

Spider-Man: Across the Spider-Verse faced an incredible challenge given that its predecessor, Spider-Man: Into the Spider-Verse, won the Academy Award for Best Animated Feature and is considered by some to be the greatest Spider-Man film ever made. I prefer 2021's Spider-Man: No Way Home, but Into the Spider-Verse is a close second, especially given my love for both Miles Morales and Gwen Stacy.
Heading into 2023, Spider-Man: Across the Spider-Verse was quite high on my most anticipated films of the year list and each trailer looked more spectacular than the last. However, ads can be deceiving, after all they are literally designed to make you want to see the film. Is that the case here? Absolutely not!
In fact, I would go as far as to say that Spider-Man: Across the Spider-Verse is not only better than its predecessor, but also one of the finest animated films ever made. That naturally also means that yes, Spider-Man: No Way Home has been dethroned from the top of my all-time favorite Spider-Man films list. There is so much that I want to say about this film, so let us dive right into what makes it such a fantastic feat of filmmaking and storytelling.
Spider-Man: Across the Spider-Verse picks up over a year after the events of Spider-Man: Into the Spider-Verse (2018) and finds Miles Morales/Spider-Man (Shameik Moore) unexpectedly visited by his friend Gwen Stacy/Spider-Woman (Hailee Steinfeld). She seeks Miles's help saving the universe from The Spot (Jason Schwartzman), who is causing havoc throughout the multiverse. While assisting Gwen, Miles finds himself at odds with Miguel O'Hara/Spider-Man 2099 (Oscar Isaac), the leader of a group of Spider-People known as the Spider-Society, over how to handle the situation.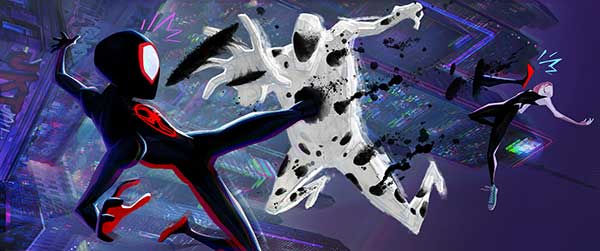 First up, there is the narrative, which is unlike any Spider-Man story that you have ever seen. The multiverse aspect is equal parts explained and handled better than it was in Spider-Man: No Way Home and Doctor Strange in the Multiverse of Madness. The writers give us enough regarding the multiverse to make sure everything makes sense and they do not overuse the concept of multiple universes for cheap fan service. Is there fan service in Spider-Man: Across the Spider-Verse? Of course there is, but none of it felt jarring to me and it did not wind up being tiresome.
This narrative is one of the most intriguing stories of 2023 so far, and you will not be able to pinpoint where it is going. There are several satisfying arcs that run you through the emotional gambit. The obvious standouts for me are the journeys that Miles and Gwen get taken on in Spider-Man: Across the Spider-Verse. Gwen is very much a co-lead to Miles this go round, and her character receives the attention that 2018's Into the Spider-Verse could not give her, because it was not her story. She carries a great deal of the emotional weight of the film and really comes into her own as a hero.
Meanwhile, Miles continues his journey, with a great deal of emphasis placed on the character becoming more independent in his personal life and as Spider-Man. Finding your place is not only classic coming-of-age, but also quintessential Spider-Man storytelling. After the first film put such a crucial and important emphasis on the fact that anyone can wear the mask. Both Miles and Gwen manage to capture the essence of what it truly means to do so in Spider-Man: Across the Spider-Verse. It is not enough to just wear a Spider-Man mask, your heart and who you are as a person matter a great deal as well. Seeing Miles and Gwen learn this lesson is one of the most satisfying things to me as a long time Spider-Man fan.
You will also certainly never be bored because there is always something going on in Spider-Man: Across the Spider-Verse. The various animation styles are frankly incredible and honestly, I was surprised by just how much this creative team managed to pull off. Once again, the characters and world move and look just as you would expect them to, almost like an exact replica of any number of comic book pages. There is usually a fast pace to the action sequences, but the way they are animated makes them look breathtaking and almost unreal.
The creative team took a lot more risks with the animation and it pays off. There are so many characters and universes that look so unique and fresh compared to anything else that I have seen from the genre in the last few years. One of my favorite designs was that of Hobart "Hobie" Brown/Spider-Punk (Daniel Kaluuya), the animaters capture who the character is and then sprinkle in their own style and flavor to him. I also loved how the colors of Gwen Stacy's dimension would change depending on her mood, little touches like that help inject so much life into this film.
There are far too many easter eggs and references in this film to count and I highly doubt I will ever be able to catch them all myself. The ones that I did catch, whether they were obvious or not, were a total delight. So many different Spider-People appear in Spider-Man: Across the Spider-Verse, even if they do not have speaking roles and they are just one of the ways that this film does fan service correctly. Even if you do not know them, the narrative does not alienate you for that, they quickly get back to the main story that they are trying to tell.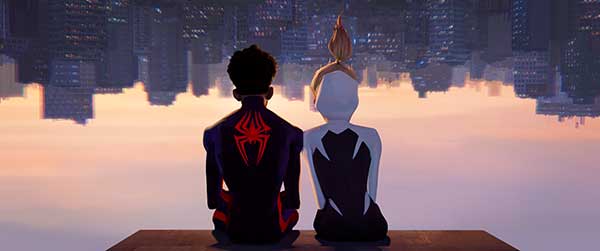 Speaking again of that story, it has so many layers to it and is filled to the brim with sincerity. Even though this is clearly meant to be part one of a two-part story, Across the Spider-Verse does a wonderful job of keeping the audience invested in what is on the screen. They tell a tale with well-rounded arcs for our main characters even though this is clearly not the end for them. I would legitimately compare it to The Empire Strikes Back. Our leads, Miles and Gwen, are on introspective and self-reflective journeys that can stand on their own and weave their way into the larger narrative leading to the climax. Then by the end, there is equal parts hope, dread, and intrigue for what is to come next.
See Also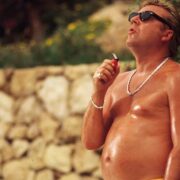 Hats off as well to Metro Boomin and composer Daniel Pemberton who add so much to Spider-Man: Across the Spider-Verse with their curated soundtrack and original score, respectively. Pemberton gives the most important scenes the correct energy, which is especially helpful for the fight sequences. Metro Boomin's soundtrack may or may not have a bonafide radio hit on the level of Post Malone and Swae Lee's "Sunflower" from the Into the Spider-Verse soundtrack, but it is still very solid, and helps Across the Spider-Verse stand out from its fellow superhero films.
Spider-Man: Across the Spider-Verse has a sensational ensemble, each of whom turn in some epic performances. Shameik Moore continues to be an excellent Miles Morales, giving the character plenty of charisma while still maintaining the awkwardness that he needs. I am beginning to believe that no one else will be able to capture Miles from the comics as well as Moore does after watching his second outing as the character. The same can also be said for Hailee Steinfeld as Gwen Stacy/Spider-Woman. Steinfeld portrays her with such an incredible heart and captures Gwen's smoothness and goofiness. I found myself enjoying Gwen's arc more not only because of how she is written, but also because of Steinfeld's performance.
The true home run hitter of this cast is not Moore or Steinfeld, as wonderful as their work is. That honor belongs to Óscar Isaac Hernández Estrada, whose portrayal of Miguel O'Hara/Spider-Man 2099 blew me away. Miguel is such a compelling character within the Spider-Man mythos, and he is done justice in Spider-Man: Across the Spider-Verse. You get where he is coming from, even though you may not always agree with Miguel or even like him. Oscar Isaac portrays the character with so much passion and power. I would pay a lot of money to watch a video of Isaac recording his dialogue as Miguel because I can just feel the pain, frustration, anger, and every other emotion permeating through his voice. His performance helps make Miguel an awesome foil to Miles as the two butt heads throughout the film.
Behind a story for the ages packed with action and emotion, as well as some of the most gorgeous animation you will ever see, and a cast that absolutely crushes it, Spider-Man: Across the Spider-Verse leaves no doubt about its status as an all-time great in the history of animation. It might just become your favorite Spider-Man film ever made as well and creates an astronomically high bar for 2024's Spider-Man: Beyond the Spider-Verse to have to clear.
---
Spider-Man: Across the Spider-Verse will be released globally in theaters on June 2, 2023.