Space Jam (1996): The 90s Classic Is A Blast (Review)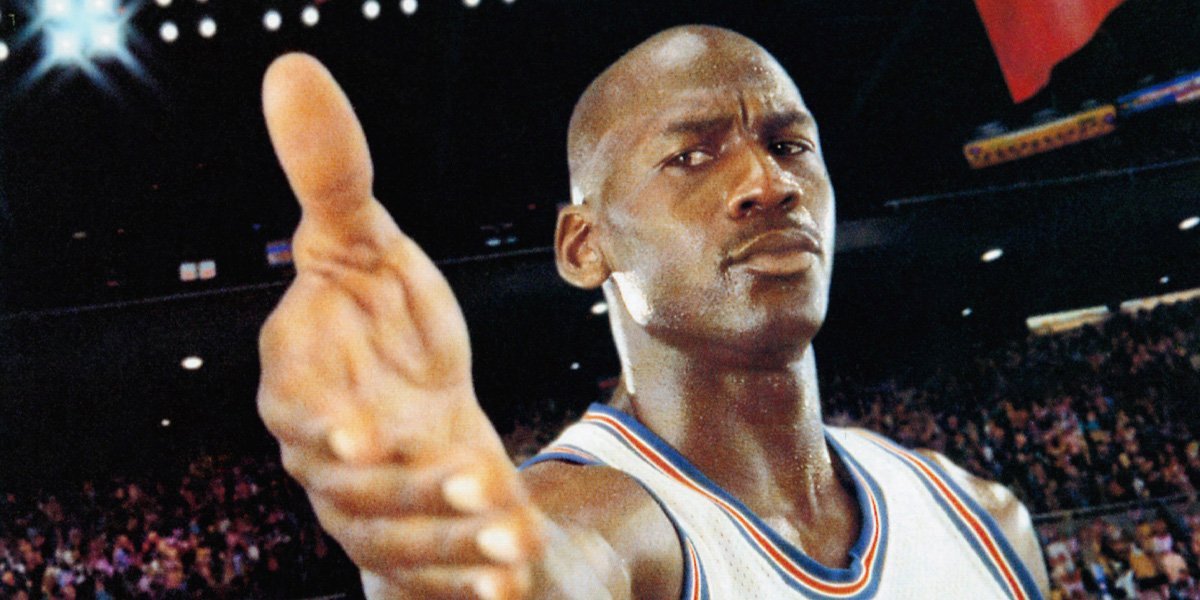 Michael Jordan in Space Jam (Warner Bros. Pictures)
Though Space Jam (1996) shouldn't work, the Warner Bros film's odd combination of basketball and the Looney Tunes proves to be a winning formula.
---

Space Jam is celebrating its 25th anniversary this year, and a long gestating sequel to the film is also scheduled for release in July 2021. Said sequel is something that I begged for over and over as a kid, because my love for the game of basketball began when I watched Michael Jordan and the Tune Squad take on the alien MonStars.
The idea of a film revolving around Bugs Bunny and Michael Jordan sprang in part from a conversation that producer Ivan Reitman had with a Nike executive. The duo had already been featured together in two successful Nike television advertisements for their Air Jordan basketball sneaker line (Jordan's signature shoe) prior to the development of Space Jam. The first of these ads, "Hare Jordan", aired during Super Bowl XXVI in 1992, and a sequel, "Aerospace Jordan", aired in 1993 during Super Bowl XXVII. "Hare Jordan" sees Bugs Bunny, in an animated pair of Air Jordan Nike sneakers team up with Michael Jordan in a pick-up basketball game against bullies.
"Aerospace Jordan" teams up Bugs and Jordan again to take on Marvin the Martian, who has been stealing all of the world's Air Jordan shoes for himself, in an intergalactic basketball game. The ads resulted in audiences showing a renewed interest in the Looney Tunes, which Warner Bros. capitalized on by green lighting Space Jam. Pairing the Tunes and Jordan, an internationally known basketball superstar, seemed to Warner executives like an idea with tremendous retail potential. Reitman and his team would come up with the idea of Jordan helping the Looney Tunes in a basketball game against the MonStars, and the project appeared to finally be in motion.  Jordan's sudden retirement from basketball briefly complicated matters before it was written into the script. Thus, the film wound up being a fictionalized account of the events between Michael Jordan's first retirement from the NBA in 1993 and his return in 1995.
In Space Jam, Jordan (portraying himself) has retired from basketball and is now attempting to launch a career in baseball (just as he did in real life with the Birmingham Barons, a minor league affiliate of the Chicago White Sox in 1994) when the Looney Tunes call upon him to assist them in a basketball game against the alien Nerdlucks. These aliens are employed by Mr. Swackhammer (voiced by Danny DeVito) at a failing (and honestly terrifying) amusement park called Moron Mountain, and ordered to kidnap the Looney Tunes so that Swackhammer can use them for new attractions. After some trickery from Bugs Bunny, the pint sized Nerdlucks agree to let the Tunes defend themselves in a basketball game.
That should be a piece of cake for the Tunes, right? Well, the Nerdlucks seek out some of the best players in the NBA (Charles Barkley, Shawn Bradley, Patrick Ewing, Larry Johnson and Muggsy Bogues) and steal their talents. This allows them to transform into large, muscular monsters who are dominant basketball players, dubbed within the film by Sylvester the Cat to be "MonStars". Now outmatched in a basketball game for their freedom, the Looney Tunes seek out Michael Jordan and bring him to their world. Jordan agrees to help them by coaching and playing for the Tune Squad.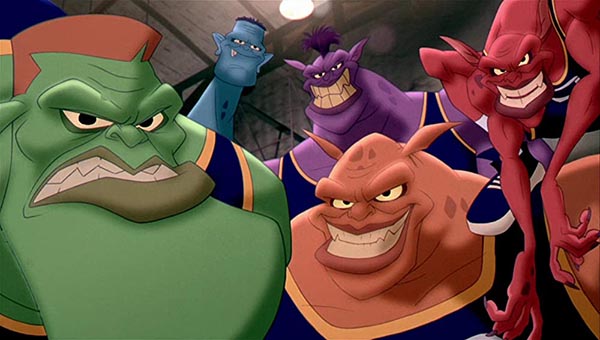 Space Jam is quite the ride, and a mostly good one at that, with its insane story, blending of live action and animation, and great soundtrack. It's likely to draw you in with its transition from the first scene to the opening credits. There is a sweet introductory scene featuring a young Michael Jordan and his late father playing basketball together while young Michael talks about his hopes for his future. Then it shifts to the opening credits set to the title song "Space Jam" by the Quad City DJ's and highlights of Michael Jordan's life and basketball career. This transition sets an exciting stage for what is to come.
The story seems like something that you might dream up with your action figures as a kid, with the Looney Tunes teaming up with Michael Jordan to take on a group of aliens in a basketball game. That is part of why it works: Space Jam takes the characters you might have grown up with and places them in a unique and fun situation that you've truly never seen before. The classic Looney Tunes hijinks are there though, especially during the climactic basketball game. There's a particular reference to Pulp Fiction (1994) that earned a good chuckle out of me because of how random it was, and that's what I remember most about the original Looney Tunes cartoons, just how random and insane they were.
Another reason that the story works is because some of the most talented basketball players in the world at the time take part in it. This gives Space Jam some real-world credibility. For an orange alien MonStar named Pound to take the talent of Charles Barkley, who would eventually be voted a basketball hall of famer, it helps us understand how dangerous this situation is for the Looney Tunes as well as why they would need to seek out fellow basketball legend Michael Jordan's help in this fictional universe. The Tunes can't just rely on their hijinks to win this game, they'll need an actual basketball player to teach them how to play better, and what better player than Jordan, considered by many to be the best in the NBA history.
Most of the story may work, but there are certain negative aspects of it. For example, I wasn't a fan of how the film treated Lola Bunny, a fine addition to the Looney Tunes canon introduced in Space Jam. In the film, she doesn't have much of a personality: she does stand up for herself, as seen when Bugs refers to her as "Doll", but she isn't really as funny or zany as the other Tunes. In fact, here Lola seems more like a character made for Bugs and the other male Tunes to ogle and wag their tongues at, which they do, in the first scene that Bugs and Lola interact and during the pregame player introductions. She is confident, attractive to the other characters, and can play basketball, but who is Lola outside of those three traits? As she is written in Space Jam, it almost feels like a teaser trailer for a character rather than a proper introduction.
See Also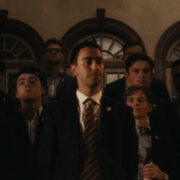 The film's comedy isn't always great. For example, the character of Stan Podolak (Wayne Knight), a publicist and assistant to Jordan, has some moments that I assume are meant to be funny, including one that is basically an overlong fart joke. The basketball players that have had their talents stolen also have some cringe worthy moments during their subplot, like a joke where a therapist asks Patrick Ewing if he's having trouble performing in "other areas". Most of the jokes pertaining to Stan are really low bar, minimal effort gags that only really young children will find funny. On the other hand, the jokes involving the basketball players seem to be geared towards the adults in the room, which can really make some of them awkward, like one with Ewing and the therapist. It's a kid's movie, it doesn't need a joke about New York Knicks legend Patrick Ewing potentially having erectile disfunction. Space Jam is really hit or miss when it comes to the comedy it offers, especially when the Looney Tunes aren't involved.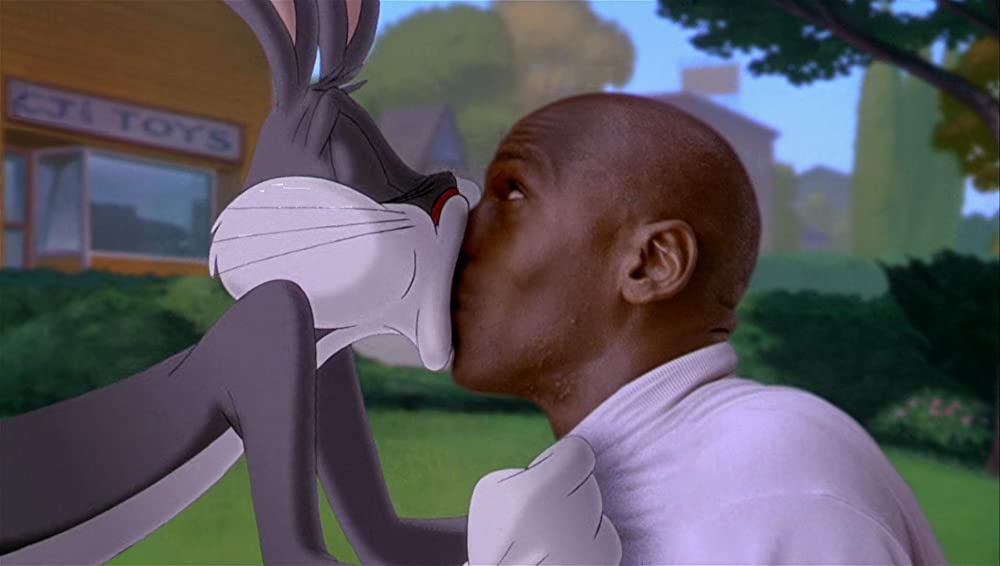 One of the things that you'll likely remember most about this film is the soundtrack. It features songs from artists like Seal, whose cover of the Steve Miller Band's "Fly Like An Eagle" plays during the end credits, Quad City DJ's, who get you pumped up during the opening credits with the title track and many more. "Hit 'Em High (The Monstars' Anthem)", which features the rappers B-Real, Coolio, Method Man, LL Cool J, and Busta Rhymes, is a perfect and menacing track for the monstrous alien villains and features cool lines that reference the film and the sport of basketball. Each rapper brings their A game, unlike some artists on movie tie in songs, who just seem to be going through the motions. Another highlight is a cover of Cheech and Chong's "Basketball Jones" performed by Barry White and Chris Rock. That combination, much like the film, shouldn't work, but White's smooth deep voice is a perfect and hilarious compliment to Rock, who mostly just talks through the song as Marin did in character as Tyrone Shoelaces on the original song. There's such a uniqueness about this soundtrack because of the variety of artists featured on it, that matches and adds style to the film given that most of the songs are actually used in Space Jam.
Space Jam's blending of live action and animation isn't as seamless as Who Framed Roger Rabbit (1988), but it is good in its own way. Roger Rabbit's animation made you feel and made it look as if Bob Hoskins was right next to the animated characters. Space Jam doesn't quite reach that level of believability. This could possibly be because it was one of the first animated productions to use digital technology (Roger Rabbit shot its live action scenes first, and the animation was drawn in by hand after). Despite this key difference, Michael Jordan's charisma and ability to sell his interactions with the Tunes helps make the story and the world they've built work. Even though he's mostly acting alongside actors in green screen suits, rather than the actual characters, it's not noticeable for most of the film. That allows you to become further immersed in this universe where animated characters live below us in their own world.
Space Jam isn't the best film ever made, but it also isn't the worst. It fits somewhere in the middle. Even though this is a "comfort film" of mine, I can only watch it every once in a while, mostly due to the cringeworthy comedy involving the human characters. That doesn't mean it isn't a blast to watch, it's always really fun to revisit because the story is unique and fun, and the blending of live action/animation is mostly impressive, given that it was one of the first animated films to use digital technology. Even those that didn't like this movie when it was originally released can find something good to take out of it now, even if it's just something like how good the soundtrack is. This film has such a unique legacy and it will be interesting to see how the concept that mostly worked in 1996 will work in its 2021 sequel starring Lebron James.
---