Someday We'll Tell Each Other Everything: Film Review

Someday We'll Tell Each Other Everything (© Pandora Film / Row Pictures / Berlin Film Festival)
German reunification forms the backdrop to Someday We'll Tell Each Other Everything, Emily Atef's swooning but uneven romance drama.
---

The lengthily titled Someday We'll Tell Each Other Everything (Irgendwann werden wir uns alles erzählen), which is based on Daniela Krien's novel of the same name, takes place at a crucial moment in history. In the summer of 1990, the Berlin wall has fallen, sending inevitable shockwaves throughout German society and beyond. Someday We'll Tell Each Other Everything often captures this transition period effectively, although its central romance too often dilutes the engaging historical, political and social angles. Despite this, Emily Atef (More Than Ever) and Krien on co-writing duties create a vivid historical snapshot of a country in flux.
18-year-old Maria (Marlene Burow, Wunderschön) lives with her boyfriend Johannes (Cedric Eich, Freak City) on his parents' farm; her mother lives nearby but the two are estranged, with the reasons left frustratingly murky. All seems well in this life, despite its Eastern German setting. The inhabitants of this world seem to have accepted their lot in life, or more accurately resigned themselves to defeat and repressed those desires for Western freedoms. Maria spends her days skipping school and reading, whilst Johannes proves a doting boyfriend and his family a welcoming adoptive body for her. The dramatic tension of Someday We'll Tell Each Other Everything comes in the form of Henner (Felix Kramer, Freies Land), an attractive, mysterious, and ill-tempered 40-year-old man who lives on a neighbouring farm.
It is when Maria and Henner begin an affair that the issues form in Someday We'll Tell Each Other Everything. There is an aggressive angle to the relationship and problematic notions of power abuse which, to be fair to Atef and Krien, are drawn as complex. Yet in Atef's direction, she seems intent on romanticiszing this bizarre partnership, with dreamy, passionate overtures enforcing this notion. This intense adoration is what Maria and Henner both feel, but Someday We'll Tell Each Other Everything lacks the nuance to both comment assuredly on this complexity or make strong comparisons to Germany's simultaneous reunification.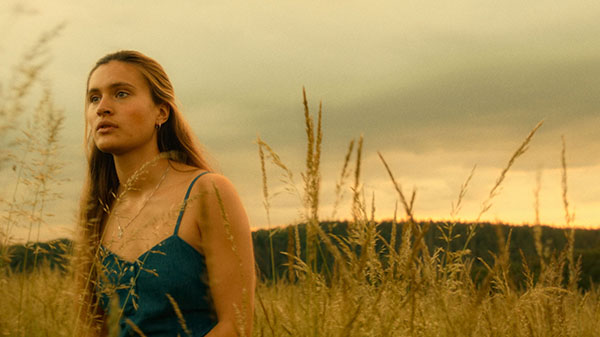 The best parts of Someday We'll Tell Each Other Everything come in its historical context. Every character is grappling with the end of the German Democratic Republic (GDR), a change that brings happiness, freedom, fear, and anger. Human connection and communication return, people are free to reinvent themselves, and, thanks to the resurgence of consumerism, more items are available to the populace again. Atef and Krien very impressively show how people of this time made the transition back to one country, both on minor and major scales: Maria's grandmother excitedly proclaims she can now buy whipped cream in a can; Johannes' father looks upon items like magazines with disdain; Henner can barely order a beer in a café, so overwhelming is the choice now.
These instances become more infrequent as Someday We'll Tell Each Other Everything goes on, as the increasingly cloying romance plot takes centre stage. The frequent, overly dramatic sex scenes, which either land as uncomfortable or just downright bizarre, become ever-growing thorns in the side of Someday We'll Tell Each Other Everything. The end result is a perplexing drama, one which strikes terrific notes with its intelligent treatment of history, lovely original score, and hazy, sun-kissed atmosphere, but that more often than not deadens these strengths with its unassured handling of a complex romance.
---
Someday We'll Tell Each Other Everything premiered at the Berlin Film Festival on February 17-26, 2023. Read our Berlin Film Festival reviews!