Slow Horses (Apple TV+): Season 2 Episodes 1 & 2 Review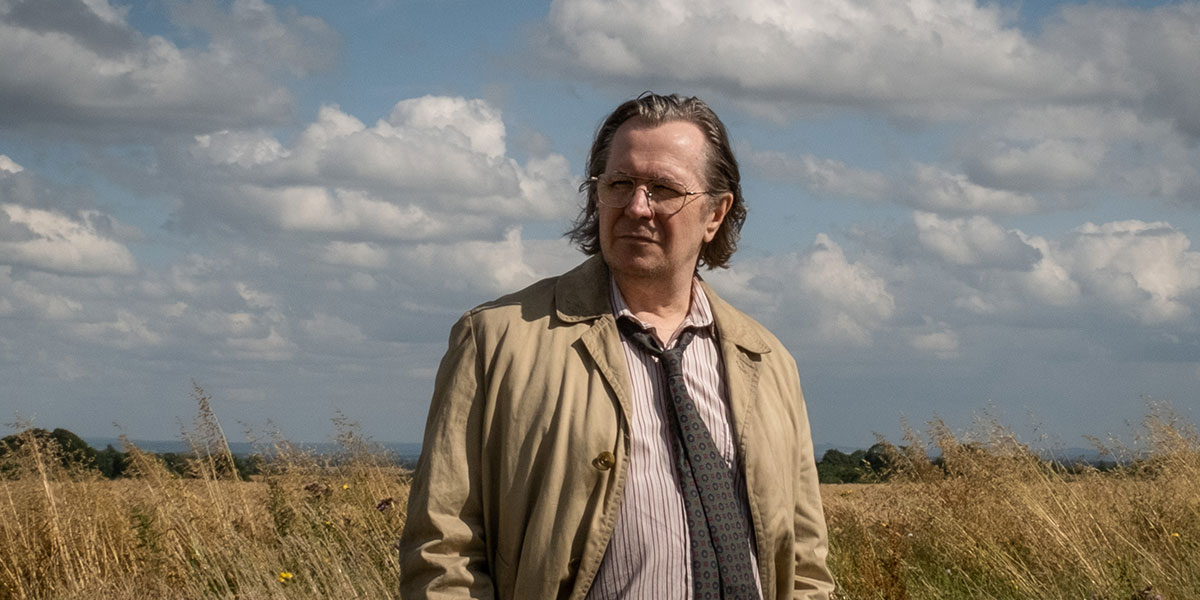 Gary Oldman in Season 2 episodes 1 & 2 of "Slow Horses," premiering December 2, 2022 on Apple TV+ (Apple TV+)
Slow Horses season 2 gets off to a superb start, with episodes 1 and 2 developing on the tonal, comedic and ensemble work that season 1 did so well.
---
This review may contain slight spoilers for episodes 1 ("Last Stop") and 2 ("From Upshott With Love") of Slow Horses Season 2.
If you were worried about Slow Horses taking a more serious approach to its sophomore outing, you needn't be, as season 2 stomps out the gate with a cold-open that features a man restocking some discounted dildos in a sex shop right before he's killed on a replacement bus service. Not the typical polished and sophisticated spy-fare, but certainly on brand for Slough House's misfit MI5 agents.
After the slick, wryly funny and realistically banal season 1, Jackson Lamb (Gary Oldman), River Cartwright (Jack Lowden) and the rest of the country's least wanted sleuths are back for more misadventures. This time, it's the death of ex-agent Richard 'Dickie' Bow (Phil Davis) – the aforementioned sex-shop owner – that sparks the team into action, with growing concerns that he was entangled in an operation known as 'Cicadas' that involved sleeper agents dating back to when there was an Iron Curtain to hide behind.
Episodes 1 and 2 of this new season emphasise a confidence that was clearly bolstered by the success of its predecessor. Season 1 was old school spy stuff that felt fresh, a lackadaisical team that undercut its heroism with off-beat comedy, and a drabness that meant its most tense clandestine meetings took place on a shoddy bench near a canal. And these first two episodes are no different, from the opening chase sequence through a queue at a ticket gate to River interrogating a taxi driver over his morning fry-up. The showhas already established its schtick, its niche and its tone, so now it has the freedom to really dig into meatier cases and the development of our core group of eccentric spooks. It's still a world away from the high-energy opening sequences of season 1, but that's still exactly the point. Slow Horses is much more concerned with the gritty, shabby and unpolished aspects of spy craft, with the occasional fart joke thrown in for old times' sake.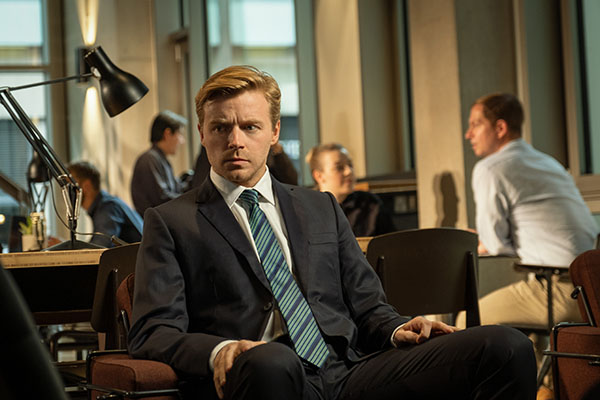 Alongside the unlikely and unwilling power couple that is Lamb and River, there's the returning faces of Louisa (Rosalind Eleazar) and Min (Dustin Demri-Burns) – now a proper couple –, Roddy (Christopher Chung) – still an obnoxious twat – and 'secretary' supreme Standish (Saskia Reeves), but also some new ones. Shirley (Aimee-Ffion Edwards) and Marcus (Kadiff Kirwan) aren't given too much to do in these first two episodes, but the show certainly hints that Edwards' Shirley is, much like River, a little too good for the punishment palace that is Slough House, and so hopefully they'll both develop more and become an integrated part of the team as the season continues. It is a shame that Olivia Cooke's Sid doesn't appear to be returning, but the already stellar ensemble will surely fill the gap.
Much as it was in season 1 though, Slow Horses is Lowden and Oldman's sandbox. Their camaraderie, their banter and their deeply buried and incredibly reluctant affection for each other is such a joy to watch on screen. They play off each other so well, and both seem to relish the 'serious' moments as much as the more playful ones – "Dickie was murdered" / "I know that, you twat" being a particular highlight in episode 1. It's a twisted will-they won't-they in the sense that they seem to be on the cusp of something approaching friendship, and then one will do something to irritate the other and they're right back to insults and exasperation.
See Also

The show looks set to splinter off into different narrative strands throughout the rest of the season – River's dogged pursual of the bald man on the train, Jackson's investigation of Cicadas, and Min and Louisa's security detail for a possibly (RE: definitely) shady Russian businessman and Roddy – but hopefully head writer Will Smith (still not that one) can coalesce them into a tight knot by the finale.
Still eschewing the traditional, with any luck Slow Horses will continue its blend of excitement with absurdity, banality with tension, and deliver a sophomore season that lives up to the high expectations set by the first. The visual delight of Gary Oldman in a bucket hat certainly suggests it might well do.
---
Season 2 Episodes 1 and 2 of Slow Horses will be available to watch on AppleTV+ on December 2, 2022.
---
WATCH SLOW HORSES: SEASON 2 EPISODES 1 & 2: