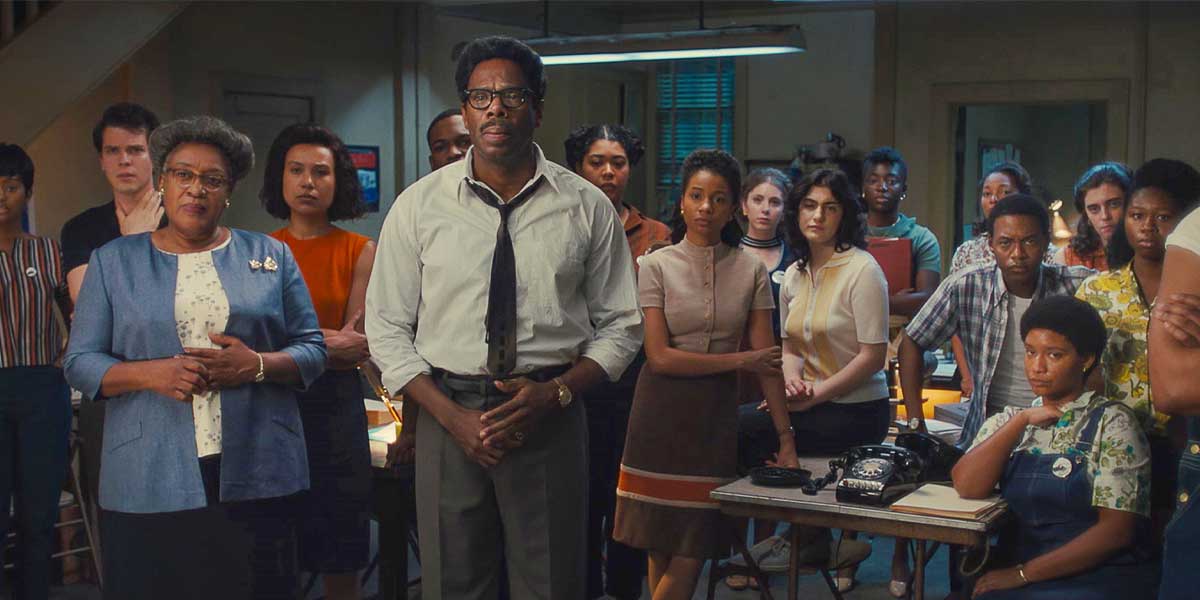 (© 2023 Netflix, Inc.)
A tremendous portrait of Bayard Rustin, Netflix's Rustin stands out from your typical biopic behind the sensational Colman Domingo and an excellent ensemble.
---

Civil rights activist Bayard Rustin lived an incredible life, but you would be forgiven for knowing little about the man. For several reasons, most notably his status as a gay man, Bayard was mostly relegated to working behind the scenes with leaders of the civil rights moment. Netflix's Rustin aims to not only honor who Bayard Rustin was but emphasize just how important he was to the history of the United States. Thanks to one of the most show stopping performances of 2023 from Colman Domingo in the title role, this film succeeds at achieving both of those goals.
Rustin is the story of civil rights activist Bayard Rustin (Colman Domingo), his life, and the adversity he faced as an openly gay black man. The film primarily takes place during the organization of the March on Washington for Jobs and Freedom in 1963, which Bayard was heavily involved with alongside A. Philip Randolph (Glynn Turman) and other civil rights leaders, including Dr. Martin Luther King Jr. (Aml Ameen).
Colman Domingo is an absolute sensation in the role of Bayard Rustin. It is not a stretch to call this his greatest work to date and a role that he frankly was put on this earth to play. From the moment he appears in Rustin, Colman Domingo ceases to be himself and fully embodies Bayard for the entire runtime. It is frankly incredible the level of emotion that Domingo manages to conjure up at a moment's notice and bring to the surface. What is equally impressive are those times that Domingo must reign in the outspoken Bayard Rustin and those silent moments are just as impactful.
Rustin serves as not only a way to honor and preserve the memory of Bayard, but also as a tour de force for Colman Domingo's talents. The man has highlight moment after highlight moment and this is one of the strongest performances of 2023. He will make you laugh, cry, and roar in approval and it will seem like everything comes incredibly easy to Domingo. There is so much about his portrayal which is just bound to stick with audiences.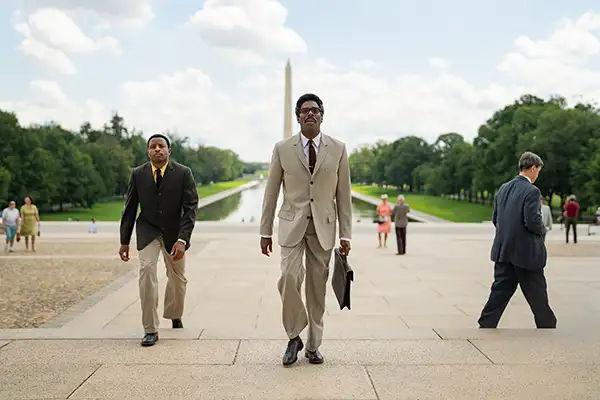 The narrative, as one would expect, puts Bayard Rustin front and center, and rarely takes the camera off him. While George C. Wolfe may not do much to separate Rustin from your standard biographical drama, a lot of the film follows the structure you would expect, there is a uniqueness about it. Wolfe, along with writers Julian Breece and Dustin Lance Black make Bayard the heart of the story. We are given insight into his past as it relates not only to the civil rights movement but also to his sexuality and it is seamlessly connected back to Bayard dealing with those things in the present.
While the March on Washington is given its due, this is a film about Bayard Rustin, and one could consider the march he helped organize to be a strong supporting player in his story. It is something we see through his eyes, how much it means to him, the work that he does to put it together, and how the march impacts him and his relationships. One of the best emotional arcs, which also is something that interconnects between Bayard's past and his present, is the friendship that he has with Dr. Martin Luther King Jr.
Domingo and Ameen work to capture a perfect portrait of that pairing and the history that they have. Audiences may be unaware of just how close they were and how much Bayard influenced Dr. King, but Rustin makes it clear to them. The evolution of their friendship is one of the things that makes the film stand out, especially since one never upstages the other, whether we are talking about Martin Luther King Jr. And Bayard Rustin or the actors portraying them in Colman Domingo and Aml Ameen. They work together in support of each other for something that is bigger than them.
Domingo elevates the material here and turns this film from a history lesson into a sight worth seeing. This script is so informative and that is great, especially since people like me may have only heard of Bayard Rustin once or twice, but Domingo makes you care about our title character, understand, and relate to him. If you do not have an actor that can do that, this biopic would fall flat even with the pieces around Domingo.
See Also

Speaking of those pieces, the work that the ensemble of Rustin puts in is astonishing. Along with the performance of Colman Domingo, this group of actors and actresses help the film achieve its goals of honoring Bayard Rustin and informing audiences about his key place in history. Ameen, as mentioned, is solid, but there are so many that I could single out beyond him. Glynn Turman and Michael Potts (both of whom I ironically knew going in primarily from their work in HBO's The Wire) are sparks as activists A. Philip Randolph and Cleveland Robinson, respectively. Jeffrey Wright turns in an exceptional performance as notable African American politician Adam Clayton Powell Jr., who proves to be a thorn in Rustin's side. Even Lilli Kay has memorable lines early on that made me chuckle as a young white activist named Rachelle. There are truly no small parts here, everyone does their part to help make this film as good as it is.
The score composed by Branford Marsalis that is used throughout is remarkably interesting. There is an obvious jazz big band influence which is a delight to listen to and brings an element of fun to the dramatic film. Most importantly though, Marsalis knows what to use and when to use it, each pivotal moment has the ideal musical accompaniment. This is especially noticeable during the quiet, emotional sequences in Rustin, during which the roaring jazz comes to a halt in favor of something simpler.
Rustin is a particularly good film that gives Bayard Rustin the spotlight he so rightly deserves. Colman Domingo is remarkable in the title role, portraying Bayard with heart and power. He leads an awesome ensemble that helps to elevate a script that may not be much different from other biopics out there but is incredibly informative.
---
Rustin will be have a two-week theatrical run from November 3 and will be released on Netflix on November 17, 2023.