Oxygen on Netflix (Review): Laurent Excels in Philosophical Thriller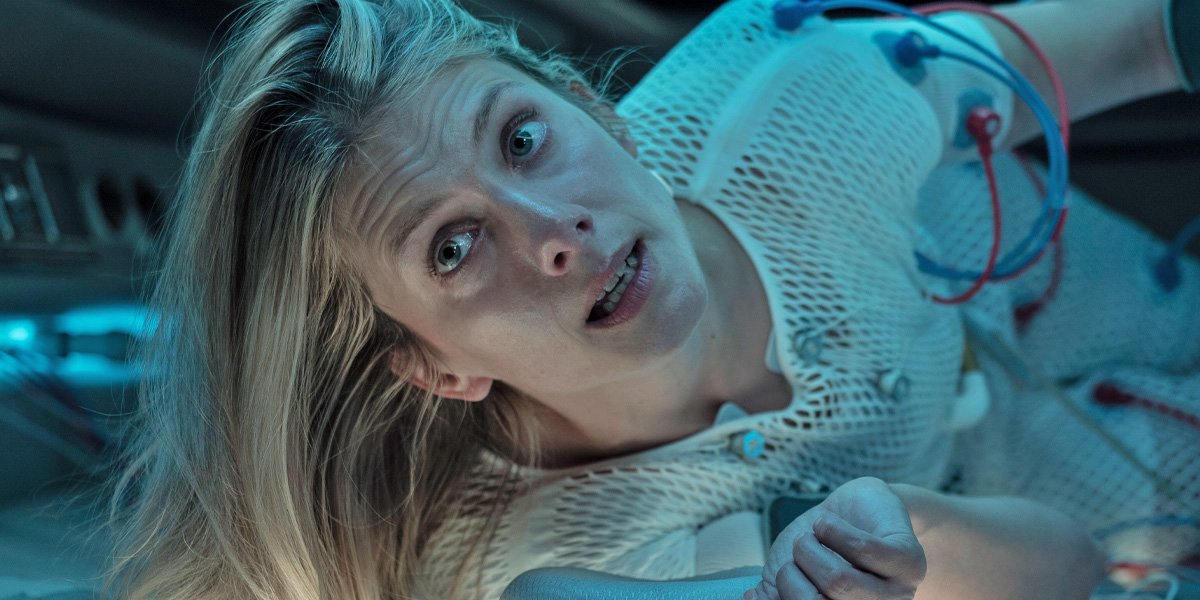 Mélanie Laurent in Oxygen (© Shanna Besson / Netflix)
Starring a superb Mélanie Laurent, Alexandre Aja's Oxygen is both a claustrophobic survival thriller and an introspective drama about memory, identity, and the ethics of scientific advancement.
---

The theme of memory has been used many times in cinema as a means to explore a character's identity, and many directors have shown us protagonists whose sense of self has been deeply affected by their recollections of the past, or lack thereof. In Memento, Christopher Nolan shows us a man whose short-term memory resets itself every fifteen minutes, and whose fragmented existence is regulated by the clues he leaves for himself to find, with the most basic information on who he is. In Still Alice, a professor who has been diagnosed with early onset Alzheimer's disease leaves an instructional video to her future self, making a conscious decision for the version of herself she has yet to become. In Arrival, a linguistics expert begins to experience new memories the moment she starts to communicate with an alien race, unwittingly but inexorably becoming a different person in the process. Though these are very different films, both in genre and subject matter—one is a tense psychological thriller, one an introspective investigation on Alzheimer's disease, and one a mind-bending sci-fi drama—what they have in common is that they all present us with resourceful, strong-willed protagonists whose identity is defined by their own memories.
In Netflix's Oxygen (Oxygène), director Alexandre Aja continues this trend by telling the story of a young woman (Mélanie Laurent,of Inglourious Basterds) who wakes up in a cryogenic pod with very little oxygen and no recollections of who she is or how she ended up there, and whose only hope of survival lies in recovering those very memories she seems to have lost. And, though her journey — and AI robot companion — are not entirely unfamiliar, thanks to Laurent's outstanding performance and Aja's expert directing, as well as a well-crafted script (How to Make a Reality Star's Christie LeBlanc) that works in perfect sync with the film's immersive sound design (The Sisters Brothers' Jon Goc and Ex Machina's Ken Yasumoto) and gorgeous visuals (cinematographer Maxime Alexandre, of Maniac, and editor Stéphane Roche, of Persepolis), it is certainly compelling and philosophical enough to keep us thoroughly engaged throughout this complex, claustrophobic survival thriller's one-hour-seventeen-minutes runtime.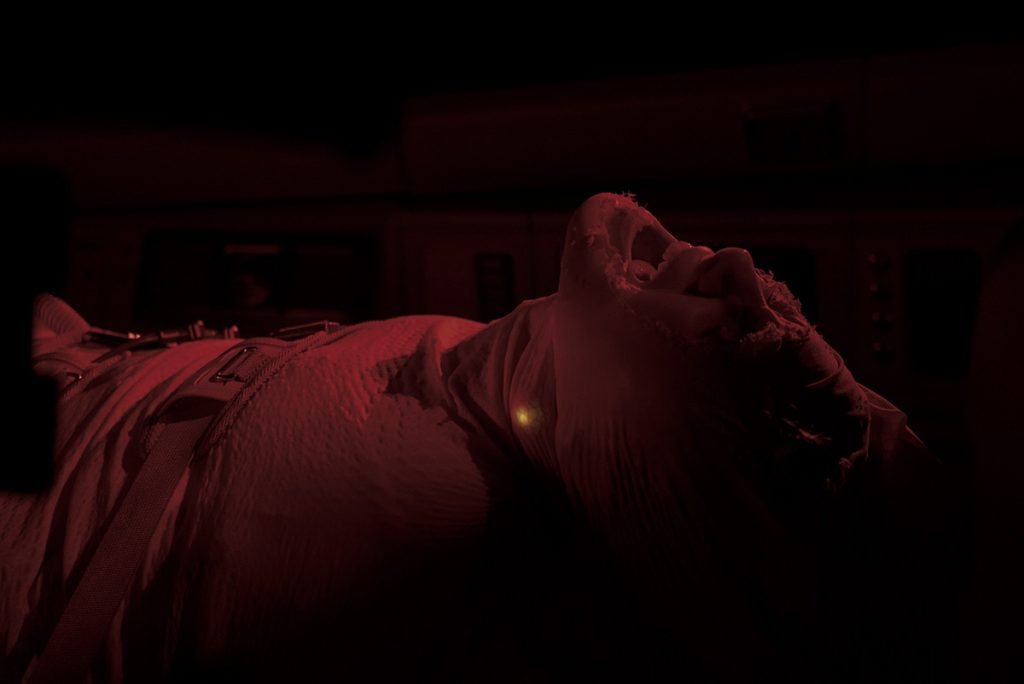 Aja's first film in French since High Tension begins with the shot of a mouse trapped in an aseptic, luminous maze. The camera pans out and moves to an aerial view, accompanied by disquieting, high-pitched electronic sounds, and the mouse soon becomes a nearly indiscernible shape in a seemingly neverending labyrinth. As we begin to realise that the animal will never be able to escape, given the extent of the maze, the film's mood suddenly changes, enveloping us in darkness punctuated by sudden flashes of desaturated red matched by a series of repetitive bleeps coming from what would seem to be a heart monitor. Electronic beats accompany the scene, giving it a disquieting, distressing yet also ethereal tone, and the camera pans around what we soon recognise as a human shape, making it look like it's floating in space. But this otherworldly state soon comes to an end, as we are given sudden glimpses of mice in distress, the music intensifies and the figure wakes up to find herself strapped to a bed and grasping for air.
As the woman — or, as we'll soon come to know her, Elizabeth 'Liz' Hansen — realises that she's locked in a box, her HAL 9000-like companion makes itself known, introducing itself as "MILO", or "Medical Interface Liaison Operator", an Artificial Intelligent robot (voiced by Mathieu Amalric, of The Diving Bell And The Butterfly) that comes in the form of a massive glowing screen hovering above her, watching over her but also, quite possibly, preventing her from leaving. MILO lets her know that her oxygen level has decreased to 35%, which means that she has 43 minutes before it runs out, and, as we begin to wonder about where, not to mention when, the action takes place, the woman asks the most important question of all: "MILO, who am I?".
Though Oxygen's opening scenes are only a tiny portion of everything that happens in the film, they are a great way to describe a claustrophobic survival thriller that is as tense and anxiety-inducing as it is introspective and contemplative. Liz's abrupt awakening is only the beginning of her journey, and it's thanks to the film's clever script and directing that her being confined in a box doesn't make Oxygen any less dynamic. Watching the movie, it's often easy to forget that it takes place within what is essentially a box, and that is not only due to a series of devices employed by the director to make Liz communicate with others, but also to the fact that Oxygen constantly, and seamlessly, switches between tones to match the different stages of Liz's journey, so much so that it often feels like many films combined into one. And, while the film's claustrophobic premise never fails to remind us about Liz's race against time, Oxygen has more than one enigma to solve, often feeling like an investigative drama where the subject of the investigation is Liz herself.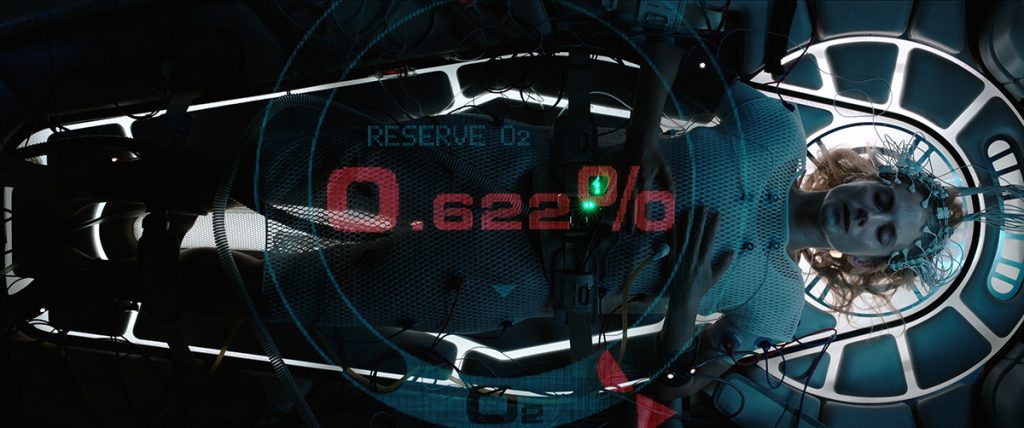 If you've seen confinement films like Locke, sci-fi classics like 2001: A Space Odyssey and Moon, or even recent releases like The Island and Voyagers, you'll find many familiar themes and patterns in Oxygen. Not only is the film perhaps a little longer than it needed to be, but many are the twists that will emerge throughout it, and you'll have seen most of them coming. But that won't affect your enjoyment of the movie, as Oxygen's many memorable moments come from the filmmakers' decision to focus on its compelling protagonist, rather than on its story alone.
From the moment she abruptly wakes up till the end of her quest, Liz has our complete attention, and Laurent is outstanding at showing us all the phases of her emotional journey — from desperation and anger to resignation, distrust, panic, and, at times, peace — while also conveying to us all the resilience of an incredibly clever, resourceful character who simply refuses to give up, even when she doesn't quite know who she is. Even if she's unable to express herself freely, as the cryogenic pod allows for very little movement, Laurent captivates us with effective physical acting that appears in every detail, from facial expressions to changes in breathing and pitch. It's no easy feat to carry an entire film whilst having no room for movement, and Laurent delivers a thoroughly absorbing performance that is impressive to say the least.
Oxygen also excels in its symbolism, and there's an everpresent metaphor for birth that gives the film more depth and beautifully blends in with its most philosophical themes, such as the fact that Liz herself experiences a rebirth of sorts, having woken up from a long sleep with no memories of her former life. The film's stunning cinematography allows for incredibly impactful imagery, such as a long shot that shows our protagonist laying in her box, alone and surrounded by darkness, that makes her cryogenic pod resemble a mother's womb. These poetic undertones are everpresent in the film, and resonate even more in our post-COVID world, where we have become all-too-familiar with the feeling of being isolated, in an unrecognisable world, fighting for our own survival and with no clear idea of what the future holds.
If memories make us who we are, what is it that makes us human? That is the ultimate question asked by the film, and the answer it simple yet incredibly effective: faith. Though Oxygen warns us about the ethics of scientific advancement and experimentation (in a way that's best left unspoiled), the film also trusts humanity's ability to overcome even the hardest of ordeals by simply being the best possible version of ourselves we can be. Aja's film is not without flaws, but the director takes full advantage of the cinematic medium to craft a movie where sound, visuals, and editing go hand in hand to bring us something unique nonetheless, made even more unforgettable by Laurent's committed performance. Part tense survival thriller, part investigative drama, and part philosophical meditation on human existence and identity, Oxygen is a thoroughly absorbing, thought-provoking film, and it's not to be missed.
---
Oxygen (Oxygène) premieres on Netflix on May 12, 2021.