On the Count of Three Film Review: A Tense, Exciting Black Comedy

On the Count of Three (Sundance Institute)
On the Count of Three marks a superb directorial debut from Jarrod Carmichael, who handles touchy subject matter adroitly.
---

On the Count of Three is a pitch-black comedic buddy comedy about two suicidal friends who make a pact to help each other commit suicide at the end of one last day together. Each has a few goals left to accomplish before they commit suicide. This is a movie made up of surprising moments and a series of slow reveals, so I'm loathe to describe more of the plot lest I ruin the sense of discovery, here, from a freshman filmmaker.
I hate when I read critics grasping to compare a film to an existing filmmaker. It's lazy, inelegant criticism, and yet now I find myself utterly longing to compare On the Count of Three to a Safdies movie. It echoes their trademark sense of dark humor, tethered to a tense and consequential narrative. Critically, where writer/director Jerrod Carmichael (Ramy) has evolved the formula is the direct way he immerses the narrative in racial realities of the day.
Carmichael and Christopher Abbott star as the two lead friends. Carmichael brings a real sense of sadness and ennui to his performance. His character's depression – and desperation – feels palpable. Abbott, a Sundance wunderkind from films as diverse as James White, Possessor, and Black Bear, has fast become known for his committed intensity in roles. Here, he plays a bit looser and is no less credible as a depressed dirtbag sort. One scene, here, sees Abbott singing Papa Roach's "Last Resort" at the top of his lungs as he speeds down a highway – it helps brings this character to life in a memorable way based on Abbott's effort. I had not realized Abbott had this sort of gift for comedy, but his timing is absolutely superb.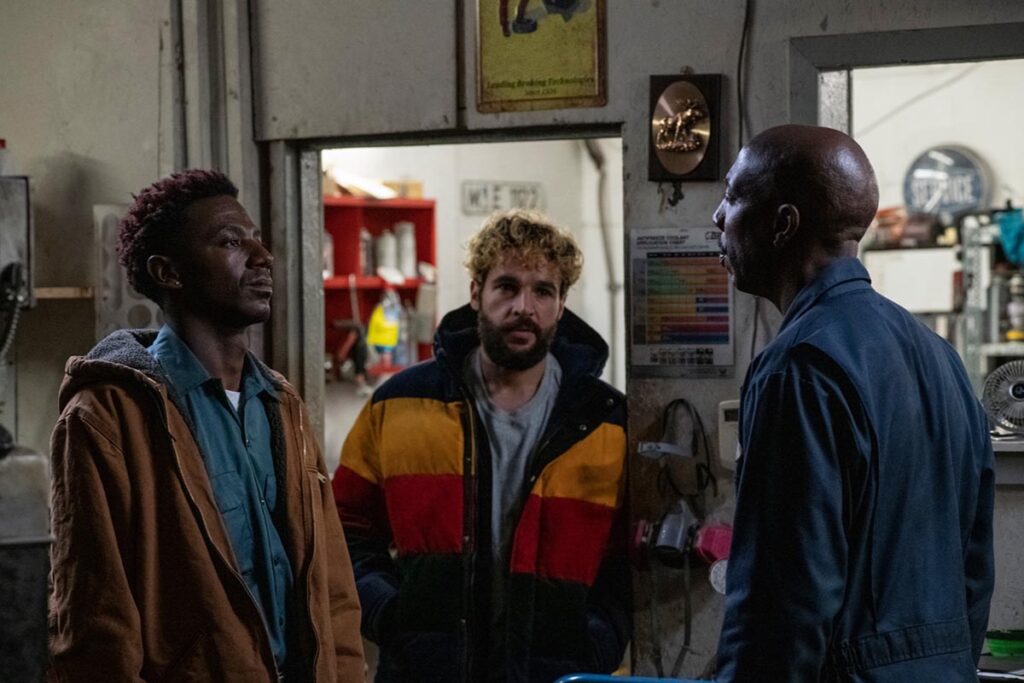 The supporting cast is all aces as well. Henry Winkler (Barry) plays very against type, here, and is effective in minimal screen time. J.B. Smoove too is cast against type and is successful as Carmichael's character's deadbeat dad. The real standout from the supporting cast – and I must admit I never would have imagined typing this – is Tiffany Haddish. She effectively dials down her comedy shtick and finds a degree of gravitas I never realized the actress possessed. Her charisma remains intact, so she makes for a splendid sparring partner in her scenes with Carmichael.
Carmichael – a first time film director – deserves special note. He's incredibly smart about how he sets up his performers to succeed. Even when using a severe angle, he gives each actor the edit necessary to really inhabit their roles. This is clearly not a large-budgeted film, but he manages to make a late chase scene feel surprisingly epic and substantial. As a writer, he's crafted something very funny despite its very serious subject matter. Carmichael is smart in how he explores race, here, often using Abbott as an avatar to touch upon issues. The film is savvy in the way it addresses the intersection of race, poverty, mental health, and suicide. It's extremely touchy subject matter, and Carmichael has largely managed to carve out a unique voice, here. Even if the film's story failed to connect, he'd still be a directorial talent to watch.
Sometimes, when you watch a festival movie, you can feel the divisiveness exuding from the film. On the Count of Three is very clearly one such film. A lot of people are not going to be so keen on a movie that happily tosses dark comedic elements into a story so fraught with mental health issues. Candidly, I'm not expert enough to opine, here, beyond saying that I found the film extremely compelling.
---
On the Count of Three premiered online, at the 2021 Sundance Film Festival, on Friday, January 29, 2021. The film will be released in select US theaters and on digital platforms on May 13, 2022.