Mulan (1998) Review: A Flawless Feminist Fable

Mulan (Walt Disney Studios)
Mulan was a revolutionary risk for Disney, but this ageless adventure still strikes a chord with audiences all these years later.
---

Though they sometimes receive controversial critical reception, Disney's live-action adaptations of their acclaimed animated fairy-tales – from Alice in Wonderland to The Jungle Book to Beauty and the Beast – have been ludicrously lucrative for the studio, earning billions of dollars at the box office and forming fruitful new franchises. Following the sensational success of last summer's The Lion King (which grossed $543.6 million domestically and $1.657 billion worldwide, second to only Disney's other 2019 triumph, Avengers: Endgame), Disney was poised to secure yet another smash hit with Niki Caro's take on the tale of Mulan. Rooting her "reinvention" in realism, Caro focused on fashioning a film with a more "epic" feel that captured the core of the classic Chinese folk story ("The Ballad of Mulan") and better celebrated the country's culture; however, these desires did also lead to the long since debated decisions to cut out fan-favorite characters (like Eddie Murphy's Mushu and BD Wong's Li Shang) and shed all songs from the story (move aside, "I'll Make a Man Out of You"!).
Nevertheless, Disney devotees remained riveted by Mulan's mesmerizing marketing campaign, which stressed the film's sweeping scope and astonishing action, promoting a picture that had more in common with Crouching Tiger, Hidden Dragon than Cinderella. In addition, Mulan became the first of Disney's live-action adaptations to be rated PG-13, another sign of a more mature movie in the making. For once, critics had reason to be cautiously optimistic of a remake of a Disney classic, and from word out of the film's Hollywood premiere on March 9th, the Mouse House had another home run on their hands, with many praising Caro's dynamic direction, lead Liu Yifei's poignant performance, and some ferocious fight choreography. Unfortunately, within the next three days, the world became caught up in the chaos of coronavirus, forcing the film to relinquish its initial March 27th release date, being put on hold indefinitely before eventually journeying to July 24th.
Though the live-action adventure is now aiming for a release on August 21st, in the meantime, we can take today to treasure the mighty myth of Mulan by observing the original animated achievement from 1998. In the eighth edition of "Flashback Films," we investigate Mulan's indisputable influence on female fans over the past 22 years and shine a light on its long-lasting significance for the stars of Disney stories that followed.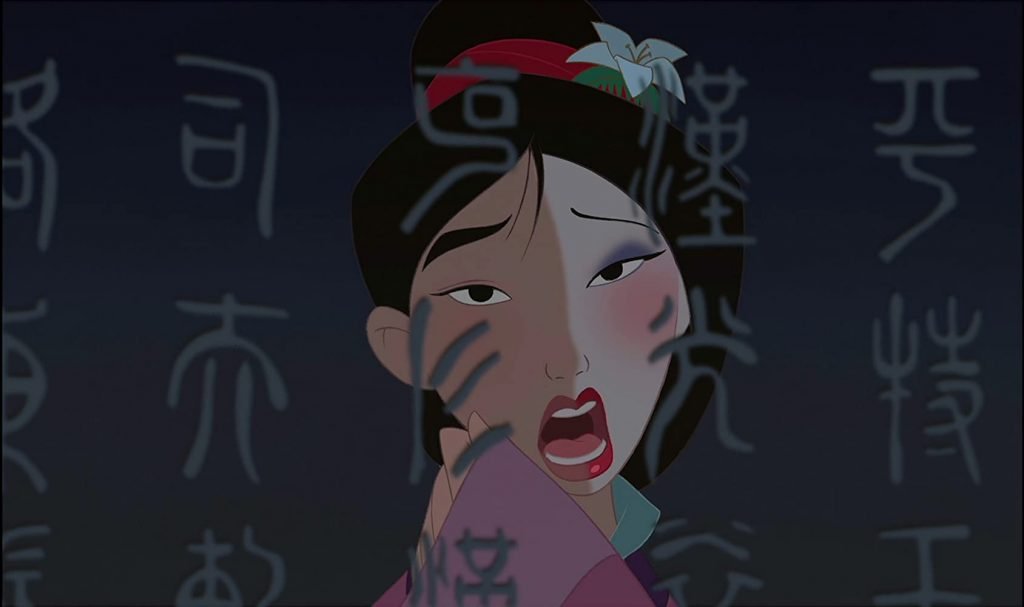 In the early 90s, Disney Feature Animation was interested in adapting Asian-American legends, and they originally sought to start production on a short film entitled China Doll, which would spotlight a "suppressed" and "suffering" young Chinese woman who was "liberated" by a "beauteous" British prince who helped her "find happiness" in the West. Taken aback, Thomas Schumacher – president of Disney's animated division at the time – pointed out the profoundly problematic pieces of China Doll's plot, and after doing so, he sought the advice of award-winning children's book author Robert D. San Souci, who had been assisting in other assorted affairs for the company. San Souci soon noticed some similarities between the short film and the story of "Hua Mulan," and he suggested that the company use that famed folk tale as inspiration instead. Thanks to his impressive input, San Souci was then hired to tackle a feature film treatment, and the creation of Mulan commenced.
Though plenty of Disney's pictures had featured female protagonists up to this point, Mulan still started to stand out as a new step forward for the studio. San Souci's story starred a strong-willed heroine who felt separated from Chinese society due to her inability to conform to customs expected of a "young maiden," succinctly setting her apart from the more stereotypically "ladylike" Disney leads such as Ariel, Belle, and Jasmine. When the Emperor of China circulates conscription notices requiring one man from each family to join the army in war against the Huns, Mulan doesn't waste any time before leaping into action and taking her ailing father's place, conveying her courage and conviction and further differentiating herself from the "princesses" of Disney's past.
While Mulan sharpens her skills in combat at the military's training camp (as the male "Ping"), the movie continues to circumvent any potential problems in its premise. For starters, though Mulan grows close to her captain, Li Shang, any romance is relegated to the fringes of the film, with the focus first and foremost remaining fixed on Mulan's more-pressing progression as a warrior; this is in sharp contrast to other chronicles of the "Disney Renaissance" – such as The Little Mermaid, Beauty and the Beast, and Aladdin -where the love stories take center stage.
Furthermore, despite some critics complaining that "Mulan needed to become a boy in order to accomplish anything" (in regards to her riveting resistance to the Huns in the film's climax), this just simply isn't the case. Yes, Mulan does hone her craft in conflict as a result of her time disguised as a male in the military, but by the third act, she has learned that living as "Ping" was simply placing herself in yet another identity that wasn't ideal. As she faces off against Shan Yu, leader of the Huns, she stands as her true self, free of any façade, with her wit and wisdom supporting her ultimate success. By meeting Shan Yu in a skirmish as "Mulan" and embracing what everyone had counseled her to "cover up" throughout her life, Mulan finally comes to cherish her character as it is, devoid of any self-doubt – and what a lovely lesson that is for audiences around the world.
See Also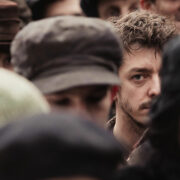 Mulan has also found a forceful following amongst the LGBTQ+ community over the years for these very themes, as many gay and trans youth relate to Mulan's incessant insecurities and feelings of failure over the inability to conform to the culture at large. In the momentous musical number "Reflection," Mulan seemingly speaks for all who feel secluded because of their sexual identity, noting that "if [she] were truly to be [herself], [she] would break [her] family's heart." That pain is so potent for so many in the community who find themselves cornered in the "closet," as, like Mulan, they too "cannot hide who they [are], though they've tried," and they are caught between coming out and risking rejection or staying silent and "safe". For those who yearn for their "reflection [to show] who [they are] inside" as well, Mulan is a miraculous marvel, offering escapist entertainment that illustrates an individual who is released from these restraints and lives the life they long desired. Simply put, Mulan holds hope for a future of freedom.
The film's assessment from Asian-American audiences isn't quite as enthusiastic (mostly due to the disputed debut of the dragon Mushu – voiced by Eddie Murphy – since the real Mulan had no "animal associates" on her adventures), but Mulan did attain acclaim for casting countless Asian voice actors in lead roles. Aside from Ming-Na Wen (The Joy Luck Club) as Mulan herself and BD Wong (Jurassic Park) as Li Shang, two members of the trio Mulan trains alongside are voiced by actors of Japanese descent (Gedde Watanabe as Ling and Jerry Tondo as Chien-Po), and many members of the supporting cast are culturally appropriate actors as well. Compared to a movie like 1992's Aladdin – which controversially cast white actors Scott Weinger and Linda Larkin as the Middle Eastern Aladdin and Jasmine – Mulan was an immense improvement for Disney and confirmed their commitment to being considerate of the countries and cultures they covered.
Without the momentum from Mulan's subversive success – both critically and commercially (as it represented a "bounce back" at the box office for Disney after the merely passable performances of The Hunchback of Notre Dame and Hercules) – it's unlikely we would have the hearty heroines of the here and now, such as The Princess and the Frog's tenacious Tiana, Tangled's riotous Rapunzel, Frozen's audacious Anna, and the motivated Moana. But Mulan didn't just lay a foundation for Disney's future female representation; the picture – and its protagonist – provoked a progressive passion in the public that is just as palpable today as it was over two decades ago, and it still serves as a stirring odyssey for outsiders of all shapes and sizes.
---
Mulan (1998) is now available to watch on digital and on demand. Read our review of Mulan (2020).