Moon Knight (Episode 4 Review): Where Is My Mind?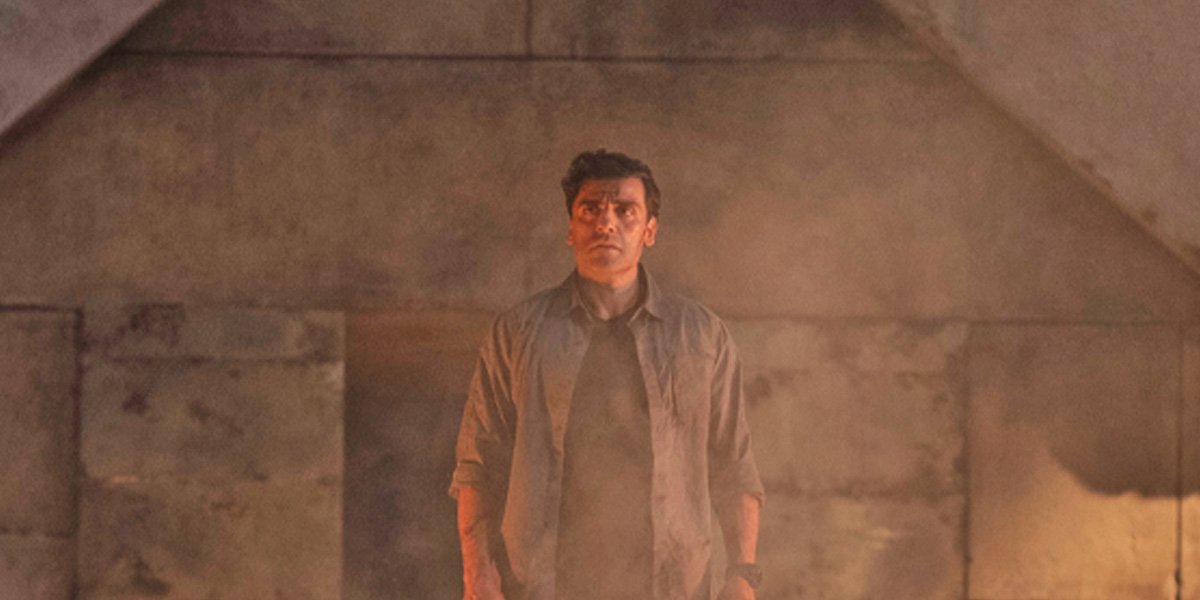 Oscar Isaac as Marc Spector/Steven Grant in Episode 4 of Moon Knight (Csaba Aknay. © Marvel Studios 2022. All Rights Reserved)
Episode 4 of Moon Knight dabbles in more action-adventure-horror genre fun and lets Steven take control again, but then takes a really bold, interesting turn.
---
As a result of his impressive sky gymnastics last week, episode 4 of Moon Knight starts with Khonshu imprisoned in a stone statuette, leaving Marc and Steven suit-less and power-less. But that doesn't dampen the action as the episode continues to play with genre, develop the dynamic between Steven and (Marc's) wife Layla, and offer a really intriguing and narratively exciting surprise.
Steven (Oscar Isaac) and Layla (May Calamawy) have found Ammit's tomb, but soon realise that the path to its centre is a maze. Steven's knowledge and Layla's resourcefulness get them through the worst of it, sharing a kiss along the way to Marc's (Oscar Isaac) horror. But then Harrow (Ethan Hawke) throws a spanner in the works, telling Layla another one of Marc's secrets and confronting them just as Steven (and Marc) discover a very old, very important sarcophagus.
In our review of episode two, it was noted how Moon Knight is a show that 'simultaneously feels like it has a specific idea of where it's going' and also that it could take 'a bizarre left turn and become something completely different'. And that's essentially this episode in a nutshell, but in the best possible way.
The first two thirds are an amalgamation of action-adventure – think Tomb Raider / Indiana Jones vibes as Steven and Layla solve puzzles and traverse through traps in the maze – and horror (zombie mummies!) genre style storytelling, that works to advance the plot as much as it does endear us even more to Steven, once again holding the reigns. His excitement at getting to undertake such an adventure is palpable and really feels like an embodiment of the audience's eagerness to spend time with him, and emphasises the point made in last week's review about how the show feels less fun when it's Marc-focussed. It's been said consistently but Isaac is terrific in this role(s), and he – and the show itself – is really smart in utilising the two contrasting personalities of Marc and Steven as each episode weaves about in genre and tone.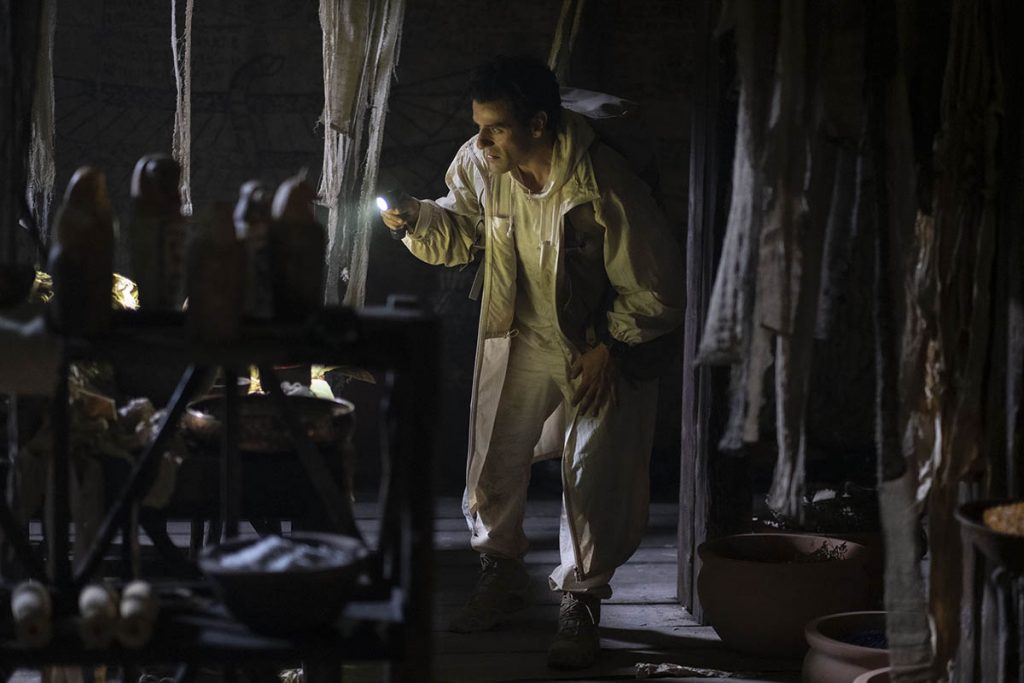 The maze antics are genuinely fun in the vein of those classic-style adventure movies, and the horror sequence is genuinely creepy. But the show is at its cleverest when it weaves more serious topics, such as the death of Layla's father – we were right last week, it wasn't a throwaway reference – and the exploration of psyche, into the fun stuff. The jump from jokes and frothy adventuring to more serious discussions doesn't feel too jarring, because a central theme of the show from the beginning has been duality, that turning-on-a-dime nature of Marc's condition.
And this leads us nicely on to the final third of the episode that certainly takes a dramatic turn. It's a sequence that's really cleverly constructed, full of easter eggs and crafty stylistic touches, and takes the show in a really interesting direction. In the interest of avoiding spoilers, we won't go into too much detail, but we will say that it makes it abundantly clear that Moon Knight is a show unafraid of taking risks, of swinging for the fences and going for broke. It is absolutely bananas, but in the best possible way.
Episode 4 is the best episode by far, because it manages to take the show in an entire new direction, without making everything that's happened so far feel inconsequential. It continues with what had been so fun and fresh-feeling from the previous three episodes – the character dynamics, playing in the genre toybox, the mythology – and avoids any notion of predictability by shifting gears in an audacious way.
See Also

There's the suggestion that the show will end as it begins, with an exploration into Steven/Marc's Dissociative Identity Disorder, but then there's also the distinct possibility that it will continue to surprise us and become something completely different. Moon Knight has blossomed into a fun, engaging, bold show week by week, and episode 4 proves the road ahead looks likely to be equally as bonkers, surprising, thoughtful and unexpectedly hilarious.
Laters, gators!
---
Moon Knight 's Episode is now available to watch on Disney Plus.
---
WATCH MOON KNIGHT: EPISODE 4:
---
JOIN US!
Don't miss our monthly updates with film news, movie-inspired recipes and exclusive content! You'll only hear from us once a month. #nospam