Moon Knight (Episode 5 Review): The Memory Remains

Oscar Isaac as Marc Spector/Steven Grant in Marvel Studios' Moon Knight (Csaba Aknay. © Marvel Studios 2022. All Rights Reserved)
After last week's surprising shift, episode 5 of Moon Knight is the show's most emotional, bold and rewarding episode yet.
---
This review contains mild spoilers for episode 5 of Moon Knight ('Asylum').
For all the superhero action, Egyptian mythology and adventures in the desert, the heart of Moon Knight has always been with Steven and Marc. Episode 5 does what we predicted in our review of the series' premiere and brings its focus internal, exploring their memories and relationship, while they externally battle for their soul. It's a risky episode, but also a really rewarding one.
Like us, Marc and Steven (Oscar Isaac x2) were pretty surprised to come face-to-face with a talking hippopotamus at the end of last week's episode. This one kicks off immediately after the fade-to-black, and said giant hippo is revealed to be Taweret (Antonia Salib), the Egyptian goddess of women and children. A tad shellshocked, Marc and Steven are told that they were shot by Harrow (Ethan Hawke), it wasn't all a drug addled dream from a psych ward after all (or was it?), and Taweret is there to lead them on the road – or, more accurately, boat – to the Underworld. But first they need to ensure their hearts are balanced by confronting repressed memories and being truly honest with each other, or they'll find themselves thrown overboard and frozen in the sand.
Tasking risks isn't exactly a new concept for Marvel; after all, Iron Man and Captain America weren't widely popular comic characters, and the entire MCU has blossomed from their successful adaptation onto the big screen. But there's something about Moon Knight that feels different, that feels like a studio content to explore the complexities of the human mind through the prism of a 'superhero' story because they've earned the confidence to do so. Episode 5 is a marked departure from the previous four, but it's perhaps the most engaging, bold and emotional episode yet. With Steven and Marc physically able to interact with each other, it's a really interesting way of navigating their connection; the memories they share and those Marc has chosen to hide away, and of understanding what they do for each other.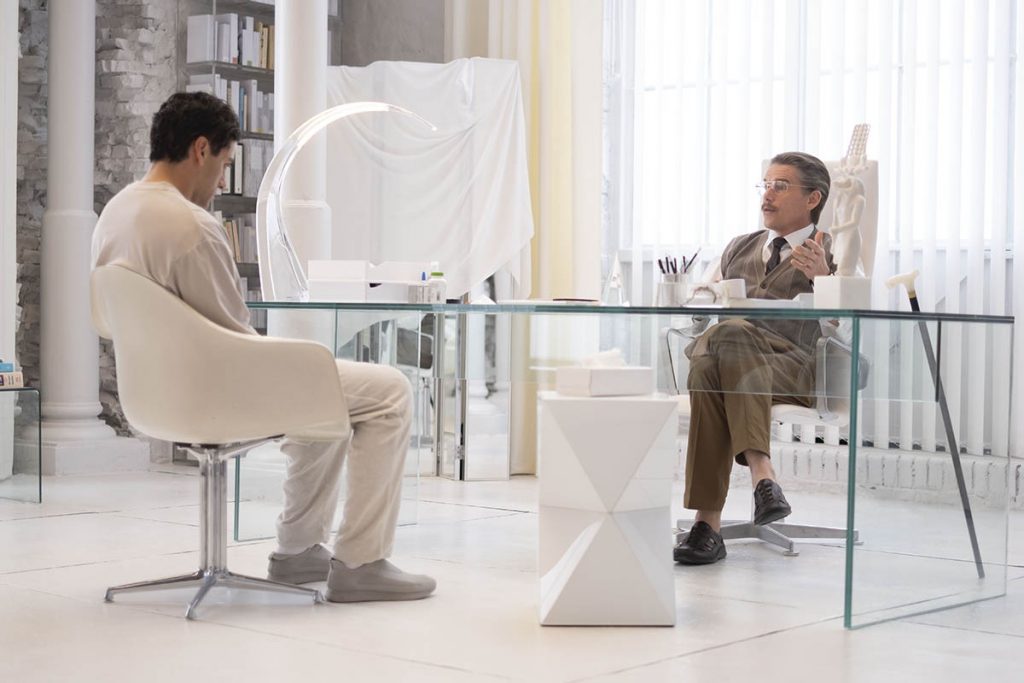 Isaac is, as always, tremendous in both roles, showing Marc's resignation and emotional vulnerability as well as Steven's optimism and emotional naïveté. It's really quite powerful watching Marc's reluctance to delve into his darkest secrets for fear of Steven knowing them, and then Steven – and, by extension, the audience – finding them out anyway. It really highlights the commitment the creative team – Isaac, who also exec. produces, as well as director Mohamed Diab and writers Rebecca Kirsch and Matthew Orton – have taken to making Moon Knight a sensitive and surprising character study, instead of what could have been just another rote chapter in the MCU's superhero storybook.
So where do we go from here? As always with this show, it's very difficult to say. Without giving too much away, it definitely feels like Marc's story going forward, and it feels unlikely that the show will return to its genre-bending fun now that it's addressed the elephant – or maybe hippo is more apt – in the room: Marc's fragile mental state, his trauma and Steven's reason for 'being'. Episode 5 is Moon Knight at its highest, boldest and most emotional peak yet; next week can't come soon enough.
Laters, gators!
---
Moon Knight 's Episode is now available to watch on Disney Plus.
---
WATCH MOON KNIGHT: EPISODE :
---
JOIN US!
Don't miss our monthly updates with film news, movie-inspired recipes and exclusive content! You'll only hear from us once a month. #nospam