Mission: Impossible – Dead Reckoning Part One Review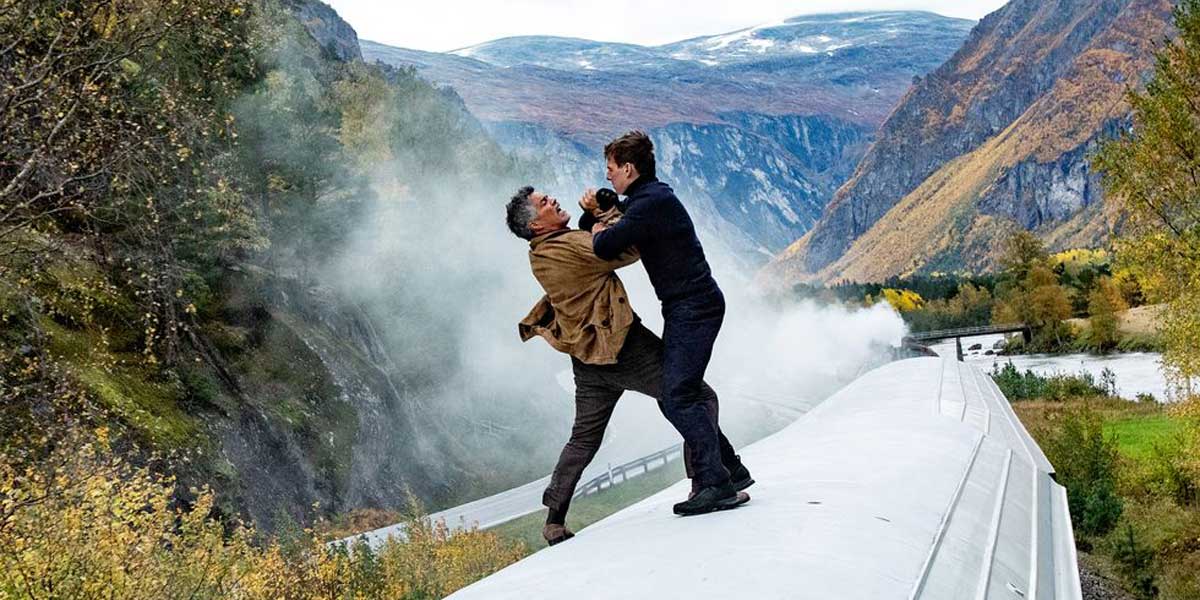 Mission: Impossible – Dead Reckoning Part One (Paramount Pictures)
Mission: Impossible – Dead Reckoning Part One makes a strong case for why nobody does blockbuster cinema like Tom Cruise and Christopher McQuarrie.
---

Avatar: The Way of Water and Top Gun: Maverick brought audiences back to theaters last year by offering moviegoers fresh, new experiences. Despite James Cameron having the highest grossing film of the year with The Way of Water, Tom Cruise was the one individual who was celebrated by most – including Steven Spielberg himself – for encouraging older audiences to support cinema on the big screen with Maverick. You might not agree with his personal beliefs, but he's one of the last living movie stars in the world; he can sell a film with his untouchable persona. Top Gun: Maverick in itself is a great movie, but you'd be lying to yourself if you didn't keep coming back to Maverick due to its marvelous stunts performed by the cast. Now, Mission: Impossible – Dead Reckoning Part One continues to prove why Cruise and his decade-long collaborator Christopher McQuarrie are masters of action filmmaking.
Ethan Hunt (Tom Cruise) and his IMF team are in pursuit of a dangerous new weapon in the form of an AI program that threatens all of humanity. Almost every country in the globe wants to get their hands on the weapon for absolute control of the world's future. With the entire planet at stake – being chased by bounty hunters and mysterious new enemies – Ethan is confronted with the reality that nothing can matter more than his mission, not even the lives of his closest friends.
In a time of uncertainty where Hollywood is threatening the livelihoods of numerous artists due to AI, unfair wages, and more, it's greatly appreciated Christopher McQuarrie and Tom Cruise made a film about the importance of human choice over an artificial intelligence. Mission: Impossible – Dead Reckoning Part One attempts to juggle a lot of plot that at times can be overwhelming, but its core themes and heart always push through to deliver an entertaining viewing experience. Every other M:I movie is sold as the most impossible mission yet. Although not the best in the series, Dead Reckoning Part One does have the greatest stakes.
Perhaps it's since J.J. Abrams' Mission: Impossible III thathas the franchise hasn't given Hunt much to lose in one of these movies. He's confronted with decisions that could cost him dearly in Dead Reckoning Part One, and they actually do this time around. In previous missions, Ethan manages to get out of tight situations, saving the world and those he loves. Here, he faces consequences that will probably change the way he approaches danger in the future. Those kinds of character defining moments is what makes the latest M:I so compelling, not just mindless entertainment.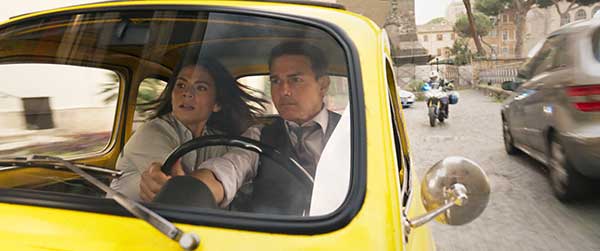 For what it's worth, when Mission: Impossible – Dead Reckoning Part One wants to focus on pure high-octane action, it does it beautifully. Actually, there is a lot of spectacle for you to enjoy with this one. At times it can feel like a little too much, but it is never dull. What helps balance out the set pieces with the heavy plot is its humor. This might be the funniest entry in the M:I franchise. Some of the best bits come from newcomer Grace (Hayley Atwell, What If…?).
Grace is a thief who stumbles her way into Hunt's team after attempting to steal half of a key that could unlock the AI weapon. Atwell is a scene stealer, delivering a character that's an outsider and a badass in the making. Her chemistry with Cruise is contagious. There is a chase sequence taking place in Rome involving both Grace and Ethan that is thrilling to watch. This set piece is a perfect example of McQuarrie's abilities to balance different tones. One minute you're on the edge of your seat as Grace is ambushed, the next you're laughing out loud as Hunt is struggling to drive an extremely small car while handcuffed to Grace.
As for returning characters, Benji (Simon Pegg, The Boys) and Luther (Ving Rhames, Wendell & Wild) are as sweet as ever. Their sincere friendship with Ethan has always sold the stakes of our hero's journey and it remains the same here. Ilsa (Rebecca Ferguson, Dune: Part Two), though, brings just as much energy as her previous appearances. She gets a really cool action scene in the first act in the desert that establishes just the kind of vibe you'd want from a M:I. Vanessa Kirby (The Son), as The White Widow is back as well and continues to prove she's the best Bond girl to have ever appeared in a 007 film. The dilemma she creates challenges Hunt in ways Mission: Impossible – Fallout promised, but didn't necessarily explore to its full potential.
Now, onto other new characters, we have the duo working for the AI program in Gabriel (Esai Morales, Master Gardener) and Paris (Pom Klementieff, Guardians of the Galaxy Vol. 3). While Paris makes for an imposing physical threat to Ethan – particularly shining in an alley fight against Hunt – Gabriel presents a psychological threat. Unfortunately, Gabriel comes off as your typical villain who's coming back from our hero's past to haunt him.
Esai Morales is doing his job well, though the script is not giving him much meat to chew on. Shea Whigham (Joker) and Greg Tarzan Davis (Grey's Anatomy) play agents Jasper and Degas in pursuit of Ethan. They don't add much to the narrative besides being an obstacle for our protagonists, though the film leaves them in an interesting position for more development in possible future inclusions.
See Also

It'll be interesting to see how the film's plot will play with general audiences. On the surface, it appears to be relatively simple: Ethan Hunt must find the key to this new dangerous weapon before anyone else does. The thing about this, though, is that everything quickly becomes needlessly complicated. You should know by now that Mission: Impossible is heavy on plot, but this is particularly true with Dead Reckoning Part One. Motivations for side characters aren't always clear, exposition is often spelled out very fast to the point you're trying to catch up, and the movie's villains aren't as entertaining to follow as previously established ones.
By now, you should have a good idea of what kind of film you're getting yourself into. After all, it is M:I. Expect unbelievable stunts – the motorcycle cliff jump is impressive, though by far the best set piece is the train crash – that will leave you speechless. You'll get more solid humor from fan-favorite characters, Atwell being the highlight.
Above all, Mission: Impossible – Dead Reckoning Part One packs a lot of heart, stakes, and meaningful themes. The villainous AI program might be too on the nose for some, but, again, in an era where certain folk don't see the danger it possesses, you can't blame McQuarrie and Cruise for being straightforward about the message they're sending here. Its antagonists leave a lot to be desired, but that can be easily fixed with more development in part two of this story arc in Ethan Hunt's journey.
---
Mission: Impossible – Dead Reckoning Part One will be released globally in theaters on July 12, 2023.