Mack & Rita Film Review: Ode to the "Inner Old Gal"

()
Diane Keaton is having a blast in Mack & Rita, an enjoyable enough body swap comedy that misses the opportunity to delve deeper into its themes.
---

When we first meet Mack & Rita 's protagonist, she's only a child. And yet, even at a young age, Mack (Molly Duplass) already feels like she's "an older woman trapped in the body of a little girl." As she hangs out with her Grammie Martin (Catherine Carlen, of Sharp Objects), "the coolest old gal she ever knew," she admits that all she's ever wanted to do was to be like her. But she soon realised that, if she wanted to fit in, she had to conform to the masses, pretending to be someone different – or, as she puts it, "hiding what she thought was cool and getting into what her friends thought was cool," and ultimately keeping her "inner old gal" to herself.
And so, Mack grows up, and, when we next see her (played by You's Elizabeth Lail), she's thirty years old and fairly popular. Not only is she a published author and a minor influencer, but she also has three cool friends who lend her stylish clothes and take her to parties – both activities she wouldn't be doing if it were solely up to her. The friends in question are Sunita (Aimee Carrero, of Blindspot), Ali (Addie Weyrich, of The Marvelous Ms Maisel), and her very best friend, Carla (Taylour Paige, of Zola), who is about to get married. But when the four friends head to Palm Springs for Carla's bachelorette trip, Mack, who's in desperate need of a quiet afternoon to herself, stumbles upon a weird sound bath regression pod owned by the equally bizarre Luka (Simon Rex, of Red Rocket). Desperate to lie down, Mack enters the pod… and happens to come out of it transformed into a 70-year-old woman.
Needless to say, Mack isn't exactly thrilled about the transformation: it's one thing to keep telling everyone that you're "a 70-year-old woman in the body of a 30-year-old," but it's another thing to actually experience the age change, with the physical transformation that comes with it. Mack & Rita 's director Katie Aselton (Synchronic) and writers Madeline Walter and Paul Welsh (Killing It) cleverly send that message across several times throughout the movie, as not only does Mack eventually rejoin her friends, but she also learns a whole lot from their grandmas (Loretta Devine's Sharon, Lois Smith's Betty, Nicole Byer's Urth, and Amy Hill's Carol), who aren't exactly what she expected them to be like either.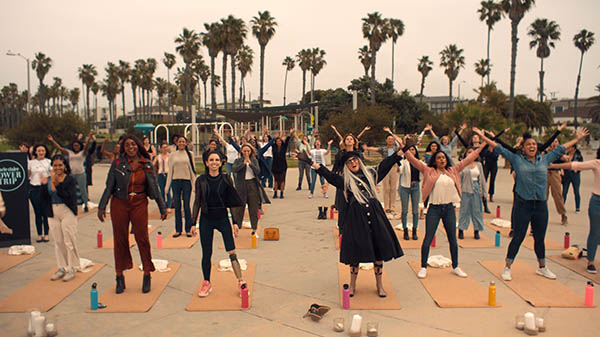 But our protagonist, who now calls herself Rita and pretends to be Mack's aunt, is also not a typical 70-year-old, as she's played by the great Diane Keaton, in a role that feels like it was tailor-made for the Annie Hall actress. Keaton is clearly having a blast being her wonderful self on camera (her most attentive fans will notice that her character's drinking habits reflect her own, too), and part of the fun of watching the movie comes from seeing her laugh, change into gorgeous outfits, and adapt to a series of situations by always letting her personality shine. Keaton shares several scenes with Schitt's Creek's Dustin Milligan, who plays Jack, a guy who lives in Mack's building with whom she forms a close (if a tad unrealistic) bond as Rita, and their scenes together are also enjoyable due to the unexpected chemistry they have with one another.
Unfortunately, Mack & Rita 's remaining characters don't really leave much of a mark on us. We're never really told much about Mack's friends besides the fact that the four of them are friends and that they adhere to their age group's social habits and like to wear flashy clothes. Taylour Paige has a little more screentime but her talent is still wasted in the film, as her role pretty much consists of keeping Mack's secret and being there for her, instead of being her own person. Likewise, the older cast is also there to serve as an example of their age group that enables Mack to grow and realise that she doesn't want to belong to it yet, and Wendie Malick's Angela, Mack's agent, is there to provide more opportunities for Rita to be seen, as it appears that Mack's alter-ego is much more in demand than Mack herself ever was.
Of course, the reason for Rita's popularity lies in the fact that, as Rita, Mack gets to be herself without worrying about whether or not other people will like her, and who we see as a result is an assertive, brave woman who knows exactly what she likes and wants (as well as what she doesn't want), and people like her a whole lot more precisely because of that. This is where Mack & Rita is at its best, as this body swap comedy is actually an invitation to be exactly who we want to be and embrace our own "inner gal," forgetting about appearences and focusing on our own needs and likes.
It's a shame that the film doesn't take this analysis one step further, exploring the way societal expectations shape our need to conform to our peers, and the detrimental role played by social media in all of this, even more so considering that Mack and Rita are both influencers of sorts. Instead, we are treated to a series of occasionally funny scenarios and stereotypical remarks about men (the film barely passes the bechdel test) that paradoxically simplify the themes at Mack & Rita 's core, making it have less of an impact by the time it reaches its inevitable happy ending.
Even then, there's still something to enjoy about Mack & Rita, starting from excellent performances from Diane Keaton and Dustin Milligan and the positive message of acceptance and self-love it still sends: even though they might not have been developed to their full potential, the movie's themes are still extremely relevant in our day and age. If you approach the film without expecting too much from it, you'll still have a good time following Mack and Rita on their adventures, and perhaps you'll also learn a thing or two about yourself.
---
Mack & Rita was released in US theaters on August 12, 2022.