Lucky Grandma: Tsai Chin's Crime Comedy is Charmingly Chaotic (Review)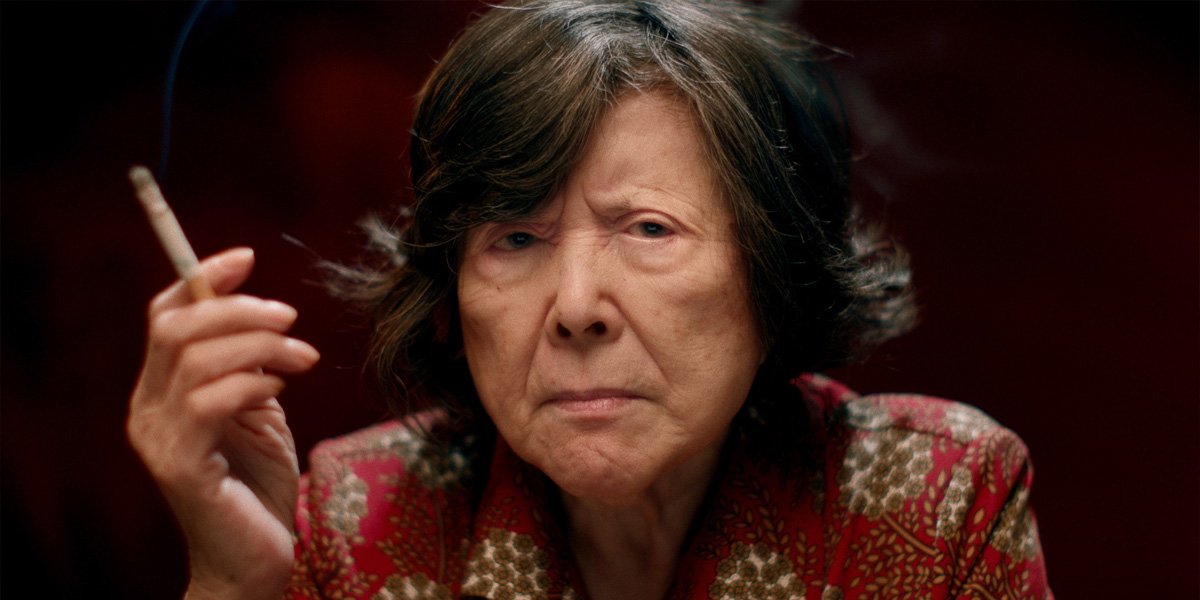 Tsai Chin in Lucky Grandma (Signature Entertainment)
Lucky Grandma serves as a showcase for the side-splitting acting skills of star Tsai Chin first and foremost, amusing audiences everywhere.
---

Right from the start, it's apparent that Lucky Grandma is offering star Tsai Chin an opportunity to portray a different persona than she's ever played before. The acclaimed 86-year-old actress, perhaps best known stateside for her work in 1993's cultural classic The Joy Luck Club, has certainly never shied away from pursuing "grandmotherly" parts in the past – from Rob Marshall's Memoirs of a Geisha to Disney Channel's Wendy Wu: Homecoming Warrior to the Chinese television series The Dream of Red Mansions to last year's animated hit Abominable – but in many ways, Lucky Grandma allows her to subvert the sensibilities she's simulated before and embrace much edgier eccentricities. Forget what you think you know about any of her former favored grandmother figures – Lucky Grandma is thrilling new territory for the octogenarian, allowing her to take on a raucous role that exemplifies the full extent of her tremendous talents.
Lucky Grandma centers on the grumpy Grandma Wong (Chin), an often-ornery older woman who is constantly scolded by her son Howard (Eddie Yu, of Fox's Lethal Weapon and ABC's Grey's Anatomy) for "not properly taking care of herself" (mostly in reference to her ceaseless chain-smoking) and ultimately asked to uproot her life in Chinatown and move in with his family in Brooklyn, where no one speaks Chinese and everyone treats her like she's already got one foot in the grave. Annoyed, Wong takes some time to herself to attend a local fortune teller (Wai Ching Ho, of The Sorcerer's Apprentice and Netflix's Daredevil), who shockingly states that Wong will have "a most auspicious day" coming up. Not one to miss out on an attempt to acquire new riches she can rub in her son's face, Wong heads off to a local casino with her life savings and bets big, initially triumphing time and time again at the tables. And then, it all comes crashing down.
Left with nothing, Wong dejectedly departs, taking a bus ride home and resigning herself to her funereal future. Fortunately, Wong's luck hasn't run out just yet, as the Chinese mob boss seated next to her on this bustling bus has a heart attack and dies, literally leaving his carry-on bag full of cash in her lap. Without a second thought, Wong seizes the moment and brings the bag with her upon arrival back home, but this development does not go unnoticed by the Chinese mafia at large, who set their sights on this gallant grandma. Fearing for her life, Wong employs the services of a strong-willed yet soft-spoken bodyguard named "Big Pong" (Corey Ha, of the hit Taiwanese television shows High 5 Basketball and Age of Rebellion), causing the two to form a "dynamic duo" of sorts as they evade their enemies and get caught in countless other chaotic circumstances.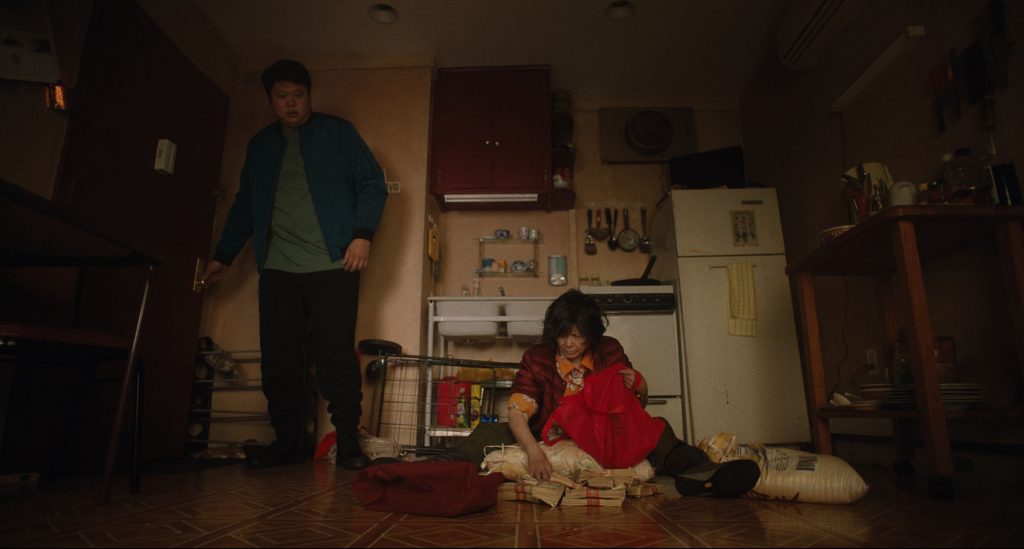 Writer-director Sasie Sealy says she was inspired by the Coen Brothers when concocting this crazed chronicle, and the influence of those acclaimed auteurs is indelible when analyzing the plot of Lucky Grandma as a whole, especially with Sealy's sharp sardonic wit so present in her snappy screenplay. In a way, the movie most clearly mirrors 1998's The Big Lebowski – a film that throws its "plain" protagonist into surreal scenarios that seemingly resist the rules of reality and still always efficiently engages and entertains the audience in spite of this unfolding absurdity. Sealy may not have the Coens' pitch-perfect pacing, nor does every deviation in Lucky Grandma wholly deliver (namely Wong's subplot with her son, which could have benefited from additional time to review their relationship), but her storytelling is so singularly strange and special overall that these merely amount to nitpicks in the long run. With an adventure highlighting gambling grannies, big-hearted bodyguards, and malicious members of the mafia, Lucky Grandma demonstrates the type of artistic audaciousness we claim to crave in cinema, and it feels so fresh to watch a film so uniquely unusual as this while totally trusting Sealy to sufficiently piece together this puzzle in the end.
Chin inhabits the ill-tempered identity of Grandma Wong wonderfully, spectacular in both her surliness at her surroundings and her stirring suspense when she finds herself in over her head. It's no surprise at this point that Chin is a completely capable comedian – brilliant in both broad comedic beats and when rattling off riotous remarks – but it's the additional compassionate characterization she affords to Grandma Wong that truly makes all the difference. When her real reason for pocketing all that cash comes to light, it's a poignant proclamation that's not only wisely written by Sealy, but tenderly told by Chin, and the synthesis of their savviness as artists allows the moment to mean as much as it does. All-in-all, though this is a crazed caper comedy through and through, but it's these stunning scenes of sentiment that truly shine.
Ha is a fantastically formidable foil for Chin's Grandma Wong as her beefy but (mostly) benevolent bodyguard, and their captivating chemistry is the core of film by far. Though Chin may be the lead, Ha's "Big Pong" is a necessary contrast to her consternation, suffusing the story with a sensitive soulfulness while also making good on his promise to protect Wong and bring out some old-fashioned bodyguard brute force when the moment calls for some "muscle." Despite their May-December age difference, these two peculiar personalities cultivate a cooperative and considerate connection with one another that adds humor and heart to the harrowing proceedings. "Big Pong" is a pleasure on his own, but it's the effect he has on Wong's mindset in life that makes the biggest impact.
Sealy proves to be as dynamic of a director as she is a screenwriter, framing all of this aforementioned foolishness with potency and precision. The locations she lingers on truly take on a life of their own – especially the colorful "Chinatown" – and she finds a way to channel both comedy and concern when depicting the danger posed by maniacal mafia in their crooked confrontations with our shifty stars. She's aided by some truly electrifying editing courtesy of Hye Mee Na (Chi-Raq, Showtime's Billions), which fosters the fervor of this frenzied feature, beginning with that crisply cut casino sequence at the film's start.
See Also

In the end, Lucky Grandma is an erratic but endlessly entertaining cinematic excursion, complete with colorful and compelling characters and a script that is both snappy and sentimental. Sasie Sealy commendably cements herself as an insightful indie artist on the rise, while Tsai Chin finds herself in a wacky and witty role that fits her like a glove. Even in spite of its abundant absurdity, this adventure clings to its charms the whole way through, earning your engagement throughout its expedient 87-minute runtime.
---
Signature Entertainment presents Lucky Grandma on Digital HD 9 November.
---
JOIN US!
Don't miss our monthly updates with film news, movie-inspired recipes and exclusive content! You'll only hear from us once a month. #nospam