Lady Chatterley's Lover (2022) Netflix Film: LFF Review

Emma Corrin and Jack O'Connell in Lady Chatterley's Lover (Sony's 3000 Pictures for Netflix © 2022)
Emma Corrin and Jack O' Connell shine in Netflix 's Lady Chatterley's Lover, Laure de Clermont-Tonnerre's steamy, stunning, though a little too male-centric adaptation of D.H. Lawrence's novel.
---

The controversial novel that was banned and brought to trial before it was even published has been adapted into a movie once more, and it's as scandalous and steamy as you'd expect it to be. But it's also a gorgeous, immersive film that lets us experience its protagonist's sexual awakening firsthand, placing us next to her as she endures an unhappy, loveless marriage and eventually takes her first steps towards a more fulfilled life. There's a lot to like in Laure de Clermont-Tonnerre's (The Mustang) Lady Chatterley's Lover, produced for Netflix by Sony's 3000 Pictures: it might even be the best adaptation of D. H. Lawrence's 1983 novel to date. Which isn't to say that the film is without flaws: it just so happens to be an improvement on its many predecessors.
The film tells the story of Lady Constance Chatterley (Emma Corrin, of The Crown), a woman born to a life of privilege who marries a wealthy man and immediately realises that it's not going to be a happy marriage. If the relationship was a little cold to begin with, when Clifford (Matthew Duckett) returns from the war things become even worse, as he's paralysed from the waist down and incredibly attention-seeking. And so, just like that, Constance is no longer a wife but a nurse, as her husband won't let anyone else care for him. Our unhappy protagonist spends her days bathing her better half, typing up his novels upon dictation, catering to his every need, and even pushing his very heavy wheelchair up and down the hills, as Clifford's not happy with the thought of his wife going outside on her own, enjoying her freedom while he can't.
Clifford Chatterley is shown right away as a very unpleasant, entitled man, whose selfishness is evident in the way he treats everyone around him. Matthew Duckett excels at making his character immediately unlikeable – the exact opposite of his wife, in fact – and we despise him even more when he asks Constance to find a man who would impregnate her, since he's been left impotent but he's desperate for an heir. And so, Constance feels even more alone, the weight of these unusual marital responsibilities adding to the feeling of being unloved, trapped in a house she hates and where she's not allowed to be her own person.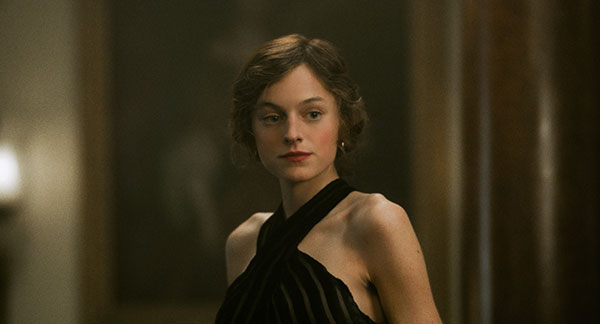 One day, her sister Hilda (Faye Marsay, of Game of Thrones) comes to visit. Seeing Constance in such physical and mental distress, she confronts Clifford and hires him a nurse, Mrs. Bolton (Joely Richardson, of Nip/Tuck), to give her sister some freedom. And so, Lady Chatterley starts enjoying some independence, walking on her own and enjoying the nature. But there are other views to enjoy at the Wragby estate, starting from gamekeeper Oliver (Jack O'Connell, of Seberg), with whom Constance is immediately taken. Needless to say, an affair begins between the two and the situation becomes more complex, not only for Constance and Oliver's reputations – since Constance is married and Oliver just so happens to have a wife who won't agree to a divorce – but also for the very real feelings they have for one another.
Emma Corrin and Jack O'Connell excel at showing us a fling that soon develops into something else, and the combination of a screenplay (Life of Pi's David Magee) that gives the lovers ample time to get to know one another and good chemistry between the leads allows for plenty of sexual tension, but also for awkward conversations that make their relationship more authentic. Around them, the villagers and the other people at the estate provide much-needed background on life in the mining village where the estate is located, where social unrest is a common occurrence for the men, and the women are gossiping but also, at times, being supportive of one another. As all of this happens, we're always by Constance's side, experiencing her emotions as she goes through different stages of her liberation, which is made all the more immersive by the film's stunning cinematography (Benoît Delhomme, of At Eternity's Gate) and great sound design. Corrin is the film's real standout, and her performance will give you Spencer vibes and affect you on an emotional level, making you instantly relate with her resilient, larger than life character.
So what, then, is wrong with Lady Chatterley's Lover? The BFI describes this adaptation as a "surprisingly timely" film, and, in some respects, it is. Though the movie is pretty faithful to its source material, a couple of things have been changed to make it resonate more with modern audiences, and the ending in particular is very effective. The character of Mrs. Bolton has also been given more humanity than in previous adaptations, and the relationship that develops between Constance and the nurse is one of the highlights of the movie. At the same time, the film is the opposite of timely when it comes to its portrayal of its titular character's wants and desires. Lady Chatterley's Lover is filled with steamy scenes that audiences will appreciate, but it's the way those scenes have been framed and depicted that feels like a paradox, as the film (like the novel) is supposed to be all about female sexual desire and pleasure, and yet what Constance seems to enjoy is a very male-centric and frankly unrealistic portrayal of sex.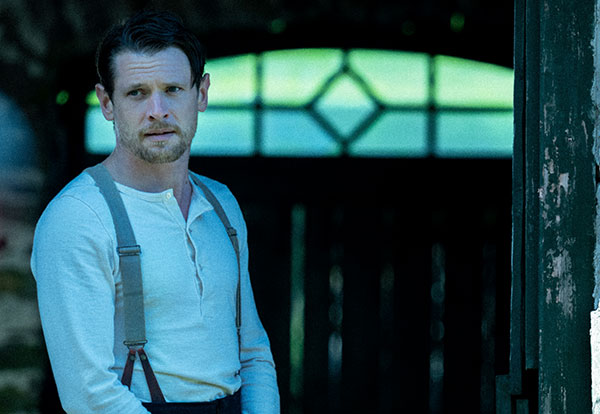 Without going into too much detail as to what happens in those scenes, the issue here is that our protagonist would appear to reach great heights of pleasure through very quick sexual encounters that feel almost like a mechanical act: more often than not, they involve repetitive physical intercouse alone, which Constance seems to enjoy way too much, considering that her needs – and women's pleasure, as a whole – are hardly ever acknowledged. The film wants us to understand that Constance doesn't want to be seen as a Lady and needs Oliver to take charge, but that doesn't mean that her sexual needs shouldn't be taken into consideration, and Lady Chatterley's Lover's depiction of sex, as seen from the titular character's point of view, feels unrealistic at best. There's a point where Constance delivers a line that might as well have come out of Christian Grey's mouth, and not in a good way.
Not only that, but most of these scenes are shot in a way that frames Constance as the object of desire and gives us the point of view of the male observer, with frequent close-ups of her face, and her naked body often in the foreground. In fact, Constance is often naked, at times in a pretty graphic way, both when she's with Oliver and when she's alone. This feels unnecessary, as there's not always a reason as to why she should be unclothed, and even gratuitous considering that that Oliver is only naked when the narrative requires him to be, and, even then, the camera often lingers on Constance instead.
Of course, D. H. Lawrence wrote the novel in 1928 (though it was only published in 1983), and Constance's tastes have been depicted in a similar way in the book. But with the release of yet another adaptation of a novel that has been made into a film sixteen more times in the past, one would expect it to be more timely, as its existence would be justified by the fact that modern audiences would be able to relate to it more. Since the book in question is primarily about the importance of female pleasure, to not explore this in more depth and present a more realistical portrait of our heroine's wants and desires feels like a missed opportunity.
Though it's certainly not as relevant to today's audiences as it could have been, Lady Chatterley's Lover is still worth watching when it lands on Netflix in December. This stunning, sexy, technically impressive D.H. Lawrence adaptation has very good performances and a mostly engaging script, and it will keep your eyes glued to the screen for its entire duration, as you wait to discover our lovers' fates.
---
Lady Chatterley's Lover premiered at the 2022 BFI London Film Festival on October 14, 2022. The film will be out in select US theaters on November 23, in select UK cinemas on November 25, and globally on Netflix on December 2.