Jump, Darling: Gloriously Funny, Seriously Touching (BFI Flare Review)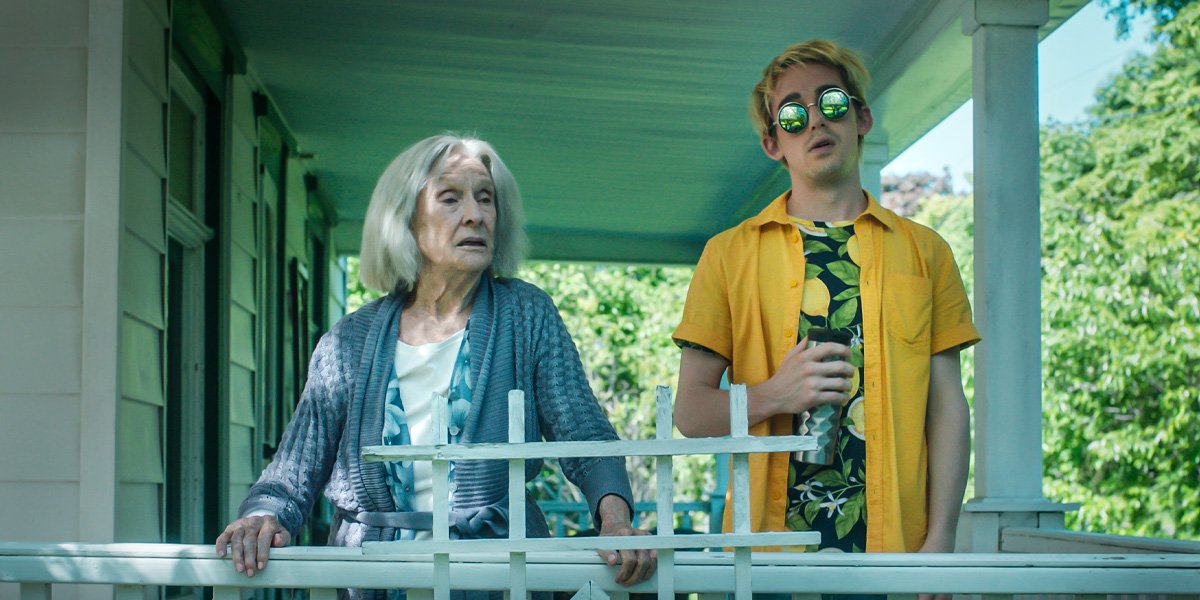 Jump, Darling (Level FILM / Courtesy of the BFI)
Simultaneously dazzling and poignant, Jump, Darling is a terrific drama with star turns from Thomas Duplessie and the late Cloris Leachman.
---

There is one posthumous Oscar nominee this year in Chadwick Boseman (and rightly so), but there is a case to be made for another too: Cloris Leachman (The Last Picture Show), for her terrific, staggering performance in Jump, Darling. Leachman plays a woman, Margaret, in her mid-90s, living on her own and whose health, both physically and mentally, is declining slowly. She is joined by her grandson, Russell (Thomas Duplessie), a rookie drag queen fresh from a breakup and still pursuing his stalled dream of being an actor. Jump, Darling has a great premise – two souls at very different stages of their lives but both searching for direction – and Leachman and Duplessie deliver this premise to perfection. We are left with an often funny, often moving and always engrossing drama.
Jump, Darling could have played out in quite formulaic fashion, so it is testament to Phil Connell and Genevieve Scott's writing that everything always manages to stay fresh. The characters are so gloriously well-rounded, and this isn't just limited to the leading roles of Margaret and Russell. Ene (Russell's mother, Margaret's daughter) is a caring woman constantly wanting the best for her mother and son but learning the need to let them take their own paths fuelled by their own decisions. Then there is Jeanne (Jayne Eastwood), a town busybody who after meeting the grandmother and grandson in a shop, is called a 'bitch' by Margaret under her breath. All of the supporting characters strengthen Jump, Darling as a film, adding verve and life to the surroundings which in turn allows the two leads to grow, and it is here that the greatest strength in the writing lies.
Margaret and Russell's relationship is slightly awkward at first, two people related by blood but clearly not spending much time together in recent years, and the generational divide makes for some playful moments. Refreshingly too, Margaret does not make undermining comments about Russell's drag or his homosexuality. Instead, their relationship focusses on their personal journeys which inevitably become intertwined, particularly in the parallels drawn between Margaret's interest in ice-skating as a youngster and Russell's interest in drag. There are shared moments of joy as well as shared moments of pain. And as their journeys' grow and reach their conclusions, so does their love for one another. It is natural and refreshing, and a huge testament to the writing and acting in Jump, Darling.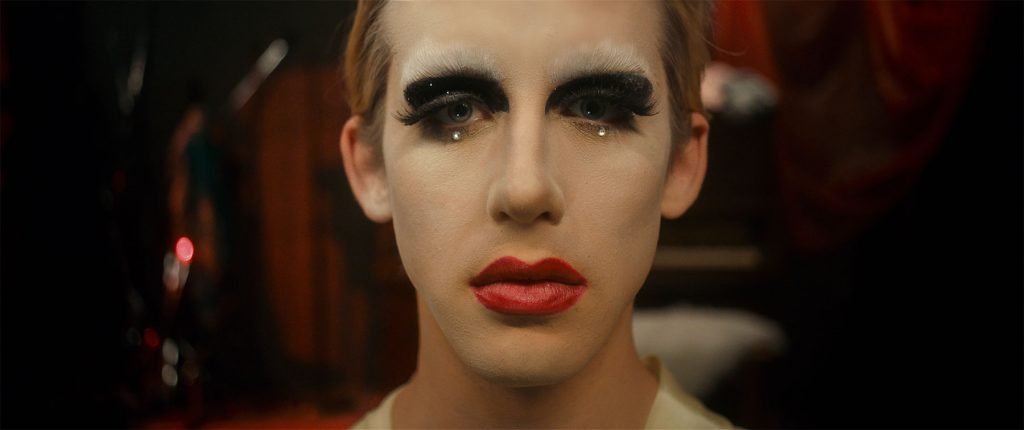 One of those leads, Russell, also has time on screen as Fishy Falters, his drag queen persona. We are treated to some incredibly dazzling and vibrant performances as Russell comes alive, seemingly most comfortable in drag. Duplessie's passion and power as a performer in these moments is stunning, as is his uncanny ability to lip sync to the songs playing, most memorably in a rendition of Rough Trade's 'High School Confidential'. The customers watching Fishy Falters in the town's gay bar are transfixed, completely and utterly, and so are we as the audience.
The production values shine through in Fishy Falters' outfits and make-up, and it is clear that a lot of love and care has been put into creating this character. Each performance is drastically different in tone but each one is equally cathartic. Dance and performance as a release might be nothing new in a film, but they can still hold an unwavering power, as they do in Jump, Darling. These performances also allow Connell's skills as a director, as well as Viktor Cahoj's talents as DP, to shine. The camera goes from beautiful, make-up drenched close-ups of Fishy Falters' face to quick zoom outs that capture the dynamism of the dancing to perfection. It glides around the performer, taking in the characters watching too, their smiling faces lighting up the screen and instilling a great warmth in the audience. Jump, Darling has some of the most vibrant dance sequences committed to film from the past year, and the fact that they are balanced so well with the heavier, more emotional undertones really does speak volumes for Connell and his team's talents.
Cloris Leachman, in her final performance here after passing away in January 2021, gives a deep, nuanced, humorous performance that won't be forgotten quickly. Already an Oscar winner for her role in The Last Picture Show (1971), another nomination or even a win wouldn't go amiss here. Her character, Margaret, is haunted by regret from the past, loneliness in the present and despair at her future. Leachman manages to encapsulate all of these dense feelings with a believability and resonance whilst also delivering a huge amount of comedy. Small facial expressions, like a cheeky side smile to Russell, are beautifully observed by Leachman. Themes of suicide are touched upon heavily in Jump, Darling and comments on such thoughts when Margaret looks around a care home with her daughter are delivered in an offbeat, black comedy style, yet still retain their emotional and serious impact. Everything about Margaret's elderly character is given realism by Leachman.
Jump, Darling moves with a raw, dynamic energy; everything feels so real and tangible, which is exactly what the best dramas achieve. The soundtrack, the camera movements ranging from composed stillness to high tempo, the deep narrative with relatable characters; it is all here in combination to set Jump, Darling out hugely memorable. Some parts of the narrative might lapse in their cohesion (Russell's fling with a bartender has purpose but lacks some clarity, and his relationship with his ex is perhaps not developed enough), but then again, this is Russell and Margaret's film, and no-one else's. Duplessie marks himself out as a wonderfully talented actor for the future whilst Leachman leaves us with a performance fitting of her wonderful filmography. Jump, Darling is about living life to its fullest, about following your dreams and basically, doing what makes you happy. It is a film full of inspiration and a simply sublime feature debut from Connell.
---
Jump, Darling had premiered online at BFI Flare, where it will be available to watch till Sunday, 28th March, 2021.