Director Jerzy Skolimowski on EO: Interview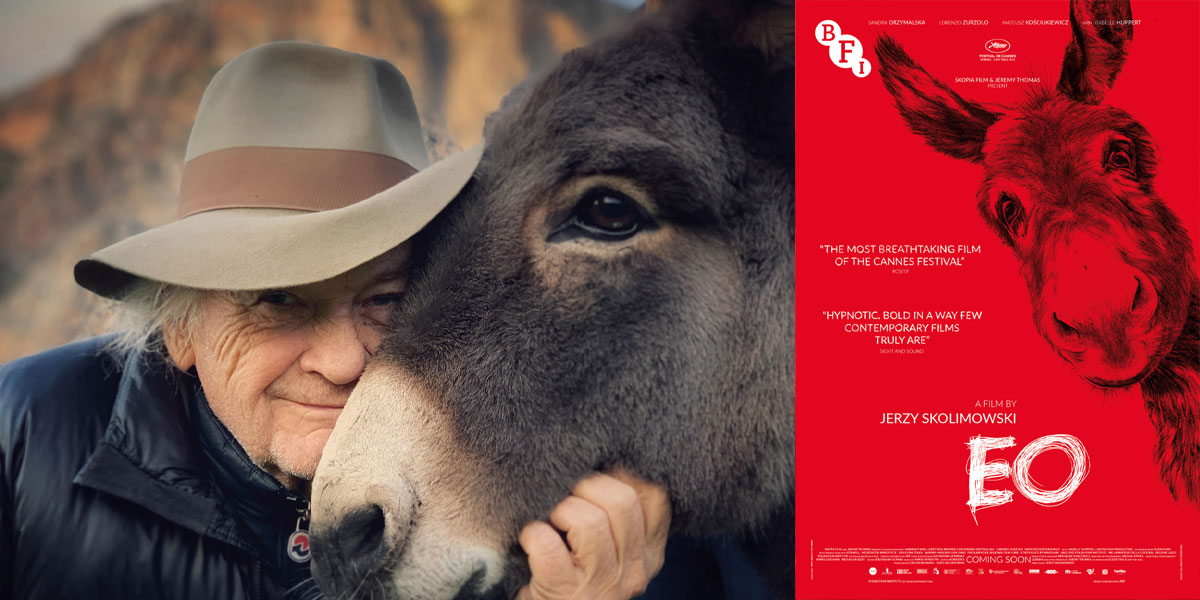 Jerzy Skolimowski / EO (BFI Distribution)
We sat down with director Jerzy Skolimowski for an interview about EO, his Oscar-nominated film about a donkey traversing across Europe.
---
EO is the latest film from renowned filmmaker Jerzy Skolimowski, who has directed more than 20 films since his feature debut in the 1960s. With a unique visual and aural style and fierce critique of animal mistreatment, EO has been gathering incredible critical praise since its premiere at Cannes in May 2022, where it jointly won the Jury Prize. Its most recent notable awards involvement saw it become one of five films nominated in Best International Feature Film at the upcoming Oscars.
An innocent, inquisitive donkey named EO starts the film in a Polish circus. After escaping this noisy, cruel life of pumping techno music and flashing red strobes, EO's varied journey across Europe begins. It is a trek which takes in rowdy football fans, violence and sexual abuse, sordid family affairs, and more. EO recognises both the beauty of the natural world and the ugliness of humanity, capturing these aspects through the eyes of the titular donkey. Jerzy Skolimowski's brave update of Robert Bresson's seminal work from 1966, Au Hasard Balthazar, is one of the most socially important films of recent years and, just like Bresson's film does, it fervently and unwaveringly highlights the infinite darkness and depravity of humanity.
Before EO's release in the UK, we sat down for an interview with Jerzy Skolimowski – here on directing and co-writing duties – to discuss the film, from how he reinterpreted Au Hasard Balthazar to what sort of real impact EO could have. Read our full interview with Jerzy Skolimowski below.
---
REIMAGINING A CLASSIC: JERZY SKOLIMOWSKI ON CREATING EO
Thank you for speaking to us today. EO is clearly inspired by Au Hasard Balthazar (1966), with a more experimental, contemporary angle to it. What was the process like in reimagining Bresson's film? Was it something you'd been wanting to do for a while?
Jerzy Skolimowski: No, although I had seen Bresson's film the year it was made [1966] by pure chance. I was freshly out of film school and got an opportunity to make my first professional film immediately. I received a phone call from the editors of Cahiers du Cinéma [French film magazine] which, especially in the 1960s and 70s, was like a bible for filmmakers. They wanted to interview me. I said, "why me? I only just made my first film!" They said the editorial team – which included Franćois Truffaut, Jean-Luc Godard and Louis Malle – were voting for the ten best films of the year.
I was told that my film, Walkover, was voted as number two. On my side, there was a long silence, after which I asked, "and who was number one?" They told me it was Au Hasard Balthazar. I asked them to postpone the interview for a couple of days so I could see this film. As a young, arrogant filmmaker, I looked at films in a semi-professional, cynical way, not getting involved in the stories or emotions too much, but looking at camera angles, tracking shots, things like that.
But somewhere during the screening of Au Hasard Balthazar, I lost that semi-professional, cynical way of watching films, and after its final shot, when the lights went up and the film finished, I found myself with tears in my eyes.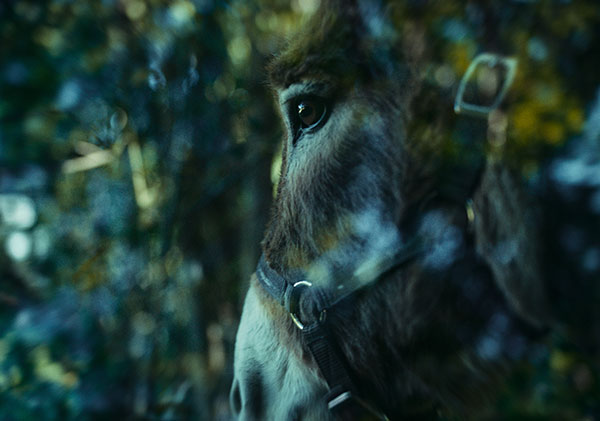 The ending of Au Hasard Balthazar is remarkable and unforgettable.
JS: It was the only time ever that I was really that moved in the cinema, to the extent that I was crying. The impact of that experience was so strong that I always remembered that feeling, that final scene, the emotion that can be created from films like this.
---
THE WORLD OF EO: JERZY SKOLIMOWSKI ON EO'S STYLE AND STRUCTURE
Could you talk about the structure of EO? It feels quite episodic, with a wandering nature to it.
Jerzy Skolimowski: We didn't want to follow the traditional narrative structure of Bresson's film, specifically the linear three act structure. We wanted to find some new way of narrating the film. If we created the animal character as the leading character of EO, it could help move away from this traditional narration. A lot of the dialogue was stripped out – I am not a great admirer of dialogue in films. Eventually, we started shooting EO and observed that the most significant moments of the film were from the donkey's point of view. For example, we have a master shot of the whole scene, then move to a close-up of EO – especially his enormous, melancholic eyes! – before switching to a POV from the donkey – this made everything look different in the scene. EO sees something different from what we do. It created the sensation of feeling like a donkey for the audience.
The music is very useful in scenes such as this.
JS: The music was playing like an inner monologue of EO. When I was watching the film [during the production process], I was instinctively making the sounds of the donkey, about how he feels. When EO was scared, I was making squeaking noises. When EO was angry, I used my loud voice! The composer Paweł Mykietyn – who is a famous classical music composer – beautifully translated this into his symphonic original score, which had over 70 people on the symphony. Paweł helped build that bridge between the audience and the donkey, to help us understand EO.
EO is very striking in its visual and aural elements. There is a woodland scene at night-time where we see all of these different animals, and we can just hear the very atmospheric noises of this setting. Was it important to you to create this very sensory-based experience for the audience?
JS: My intention was to put the audience into EO's viewpoint, to bring him as close as possible to the viewers. I wanted the audience to feel like the donkey. EO is clearly made out of love for animals and nature, and I wanted to convey this emotion to people watching.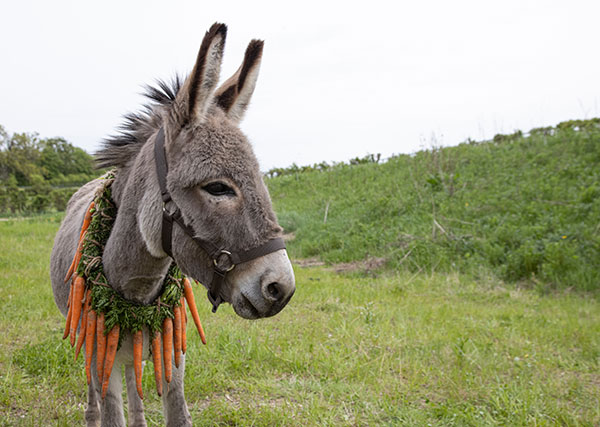 ANIMAL WELFARE: WHAT IMPACT CAN EO HAVE ON SOCIETY?
You mention the film being born out of love for animals. Was this quite a personal film to you? You worked with six different donkeys on this production too.
Jerzy Skolimowski: That's right. We used six donkeys mainly because of their wellbeing. The hardest part for them was the travelling between sets, so we had to use more than just one donkey. We wanted to avoid as much travel for them as possible, so we found donkeys of the exact same breed [Sardinian] in the neighbourhood.
I saw a documentary in 2020 called Cow, directed by Andrea Arnold.
See Also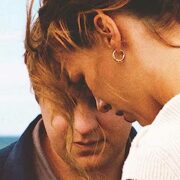 JS: I haven't seen that yet, but I plan to! Please remember our film was conceived long before Cow was made and also before Gunda.
I've seen Gunda. It is a fantastic film.
JS: Yes, I like that film very much. I am planning to see Cow as well very soon.
Both films are different from EO as they are documentaries, but they share a lot of the same themes. How important is it to show the mistreatment of animals in films? From there, how do you comment on humanity as a whole?
JS: This was the main aim behind EO, to make people understand how humanity mistreats animals, including the barbaric form of industrial farming. Those animals are kept in terrible conditions and don't have a life. It is torture, from birth until their slaughter. I hope that EO shakes some part of the audience. During production, Ewa Piaskowska [co-writer of EO] and I subconsciously reduced our meat consumption, and so did a lot of the crew. I hope some part of the audience will do the same. Maybe one day, industrial farming will become illegal and cease completely. This would be the greatest thing that EO could achieve.
That would be incredible – we can hope! Thank you so much for your time today.
This interview has been edited for length and clarity.
---
EO will be released in UK & Irish cinemas on 3 February 2023. Read our review of EO. 
"Outsiders and Exiles: The Films of Jerzy Skolimowski, presented in partnership with the 21st Kinoteka Polish Film Festival runs at BFI Southbank from 27 March – 30 April.