Inside the Yellow Cocoon Shell: Film Review

(Cercamon)
The Caméra d'Or-winning Inside the Yellow Cocoon Shell struggles to fully deliver on its initial promise of haunting, exploratory slow cinema.
---

Religion has been a theme at the forefront of cinema for many decades: some of the best directors of all time have turned their camera onto the subject, including Carl Theodor Dreyer (Ordet), Ingmar Bergman (The Seventh Seal), and Martin Scorsese (Taxi Driver). Pham Thien An's feature debut, Inside the Yellow Cocoon Shell, has the same tortured protagonist as many of these directors' works, as well as a similar haunting exploration of faith in the latter's 2016 film Silence—although much more abstractly, and operating at an extremely languid pace. For all of the striking imagery and hints at greatness, however, Inside the Yellow Cocoon Shell struggles to say anything meaningful or profound on a subject portrayed on screen many times before.
On a normal night in Saigon, three young men sit at dinner having a deep conversation about faith that belies their relaxed setting. One seems unsure about the prospect of religion, but open to exploration, whilst the other sees it only as a folly. The third man, our protagonist Thien (Le Phong Vu), is quietest on the subject, as his friends point out. Here we see the first inklings of Thien's own crisis of faith and identity which form the backbone of Inside the Yellow Cocoon Shell.
They become even more important to Thien when his sister-in-law dies, leaving him to care for her young son Dao (Nguyen Thinh) whilst he searches for his brother, who disappeared years ago. This journey, which takes on a dreamlike atmosphere as Thien's own phantoms and memories come to the fore, leads him to his childhood village in rural Vietnam. Whilst faith plays an important part in Inside the Yellow Cocoon Shell, Thien's journey is not just limited to the religious; he searches for connection in various avenues of his life, desperately seeking some form, whatever it might take.
Director/writer Pham guides us through this dreamlike journey with a great elegance. Dinh Duy Hung's exquisite cinematography—one of the film's best aspects—allows scenes to flow naturally, with the background detail as invigorating as the conversations and people at the forefront. Like a Béla Tarr film, the camera glides with a slow, guided air, enhancing the dreamscape we are witnessing. A combination of slow zooms, wide shots, and static camerawork—preferred to closeups or quick cuts—reinforce it even more. Running at 178 minutes and with this patient pace, Inside the Yellow Cocoon Shell can be challenging, but always beguiling.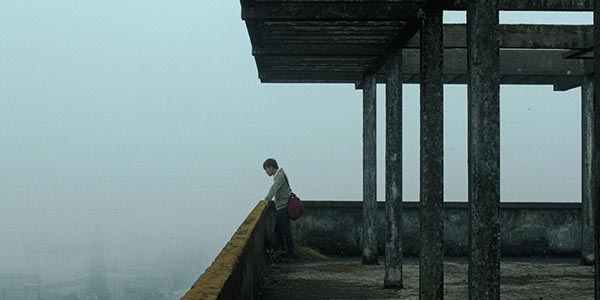 Despite this long runtime, Inside the Yellow Cocoon Shell takes too long to tackle its themes; at least the first hour is spent on vague setup, which feels protracted. When the film does turn its eye to the subject of religion, spiritualism, and even existentialism, it does it too loosely. For all his assuredness behind the camera, Pham feels unsure on how to really dig deep into these hefty themes. Ambiguity can work in films, but there needs to be something to latch onto. The increasingly abstract nature and unrelenting slowness contribute to this surface-level feeling, which even extends to Thien's own identity crisis.
This effectively dismantles what should be a fully engaging, soul-stirring experience into something notably lacking in weight. There is enough striking imagery in Inside the Yellow Cocoon Shell to keep you engaged for the most part, and its juxtaposition of rural and urban is remarkable, akin to an Apichatpong Weerasethakul (Tropical Malady, Memoria) film. Pham lingers on certain details at choice moments, such as the soil as a dead bird is buried, to eke out meaning, but unfortunately this sort of symbolism doesn't stretch far enough. Ultimately, remarkable promise gives way to a frustrating and underwhelming, albeit unique, cinematic experience.
---
Inside the Yellow Cocoon Shell will be screened at the 2023 BFI London Film Festival on 4-5 October. Read our list of 25 movies to watch at the 2023 London Film Festival!